Cystic Teratoma
Author: Chad A Hamilton, MD; Chief Editor: from Memorial Sloan-Kettering - Yukio Sonoda, MD more...
Updated: Apr 16, 2015
What would you like to print?
Background
Teratomas are germ cell tumors commonly composed of multiple cell types derived from one or more of the 3 germ layers. Inconsistent nomenclature often confuses discussions of various subtypes of teratomas. The word is derived from the Greek teras, meaning monster, which Virchow coined in the first edition of his book on tumors published in 1863.[1] Teratomas range from benign, well-differentiated (mature) cystic lesions to those that are solid and malignant (immature). Additionally, teratomas may be monodermal and highly specialized. Rarely, within some mature teratomas certain elements (most commonly squamous components) undergo malignant transformation.
In 1831, Leblanc coined the term dermoid cyst in the veterinary literature when he removed a lesion that resembled skin at the base of a horse's skull, which he called a "kyste dermoid."[2] Both dermoid and teratoma, terms now more than a century old, remain in general use and often are used interchangeably with various preferences among subspecialties. The earliest implications were that elements similar to skin and its appendages composed dermoids, while teratomas had no such limits. Dermoids now are recognized as often being trigerminal and containing practically any type of tissue.
For those who continue to make a distinction, dermoids are tumors that maintain rather orderly arrangements, with well-differentiated ectodermal and mesodermal tissues surrounding endodermal components. Teratomas, specifically solid teratomas, are essentially devoid of organization; thus, the presence of some degree of organization, a high degree of cellular differentiation, and cystic structure differentiates dermoids from teratomas.[1] This article focuses on mature cystic teratomas, commonly referred to as dermoid cysts. See the images below.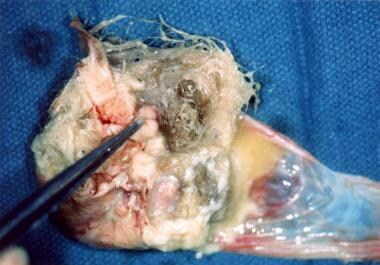 Mature cystic teratoma of the ovary exhibiting multiple tissue types.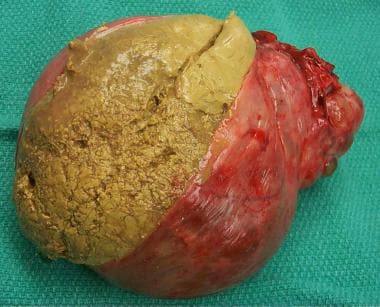 Mature cystic teratoma of the ovary with hair, sebaceous material, and thyroid tissue.
Pathophysiology
Teratomas are made up of a variety of parenchymal cell types representing more than 1 germ layer and often all 3. Arising from totipotential cells, these tumors typically are midline or paraxial.[3] The most common location is sacrococcygeal (57%). Because they arise from totipotential cells, they are encountered commonly in the gonads (29%). By far, the most common gonadal location is the ovary, although they also occur somewhat less frequently in the testes. Cystic teratomas occasionally occur in sequestered midline embryonic cell rests and can be mediastinal (7%), retroperitoneal (4%), cervical (3%), and intracranial (3%).[4] Cells differentiate along various germ lines, essentially recapitulating any tissue of the body. Examples include hair, teeth, fat, skin, muscle, and endocrine tissue. See images above.
Epidemiology
Frequency
International
Sacrococcygeal teratomas are the most common tumors in newborns, occurring in 1 per 20,000-40,000 births.[3, 5] A population-based (rather than tertiary referral center) estimate from the United Kingdom found a birth prevalence of 1 per 27,000 live births.[6]
Mature cystic teratomas account for 10-20% of all ovarian neoplasms. They are the most common ovarian germ cell tumor and also the most common ovarian neoplasm in patients younger than 20 years. They are bilateral in 8-14% of cases.[2, 1, 7, 8]
The incidence of all testicular tumors in men is 2.1-2.5 cases per 100,000 population. Germ cell tumors represent 95% of testicular tumors after puberty, but pure benign teratomas of the testis are rare, accounting for only 3-5% of germ cell tumors. The incidence of all testicular tumors in prepubertal boys is 0.5-2 per 100,000, with mature teratomas accounting for 14-27% of these tumors. It is the second most common germ cell tumor in this population.[9, 10]
Benign teratomas of the mediastinum are rare, representing 8% of all tumors of this region.[11]
Mortality/Morbidity
Mature cystic teratomas can result in significant morbidity. Potential complications vary depending on the site of occurrence.
Sacrococcygeal teratoma
Sacrococcygeal teratomas are commonly diagnosed in the prenatal period, and complications may occur in utero or during or after birth. The outcome after antenatal diagnosis is significantly worse than that for older postnatal surgical series, with survival rates ranging from –54-77%.[12, 13, 14]
Potential complications in utero include polyhydramnios and tumor hemorrhage, which can lead to anemia and nonimmune hydrops fetalis. If significant atrioventricular shunting occurs within the tumor, hydrops may result from high-output cardiac failure. Development of hydrops is an ominous sign. If it develops after 30 weeks' gestation, the mortality rate is 25%. If it is recognized, delivery is recommended as soon as lung maturity is documented. Development of hydrops before 30 weeks' gestation has an abysmal prognosis, with a 93% mortality rate.[12, 15] Makin et al reported that antenatal intervention for the treatment of fetal hydrops did not improve outcomes with neonatal deaths in 6 (86%) of 7 cases.[14] Hydrops and prematurity are the two main factors that contribute to mortality.
Postpartum morbidity associated with sacrococcygeal teratomas is attributable to associated congenital anomalies, mass effects of the tumor, recurrence, and intraoperative and postoperative complications. Ten to twenty-four percent of sacrococcygeal teratomas are associated with other congenital anomalies, primarily defects of the hindgut and cloacal region, which exceeds the baseline rate of 2.5% expected in the general population.[16, 17, 3]
In one larger series that included 57 cases of benign teratomas over a 40-year period from a single institution, 5 recurrences were documented. Only one of the patients who experienced recurrence did not undergo a coccygectomy, and one patient who was thought to have a benign tumor with immature elements was found to have embryonal carcinoma after the third excision. In this same series, 3 patients had postoperative wound infections and one patient had postoperative pneumonia. The overall survival was 95% and morbidity or mortality rates were consistent over the 40-year period of the study.[5]
In a more recent series, all 26 patients diagnosed with benign teratomas survived. Seven of 20 patients with long-term follow-up developed neuropathic bladder or bowel disturbances.[17] Partridge and colleagues studied a series of 45 patients, noting anorectal complications in 29% and urologic complications in 33%. These were associated with both prenatal obstructive findings and therapeutic interventions, as well as Altman classification, perineal reconstruction, and tumor recurrence.[18] A longitudinal cross-sectional follow-up study found that sequelae developing in childhood tended to improve with time, while functional symptoms reported in adulthood were common in the general population and not significantly increased over a control group.[19]
Ovarian teratoma
Complications of ovarian teratomas include torsion, rupture, infection, hemolytic anemia, and malignant degeneration.
Torsion is by far the most significant cause of morbidity, occurring in –3-11% of cases. Several series have demonstrated that increasing tumor size correlates with increased risk of torsion.[2, 20]
Rupture of a cystic teratoma is rare and may be spontaneous or associated with torsion. Most series report a rate of less than 1%,[2, 1] though Ahan et al reported a rate of 2.5% in their report of 501 patients.[21] Rupture may occur suddenly, leading to shock or hemorrhage with acute chemical peritonitis. Chronic leakage also may occur, with resultant granulomatous peritonitis. Prognosis after rupture is usually favorable, but the rupture often results in formation of dense adhesions.
Infection is uncommon and occurs in less than 1-2% of cases. Coliform bacteria are the organisms most commonly implicated.[21, 20]
A recently recognized encephalitis associated with antibodies against the N -methyl D-aspartate receptor (NMDAR) is associated with ovarian mature teratomas. In a series of 400 cases, of which 335 were women, 165 (49%) had tumors and all but six were ovarian teratomas. The syndrome is characterized by a viral-like prodrome followed by a multistage progression of symptoms that includes psychosis, memory deficits, seizures, language disintegration, decreased consciousness, dyskinesias, and autonomic instability. Substantial recovery is usually seen with tumor resection and immunotherapy.[22]
Autoimmune hemolytic anemia has been associated with mature cystic teratomas in rare cases. In these reports, removal of the tumor resulted in complete resolution of symptoms. Theories behind the pathogenetic mechanism include (1) tumor substances that are antigenically different from the host and produce an antibody response within the host that cross reacts with native red blood cells, (2) antibody production by the tumor directed against host red blood cells, and (3) coating of the red blood cells by tumor substance that changes red blood cell antigenicity. In this context, radiologic imaging of the pelvis may be indicated in cases of refractory hemolytic anemia.[23, 24]
In its pure form, mature cystic teratoma of the ovary is always benign, but in approximately 0.2-2% of cases, it may undergo malignant transformation into one of its elements, the majority of which are squamous cell carcinomas. The prognosis for patients with malignant degeneration is generally poor but dependent on stage and degenerated cell type.[2, 25]
Testicular teratoma
Testicular teratomas occur in children and adults, but their incidence and natural history contrast sharply. Pure teratomas comprise 38% of germ cell tumors in infants and children but only 3% after puberty. In children, they behave as a benign tumor, whereas in adults and adolescents they are known to metastasize.[26, 27] With no documented cases of metastasis, morbidity from prepubertal testicular teratomas is largely limited to surgical or postoperative complications.
During and after puberty, all teratomas are regarded as malignant because even mature teratomas (composed of entirely mature histologic elements) can metastasize to retroperitoneal lymph nodes or to other systems. Rates reported vary from 29-76%. Morbidity is associated with growth of the tumor, which may invade or obstruct local structures and become unresectable. Approximately 20% of patients relapse during surveillance.[26]
Mediastinal teratoma
Mature teratomas of the mediastinum, the most common mediastinal germ cell tumor, are benign lesions. They do not have the metastatic potential observed in testicular teratoma and are cured by surgical resection alone. Because of their anatomic location, intraoperative and postoperative complications are the only significant source of morbidity, as other intrathoracic structures are often intimately involved with the tumor.[28]
Sex
Sacrococcygeal teratomas are much more common in females than in males, occurring in a female-to-male ratio of approximately 3-4:1. Most sources report no sex predilection for mediastinal teratomas. Others document a marked male or marked female predominance. Excluding testicular teratomas, 75-80% of teratomas occur in girls.[4]
Age
The presenting location of teratomas correlates with age.
References
Pantoja E, Noy MA, Axtmayer RW, Colon FE, Pelegrina I. Ovarian dermoids and their complications. Comprehensive historical review. Obstet Gynecol Surv. 1975 Jan. 30(1):1-20. [Medline].

Comerci JT Jr, Licciardi F, Bergh PA, Gregori C, Breen JL. Mature cystic teratoma: a clinicopathologic evaluation of 517 cases and review of the literature. Obstet Gynecol. 1994 Jul. 84(1):22-8. [Medline].

Kumar V, Abbas AK, Fausto N. Robbins and Cotran Pathologic Basis of Disease. Philadelphia: Elsevier Saunders; 2005. 7th ed:

Grosfeld JL, Billmire DF. Teratomas in infancy and childhood. Curr Probl Cancer. 1985 Sep. 9(9):1-53. [Medline].

Schropp KP, Lobe TE, Rao B, et al. Sacrococcygeal teratoma: the experience of four decades. J Pediatr Surg. 1992 Aug. 27(8):1075-8; discussion 1078-9. [Medline].

Swamy R, Embleton N, Hale J. Sacrococcygeal teratoma over two decades: birth prevalence, prenatal diagnosis and clinical outcomes. Prenat Diagn. 2008 Nov. 28(11):1048-51. [Medline].

Stany MP, Hamilton CA. Benign disorders of the ovary. Obstet Gynecol Clin North Am. 2008 Jun. 35(2):271-84, ix. [Medline].

Wu RT, Torng PL, Chang DY, et al. Mature cystic teratoma of the ovary: a clinicopathologic study of 283 cases. Zhonghua Yi Xue Za Zhi (Taipei). 1996 Oct. 58(4):269-74. [Medline].

Rushton HG, Belman AB. Testis-sparing surgery for benign lesions of the prepubertal testis. Urol Clin North Am. 1993 Feb. 20(1):27-37. [Medline].

Ulbright TM. Germ cell neoplasms of the testis. Am J Surg Pathol. 1993 Nov. 17(11):1075-91. [Medline].

Lewis BD, Hurt RD, Payne WS, Farrow GM, Knapp RH, Muhm JR. Benign teratomas of the mediastinum. J Thorac Cardiovasc Surg. 1983 Nov. 86(5):727-31. [Medline].

Flake AW, Harrison MR, Adzick NS, Laberge JM, Warsof SL. Fetal sacrococcygeal teratoma. J Pediatr Surg. 1986 Jul. 21(7):563-6. [Medline].

Hedrick HL, Flake AW, Crombleholme TM, et al. Sacrococcygeal teratoma: prenatal assessment, fetal intervention, and outcome. J Pediatr Surg. 2004 Mar. 39(3):430-8; discussion 430-8. [Medline].

Makin EC, Hyett J, Ade-Ajayi N, Patel S, Nicolaides K, Davenport M. Outcome of antenatally diagnosed sacrococcygeal teratomas: single-center experience (1993-2004). J Pediatr Surg. 2006 Feb. 41(2):388-93. [Medline].

Gucciardo L, Uyttebroek A, De Wever I, Renard M, Claus F, Devlieger R, et al. Prenatal assessment and management of sacrococcygeal teratoma. Prenat Diagn. 2011 Jul. 31(7):678-88. [Medline].

Altman RP, Randolph JG, Lilly JR. Sacrococcygeal teratoma: American Academy of Pediatrics Surgical Section Survey-1973. J Pediatr Surg. 1974 Jun. 9(3):389-98. [Medline].

Gabra HO, Jesudason EC, McDowell HP, Pizer BL, Losty PD. Sacrococcygeal teratoma--a 25-year experience in a UK regional center. J Pediatr Surg. 2006 Sep. 41(9):1513-6. [Medline].

Partridge EA, Canning D, Long C, Peranteau WH, Hedrick HL, Adzick NS, et al. Urologic and anorectal complications of sacrococcygeal teratomas: prenatal and postnatal predictors. J Pediatr Surg. 2014 Jan. 49(1):139-42; discussion 142-3. [Medline].

Cozzi F, Schiavetti A, Zani A, Spagnol L, Totonelli G, Cozzi DA. The functional sequelae of sacrococcygeal teratoma: a longitudinal and cross-sectional follow-up study. J Pediatr Surg. 2008 Apr. 43(4):658-61. [Medline].

Benjapibal M, Boriboonhirunsarn D, Suphanit I, Sangkarat S. Benign cystic teratoma of the ovary : a review of 608 patients. J Med Assoc Thai. 2000 Sep. 83(9):1016-20. [Medline].

Ayhan A, Bukulmez O, Genc C, Karamursel BS, Ayhan A. Mature cystic teratomas of the ovary: case series from one institution over 34 years. Eur J Obstet Gynecol Reprod Biol. 2000 Feb. 88(2):153-7. [Medline].

Dalmau J, Lancaster E, Martinez-Hernandez E, Rosenfeld MR, Balice-Gordon R. Clinical experience and laboratory investigations in patients with anti-NMDAR encephalitis. Lancet Neurol. 2011 Jan. 10(1):63-74. [Medline]. [Full Text].

Buchwalter CL, Miller D, Jenison EL. Hemolytic anemia and benign pelvic tumors. A case report. J Reprod Med. 2001 Apr. 46(4):401-4. [Medline].

Kim I, Lee JY, Kwon JH, et al. A case of autoimmune hemolytic anemia associated with an ovarian teratoma. J Korean Med Sci. 2006 Apr. 21(2):365-7. [Medline].

Dos Santos L, Mok E, Iasonos A, et al. Squamous cell carcinoma arising in mature cystic teratoma of the ovary: a case series and review of the literature. Gynecol Oncol. 2007 May. 105(2):321-4. [Medline].

Carver BS, Al-Ahmadie H, Sheinfeld J. Adult and pediatric testicular teratoma. Urol Clin North Am. 2007 May. 34(2):245-51; abstract x. [Medline].

Walsh C, Rushton HG. Diagnosis and management of teratomas and epidermoid cysts. Urol Clin North Am. 2000 Aug. 27(3):509-18. [Medline].

Dulmet EM, Macchiarini P, Suc B, Verley JM. Germ cell tumors of the mediastinum. A 30-year experience. Cancer. 1993 Sep 15. 72(6):1894-901. [Medline].

Rowe MI, O'Neill JA, Grosfeld JL. Essentials of Pediatric Surgery. 1st ed. St Louis, Mo: Mosby-Year Book; 1995.

Moran CA, Suster S. Primary germ cell tumors of the mediastinum: I. Analysis of 322 cases with special emphasis on teratomatous lesions and a proposal for histopathologic classification and clinical staging. Cancer. 1997 Aug 15. 80(4):681-90. [Medline].

Hosokawa T, Sato Y, Seki T, Maebara M, Ito K, Kuribayashi S. Malignant transformation of a mature cystic teratoma of the ovary with rupture. Jpn J Radiol. 2010 Jun. 28(5):372-5. [Medline].

Garrett JE, Cartwright PC, Snow BW, Coffin CM. Cystic testicular lesions in the pediatric population. J Urol. 2000 Mar. 163(3):928-36. [Medline].

Herr HW, LaQuaglia MP. Management of teratoma. Urol Clin North Am. 1993 Feb. 20(1):145-52. [Medline].

Billmire DF, Grosfeld JL. Teratomas in childhood: analysis of 142 cases. J Pediatr Surg. 1986 Jun. 21(6):548-51. [Medline].

Ulbright TM. Gonadal teratomas: a review and speculation. Adv Anat Pathol. 2004 Jan. 11(1):10-23. [Medline].

Linder D, McCaw BK, Hecht F. Parthenogenic origin of benign ovarian teratomas. N Engl J Med. 1975 Jan 9. 292(2):63-6. [Medline].

Patel MD, Feldstein VA, Lipson SD, Chen DC, Filly RA. Cystic teratomas of the ovary: diagnostic value of sonography. AJR Am J Roentgenol. 1998 Oct. 171(4):1061-5. [Medline].

Varghese TK, Lau CL. The Mediastinum. Townsend CM, Beauchamp RD, Evers BM, Mattox KL, eds. Sabiston Textbook of Surgery: The Biological Basis of Modern Surgical Practice. 18. Philadelphia, PA: Saunders Elsevier; 2007. chap 58.

Chervenak FA, Isaacson G, Touloukian R, Tortora M, Berkowitz RL, Hobbins JC. Diagnosis and management of fetal teratomas. Obstet Gynecol. 1985 Nov. 66(5):666-71. [Medline].

Outwater EK, Siegelman ES, Hunt JL. Ovarian teratomas: tumor types and imaging characteristics. Radiographics. 2001 Mar-Apr. 21(2):475-90. [Medline].

Mais V, Guerriero S, Ajossa S, Angiolucci M, Paoletti AM, Melis GB. Transvaginal ultrasonography in the diagnosis of cystic teratoma. Obstet Gynecol. 1995 Jan. 85(1):48-52. [Medline].

Scoutt LM, McCarthy SM, Lange R, Bourque A, Schwartz PE. MR evaluation of clinically suspected adnexal masses. J Comput Assist Tomogr. 1994 Jul-Aug. 18(4):609-18. [Medline].

Epifanio M, Baldissera M, Esteban FG, Baldisserotto M. Mature testicular teratoma in children: multifaceted tumors on ultrasound. Urology. 2014 Jan. 83(1):195-7. [Medline].

Duwe BV, Sterman DH, Musani AI. Tumors of the mediastinum. Chest. 2005 Oct. 128(4):2893-909. [Medline].

Jeung MY, Gasser B, Gangi A, et al. Imaging of cystic masses of the mediastinum. Radiographics. 2002 Oct. 22 Spec No:S79-93. [Medline].

Talerman A. Germ Cell Tumors of the Ovary. Kurman RJ, ed. Blaustein's Pathology of the Female Genital Tract. 5th ed. New York, NY: Springer-Verlag; 2002. chap 20.

Cavenaile C, Reed J, Fiorito D. Ovarian teratoma with a high level of differentiation. South Med J. 2001 May. 94(5):522-3. [Medline].

Van Mieghem T, Al-Ibrahim A, Deprest J, Lewi L, Langer JC, Baud D, et al. Minimally invasive therapy for fetal sacrococcygeal teratoma: case series and systematic review of the literature. Ultrasound Obstet Gynecol. 2014 Jan 31. [Medline].

Roybal JL, Moldenhauer JS, Khalek N, Bebbington MW, Johnson MP, Hedrick HL, et al. Early delivery as an alternative management strategy for selected high-risk fetal sacrococcygeal teratomas. J Pediatr Surg. 2011 Jul. 46(7):1325-32. [Medline].

Graf JL, Albanese CT. Fetal sacrococcygeal teratoma. World J Surg. 2003 Jan. 27(1):84-6. [Medline].

Koçak M, Dilbaz B, Ozturk N, et al. Laparoscopic management of ovarian dermoid cysts: a review of 47 cases. Ann Saudi Med. 2004 Sep-Oct. 24(5):357-60. [Medline].

Laberge PY, Levesque S. Short-term morbidity and long-term recurrence rate of ovarian dermoid cysts treated by laparoscopy versus laparotomy. J Obstet Gynaecol Can. 2006 Sep. 28(9):789-93. [Medline].

Nezhat CR, Kalyoncu S, Nezhat CH, Johnson E, Berlanda N, Nezhat F. Laparoscopic management of ovarian dermoid cysts: ten years' experience. JSLS. 1999 Jul-Sep. 3(3):179-84. [Medline].

Templeman CL, Fallat ME, Lam AM, Perlman SE, Hertweck SP, O'Connor DM. Managing mature cystic teratomas of the ovary. Obstet Gynecol Surv. 2000 Dec. 55(12):738-45. [Medline].

Godinjak Z, Bilalovic N, Idrizbegovic E. Laparoscopic treatment of ovarian dermoid cysts is a safe procedure. Bosn J Basic Med Sci. 2011 Nov. 11(4):245-7. [Medline].

Ross JH, Kay R. Prepubertal testis tumors. Rev Urol. 2004 Winter. 6(1):11-8. [Medline].

Rushton HG, Belman AB, Sesterhenn I, Patterson K, Mostofi FK. Testicular sparing surgery for prepubertal teratoma of the testis: a clinical and pathological study. J Urol. 1990 Sep. 144(3):726-30. [Medline].

Shukla AR, Woodard C, Carr MC, Huff DS, Canning DA, Zderic SA. Experience with testis sparing surgery for testicular teratoma. J Urol. 2004 Jan. 171(1):161-3. [Medline].

Caspi B, Levi R, Appelman Z, Rabinerson D, Goldman G, Hagay Z. Conservative management of ovarian cystic teratoma during pregnancy and labor. Am J Obstet Gynecol. 2000 Mar. 182(3):503-5. [Medline].

Hess LW, Peaceman A, O'Brien WF, Winkel CA, Cruikshank DP, Morrison JC. Adnexal mass occurring with intrauterine pregnancy: report of fifty-four patients requiring laparotomy for definitive management. Am J Obstet Gynecol. 1988 May. 158(5):1029-34. [Medline].

Parker WH, Childers JM, Canis M, Phillips DR, Topel H. Laparoscopic management of benign cystic teratomas during pregnancy. Am J Obstet Gynecol. 1996 May. 174(5):1499-501. [Medline].
Medscape Reference © 2011 WebMD, LLC