Carcinoma of the Ampulla of Vater Treatment & Management
Author: Nafisa K Kuwajerwala, MD; Chief Editor: N Joseph Espat, MD, MS, FACS more...
Updated: Dec 31, 2015
What would you like to print?
Medical Care
Hepatic metastasis, serosal implants, ascites, lymph node involvement outside the resectional field, and major vessel invasion all are contraindications to surgical resection. Treatment options for advanced or unresectable stages are discussed below. The role of adjuvant therapy remains controversial.[16]
Willett and colleagues reported their experience with adjuvant radiotherapy (40-50 gray [Gy], with or without concurrent 5-fluorouracil as a radiosensitizer) for high-risk tumors of the ampulla of Vater. Compared to surgery alone, the radiotherapy group demonstrated a trend toward better locoregional control; however, no advantage in survival was seen.[17]
Bhatia et al published the Mayo Clinic experience in 2006 concluding that 5-fluorouracil and radiotherapy (median, 50.4 Gy in 28 fractions) improved overall survival (3.4 y vs 1.6 y with surgery alone, p=0.01) in patients with lymph node involvement but not necessarily in those with locally advanced tumors.[18, 19]
Barton and Copeland reported on the M.D. Anderson Cancer Center experience of using postoperative chemotherapy for carcinoma of the ampulla of Vater. No combination of drugs prolonged life.[20] Krishnan and colleagues updated the M.D. Anderson experience in 2008. This series suggested an overall survival benefit with adjuvant fluorouracil or capecitabine following pancreaticoduodenectomy, although their study was inadequately powered with 54 patients to reach statistical significance. This group also suggested that locally advanced tumor stages (T3/T4) may warrant the addition of adjuvant chemoradiation therapy, as this was an independent poor prognostic indicator.[21]
Kim and colleagues reported their series of 118 patients, 41 of whom received adjuvant chemoradiation therapy with 5-fluorouracil and total radiation dose up to 40 Gy. Their results revealed improved locoregional relapse-free survival, and possibly also an overall survival advantage, although statistical significance was not achieved.[22]
A Phase II study evaluating capecitabine and oxaliplatin (CAPOX) in patients with advanced adenocarcinoma of the small bowel or ampulla reported improved overall survival in comparison to other reported regimens (20.4 vs 15.5 months in patients with metastasis). The primary site of disease was the ampulla of Vater in 12 of 30 patients.[23]
Yeung and colleagues used neoadjuvant chemoradiotherapy in 4 patients with duodenal/ampullary carcinomas. No residual tumor was found in pancreaticoduodenectomy specimens of these 4 patients.[24]
Gemcitabine has shown promise in cases of biliary tract cancer. These results may be extrapolated to include gemcitabine, alone or in combination, in chemotherapy regimens, especially in cases where a periampullary primary is difficult to characterize, but has pancreaticobiliary features.
Surgical Care
Surgical resection in an ampullary carcinoma is the primary modality of treatment. The highest cure rates are achieved if the tumor is localized to the ampullary region and complete resection is achieved[R0].[25, 26]
Diagnostic staging laparoscopy may be indicated to avoid laparotomy in the setting of advanced disease with distant occult metastasis.
Pancreaticoduodenectomy (Whipple) is the standard procedure.[9] Pylorus preserving pancreaticoduodenectomy or classic Whipple can be performed depending on extent of tumor and surgeon preference. With improvement in postoperative management and surgical technique, operative mortality rates are as low as 1% in experienced centers.[6] Resectability rates for ampullary carcinoma were up to 96% in the 1990s.[8]
Local resection (ampullectomy) may be considered for patients with an ampullary adenoma with absence of dysplasia on preoperative biopsies who are inappropriate candidates for pancreaticoduodenectomy. Recurrence rate is high in this population; therefore, surveillance endoscopy is indicated.[27]
Extensive preoperative assessment of cardiac, respiratory, renal, and cerebral functions should be performed in older patients or those with comorbid conditions.
Toh et al reported 25 patients (13 men, 12 women) with a median age of 65 years who had an ampullary tumor. The resectability rate was 88%, with no operative mortality. The 5-year actuarial survival rate of patients who underwent radical resection was 49%. They concluded that local resection is recommended only for small, benign tumors and for patients who may be unfit for radical surgery; otherwise, pylorus-preserving pancreaticoduodenectomy is safe and the most effective procedure.[28]
Preoperative details include the following:
Assessment of nutritional status and supplementation when necessary (Fortunately, most of these patients do not have any nutritional problems.)

Standard mechanical and oral antibiotic bowel preparation may be considered, but it is not essential for pancreaticoduodenectomy.

Assessment of coagulation profile and correction of decreased prothrombin time by administration of vitamin K in patients with advanced jaundice

Intravenous antibiotic prophylaxis

Preoperative biliary drainage in jaundiced patients is indicated in patients with cholangitis and those with profound hyperbilirubinemia as this may impact coagulation status and wound healing. Preoperative stenting may be associated with increased postoperative infectious complications.

Fluid and electrolyte correction

Assessment of cardiac, renal, and pulmonary status
Intraoperative details include the following:
Laparoscopic assessment is obtained for peritoneal metastasis; hepatic metastases; and extensive lymphatic, vascular, or surrounding organ invasion.

Resectability of the primary tumor is determined by mobilizing the head of the pancreas (ie, Kocher maneuver), opening the lesser sac, and exposing and inspecting the confluence of the splenic vein and superior mesenteric vein. Involvement of the retropancreatic portal vein is not a universal contraindication, as this segment of portal vein may be resected en bloc and subsequent reconstruction of the vein performed (this is shown in the image below).

Kocherization of the duodenum. For ampullary malignancies greater than 1 cm in size, pancreaticoduodenectomy is the preferred operation. This figure demonstrates the process of kocherization of the duodenum. The second and third portions of the duodenum are mobilized en bloc with the periduodenal nodal tissue. The authors prefer to expose the inferior vena cava (IVC) and remove alveolar tissue, which lies above the IVC en bloc with the specimen.

Intraoperatively, a transduodenal FNA or core biopsy is the preferred method for pathologic confirmation of the diagnosis. In about 10% of cases, these methods do not permit intraoperative confirmation of carcinoma. Resection should be performed in such cases based on preoperative and intraoperative findings.

Resectability may be a subjective phenomenon based on the experience and skill of the surgeon.

[29]

A feeding jejunostomy or a nasojejunal tube insertion may be considered during the procedure to permit early resumption of enteral feeding; however, this is rarely necessary.
Pancreaticoduodenectomy
Pancreaticoduodenectomy is the standard resection procedure for ampullary carcinoma.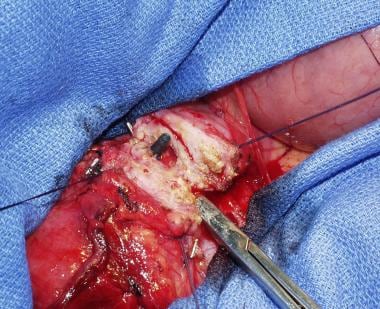 Periampullary malignancy. Transected pancreas with head. Pancreaticoduodenectomy is the preferred treatment for most periampullary tumors. This picture depicts transection of the pancreas at the pancreatic neck. This particular patient presented with a periampullary malignancy accompanied by jaundice and pancreatitis. A preoperative pancreatic stent (usually unnecessary) is seen within the pancreatic duct.
In this operation, the pancreas is transected anterior to the portal vein to resect the pancreatic head and uncinate process with the specimen. The duodenum and gastric antrum are resected with the pancreatic head in the classic Whipple procedure. The gallbladder and distal bile duct are also resected. Peripancreatic lymph nodes are included with the resection.
Intraoperative frozen section of the bile duct and pancreatic margins are confirmed negative prior to reconstruction.
Restoration of the gastrointestinal continuity is completed with pancreaticojejunostomy or pancreaticogastrostomy, hepaticojejunostomy, and gastrojejunostomy (these are depicted in the illustration below).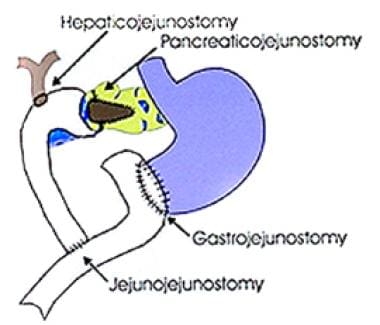 Carcinoma of the ampulla of Vater. Roux-en-Y reconstruction following completion of a standard pancreaticoduodenectomy.
Pylorus-preserving pancreaticoduodenectomy
Pylorus-preserving pancreaticoduodenectomy preserves the entire pylorus, along with 1-2 cm of the first part of the duodenum. GI continuity is restored with a duodenojejunostomy. This, in theory, represents a more physiologically acceptable procedure, with similar survival rates. Postgastrectomy complications, such as dumping and marginal ulceration, are reduced. Delayed gastric emptying may be exacerbated.
Postprandial release of gastrin and secretin is nearly normal in patients who undergo this procedure.
Transduodenal (laparoscopic or open) or endoscopic excision of ampullary tumors
Transduodenal excision may be considered in the setting of adenoma if preoperative biopsy specimens reveal no dysplasia, but it is reserved for elderly patients, patients with significant comorbid conditions, and those with favorable tumors (generally < 2-3 cm, pedunculated).[30]
Palliative surgery
Palliative surgery is reserved for patients with unresectable tumors but who are good candidates for surgery. The goal is to alleviate biliary obstruction, duodenal obstruction, or pain. Either cholecystojejunostomy or hepaticojejunostomy bypass is performed. Duodenal obstruction may require gastrojejunostomy.[31]
Prophylactic gastrojejunostomy should be performed, even in a duodenum unobstructed at the time of laparotomy, because as many as one third of patients develop obstruction later. However, prophylactic gastrojejunostomy adds significant morbidity risk to the procedure.
Chemical splanchnicectomy, using either 6% phenol or 50% ethanol, can be performed intraoperatively. This procedure controls pain in 80% of patients.
Consultations
See the list below:
Nutritionist to provide patient education regarding postgastrectomy diet or diabetic diet when appropriate

Endocrinologist, rarely, when pharmacologic management of blood glucose is required

Physiotherapist, rarely, for patients experiencing postoperative deconditioning (These patients most commonly experienced postoperative complications or had preexisting conditions.)
Diet
See the list below:
Nasogastric decompression is discontinued based on the reconstruction performed.

Clear liquid diet usually begins between the second and fifth postoperative day.

Regular diet may resume usually between the fifth and seventh postoperative day.

Delayed gastric emptying is defined, in part, by an inability to tolerate a solid diet by 8-10 days postoperatively. Use of motility agents, such as erythromycin, which is a motilin agonist, may be considered.
Activity
See the list below:
The patient should ambulate from the first postoperative day.

Early ambulation and chest physiotherapy reduce morbidity.
References
Albores-Saavedra J, Schwartz AM, Batich K, Henson DE. Cancers of the ampulla of vater: demographics, morphology, and survival based on 5,625 cases from the SEER program. J Surg Oncol. 2009 Dec 1. 100(7):598-605. [Medline].

Morini S, Perrone G, Borzomati D, Vincenzi B, Rabitti C, Righi D, et al. Carcinoma of the ampulla of Vater: morphological and immunophenotypical classification predicts overall survival. Pancreas. 2013 Jan. 42(1):60-6. [Medline].

Wakasugi M, Tanemura M, Furukawa K, Murata M, Miyazaki M, Oshita M, et al. Signet ring cell carcinoma of the ampulla of vater: Report of a case and a review of the literature. Int J Surg Case Rep. 2015. 12:108-11. [Medline].

Carter JT, Grenert JP, Rubenstein L, Stewart L, Way LW. Tumors of the ampulla of vater: histopathologic classification and predictors of survival. J Am Coll Surg. 2008 Aug. 207(2):210-8. [Medline].

Husain S, Ahmed L, Al-Sawwaf M. Venous air embolism from intravenous CT contrast administration. J Am Coll Surg. 2006 Jan. 202(1):197. [Medline].

Cameron JL. One thousand consecutive pancreaticoduodenectomies and beyond: a personal series. Am J Surg. Oct 2007. 194:S11-S15.

Yeo CJ, Sohn TA, Cameron JL, Hruban RH, Lillemoe KD, Pitt HA. Periampullary adenocarcinoma: analysis of 5-year survivors. Ann Surg. 1998 Jun. 227(6):821-31. [Medline]. [Full Text].

Talamini MA, Moesinger RC, Pitt HA, Sohn TA, Hruban RH, Lillemoe KD. Adenocarcinoma of the ampulla of Vater. A 28-year experience. Ann Surg. 1997 May. 225(5):590-9; discussion 599-600. [Medline].

Hornick JR, Johnston FM, Simon PO, et al. A single-institution review of 157 patients presenting with benign and malignant tumors of the ampulla of Vater: management and outcomes. Surgery. 2011 Aug. 150(2):169-76. [Medline]. [Full Text].

Burke CA, Beck GJ, Church JM, van Stolk RU. The natural history of untreated duodenal and ampullary adenomas in patients with familial adenomatous polyposis followed in an endoscopic surveillance program. Gastrointest Endosc. 1999 Mar. 49(3 Pt 1):358-64. [Medline].

Griffioen G, Bus PJ, Vasen HF, Verspaget HW, Lamers CB. Extracolonic manifestations of familial adenomatous polyposis: desmoid tumours, and upper gastrointestinal adenomas and carcinomas. Scand J Gastroenterol Suppl. 1998. 225:85-91. [Medline].

Berndt C, Haubold K, Wenger F, et al. K-ras mutations in stools and tissue samples from patients with malignant and nonmalignant pancreatic diseases. Clin Chem. 1998 Oct. 44(10):2103-7. [Medline].

Iacono C, Verlato G, Zamboni G, Scarpa A, Montresor E, Capelli P, et al. Adenocarcinoma of the ampulla of Vater: T-stage, chromosome 17p allelic loss, and extended pancreaticoduodenectomy are relevant prognostic factors. J Gastrointest Surg. 2007 May. 11(5):578-88. [Medline].

Menzel J, Hoepffner N, Sulkowski U, et al. Polypoid tumors of the major duodenal papilla: preoperative staging with intraductal US, EUS, and CT--a prospective, histopathologically controlled study. Gastrointest Endosc. 1999 Mar. 49(3 Pt 1):349-57. [Medline].

John TG, Greig JD, Carter DC, Garden OJ. Carcinoma of the pancreatic head and periampullary region. Tumor staging with laparoscopy and laparoscopic ultrasonography. Ann Surg. 1995 Feb. 221(2):156-64. [Medline]. [Full Text].

Palta M, Patel P, Broadwater G, Willett C, Pepek J, Tyler D, et al. Carcinoma of the ampulla of Vater: patterns of failure following resection and benefit of chemoradiotherapy. Ann Surg Oncol. 2012 May. 19(5):1535-40. [Medline].

Willett CG, Warshaw AL, Convery K, Compton CC. Patterns of failure after pancreaticoduodenectomy for ampullary carcinoma. Surg Gynecol Obstet. 1993 Jan. 176(1):33-8. [Medline].

Bhatia S, Miller RC, Haddock MG, Donohue JH, Krishnan S. Adjuvant therapy for ampullary carcinomas: the Mayo Clinic experience. Int J Radiat Oncol Biol Phys. 2006 Oct 1. 66(2):514-9. [Medline].

Hsu CH, Chen TD, Tsai CY, Hsu JT, Yeh CN, Jan YY, et al. Prognostic Value of the Metastatic Lymph Node Ratio in Patients With Resectable Carcinoma of Ampulla of Vater. Medicine (Baltimore). 2015 Oct. 94 (42):e1859. [Medline].

Barton RM, Copeland EM 3rd. Carcinoma of the ampulla of Vater. Surg Gynecol Obstet. 1983 Mar. 156(3):297-301. [Medline].

Krishnan S, Rana V, Evans DB, et al. Role of adjuvant chemoradiation therapy in adenocarcinomas of the ampulla of vater. Int J Radiat Oncol Biol Phys. 2008 Mar 1. 70(3):735-43. [Medline].

Kim K, Chie EK, Jang JY, Kim SW, Oh DY, Im SA. Role of adjuvant chemoradiotherapy for ampulla of Vater cancer. Int J Radiat Oncol Biol Phys. 2009 Oct 1. 75(2):436-41. [Medline].

Overman MJ, Varadhachary GR, Kopetz S, Adinin R, Lin E, Morris JS. Phase II study of capecitabine and oxaliplatin for advanced adenocarcinoma of the small bowel and ampulla of Vater. J Clin Oncol. 2009 Jun 1. 27(16):2598-603. [Medline].

Yeung RS, Weese JL, Hoffman JP, et al. Neoadjuvant chemoradiation in pancreatic and duodenal carcinoma. A Phase II Study. Cancer. 1993 Oct 1. 72(7):2124-33. [Medline].

Ostojic SM, Knezevic DR, Perisic M, Jurisic V, Knezevic SM. The importance of choice of resection procedures in T1 and T2 stage of carcinoma of the ampulla of Vater. J BUON. 2015 Sep-Oct. 20 (5):1206-14. [Medline].

Giuliani J, Piacentini P, Bonetti A. Ampulla of Vater carcinoma in real-world clinical practice: a case series. Tumori. 2015 Jun 25. 101 (3):e75-8. [Medline].

Meneghetti AT, Safadi B, Stewart L, Way LW. Local resection of ampullary tumors. J Gastrointest Surg. 2005 Dec. 9(9):1300-6. [Medline].

Toh SK, Davies N, Dolan P, Worthley C, Townsend N, Williams JA. Good outcome from surgery for ampullary tumour. Aust N Z J Surg. 1999 Mar. 69(3):195-8. [Medline].

Sohn TA, Lillemoe KD, Cameron JL, et al. Reexploration for periampullary carcinoma: resectability, perioperative results, pathology, and long-term outcome. Ann Surg. 1999 Mar. 229(3):393-400. [Medline]. [Full Text].

Zhong J, Palta M, Willett CG, McCall SJ, Bulusu A, Tyler DS, et al. The role of local excision in invasive adenocarcinoma of the ampulla of Vater. J Gastrointest Oncol. 2013 Mar. 4(1):8-13. [Medline]. [Full Text].

Gurusamy KS, Kumar S, Davidson BR. Prophylactic gastrojejunostomy for unresectable periampullary carcinoma. Cochrane Database Syst Rev. 2013 Feb 28. 2:CD008533. [Medline].

Grobmyer SR, Pieracci FM, Allen PJ, Brennan MF, Jaques DP. Defining morbidity after pancreaticoduodenectomy: use of a prospective complication grading system. J Am Coll Surg. 2007 Mar. 204(3):356-64. [Medline].

el-Ghazzawy AG, Wade TP, Virgo KS, Johnson FE. Recent experience with cancer of the ampulla of Vater in a national hospital group. Am Surg. 1995 Jul. 61(7):607-11. [Medline].

AJCC Cancer Staging Manual. Exocrine pancreas. American Joint Committee on Cancer Manual. 5th ed. Philadelphia, Pa: Lippincott-Raven; 1997. 121-6.

Conlon KC. Carcinoma of the ampulla of vater: a distinct disease entity?. Ann Surg Oncol. 2003 Dec. 10(10):1136-7. [Medline].

Gastrointestinal Tumor Study Group. Further evidence of effective adjuvant combined radiation and chemotherapy following curative resection of pancreatic cancer. Gastrointestinal Tumor Study Group. Cancer. 1987 Jun 15. 59(12):2006-10. [Medline].

Hartenfels IM, Dukat A, Burg J, Hansen M, Jung M. [Adenomas of Vater's ampulla and of the duodenum. Presentation of diagnosis and therapy by endoscopic interventional and surgical methods]. Chirurg. 2002 Mar. 73(3):235-40. [Medline].

Kennedy EP, Yeo CJ. Pancreaticoduodenectomy with extended retroperitoneal lymphadenectomy for periampullary adenocarcinoma. Surg Oncol Clin N Am. 2007 Jan. 16(1):157-76. [Medline].

Martin ED. Anatomopathologie des tumeurs oddiennes. Les tumeurs oddiennes. 1978. 35-52.

Paraskevas KI, Avgerinos C, Manes C, Lytras D, Dervenis C. Delayed gastric emptying is associated with pylorus-preserving but not classical Whipple pancreaticoduodenectomy: a review of the literature and critical reappraisal of the implicated pathomechanism. World J Gastroenterol. 2006 Oct 7. 12(37):5951-8. [Medline].

Park JS, Yoon DS, Kim KS, et al. Factors influencing recurrence after curative resection for ampulla of Vater carcinoma. J Surg Oncol. 2007 Mar 15. 95(4):286-90. [Medline].

Rosen M, Zuccaro G, Brody F. Laparoscopic resection of a periampullary villous adenoma. Surg Endosc. 2003 Aug. 17(8):1322-3. [Medline].

Sarmiento JM, Nagomey DM, Sarr MG, Farnell MB. Periampullary cancers: are there differences?. Surg Clin North Am. 2001 Jun. 81(3):543-55. [Medline].

Sarr MG, Cameron JL. Surgical palliation of unresectable carcinoma of the pancreas. World J Surg. 1984 Dec. 8(6):906-18. [Medline].

Todoroki T, Koike N, Morishita Y, et al. Patterns and predictors of failure after curative resections of carcinoma of the ampulla of Vater. Ann Surg Oncol. 2003 Dec. 10(10):1176-83. [Medline].

Van Heek NT, De Castro SM, van Eijck CH, et al. The need for a prophylactic gastrojejunostomy for unresectable periampullary cancer: a prospective randomized multicenter trial with special focus on assessment of quality of life. Ann Surg. 2003 Dec. 238(6):894-902; discussion 902-5. [Medline]. [Full Text].

Wagle PK, Joshi RM, Mathur SK. Pancreaticoduodenectomy for periampullary carcinoma. Indian J Gastroenterol. 2001 Mar-Apr. 20(2):53-5. [Medline].
Medscape Reference © 2011 WebMD, LLC