Hypochondriasis Treatment & Management
Author: Glen L Xiong, MD; Chief Editor: David Bienenfeld, MD more...
Updated: Jun 10, 2013
What would you like to print?
Medical Care
Basic management principles
See the list below:
Establish a firm therapeutic alliance with the patient.

Educate the patient regarding the manifestations of hypochondriasis.

Offer consistent reassurance.

Optimize the patient's ability to cope with the symptoms, rather than trying to eliminate the symptoms.

Avoid performing high-risk, low-yield invasive procedures.

Close collaboration among all treating providers to prevent investigative duplication
Physician concerns and influence
The most powerful therapeutic tool is the physician and his or her team's attention, concern, interest, careful listening, and nonjudgmental stance, which can potentially break a pathological cycle of maladaptive interactions between the patient and movement from physician to physician (see the image below).[38]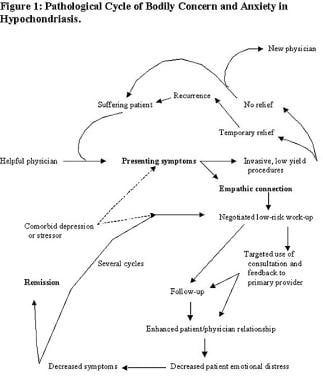 Pathological cycle of bodily concern and anxiety in hypochondriasis.
One difficulty with which physicians struggle is related to countertransference (ie, physicians' own emotional reactions to the patient). Typically, physicians feel angry, hopeless, and/or helpless because their assessments and interventions are not effective and efforts at reassuring the patient are usually met with resistance and even escalation of physical symptoms. These feelings may lead physicians to reject or withdraw from patients with hypochondriasis.
Inpatient care – Psychiatric
As with the other somatoform disorders, inpatient psychiatric hospitalization for the somatoform disorder itself is rarely necessary. As these patients are at risk for concurrent mood, anxiety, and personality disorders, a psychiatric admission may be necessary to manage episodic decompensation of the comorbid psychiatric conditions or suicidal ideation.
If the patient experiences suicidal ideation or makes a suicide act based on comorbid depression or personality disorder or develops uncontrollable anxiety, then an inpatient psychiatric hospitalization may be indicated. In such a case, a hypochondriasis diagnosis may be established in the context of an inpatient admission.
Formal psychometric testing may be of help.
The hypochondriacal patterns of behavior can be addressed in ward therapy interventions.
When patients are discharged following recovery of behavioral stability, the hypochondriasis treatment model described below may be implemented.
Inpatient care - General Medicine
Patients with hypochondriasis should be admitted to general medicine and surgery services based on the medical and surgical acuity, not solely to facilitate work-up.
Due to the enigmatic nature of various physical symptoms, occasionally patients with hypochondriasis are admitted to the general medical-surgical hospital for an extensive work-up.
When hypochondriasis is suspected in a medical or surgical inpatient, a psychosomatic medicine consultation should be performed to elucidate the diagnosis and address psychiatric comorbidity.
If clinically recommended by the psychosomatic medicine consultant, psychotropic medication interventions can be started.
As in the outpatient care model, patients should not be exposed to high-risk invasive procedures.
Numerous other strategies appear to benefit patients with hypochondriasis (see the image below). These strategies may prevent potentially serious complications, including the effects of unnecessary diagnostic and therapeutic procedures.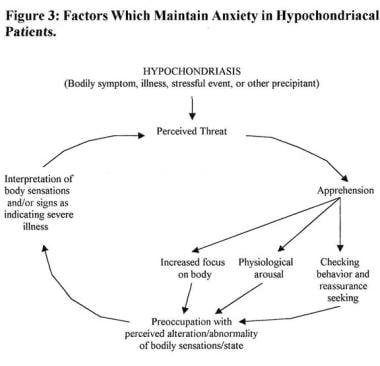 Factors that maintain anxiety in patients with hypochondriasis.
Establish one primary care physician as the patient's main physician.
Review the patient's medical history to build an alliance and rule out medical disorders.
Premature reassurance, prescription of psychotropic medications, and referral for mental health services may suggest to the patient that he or she is not being taken seriously. Therefore, while such treatments may be indicated at some time (in the future), prematurely offering a diagnosis or psychiatric treatment may, in fact, impair the establishment of a trusting patient-physician relationship.
Acknowledge the patient's pain and suffering.
Couple reassurance statements of normal findings with statements that that the patient will not be abandoned. For example, "Mr. Smith, it appears that you are still having concern about having a "several medical disorder" despite all the workup, which, so far, has not showed any abnormal finding. I will continue to work with you to maximize you overall well-being and health."
Reassure the patient that evaluation will be ongoing.
Understand the "the fear" of having an unknown medical disorder as a form of emotional communication.
Search for underlying medical and psychiatric disorders potentially amenable to treatment.
Seek consultation or refer the patient to a colleague if establishing an alliance proves difficult.
Allow for time-limited structured discussions about somatic concerns.
Spend sufficient time on health care maintenance issues such as diet, experience, smoking cessation, and cancer detection.
Treat comorbid psychiatric disorders concurrently.
Be aware of emotional reactions toward the patient (ie, anger, hopelessness, helplessness) and seek frequent informal consultation when possible.
Focus on care of the patient with hypochondriasis, not exclusively on "a cure" for the disorder.
Psychotherapy
Several authors have suggested a cognitive-educational approach to understand the development of the severe anxiety associated with hypochondriasis (see thefirst image below) and the factors that maintain the long-term anxiety (see the second image below).[39] Randomized controlled trials now suggest that cognitive-behavioral therapy (CBT) is efficacious in the treatment of hypochondriasis[40, 41, 42, 43, 44] and may be the recommended treatment for patients with hypochondriasis. Bibliotherapy, using CBT principles, may also be useful.
Surgical Care
Psychosurgery is only recommended for patients with severe and intractable hypochondriasis.
Consultations
Primary care physicians generally treat hypochondriasis, with psychiatrists providing consultation.
Diet
Patients with hypochondriasis should eat 3 meals per day to feel as healthy as possible. They should avoid substances that adversely affect mood, exacerbate anxiety symptoms, or reduce the quality of sleep (eg, caffeine, alcohol, nicotine).
Activity
Exercise increases psychological well-being. Patients who are hypochondriacal may be reluctant to follow this advice, but many patients greatly increase their physical activity as treatment progresses. Exercise helps to improve mood, reduce tension, and improve sleep in patients with associated depression, anxiety, or both.
References
Barsky AJ, Klerman GL. Overview: hypochondriasis, bodily complaints, and somatic styles. Am J Psychiatry. 1983 Mar. 140(3):273-83. [Medline].

Fallon BA, Petkova E, Skritskaya N, et al. A double-masked, placebo-controlled study of fluoxeine for hypochondiasis. J Clin Psychopharmcol. December 2008. 6:638-45.

Ravindran AV, da Silva TL, Ravindran LN, Richter MA, Rector NA. Obsessive-compulsive spectrum disorders: a review of the evidence-based treatments. Can J Psychiatry. 2009 May. 54(5):331-43. [Medline].

Hollander E, Stein DJ, Decaria CM, Cohen L, Islam M, Frenkel M. Disorders related to OCD--neurobiology. Clin Neuropharmacol. 1992. 15 Suppl 1 Pt A:259A-260A. [Medline].

Wooley SC, Blackwell B, Winget C. A learning theory model of chronic illness behavior: theory, treatment, and research. Psychosom Med. 1978 Aug. 40(5):379-401. [Medline].

Brondino N, Lanati N, Barale F, et al. Decreased NT-3 plasma levels and platelet serotonin content in patients with hypochondriasis. J Psychosom Res. 2008 Nov. 65(5):435-9. [Medline].

Magarinos M, Zafar U, Nissenson K, Blanco C. Epidemiology and treatment of hypochondriasis. CNS Drugs. 2002. 16(1):9-22. [Medline].

Kellner R. Hypochondriasis and somatization. JAMA. 1987 Nov 20. 258(19):2718-22. [Medline].

Gureje O, Ustum TB, Simon GE:. The syndrome of hypochondriasis: a cross-national study in primary care. Psychol Med;. 1997. 27:1001-10.

Barsky AJ, Ettner SL, Horsky J, Bates DW. Resource utilization of patients with hypochondriacal health anxiety and somatization. Med Care. 2001 Jul. 39(7):705-15. [Medline].

Barsky AJ, Ahern DK, Bailey ED, Saintfort R, Liu EB, Peekna HM. Hypochondriacal patients' appraisal of health and physical risks. Am J Psychiatry. 2001 May. 158(5):783-7. [Medline].

Holder-Perkins V, Wise TN, Williams DE. Hypochondriacal Concerns: Management Through Understanding. Prim Care Companion J Clin Psychiatry. 2000 Aug. 2(4):117-121. [Medline].

Lipowski ZJ. Somatization: a borderland between medicine and psychiatry. CMAJ. 1986 Sep 15. 135(6):609-14. [Medline].

Barsky AJ, Wyshak G, Klerman GL. Psychiatric comorbidity in DSM-III-R hypochondriasis. Arch Gen Psychiatry. 1992 Feb. 49(2):101-8. [Medline].

Ball RA, Clare AW. Symptoms and social adjustment in Jewish depressives. Br J Psychiatry. 1990 Mar. 156:379-83. [Medline].

Jones LR, Mabe PA 3rd, Riley WT. Illness coping strategies and hypochondriacal traits among medical inpatients. Int J Psychiatry Med. 1989. 19(4):327-39. [Medline].

Atmaca M, Korkmaz H, Korkmaz S. P wave dispersion in patients with hypochondriasis. Neurosci Lett. 2010 Nov 26. 485(3):148-50. [Medline].

Smith RC. Somatization disorder: defining its role in clinical medicine. J Gen Intern Med. 1991 Mar-Apr. 6(2):168-75. [Medline].

Stefansson JG, Messina JA, Meyerowitz S. Hysterical neurosis, conversion type: clinical and epidemiological considerations. Acta Psychiatr Scand. 1976 Feb. 53(2):119-38. [Medline].

Toone BK. Disorders of hysterical conversion. Bass C, ed. Physical Symptoms and Psychological Illness. London, UK: Blackwell Scientific; 1990. 207-34.

de Leon J, Bott A, Simpson GM. Dysmorphophobia: body dysmorphic disorder or delusional disorder, somatic subtype?. Compr Psychiatry. 1989 Nov-Dec. 30(6):457-72. [Medline].

Bienvenu OJ, Samuels JF, Wuyek LA, Liang KY, Wang Y, Grados MA, et al. Is obsessive-compulsive disorder an anxiety disorder, and what, if any, are spectrum conditions? A family study perspective. Psychol Med. 2011 May 13. 1-13. [Medline].

van den Heuvel OA, Mataix-Cols D, Zwitser G, Cath DC, van der Werf YD, Groenewegen HJ, et al. Common limbic and frontal-striatal disturbances in patients with obsessive compulsive disorder, panic disorder and hypochondriasis. Psychol Med. 2011 May 5. 1-12. [Medline].

Hollifield M, Tuttle L, Paine S, Kellner R. Hypochondriasis and somatization related to personality and attitudes toward self. Psychosomatics. 1999 Sep-Oct. 40(5):387-95. [Medline].

Fallon BA, Harper KM, Landa A, Pavlicova M, Schneier FR, Carson A. Personality disorders in hypochondriasis: prevalence and comparison with two anxiety disorders. Psychosomatics. 2012 Nov-Dec. 53(6):566-74. [Medline].

Xiong GL, Bougeois JA, Chang CH, Liu D, Hilty DM. Hypochondriasis: common presentations and treatment strategies in primary care and specialty settings. Therapy. 2007. (4):3:323-38.

Salkovskis PM, Rimes KA, Warwick HM, Clark DM. The Health Anxiety Inventory: development and validation of scales for the measurement of health anxiety and hypochondriasis. Psychol Med. 2002 Jul. 32(5):843-53. [Medline].

Campo JV, Di Lorenzo C, Chiappetta L, et al. Adult outcomes of pediatric recurrent abdominal pain: do they just grow out of it?. Pediatrics. 2001 Jul. 108(1):E1. [Medline].

Noyes R Jr, Stuart S, Langbehn DR, Happel RL, Longley SL, Yagla SJ. Childhood antecedents of hypochondriasis. Psychosomatics. 2002 Jul-Aug. 43(4):282-9. [Medline].

Fiddler M, Jackson J, Kapur N, Wells A, Creed F:. Childhood adversity and frequent medical consultations. Gen Hosp Psychiatry. 2004. 26:367-77.

Durso FT, Reardon R, Shore WJ, Delys SM:. Memory processes and hypochondriacal tendencies. J Nerv Ment Dis. 1992. 179(5):279-83.

Gottlieb GL. Hypochondriasis: A psychosomatic problem in the elderly. Adv Psychosom Med. 1989. 19:67-84.

Stein EM. When is hypochondriasis not hypochondriasis? Geriatrics. 2003. 58(3):41-2.

Tyrer P, Cooper S, Tyrer H, et al. CHAMP: Cognitive behaviour therapy for health anxiety in medical patients, a randomised controlled trial. BMC Psychiatry. 2011 Jun 14. 11:99. [Medline]. [Full Text].

Kellner R, Abbott P, Pathak D, Winslow WW, Umland BE. Hypochondriacal beliefs and attitudes in family practice and psychiatric patients. Int J Psychiatry Med. 1983-1984. 13(2):127-39. [Medline].

Speckens AE, Spinhoven P, Sloekers PP, Bolk JH, van Hemert AM. A validation study of the Whitely Index, the Illness Attitude Scales, and the Somatosensory Amplification Scale in general medical and general practice patients. J Psychosom Res. 1996 Jan. 40(1):95-104. [Medline].

Janca A, Isaac M, Bennett LA, Tacchini G. Somatoform disorders in different cultures--a mail questionnaire survey. Soc Psychiatry Psychiatr Epidemiol. 1995 Jan. 30(1):44-8. [Medline].

Harrington P. Obsessive compulsive disorder with associated hypochondriasis. BMJ. 2008 May 10. 336(7652):1070-1. [Medline].

Weck F, Neng JM, Richtberg S, Stangier U. Dysfunctional beliefs about symptoms and illness in patients with hypochondriasis. Psychosomatics. 2012 Mar-Apr. 53(2):148-54. [Medline].

Looper KJ, Kirmayer LJ. Behavioral medicine approaches to somatoform disorders. J Consult Clin Psychol. 2002 Jun. 70(3):810-27. [Medline].

Visser S, Bouman TK. The treatment of hypochondriasis: exposure plus response prevention vs cognitive therapy. Behav Res Ther. 2001 Apr. 39(4):423-42. [Medline].

Kroenke K, Swindle R. Cognitive-behavioral therapy for somatization and symptom syndromes: a critical review of controlled clinical trials. Psychother Psychosom. 2000 Jul-Aug. 69(4):205-15. [Medline].

Visser S, Bouman TK. Cognitive-behavioural approaches in the treatment of hypochondriasis: six single case cross-over studies. Behav Res Ther. 1992 May. 30(3):301-6. [Medline].

McManus F, Surawy C, Muse K, Vazquez-Montes M, Williams JM. A randomized clinical trial of mindfulness-based cognitive therapy versus unrestricted services for health anxiety (hypochondriasis). J Consult Clin Psychol. 2012 Oct. 80(5):817-28. [Medline].

Medical Economics Staff. Medical Economics. Physicians' Desk Reference. 58th ed. Monvale, NJ; 2004.

Kellner R. Prognosis of treated hypochondriasis. A clinical study. Acta Psychiatr Scand. 1983 Feb. 67(2):69-79. [Medline].

olde Hartman TC, Borghuis MS, Lucassen PL, van de Laar FA, Speckens AE, van Weel C. Medically unexplained symptoms, somatisation disorder and hypochondriasis: course and prognosis. A systematic review. J Psychosom Res. 2009 May. 66(5):363-77. [Medline].

Schweitzer PJ, Zafar U, Pavlicova M, Fallon BA. Long-term follow-up of hypochondriasis after selective serotonin reuptake inhibitor treatment. J Clin Psychopharmacol. 2011 Jun. 31(3):365-8. [Medline].

Adler G. The physician and the hypochondriacal patient. N Engl J Med. 1981 Jun 4. 304(23):1394-6. [Medline].

Avia MD, Ruiz MA, Olivares ME, Crespo M, Guisado AB, Sánchez A. The meaning of psychological symptoms: effectiveness of a group intervention with hypochondriacal patients. Behav Res Ther. 1996 Jan. 34(1):23-31. [Medline].

Barsky AJ. Hypochondriasis. Medical management and psychiatric treatment. Psychosomatics. 1996 Jan-Feb. 37(1):48-56. [Medline].

Bouman TK. A community-based psychoeducational group approach to hypochondriasis. Psychother Psychosom. 2002 Nov-Dec. 71(6):326-32. [Medline].

Bursztajn H, Barsky AJ. Facilitating patient acceptance of a psychiatric referral. Arch Intern Med. 1985 Jan. 145(1):73-5. [Medline].

Cetin M, Ebrinç S, Agargün MY, Yigit S. Risperidone for the treatment of monosymptomatic hypochondriacal psychosis. J Clin Psychiatry. 1999 Aug. 60(8):554. [Medline].

Fallon BA, Javitch JA, Hollander E, Liebowitz MR. Hypochondriasis and obsessive compulsive disorder: overlaps in diagnosis and treatment. J Clin Psychiatry. 1991 Nov. 52(11):457-60. [Medline].

Fallon BA, Liebowitz MR, Salman E, Schneier FR, Jusino C, Hollander E. Fluoxetine for hypochondriacal patients without major depression. J Clin Psychopharmacol. 1993 Dec. 13(6):438-41. [Medline].

Fallon BA, Schneier FR, Marshall R, et al. The pharmacotherapy of hypochondriasis. Psychopharmacol Bull. 1996. 32(4):607-11. [Medline].

Ford CV, Long KD. Group psychotherapy of somatizing patients. Psychother Psychosom. 1977. 28(1-4):294-304. [Medline].

Greeven A, van Balkom AJ, Visser S, et al. Cognitive behavior therapy and paroxetine in the treatment of hypochondriasis: a randomized controlled trial. Am J Psychiatry. 2007 Jan. 164(1):91-9. [Medline].

Hamann K, Avnstorp C. Delusions of infestation treated by pimozide: a double-blind crossover clinical study. Acta Derm Venereol. 1982. 62(1):55-8. [Medline].

Hiller W, Leibbrand R, Rief W, Fichter MM. Predictors of course and outcome in hypochondriasis after cognitive-behavioral treatment. Psychother Psychosom. 2002 Nov-Dec. 71(6):318-25. [Medline].

House A. Hypochondriasis and related disorders. Assessment and management of patients referred for a psychiatric opinion. Gen Hosp Psychiatry. 1989 May. 11(3):156-65. [Medline].

Kellner R. Psychotherapeutic strategies in hypochondriasis: a clinical study. Am J Psychother. 1982 Apr. 36(2):146-57. [Medline].

Klimes I, Mayou RA, Pearce MJ, Coles L, Fagg JR. Psychological treatment for atypical non-cardiac chest pain: a controlled evaluation. Psychol Med. 1990 Aug. 20(3):605-11. [Medline].

Lidbeck J. Group therapy for somatization disorders in primary care: maintenance of treatment goals of short cognitive-behavioural treatment one-and-a-half-year follow-up. Acta Psychiatr Scand. 2003 Jun. 107(6):449-56. [Medline].

Pearce MJ, Mayou RA, Klimes I. The management of atypical non-cardiac chest pain. Q J Med. 1990 Sep. 76(281):991-6. [Medline].

Phillips KA. Body dysmorphic disorder: clinical features and drug treatment. CNS Drugs. 1995. 3:30-40.

Reilly TM, Jopling WH, Beard AW. Successful treatment with pimozide of delusional parasitosis. Br J Dermatol. 1978 Apr. 98(4):457-9. [Medline].

Stone AB. Treatment of hypochondriasis with clomipramine. J Clin Psychiatry. 1993 May. 54(5):200-1. [Medline].

Thomson A, Page L. Psychotherapies for hypochondriasis. Cochrane Database of Systematic Reviews 2007, Issue 4. Art. No.: CD006520. DOI: 10.1002/14651858.CD006520.pub2.

Walker J, Vincent N, Furer P, Cox B, Kjernisted K. Treatment preference in hypochondriasis. J Behav Ther Exp Psychiatry. 1999 Dec. 30(4):251-8. [Medline].

Wesner RB, Noyes R Jr. Imipramine an effective treatment for illness phobia. J Affect Disord. 1991 May-Jun. 22(1-2):43-8. [Medline].
Medscape Reference © 2011 WebMD, LLC