Asbestosis Workup
Author: Basil Varkey, MD, FCCP; Chief Editor: Zab Mosenifar, MD, FACP, FCCP more...
Updated: Dec 31, 2015
What would you like to print?
Approach Considerations
The diagnosis of asbestosis is based on the following[20] :
A reliable and significant (ie, dose x time) history of asbestos exposure and an appropriate latency period between exposure and detection of disease

Characteristic changes of pulmonary fibrosis on imaging studies

Absence of other fibrotic diseases that mimic asbestosis

Dyspnea upon exertion

Bilateral basilar inspiratory crackles

Restrictive pattern on pulmonary function studies associated with impaired gas exchange
Blood tests for antinuclear antibodies (ANAs), rheumatoid factor, and erythrocyte sedimentation rate lack diagnostic specificity and are not useful in diagnosis or in activity assessment.
A lung scan with gallium citrate (67 Ga) is a nonspecific test that may detect areas of inflammation in the lungs. However, the results do not always correlate with other measurements of inflammation. This test is no longer recommended.
Physicians often make the diagnosis without histopathologic confirmation. Errors may occur because other, more common interstitial diseases (eg, idiopathic pulmonary fibrosis) mimic the clinical, radiologic, and pulmonary functional features of asbestosis. Bear in mind the long latency period that exists between patient exposure and the manifestation of symptoms and signs of asbestosis.
When lung tissue is available for histopathologic examination, confirmation of diagnosis requires both fibrosis and accumulation of fibers or asbestos bodies (ie, ferruginous bodies; these are asbestos fibers that develop a ferritin-protein coat and have a characteristic long-beaded appearance). Asbestos bodies alone are not diagnostic for disease, because occasionally examiners find asbestos bodies in people without known exposure.
Pleural plaques may coexist with asbestosis, but these plaques alone are usually not associated with impaired pulmonary function. Nonetheless, pleural plaques are a reliable indicator of asbestos exposure.
Radiography
Chest radiographs (ie, posteroanterior and lateral views) are basic and required diagnostic imaging studies. However, the diagnosis of asbestosis requires multiple elements. A chest radiograph alone has only a modest positive predictive value for the condition, but when it is combined with abnormal signs (rales) and pulmonary function test results, the positive predictive value is markedly increased.[21]
Typical findings include diffuse reticulonodular infiltrates, which are observed predominantly at the lung bases. The diffuse lung infiltrates cause the appearance of shaggy heart borders.
In early disease, an increase in interstitial markings, mostly linear, is seen. Honeycombing, with cystic spaces surrounded by coarse interstitial infiltrates and small lung fields, characterizes advanced disease.
Bilateral pleural thickening may be observed. Asbestos-related pleural thickening more often involves the middle third of the pleura as opposed to the upper third, which is affected by tuberculosis, or the lower third, which can be damaged by empyema, trauma, or past pleurodesis therapy. (An oblique-view radiograph may be helpful in recognizing pleura-based abnormalities.)
A calcified pleural plaque located in the diaphragmatic pleura is a reliable indicator of asbestos exposure but is not a required element for the diagnosis of asbestosis. Besides the diaphragmatic pleura, other common sites for plaque formation in the parietal pleura are along the sixth through the ninth ribs. Noncalcified plaques may not be detected on chest radiographs. (See the image below.)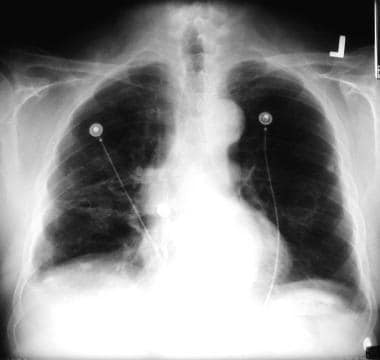 Asbestos pleural plaques.
Rarely, pleural adhesions may cause peripheral atelectasis with a rounded border (rounded atelectasis) that may simulate a lung tumor.[22]
The International Labor Office standardized classification of radiographic abnormalities is useful in grading the extent of disease in asbestosis and in other pneumoconioses.
CT Scanning
Computed tomography (CT) scanning is useful in the delineation of pleural or pleura-based abnormalities (eg, effusion, thickening, plaque, malignant mesothelioma, rounded atelectasis) and in the delineation of a parenchymal density that is suggestive of bronchogenic carcinoma.[23]
A high-resolution CT (HRCT) scan allows better definition of interstitial infiltrates and may be helpful in diagnosing asbestosis in the early stages.
Typical HRCT findings in asbestosis include subpleural linear opacities seen parallel to the pleura; basilar lung fibrosis and peribronchiolar, intralobular, and interlobular septal fibrosis; honeycombing; and pleural plaques.
In a minority of cases, HRCT abnormalities may be seen in individuals with normal chest radiographic findings.
Pulmonary Function Test
Diffusing capacity reduction precedes lung volume changes, but findings from a diffusing capacity measurement are not specific. Besides diffusing capacity reduction, the earliest physiologic abnormality is exertional hypoxemia. Total lung capacity is reduced in asbestosis as in other restrictive disorders.
Using spirometry, vital capacity on a pulmonary function test typically appears reduced, without a reduction in the ratio of forced expiratory volume in 1 second to forced vital capacity (FEV1 to FVC).
Small-airway flow rates (eg, midexpiratory forced expiratory flow [FEF25-75]) are reduced but are nonspecific for a diagnosis of small-airway obstructive disease.
Oximetry
The evaluation of oxygenation is important because uncorrected hypoxemia causes pulmonary hypertension and may lead to cor pulmonale.
Physicians can use a noninvasive test of pulse oximetry as a screening test, especially if oximetry is performed during rest and during exercise (eg, 6-minute walk test).
Obtain accurate information through measurement of arterial blood gases, which requires an arterial puncture. In selected cases, an exercise study may demonstrate desaturation during exercise.
Bronchoalveolar Lavage and Bronchoscopy
Bronchoalveolar lavage
Bronchoalveolar lavage (BAL) has only limited application in the diagnosis and management of asbestosis. BAL is helpful in diagnosing infections that may present with diffuse infiltrates and simulate asbestosis, and the procedure may aid in the diagnosis of a coexisting bronchogenic carcinoma. In workers who are exposed to asbestos, BAL can provide quantitative information through asbestos fiber counts. More than 1 asbestos body (ie, coated asbestos fiber) per milliliter of lavage effluent suggests significant exposure.[7]
Bronchoscopy
Fiberoptic bronchoscopy is performed to facilitate BAL. In addition, bronchoscopy is indicated for airway examination when radiologic studies are suggestive of bronchogenic carcinoma. Transbronchoscopic lung biopsy is not recommended for diagnosis of asbestosis. This procedure yields inadequate tissue and may cause crush alterations to the tissue.
Histologic Findings
In most cases, physicians diagnose asbestosis without a histopathologic examination of lung tissue. A pathologic diagnosis of asbestosis requires visualization of both fibrosis and asbestos bodies through light microscopy or a significant quantity of asbestos fibers observed through electron microscopy.
The American College of Pathologists' scheme for assessing the severity of asbestosis grades fibrosis in the following 4 categories:
Grade 1 - Fibrosis in the wall of a respiratory bronchiole without extension to distant alveoli

Grades 2 and 3 - These define more extensive disease

Grade 4 - Alveolar and septal fibrosis with spaces larger than alveoli, ranging up to 1cm (ie, honeycombing)
Asbestos bodies (ie, ferruginous bodies) are asbestos fibers that develop a ferritin-protein coat and have a characteristic long-beaded appearance. Asbestos bodies alone are not diagnostic for disease, because occasionally examiners find asbestos bodies in people without known exposure.
Lung biopsy
Open lung biopsy is not indicated in most cases. However, this procedure provides sufficient tissue for the pathologist to make a definitive diagnosis.
References
Churg A, Stevens B. Enhanced retention of asbestos fibers in the airways of human smokers. Am J Respir Crit Care Med. 1995 May. 151(5):1409-13. [Medline].

Gwinn MR, DeVoney D, Jarabek AM, Sonawane B, Wheeler J, Weissman DN. Meeting report: mode(s) of action of asbestos and related mineral fibers. Environ Health Perspect. 2011 Dec. 119(12):1806-10. [Medline].

Antao VC, Larson TC, Horton DK. Libby vermiculite exposure and risk of developing asbestos-related lung and pleural diseases. Curr Opin Pulm Med. 2012 Mar. 18(2):161-7. [Medline].

Pfau JC, Sentissi JJ, Weller G, Putnam EA. Assessment of autoimmune responses associated with asbestos exposure in Libby, Montana, USA. Environ Health Perspect. 2005 Jan. 113(1):25-30. [Medline].

Marchand LS, St-Hilaire S, Putnam EA, Serve KM, Pfau JC. Mesothelial cell and anti-nuclear autoantibodies associated with pleural abnormalities in an asbestos exposed population of Libby MT. Toxicol Lett. 2012 Jan 25. 208(2):168-73. [Medline].

Dumortier P, De Vuyst P. Asbestos exposure during uncontrolled removal of sprayed-on asbestos. Ann Occup Hyg. 2012 Jan. 56(1):49-54. [Medline].

Karjalainen A, Piipari R, Mantyla T, et al. Asbestos bodies in bronchoalveolar lavage in relation to asbestos bodies and asbestos fibres in lung parenchyma. Eur Respir J. 1996 May. 9(5):1000-5. [Medline].

Phelka AD, Finley BL. Potential health hazards associated with exposures to asbestos-containing drywall accessory products: A state-of-the-science assessment. Crit Rev Toxicol. 2012 Jan. 42(1):1-27. [Medline].

Sichletidis L, Chloros D, Spyratos D, et al. Mortality from occupational exposure to relatively pure chrysotile: a 39-year study. Respiration. 2009. 78(1):63-8. [Medline].

Wang X, Yano E, Qiu H, Yu I, Courtice MN, Tse LA. A 37-year observation of mortality in Chinese chrysotile asbestos workers. Thorax. 2012 Feb. 67(2):106-10. [Medline].

LaDou J, Castleman B, Frank A, Gochfeld M, Greenberg M, Huff J. The case for a global ban on asbestos. Environ Health Perspect. 2010 Jul. 118(7):897-901. [Medline].

Amar RK, Jick SS, Rosenberg D, Maher TM, Meier CR. Incidence of the Pneumoconioses in the United Kingdom General Population between 1997 and 2008. Respiration. 2012 Jun 7. [Medline].

Kim SY, Kim YC, Kim Y, Hong WH. Predicting the mortality from asbestos-related diseases based on the amount of asbestos used and the effects of slate buildings in Korea. Sci Total Environ. 2015 Oct 26. 542 (Pt A):1-11. [Medline].

Hammond EC, Selikoff IJ, Seidman H. Asbestos exposure, cigarette smoking and death rates. Ann N Y Acad Sci. 1979. 330:473-90. [Medline].

Camargo MC, Stayner LT, Straif K, Reina M, Al-Alem U, Demers PA. Occupational exposure to asbestos and ovarian cancer: a meta-analysis. Environ Health Perspect. 2011 Sep. 119(9):1211-7. [Medline].

Ameille J, Letourneux M, Paris C, Brochard P, Stoufflet A, Schorle E, et al. Does asbestos exposure cause airway obstruction, in the absence of confirmed asbestosis?. Am J Respir Crit Care Med. 2010 Aug 15. 182(4):526-30. [Medline].

Antao VC, Pinheiro GA, Wassell JT. Asbestosis mortality in the USA: facts and predictions. Occup Environ Med. 2009 May. 66(5):335-8. [Medline].

Centers for Disease Control and Prevention. Asbestosis-related years of potential life lost before age 65 years. United States 1968-2005. MMWR. 2008 Dec 12. 57:1321-25.

Billings CG, Howard P. Asbestos exposure, lung cancer and asbestosis. Monaldi Arch Chest Dis. 2000 Apr. 55(2):151-6. [Medline].

Hammar SP, Abraham JL. Commentary on pathologic diagnosis of asbestosis and critique of the 2010 Asbestosis Committee of the College of American Pathologists (CAP) and Pulmonary Pathology Society's (PPS) update on the diagnostic criteria for pathologic asbestosis. Am J Ind Med. 2015 Oct. 58 (10):1034-9. [Medline].

Ross RM. The clinical diagnosis of asbestosis in this century requires more than a chest radiograph. Chest. 2003 Sep. 124(3):1120-8. [Medline].

Voisin C, Fisekci F, Voisin-Saltiel S, Ameille J, Brochard P, Pairon JC. Asbestos-related rounded atelectasis. Radiologic and mineralogic data in 23 cases. Chest. 1995 Feb. 107(2):477-81. [Medline].

Sette A, Neder JA, Nery LE, Kavakama J, Rodrigues RT, Terra-Filho M, et al. Thin-section CT abnormalities and pulmonary gas exchange impairment in workers exposed to asbestos. Radiology. 2004 Jul. 232(1):66-74. [Medline].
Medscape Reference © 2011 WebMD, LLC