Berylliosis Workup
Author: Raed A Dweik, MD, FACP, FRCPC, FCCP, FCCM, FAHA; Chief Editor: Zab Mosenifar, MD, FACP, FCCP  more...
Updated: Dec 31, 2015
What would you like to print?
Laboratory Studies
Blood BeLPT currently is the test of choice to identify beryllium workers who develop beryllium sensitization or chronic beryllium disease (CBD).[6, 7, 8, 9, 10] Blood BeLPT has an integral role in reaching a diagnosis of CBD. The test involves exposing peripheral blood mononuclear cells in vitro to beryllium salts at varying concentrations for variable time intervals. Cell proliferation in the presence of beryllium indicates a positive test result. BeLPT is only performed in selected specialized laboratories, including the following:
Center for Epidemiologic Research
Oak Ridge Institute for Science and Education
Former Beryllium Worker Medical Surveillance Program
ORISE/CER, P.O. Box 117
Oak Ridge, TN 27831-0117
(865) 576-3115
(865) 241-6152
FAX (865) 241-2923
Cleveland Clinic Foundation
9500 Euclid Avenue
Cleveland, OH 44195-0001
(216) 444-2200
(216) 444-8844
(800) CCF-CARE (223-2273) ext 48844 or 55763
Hospital of the University of Pennsylvania
Pulmonary Immunology Laboratory
815 East Gates Building, 4300 Spruce Street
Philadelphia, PA 19104-4283
National Jewish Center for Immunology and Respiratory Medicine
Cellular Immunology Tests
Pulmonary Division and Occupational/Environmental Medicine Division
1400 Jackson Street
Denver, CO 80206
(303) 388-4461
Specialty Laboratories, Inc.
OncQuest
2211 Michigan Avenue
Santa Monica, CA 90404-3900
(310) 828-6543 or (800) 421-4449
Imaging Studies
Findings on chest radiograph are normal in about half of the patients with documented chronic beryllium disease (CBD). Abnormal findings include hilar adenopathy and/or increased interstitial markings.
High-resolution CT (HRCT) scan of the chest is more sensitive than the chest radiograph.[11] Typical findings on HRCT scan are ground glass opacification (see the image below), parenchymal nodules, or septal lines. Findings on HRCT scan are negative in 25% of patients with documented CBD.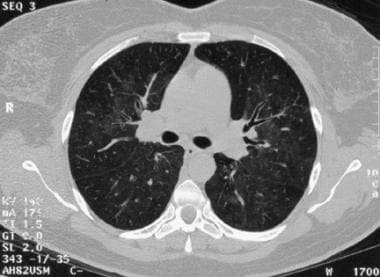 A high-resolution CT scan of the chest showing the typical ground glass appearance in a patient with chronic beryllium disease, or berylliosis.
Other Tests
Pulmonary function tests include the following:
Spirometry

Lung volumes

Diffusing capacity of lung for carbon monoxide (DLCO)

Cardiopulmonary exercise
With disease progression, spirometry may show evidence of obstruction, restriction, or both. In an early study in 40 patients with advanced CBD, an obstructive pattern was observed in 39% of patients, a restrictive pattern in 20%, and a low DLCO in 36%.
The DLCO declines over the course of the disease.
The most sensitive test is abnormalities in gas exchange during exercise.
Laser microprobe mass spectrographic (LAMMS) analysis can be used to detect beryllium in histologic sections from lung biopsy specimens. This test is not necessary for the diagnosis and is not widely available.
Procedures
Flexible fiberoptic bronchoscopy with BAL and transbronchial biopsies (TBBX) usually is the first invasive step necessary to confirm a suspected diagnosis of CBD. Patients with CBD usually have BAL lymphocytosis (>20% lymphocytes). The BeLPT test also can be performed on BAL cells. Transbronchial biopsies are sent for histology. A minimum of 6 high-quality biopsies should be obtained to optimize the yield. If TBBX results are negative but the suspicion for CBD remains high (eg, a positive result on BeLPT and/or a high percentage of lymphocytes in the BAL specimens), consider repeat bronchoscopy.
Open lung biopsy may need to be performed if repeat bronchoscopy findings still are negative.
Histologic Findings
The hallmark of CBD is the presence of nonnecrotizing granulomas on lung biopsy (see the image below). These granulomas are histopathologically indistinguishable from sarcoid granulomas.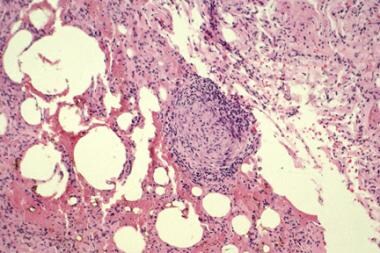 A histopathology slide (hematosin and eosin stain) showing the typical well-formed granuloma of chronic beryllium disease, or berylliosis.
References
Saltini C, Winestock K, Kirby M, Pinkston P, Crystal RG. Maintenance of alveolitis in patients with chronic beryllium disease by beryllium-specific helper T cells. N Engl J Med. 1989 Apr 27. 320(17):1103-9. [Medline].

Van Dyke MV, Martyny JW, Mroz MM, et al. Risk of Chronic Beryllium Disease by HLA-DPB1 E69 Genotype and Beryllium Exposure in Nuclear Workers. Am J Respir Crit Care Med. 2011 Mar 11. [Medline].

Harber P, Su J, Alongi G. Exposure factors associated with chronic beryllium disease development in Beryllium BioBank participants. J Occup Environ Med. 2014 Aug. 56 (8):852-6. [Medline].

Berlin JM, Taylor JS, Sigel JE, Bergfeld WF, Dweik RA. Beryllium dermatitis. J Am Acad Dermatol. 2003 Nov. 49(5):939-41. [Medline].

Richeldi L, Sorrentino R, Saltini C. HLA-DPB1 glutamate 69: a genetic marker of beryllium disease. Science. 1993 Oct 8. 262(5131):242-4. [Medline].

Barna BP, Culver DA, Yen-Lieberman B, Dweik RA, Thomassen MJ. Clinical application of beryllium lymphocyte proliferation testing. Clin Diagn Lab Immunol. 2003 Nov. 10(6):990-4. [Medline].

Newman LS. Significance of the blood beryllium lymphocyte proliferation test. Environ Health Perspect. 1996 Oct. 104 Suppl 5:953-6. [Medline].

Rossman MD, Kern JA, Elias JA, Cullen MR, Epstein PE, Preuss OP, et al. Proliferative response of bronchoalveolar lymphocytes to beryllium. A test for chronic beryllium disease. Ann Intern Med. 1988 May. 108(5):687-93. [Medline].

Balmes JR, Abraham JL, Dweik RA, Fireman E, Fontenot AP, Maier LA, et al. An official American Thoracic Society statement: diagnosis and management of beryllium sensitivity and chronic beryllium disease. Am J Respir Crit Care Med. 2014 Nov 15. 190 (10):e34-59. [Medline].

Harber P, Su J. Beryllium Biobank 3: considerations for improving chronic beryllium disease screening. J Occup Environ Med. 2014 Aug. 56 (8):861-6. [Medline].

Newman LS, Buschman DL, Newell JD Jr, Lynch DA. Beryllium disease: assessment with CT. Radiology. 1994 Mar. 190(3):835-40. [Medline].

Kreiss K, Mroz MM, Newman LS, Martyny J, Zhen B. Machining risk of beryllium disease and sensitization with median exposures below 2 micrograms/m3. Am J Ind Med. 1996 Jul. 30(1):16-25. [Medline].

Amicosante M, Berretta F, Franchi A, Rogliani P, Dotti C, Losi M, et al. HLA-DP-unrestricted TNF-alpha release in beryllium-stimulated peripheral blood mononuclear cells. Eur Respir J. 2002 Nov. 20(5):1174-8. [Medline].

Culver DA, Dweik RA. Chronic beryllium disease. Clin Pulm Med. 2003. 10:72-9.

Kreiss K, Miller F, Newman LS, Ojo-Amaize EA, Rossman MD, Saltini C. Chronic beryllium disease--from the workplace to cellular immunology, molecular immunogenetics, and back. Clin Immunol Immunopathol. 1994 May. 71(2):123-9. [Medline].

Kreiss K, Mroz MM, Zhen B, Wiedemann H, Barna B. Risks of beryllium disease related to work processes at a metal, alloy, and oxide production plant. Occup Environ Med. 1997 Aug. 54(8):605-12. [Medline].

Kreiss K, Newman LS, Mroz MM, Campbell PA. Screening blood test identifies subclinical beryllium disease. J Occup Med. 1989 Jul. 31(7):603-8. [Medline].

Kriebel D, Brain JD, Sprince NL, Kazemi H. The pulmonary toxicity of beryllium. Am Rev Respir Dis. 1988 Feb. 137(2):464-73. [Medline].

Meyer KC. Beryllium and lung disease. Chest. 1994 Sep. 106(3):942-6. [Medline].

MOSBY'S GENRx-The Complete Reference For Generic And Brand Drugs. 9th ed. St. Louis, Mo: Mosby-Year Book; 1999.

Müller-Quernheim J, Gaede KI, Fireman E, Zissel G. Diagnoses of chronic beryllium disease within cohorts of sarcoidosis patients. Eur Respir J. 2006 Jun. 27(6):1190-5. [Medline].

Newman LS. Immunology, genetics, and epidemiology of beryllium disease. Chest. 1996 Mar. 109(3 Suppl):40S-43S. [Medline].

Newman LS, Kreiss K, King TE Jr, Seay S, Campbell PA. Pathologic and immunologic alterations in early stages of beryllium disease. Re-examination of disease definition and natural history. Am Rev Respir Dis. 1989 Jun. 139(6):1479-86. [Medline].

Newman LS, Lloyd J, Daniloff E. The natural history of beryllium sensitization and chronic beryllium disease. Environ Health Perspect. 1996 Oct. 104 Suppl 5:937-43. [Medline].

Newman LS, Mroz MM, Balkissoon R, Maier LA. Beryllium sensitization progresses to chronic beryllium disease: a longitudinal study of disease risk. Am J Respir Crit Care Med. 2005 Jan 1. 171(1):54-60. [Medline].

Pappas GP, Newman LS. Early pulmonary physiologic abnormalities in beryllium disease. Am Rev Respir Dis. 1993 Sep. 148(3):661-6. [Medline].

Saber W, Dweik RA. A 65-year-old factory worker with dyspnea on exertion and a normal chest x-ray. Cleve Clin J Med. 2000 Nov. 67(11):791-2, 794, 797-8, 800. [Medline].

Stokes RF, Rossman MD. Blood cell proliferation response to beryllium: analysis by receiver-operating characteristics. J Occup Med. 1991 Jan. 33(1):23-8. [Medline].
Medscape Reference © 2011 WebMD, LLC