Blastomycosis Workup
Author: Chidinma Chima-Okereke, MD; Chief Editor: Zab Mosenifar, MD, FACP, FCCP more...
Updated: Feb 18, 2015
What would you like to print?
Approach Considerations
There are no clinical presentations or imaging abnormalities that provide a definitive diagnosis of blastomycosis. Direct visualization of B dermatitidis is essential in order to provide a definitive diagnosis. For most specimens, direct visualization should precede culture to confirm the diagnosis. Sputum specimens processed with 10% potassium hydroxide or a fungal stain are examined first in adolescent and adult patients because these specimens have a high overall yield (approximately 80%). Isolation and identification of the organism on sputum culture provides absolute confirmation of the diagnosis.
With regard to serologic tests, complement fixation and immunodiffusion tests lack sensitivity and cannot be used to exclude the diagnosis. A commonly used test is the commercially available chemiluminescent DNA probe (AccuProbe; GenProbe Inc., San Diego, CA). Although it produces a positive result with all Paracoccidioides brasiliensis species, P brasiliensis is very rare in the United States, so this probe remains useful. P brasiliensis can be differentiated from B dermatitidis by the appearance of the yeast phase. Newer tests that use more specific cell wall antigens, radioimmunoassays (RIAs), and Western blot techniques have improved sensitivity and specificity but are not yet available for widespread clinical use.[2, 31]
Skin testing is not reliable for diagnosis and is not commercially available. Antigen detection in serum and urine lacks specificity.
The diagnosis of blastomycosis is more difficult in children. Children with pulmonary disease who are unable to produce sputum may require invasive procedures, such as bronchoscopy with bronchoalveolar lavage, percutaneous needle biopsy of lung, and open lung biopsy, for diagnostic confirmation.
A leukocyte and differential count may show leukocytosis with a left shift, particularly in cases with a pneumonic presentation; however, the test has low sensitivity and specificity. Pulse oximetry is appropriate in detecting hypoxemia in cases that present as pneumonia. Arterial blood gases are indicated in patients with tachypnea, pulmonary infiltrates, and hypoxemia by pulse oximetry.
Chest radiography findings vary and lack diagnostic specificity. Other imaging studies or bronchoscopy may be indicated in select situations.
In patients with extrapulmonary disease, percutaneous needle or surgical biopsy of the affected organ (eg, skin, subcutaneous nodule, bone) may be helpful. Histology and culture of biopsy specimens may reveal the organism. DNA probe may be useful in identifying B dermatitidis in formaldehyde-fixed tissue samples.[32]
Diagnosis of central nervous system blastomycosis is difficult. Lumbar puncture and cerebrospinal fluid analysis may demonstrate a neutrophil predominance, but this is rarely definitive. Ventricular fluid specimens have provided slightly higher rates of culture positivity but are still not sensitive. In one case series, CSF culture identified only 2 out of 22 patients with confirmed blastomycosis meningitis.
Prostatic massage may be necessary to facilitate diagnosis in men with blastomycosis of the genitourinary tract. The urine collected after a prostatic massage is likely to have a higher diagnostic yield.
Sputum Examination
Sputum microscopy is a simple and inexpensive test, and although the overall sensitivity of this test is modest (less than 40%), the potential for rapid identification of the pathogen makes it a reasonable initial option.[2] In patients with pneumonia or acute respiratory distress syndrome, the sensitivity is much higher (approximately 75%).
Sputum microscopy is performed by placing a small sample of freshly expectorated sputum on a slide digested with 10% potassium hydroxide. Under the microscope, yeasts 8-20 micrometers in size, with single, broad-based buds, double refractile walls, and multiple nuclei, are extremely characteristic of Blastomyces dermatitidis.
Microscopic examination of a potassium hydroxide wet mount can also be performed on aspirated pus, fistulae, or subcutaneous abscesses. These will reveal characteristic broad-based budding yeast. Identification of B dermatitidis by calcofluor staining under a fluorescent microscope is an easy and rapid method of diagnosis. Calcofluor white is a fluorochrome compound that binds to chitin present in the cell walls of B dermatitidis and fluoresces when exposed to short-wavelength UV light from a fluorescent microscope.
Culture
Isolation and identification of the organism in an appropriate laboratory culture medium provides absolute confirmation of the diagnosis. The organism can be cultured on brain-heart infusion, potato dextrose agar, potato flake agar, and Sabouraud dextrose agar at room temperature. Cultures may become positive in as few as 5 days or many as 30 days when incubated at 25-30°C. B dermatitidis colonies are creamy white and transform to a brown-gray color as hyphae grow.
B dermatitidis mold has a distinctive "lollipop" appearance with oval conidia, 2-4 μm in diameter at the tips of thin conidiophores. They also have thin septate hyphae, 1-2 μm in diameter.
Specimens for culture may consist of sputum, tracheal aspirates, bronchoalveolar lavage fluid, tissue biopsy samples, cerebrospinal fluid, or urine. Because colonization with B dermatitidis does not occur, detection of the fungus from any sterile site is diagnostic.
Because primary cutaneous blastomycosis has been reported by accidental autoinoculation, clinical laboratory personnel and pathologists should be notified about the possibility of blastomycosis in the differential diagnosis when handling potential infected tissue or body fluid specimens.
Skin Tests and Serodiagnosis
Skin testing and serodiagnosis of blastomycosis using complement fixation (CF) antibodies and immunodiffusion (ID) precipitin bands currently have very limited roles in diagnosis because of poor sensitivity and specificity, and cross-reactivity with other fungi. A recently developed enzyme immunoassay with the A-antigen of B dermatitidis has been shown to be more sensitive than CF and ID tests; however, this test is not available in most commercial laboratories.
Detection of (1→3)-β-d-glucan in serum specimens is of limited benefit in patients with blastomycosis. In one small case series of four patients with Blastomycosis, β-d-glucan was detected in only one patient with disseminated disease.
Chest Radiography
Chest radiograph findings vary depending on the immune status of the host but, in general, are abnormal in two thirds of cases. In the immunocompetent patient, chest radiography findings can vary but, in many cases, demonstrates lobar or segmental airspace opacities. A focal mass is common with well-defined margins and can range from 5-10 cm in size. These masses may be mistaken for neoplasm. Cavitary lesions are uncommon in immunocompetent patients.
However, in the immunocompromised host, cavitary lesions are more common and disseminated disease can lead to diffuse interstitial infiltrates on the chest radiograph. Pleural effusion is uncommon, but pleural thickening adjacent to an infiltrate may be observed. Hilar or mediastinal lymph node enlargement rarely occurs.
See an example of chest radiography findings in the image below.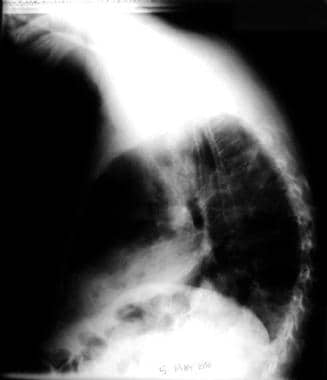 Lateral chest radiograph reveals the ill-defined lingular opacity and an absence of pleural effusions.
Computed Tomography
Chest computed tomography (CT) is not always necessary, but can provide better definition of the character and distribution of abnormalities observed on a chest radiograph and is helpful in identifying mediastinal abnormalities and loculated pleural effusions. A head CT scan is useful in the detection of brain abscesses.
CT scanning can also be used to detect skeletal involvement in some cases of extrapulmonary blastomycosis. Magnetic resonance imaging is more sensitive for this purpose, however, and a radionuclide bone scan is also an alternative.
Bronchoscopy
Bronchoscopy has a higher sensitivity than sputum examination and yields a positive diagnosis in 92% of patients with pulmonary blastomycosis. Bronchoscopy (with washings, brushings, and a biopsy) is indicated in the following situations:
Absence of sputum

Nondiagnostic sputum microscopic examination

Undiagnosed pulmonary mass density, atelectasis, or consolidation

Hemoptysis
Immune Deficiency Workup
In recent years, serious infection with blastomycosis has been recognized increasingly in immunocompromised hosts, especially patients with AIDS. However, other fungal infections, such as progressive disseminated histoplasmosis or cryptococcal meningitis, are more likely to be opportunistic. Blastomycosis is not an AIDS-defining illness and no official recommendations regarding screening for human immunodeficiency virus (HIV) infection in patients diagnosed with blastomycosis are recognized.
Histologic Findings
The yeast forms of Blastomyces dermatitidis are best visualized with a periodic acid-Schiff (PAS) stain. Methenamine silver and Papanicolaou stains are also reliable.
Demonstration of the yeasts is particularly important in blastomycosis that involves sites with squamous epithelium (eg, skin, larynx, trachea). In these tissues, the fungal infection may provoke a hyperplastic response that simulates squamous cell carcinoma. On the other hand, the hyperplastic epidermis lacks the cytological atypia of squamous cell carcinoma.
Skin lesions of disseminated blastomycosis are characterized by the following histologic features:
Pseudoepitheliomatous hyperplasia of the epidermis

Intraepidermal microabscesses

A suppurating granulomatous reaction in the dermis
Intraepidermal abscesses contain abundant neutrophils and organisms; organisms are best visualized with the diastase-digested periodic acid-Schiff staining procedure or with the methenamine silver stain. Yeasts are present extracellularly in the dermis or intracellularly in multinucleated giant cells. Intracellular yeasts are easily identified on routine hematoxylin and eosin (H&E)–stained sections of skin as punched-out "holes" in cytoplasm of the giant cells. The inflammatory infiltrate is polymorphous, containing lymphocytes, histiocytes, and neutrophils.
On cytologic examination of specimens such as sputum or tissue aspirates, B dermatitidis typically appears as a round, multinucleate yeast ranging from 8-15 μm in diameter, with a broad-based bud.
Granuloma formation is unusual. If it does occur, it generally does not demonstrate caseation or calcification, as is typical of tuberculosis.
References
Pappas PG, Pottage JC, Powderly WG, Fraser VJ, Stratton CW, McKenzie S, et al. Blastomycosis in patients with the acquired immunodeficiency syndrome. Ann Intern Med. 1992 May 15. 116(10):847-53. [Medline].

Martynowicz MA, Prakash UB. Pulmonary blastomycosis: an appraisal of diagnostic techniques. Chest. 2002 Mar. 121(3):768-73. [Medline].

Chapman SW, Dismukes WE, Proia LA, et al. Clinical practice guidelines for the management of blastomycosis: 2008 update by the Infectious Diseases Society of America. Clin Infect Dis. 2008 Jun 15. 46(12):1801-12. [Medline].

Rooney PJ, Sullivan TD, Klein BS. Selective expression of the virulence factor BAD1 upon morphogenesis to the pathogenic yeast form of Blastomyces dermatitidis: evidence for transcriptional regulation by a conserved mechanism. Mol Microbiol. 2001 Feb. 39(4):875-89. [Medline].

Chapman SW, Lin AC, Hendricks KA, et al. Endemic blastomycosis in Mississippi: epidemiological and clinical studies. Semin Respir Infect. 1997 Sep. 12(3):219-28. [Medline].

Sarosi GA, Eckman MR, Davies SF, Laskey WK. Canine blastomycosis as a harbinger of human disease. Ann Intern Med. 1979 Nov. 91(5):733-5. [Medline].

Hay RJ. Blastomycosis: what's new?. J Eur Acad Dermatol Venereol. 2000 Jul. 14(4):249-50. [Medline].

Bradsher RW. Histoplasmosis and blastomycosis. Clin Infect Dis. 1996 May. 22 Suppl 2:S102-11. [Medline].

Klein BS, Vergeront JM, Weeks RJ, Kumar UN, Mathai G, Varkey B, et al. Isolation of Blastomyces dermatitidis in soil associated with a large outbreak of blastomycosis in Wisconsin. N Engl J Med. 1986 Feb 27. 314(9):529-34. [Medline].

Pfaller MA, Diekema DJ. Epidemiology of invasive mycoses in North America. Crit Rev Microbiol. 2010. 36(1):1-53. [Medline].

Chu JH, Feudtner C, Heydon K, Walsh TJ, Zaoutis TE. Hospitalizations for endemic mycoses: a population-based national study. Clin Infect Dis. 2006 Mar 15. 42(6):822-5. [Medline].

Carlos WG, Rose AS, Wheat LJ, et al. Blastomycosis in indiana: digging up more cases. Chest. 2010 Dec. 138(6):1377-82. [Medline].

Baumgardner DJ, Buggy BP, Mattson BJ, Burdick JS, Ludwig D. Epidemiology of blastomycosis in a region of high endemicity in north central Wisconsin. Clin Infect Dis. 1992 Oct. 15(4):629-35. [Medline].

Frean JA, Carman WF, Crewe-Brown HH, Culligan GA, Young CN. Blastomyces dermatitidis infections in the RSA. S Afr Med J. 1989 Jul 1. 76(1):13-6. [Medline].

Baily GG, Robertson VJ, Neill P, Garrido P, Levy LF. Blastomycosis in Africa: clinical features, diagnosis, and treatment. Rev Infect Dis. 1991 Sep-Oct. 13(5):1005-8. [Medline].

Anjorin FI, Kazmi R, Malu AO, Lawande RV, Fakunle YM. A case of blastomycosis from Zaria, Nigeria. Trans R Soc Trop Med Hyg. 1984. 78(5):577-80. [Medline].

Jerray M, Hayouni A, Benzarti M, Klabi N, Garrouche A. Blastomycosis in Africa: a new case from Tunisia. Eur Respir J. 1992 Mar. 5(3):365-7. [Medline].

Ferchichi L, Mekni A, Bellil K, Haouet S, Zeddini A, Bellil S, et al. [Three cases of cutaneous blastomycosis]. Med Mal Infect. 2006 May. 36(5):285-7. [Medline].

Rais H, Jghaimi F, Baalal H, Naji Y, Essaadouni L, Essadki O, et al. [Blastomycosis in Morocco: imported mycosis]. Rev Pneumol Clin. 2012 Feb. 68(1):45-9. [Medline].

Roy M, Benedict K, Deak E, Kirby MA, McNiel JT, Sickler CJ, et al. A large community outbreak of blastomycosis in Wisconsin with geographic and ethnic clustering. Clin Infect Dis. 2013 Sep. 57(5):655-62. [Medline].

Cano MV, Ponce-de-Leon GF, Tippen S, Lindsley MD, Warwick M, Hajjeh RA. Blastomycosis in Missouri: epidemiology and risk factors for endemic disease. Epidemiol Infect. 2003 Oct. 131(2):907-14. [Medline].

Centers for Disease Control and Prevention (CDC). Blastomycosis--Wisconsin, 1986-1995. MMWR Morb Mortal Wkly Rep. 1996 Jul 19. 45(28):601-3. [Medline].

Pfister JR, Archer JR, Hersil S, Boers T, Reed KD, Meece JK, et al. Non-rural point source blastomycosis outbreak near a yard waste collection site. Clin Med Res. 2011 Jun. 9(2):57-65. [Medline]. [Full Text].

Kaplan W, Clifford MK. Blastomycosis. I. A review of 198 collected cases in veterans administration hospitals. Am Rev Respir Dis. 1964 May. 89:659-72. [Medline].

Varkey B. Blastomycosis in children. Semin Respir Infect. 1997 Sep. 12(3):235-42. [Medline].

Schutze GE, Hickerson SL, Fortin EM, Schellhase DE, Darville T, Gubbins PO, et al. Blastomycosis in children. Clin Infect Dis. 1996 Mar. 22(3):496-502. [Medline].

Pappas PG, Threlkeld MG, Bedsole GD, Cleveland KO, Gelfand MS, Dismukes WE. Blastomycosis in immunocompromised patients. Medicine (Baltimore). 1993 Sep. 72(5):311-25. [Medline].

Lemos LB, Baliga M, Guo M. Blastomycosis: The great pretender can also be an opportunist. Initial clinical diagnosis and underlying diseases in 123 patients. Ann Diagn Pathol. 2002 Jun. 6(3):194-203. [Medline].

Conces DJ Jr. Endemic fungal pneumonia in immunocompromised patients. J Thorac Imaging. 1999 Jan. 14(1):1-8. [Medline].

Meyer KC, McManus EJ, Maki DG. Overwhelming pulmonary blastomycosis associated with the adult respiratory distress syndrome. N Engl J Med. 1993 Oct 21. 329(17):1231-6. [Medline].

Durkin M, Witt J, Lemonte A, Wheat B, Connolly P. Antigen assay with the potential to aid in diagnosis of blastomycosis. J Clin Microbiol. 2004 Oct. 42(10):4873-5. [Medline]. [Full Text].

Bialek R, Cirera AC, Herrmann T, Aepinus C, Shearn-Bochsler VI, Legendre AM. Nested PCR assays for detection of Blastomyces dermatitidis DNA in paraffin-embedded canine tissue. J Clin Microbiol. 2003 Jan. 41(1):205-8. [Medline]. [Full Text].

Dismukes WE, Bradsher RW Jr, Cloud GC, Kauffman CA, Chapman SW, George RB, et al. Itraconazole therapy for blastomycosis and histoplasmosis. NIAID Mycoses Study Group. Am J Med. 1992 Nov. 93(5):489-97. [Medline].

Dismukes WE, Cloud G, Bowles C. Treatment of blastomycosis and histoplasmosis with ketoconazole. Results of a prospective randomized clinical trial. National Institute of Allergy and Infectious Diseases Mycoses Study Group. Ann Intern Med. 1985 Dec. 103(6 ( Pt 1)):861-72. [Medline].

Pappas PG, Bradsher RW, Chapman SW, Kauffman CA, Dine A, Cloud GA, et al. Treatment of blastomycosis with fluconazole: a pilot study. The National Institute of Allergy and Infectious Diseases Mycoses Study Group. Clin Infect Dis. 1995 Feb. 20(2):267-71. [Medline].

Ta M, Flowers SA, Rogers PD. The role of voriconazole in the treatment of central nervous system blastomycosis. Ann Pharmacother. 2009 Oct. 43(10):1696-700. [Medline].

Bariola JR, Perry P, Pappas PG, Proia L, Shealey W, Wright PW, et al. Blastomycosis of the central nervous system: a multicenter review of diagnosis and treatment in the modern era. Clin Infect Dis. 2010 Mar 15. 50(6):797-804. [Medline].

Lentnek AL, Lentek IA. Successful management of Blastomyces dematitidis meningitis. Infect Med. 2006. 23:39.

Lutsar I, Roffey S, Troke P. Voriconazole concentrations in the cerebrospinal fluid and brain tissue of guinea pigs and immunocompromised patients. Clin Infect Dis. 2003 Sep 1. 37(5):728-32. [Medline].

Wuthrich M, Warner T, Klein BS. IL-12 is required for induction but not maintenance of protective, memory responses to Blastomyces dermatitidis: implications for vaccine development in immune-deficient hosts. J Immunol. 2005 Oct 15. 175(8):5288-97. [Medline].

Crampton TL, Light RB, Berg GM, Meyers MP, Schroeder GC, Hershfield ES. Epidemiology and clinical spectrum of blastomycosis diagnosed at Manitoba hospitals. Clin Infect Dis. 2002 May 15. 34(10):1310-6. [Medline].
Medscape Reference © 2011 WebMD, LLC