Diaphragm Disorders Workup
Author: Ryland P Byrd, Jr, MD; Chief Editor: Zab Mosenifar, MD, FACP, FCCP more...
Updated: Dec 21, 2015
What would you like to print?
Laboratory Studies
Laboratory studies are limited to discovery of neuropathic causes of diaphragmatic dysfunction. Arterial blood gas determinations may show hypoxemia with underlying V/Q mismatch and progressive hypercapnia as respiratory failure develops.
Imaging Studies
Chest radiography
Congenital defect or traumatic rupture is demonstrated roentgenographically with abdominal contents in the thorax on the affected side. A nasogastric tube that radiographically appears to be in the thorax may be misinterpreted as a massive hemothorax. Thus, palpation of lung parenchyma and/or abdominal viscus within the thorax before inserting a chest tube into a patient with trauma is always important.[19]
Neurologic impairment manifests radiographically with elevation of the diaphragm (unilateral or bilateral), mediastinal shift upon inspiration, and diminished, absent, or paradoxic movements upon inspiration. Chest radiographs may exhibit a cervical or thoracic mass that encompasses the phrenic nerve. Small lung volume and atelectasis are also common features.
Note the image below.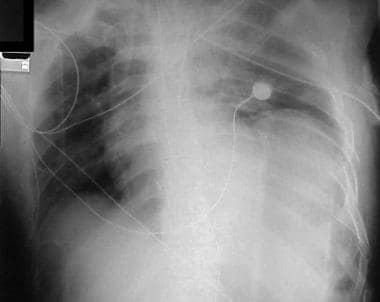 Radiograph of a man who fell 45 ft from scaffolding, through plate glass windows, and onto the ground. Intraoperatively, he had a completely avulsed diaphragm on the left side. The patient subsequently recovered after a 45-day hospital course of treatment.
Fluoroscopy
Up to 6% of the healthy population has paradoxic movement of a hemidiaphragm on a deep inspiratory effort against a closed airway (sniff test) as a normal finding. The sniff test result is considered positive if a 2-cm or greater excursion is present and the whole leaf of the hemidiaphragm, in the oblique view, is involved.
Fluoroscopy is positive in 90% of cases of unilateral diaphragmatic paralysis. In bilateral paralysis, the sniff test result may be misleading because the cephalad movement of the ribs and accessory muscle contraction gives the false appearance of caudal displacement of the diaphragm.[19]
Other
Measurement of diaphragmatic thickness by ultrasonography has been used in a small series to confirm and assess recovery of diaphragmatic paralysis.[20, 21] M-mode ultrasonography is the latest method to evaluate a paralyzed diaphragm, from which the paralyzed hemidiaphragm shows no active caudal movement with inspiration.
CT scanning is usually not very helpful in bilateral paralysis. Dynamic MRI, however, may prove to be useful.
MRI of the neck may be useful to determine if the presence of pathologic conditions involving the spinal column and nerve roots are causing diaphragmatic paralysis.
Other Tests
Pulmonary function tests, including maximum inspiratory pressures, transdiaphragmatic pressure measurement, and vital capacity (VC), in both upright and supine positions, help the clinician determine whether diaphragmatic dysfunction is present and/or the degree of respiratory compromise experienced by the patient in different positions. Significant restrictive physiology is noted in patients with diaphragmatic paralysis.
In healthy individuals, a 10% decrease in VC in the supine position typically is present. This decrease in VC may increase to as much as 50% in patients with bilateral diaphragmatic paralysis. In unilateral paralysis, VC decreases by 15-20% in the supine position, but still ranges from 70-80% of predicted.
Maximal inspiratory pressure (PI-max) is also a useful test. In patients with systemic or generalized neuromuscular disease and bilateral diaphragmatic paralysis, the PI-max is decreased. In patients with unilateral diaphragmatic paralysis, the PI-max is less useful.
Phrenic nerve conduction studies are used to assess the latency of conducting nervous impulses along the course of the nerve. This helps localize lesions to one side or the other and helps the clinician to decipher whether the condition is a bilateral phenomenon. This test is not generally available and may require referral to a center that is able to provide this service.
An electromyogram is useful to show neuropathic or myopathic patterns, and the test can be complemented by phrenic nerve stimulation at the neck.[22]
Magnetometers or inductance plethysmographic coils placed around the abdomen and chest may also provide diagnostic clues by revealing paradoxical chest wall motion.
Measurement of transdiaphragmatic pressure is the criterion standard in the diagnosis of diaphragmatic dysfunction and paralysis. It reflects the difference between intragastric pressure versus intrapleural pressure. Although this test is effort dependent, the sensitivity can be increased by measuring pressure by electrically stimulating the phrenic nerve and measuring twitch or tetanic transdiaphragmatic pressure.
Electromyography has a limited role in unilateral diaphragmatic paralysis.
The maximum transdiaphragmatic pressure during static effort is also decreased.
References
Rochester DF. The diaphragm: contractile properties and fatigue. J Clin Invest. 1985 May. 75(5):1397-402. [Medline].

Wiseman NE, MacPherson RI. "Acquired" congenital diaphragmatic hernia. J Pediatr Surg. 1977 Oct. 12(5):657-65. [Medline].

Shah R, Sabanathan S, Mearns AJ, Choudhury AK. Traumatic rupture of diaphragm. Ann Thorac Surg. 1995 Nov. 60(5):1444-9. [Medline].

Sharma OP. Traumatic diaphragmatic rupture: not an uncommon entity--personal experience with collective review of the 1980's. J Trauma. 1989 May. 29(5):678-82. [Medline].

Keller RL, Tacy TA, Hendricks-Munoz K, et al. Congenital diaphragmatic hernia: endothelin-1, pulmonary hypertension, and disease severity. Am J Respir Crit Care Med. 2010 Aug 15. 182(4):555-61. [Medline].

Grmoljez PF, Lewis JE Jr. Congenital diaphragmatic hernia: Bochdalek type. Am J Surg. 1976 Dec. 132(6):744-6. [Medline].

Rees JR, Redo SF, Tanner DW. Bochdalek's hernia. A review of twenty-one cases. Am J Surg. 1975 Mar. 129(3):259-61. [Medline].

Asano S, Arvapalli R, Manne ND, et al. Cerium oxide nanoparticle treatment ameliorates peritonitis-induced diaphragm dysfunction. Int J Nanomedicine. 2015. 10:6215-25. [Medline].

Greer JJ, Babiuk RP, Thebaud B. Etiology of congenital diaphragmatic hernia: the retinoid hypothesis. Pediatr Res. 2003 May. 53(5):726-30. [Medline].

Kumar N, Folger WN, Bolton CF. Dyspnea as the predominant manifestation of bilateral phrenic neuropathy. Mayo Clin Proc. 2004 Dec. 79(12):1563-5. [Medline].

Zifko U, Auinger M, Albrecht G, et al. Phrenic neuropathy in chronic renal failure. Thorax. 1995 Jul. 50(7):793-4. [Medline].

Efthimiou J, Butler J, Woodham C, Benson MK, Westaby S. Diaphragm paralysis following cardiac surgery: role of phrenic nerve cold injury. Ann Thorac Surg. 1991 Oct. 52(4):1005-8. [Medline].

Brander PE, Jarvinen V, Lohela P, Salmi T. Bilateral diaphragmatic weakness: a late complication of radiotherapy. Thorax. 1997 Sep. 52(9):829-31. [Medline].

Murciano D, Rigaud D, Pingleton S, Armengaud MH, Melchior JC, Aubier M. Diaphragmatic function in severely malnourished patients with anorexia nervosa. Effects of renutrition. Am J Respir Crit Care Med. 1994 Dec. 150(6 Pt 1):1569-74. [Medline].

Lemons VR, Wagner FC Jr. Respiratory complications after cervical spinal cord injury. Spine. 1994 Oct 15. 19(20):2315-20. [Medline].

Iverson LI, Mittal A, Dugan DJ, Samson PC. Injuries to the phrenic nerve resulting in diaphragmatic paralysis with special reference to stretch trauma. Am J Surg. 1976 Aug. 132(2):263-9. [Medline].

van Vugt AB, Schoots FJ. Acute diaphragmatic rupture due to blunt trauma: a retrospective analysis. J Trauma. 1989 May. 29(5):683-6. [Medline].

Heffner JE. Diaphragmatic paralysis following chiropractic manipulation of the cervical spine. Arch Intern Med. 1985 Mar. 145(3):562-4. [Medline].

Gierada DS, Slone RM, Fleishman MJ. Imaging evaluation of the diaphragm. Chest Surg Clin N Am. 1998 May. 8(2):237-80. [Medline].

Summerhill EM, El-Sameed YA, Glidden TJ, McCool FD. Monitoring recovery from diaphragm paralysis with ultrasound. Chest. 2008 Mar. 133(3):737-43. [Medline].

Zanforlin A, Smargiassi A, Inchingolo R, Valente S, Ramazzina E. Ultrasound in obstructive lung diseases: the effect of airway obstruction on diaphragm kinetics. A short pictorial essay. J Ultrasound. 2015 Dec. 18 (4):379-84. [Medline].

Bellemare F, Bigland-Ritchie B. Assessment of human diaphragm strength and activation using phrenic nerve stimulation. Respir Physiol. 1984 Dec. 58(3):263-77. [Medline].

Hill NS. Noninvasive ventilation. Does it work, for whom, and how?. Am Rev Respir Dis. 1993 Apr. 147(4):1050-5. [Medline].

DiMarco AF, Onders RP, Kowalski KE, Miller ME, Ferek S, Mortimer JT. Phrenic nerve pacing in a tetraplegic patient via intramuscular diaphragm electrodes. Am J Respir Crit Care Med. 2002 Dec 15. 166(12 Pt 1):1604-6. [Medline].

Glenn WW. The treatment of respiratory paralysis by diaphragm pacing. Ann Thorac Surg. 1980 Aug. 30(2):106-9. [Medline].

Glenn WW, Hogan JF, Loke JS, Ciesielski TE, Phelps ML, Rowedder R. Ventilatory support by pacing of the conditioned diaphragm in quadriplegia. N Engl J Med. 1984 May 3. 310(18):1150-5. [Medline].

Ciccolella DE, Daly BD, Celli BR. Improved diaphragmatic function after surgical plication for unilateral diaphragmatic paralysis. Am Rev Respir Dis. 1992 Sep. 146(3):797-9. [Medline].

Freeman RK, Wozniak TC, Fitzgerald EB. Functional and physiologic results of video-assisted thoracoscopic diaphragm plication in adult patients with unilateral diaphragm paralysis. Ann Thorac Surg. 2006 May. 81(5):1853-7; discussion 1857. [Medline].

Davis J, Goldman M, Loh L, Casson M. Diaphragm function and alveolar hypoventilation. Q J Med. 1976 Jan. 45(177):87-100. [Medline].

Baum GL, Crapo JD, Celli BR, eds. Textbook of Pulmonary Diseases. 6th ed. Boston, Mass: Little Brown & Company; 1995.

Murray JF, Nadel JA, eds. Textbook of Respiratory Medicine. Philadelphia, Pa: WB Saunders; 1997.
Medscape Reference © 2011 WebMD, LLC