Diaphragmatic Paralysis Workup
Author: Nader Kamangar, MD, FACP, FCCP, FCCM; Chief Editor: Ryland P Byrd, Jr, MD more...
Updated: Apr 09, 2015
What would you like to print?
Laboratory Studies
Arterial blood gas analysis may demonstrate hypoxemia in persons with bilateral diaphragmatic paralysis. Hypoxemia develops from atelectasis and ventilation-perfusion mismatching. Progressive hypercapnia also develops with disease progression.
Imaging Studies
Chest radiography
This study reveals elevated hemidiaphragms, small lung volumes, and atelectasis.
In contrast to bilateral disease, physicians can usually diagnose unilateral paralysis with only radiographic studies.[8] (see the image below).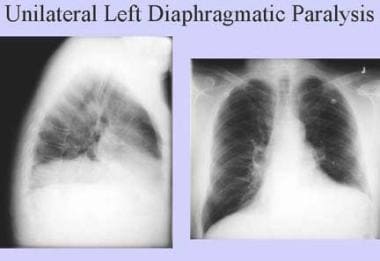 Acute unilateral left diaphragmatic paralysis in a patient with moderately severe chronic obstructive pulmonary disease. The patient previously was asymptomatic but developed class III dyspnea following the new event.
Fluoroscopy
Because accessory muscle contraction may create the appearance of diaphragmatic movement, this study may mislead the physician when diagnosing bilateral diaphragmatic paralysis (see the image below).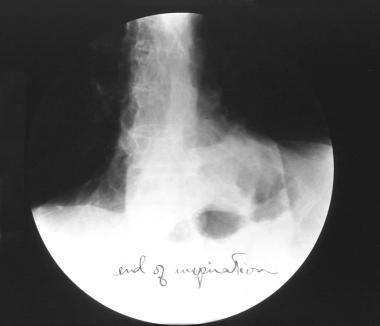 Fluoroscopy of elevated left hemidiaphragm in a patient with unilateral diaphragmatic paralysis. The diaphragm moves paradoxically upward during inspiration.
In fluoroscopic sniff testing, paradoxical elevation of the paralyzed diaphragm is observed with inspiration and confirms diaphragmatic paralysis (see the image below).[9] However, the sniff test is not very specific; 6% of normal persons exhibit paradoxical motion on fluoroscopy.[4] Due to compensatory respiratory strategies, apparently normal decent of diaphragms may also be seen with sniff test in bilateral diaphragmatic paralysis.[3]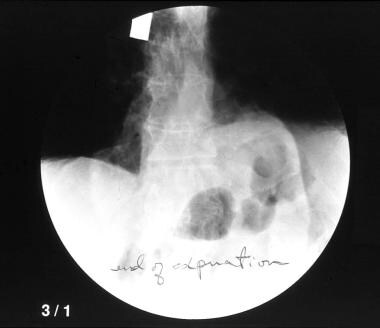 Fluoroscopy of elevated left hemidiaphragm in a patient with unilateral diaphragmatic paralysis. The diaphragm does not move during expiration. For confirmation, a sniff test is required.
Computed tomography scanning of the chest
Computerized tomography may be indicated in certain patients to evaluate for potential causes of diaphragmatic paralysis that are due to mediastinal pathology and malignancy.
Magnetic resonance imaging of the neck
Magnetic resonance imaging may be indicated in certain patients to determine the presence of pathologic conditions involving the spinal column or nerve roots that are causing diaphragmatic paralysis.
Ultrasonography
M-mode ultrasonography is a relatively simple and accurate test for diagnosing paralysis of the diaphragm in the adult population and it can be performed at the bedside.
The paralyzed side shows no active caudal movement of the diaphragm with inspiration and abnormal paradoxical movement (ie, cranial movement on inspiration), particularly with the sniff test.
Patients can be scanned in the anterior axillary line with a curved linear transducer probe angled cranially at a 90° angle to the diaphragm. In this view, the liver is used as a window on the right, while the spleen is used on the left.[10]
B-mode ultrasonography of diaphragm thickness in the zone of apposition of the diaphragm to the rib cage can also provide a sensitive and specific noninvasive assessment of diaphragmatic paralysis. Less than 20% thickening of the diaphragm muscle during inspiration is diagnostic of diaphragmatic paralysis.[3, 11]
Ultrasonography can also be used to serially monitor patients with diaphragmatic paralysis for recovery.[3]
Other Tests
Pulmonary function testing and arterial blood gas analysis
Measuring the vital capacity in the upright and supine positions is the most important part of the pulmonary function test.
Diaphragmatic paralysis reduces the measured compliance of the lungs and a restrictive pattern can develop.
Normally, vital capacity in recumbency decreases by 10%. In contrast, patients with bilateral diaphragmatic paralysis show a 50% decrease in vital capacity when they are supine. This decrease is from cephalad displacement of abdominal contents.
Pulmonary function test results, however, are not always consistent and do not always correlate with the severity of dyspnea from diaphragmatic paralysis.[4]
Maximal inspiratory pressures
Patients with diaphragmatic dysfunction and paralysis have a decrease in maximal inspiratory pressures (PI max). These patients cannot generate high negative inspiratory pressures. Therefore, the Pl max in these patients is less negative than -60 cm water.
Electromyography
Electromyography may reveal a neuropathic versus myopathic pattern, depending on the etiology. This can be accomplished by stimulation of the phrenic nerve at the neck.
Technical issues with electromyography include proper electrode placement to avoid "cross-talk" from adjacent muscles and variable results due to variable subcutaneous fat among individuals.[3]
Measurement of transdiaphragmatic pressure
This is the criterion standard for diagnosis.
The transdiaphragmatic pressure is measured by placing a thin-walled balloon transnasally at the lower end of the esophagus, allowing reflection of the changes in pleural pressure. Then, a second balloon manometer is placed in the stomach to measure changes in intra-abdominal pressure. Gastric pressure should become more positive during inspiration. Esophageal pressure should become more negative during inspiration, demonstrating an increased in gradient during normal inspiration. In cases in which the sniff test is negative and clinical suspicion for diaphragmatic paralysis is still high, transdiaphragmatic pressure should be considered.
Consult with an expert to perform the test and interpret the results. This measurement can help differentiate diaphragmatic paralysis from other causes of respiratory failure.
References
Kumar N, Folger WN, Bolton CF. Dyspnea as the predominant manifestation of bilateral phrenic neuropathy. Mayo Clin Proc. 2004 Dec. 79(12):1563-5. [Medline].

Maish MS. The diaphragm. Surg Clin North Am. 2010 Oct. 90(5):955-68. [Medline].

Summerhill EM, El-Sameed YA, Glidden TJ, McCool FD. Monitoring recovery from diaphragm paralysis with ultrasound. Chest. 2008 Mar. 133(3):737-43. [Medline].

Groth SS, Andrade RS. Diaphragm plication for eventration or paralysis: a review of the literature. Ann Thorac Surg. 2010 Jun. 89(6):S2146-50. [Medline].

Han KY, Bang HJ. Exercise therapy for a patient with persistent dyspnea after combined traumatic diaphragmatic rupture and phrenic nerve injury: A case report. PM R. 2014 Nov 20. [Medline].

Weiss C, Witt T, Grau S, Tonn JC. Hemidiaphragmatic paralysis with recurrent lung infections due to degenerative motor root compression of C3 and C4. Acta Neurochir (Wien). 2011 Mar. 153(3):597-9. [Medline].

Ulku R, Onat S, Balci A, Eren N. Phrenic nerve injury after blunt trauma. Int Surg. 2005 Apr-Jun. 90(2):93-5. [Medline].

Gierada DS, Slone RM, Fleishman MJ. Imaging evaluation of the diaphragm. Chest Surg Clin N Am. 1998 May. 8(2):237-80. [Medline].

Miller JM, Moxham J, Green M. The maximal sniff in the assessment of diaphragm function in man. Clin Sci (Lond). 1985 Jul. 69(1):91-6. [Medline].

Lloyd T, Tang YM, Benson MD, King S. Diaphragmatic paralysis: the use of M mode ultrasound for diagnosis in adults. Spinal Cord. 2006 Aug. 44(8):505-8. [Medline].

Gottesman E, McCool FD. Ultrasound evaluation of the paralyzed diaphragm. Am J Respir Crit Care Med. 1997 May. 155(5):1570-4. [Medline].

Versteegh MI, Braun J, Voigt PG, Bosman DB, Stolk J, Rabe KF. Diaphragm plication in adult patients with diaphragm paralysis leads to long-term improvement of pulmonary function and level of dyspnea. Eur J Cardiothorac Surg. 2007 Sep. 32(3):449-56. [Medline].

Freeman RK, Van Woerkom J, Vyverberg A, Ascioti AJ. Long-term follow-up of the functional and physiologic results of diaphragm plication in adults with unilateral diaphragm paralysis. Ann Thorac Surg. 2009 Oct. 88(4):1112-7. [Medline].

Gazala S, Hunt I, Bedard EL. Diaphragmatic plication offers functional improvement in dyspnoea and better pulmonary function with low morbidity. Interact Cardiovasc Thorac Surg. 2012 Sep. 15(3):505-8. [Medline]. [Full Text].

Le Pimpec-Barthes F, Gonzalez-Bermejo J, Hubsch JP, Duguet A, Morelot-Panzini C, Riquet M, et al. Intrathoracic phrenic pacing: a 10-year experience in France. J Thorac Cardiovasc Surg. 2011 Aug. 142(2):378-83. [Medline].

DiMarco AF, Onders RP, Ignagni A, Kowalski KE, Mortimer JT. Phrenic nerve pacing via intramuscular diaphragm electrodes in tetraplegic subjects. Chest. 2005 Feb. 127(2):671-8. [Medline].

Bach JR, Penek J. Obstructive sleep apnea complicating negative-pressure ventilatory support in patients with chronic paralytic/restrictive ventilatory dysfunction. Chest. 1991 Jun. 99(6):1386-93. [Medline].

Kaufman MR, Elkwood AI, Rose MI, Patel T, Ashinoff R, Saad A, et al. Reinnervation of the paralyzed diaphragm: application of nerve surgery techniques following unilateral phrenic nerve injury. Chest. 2011 Jul. 140(1):191-7. [Medline].

Kaufman MR, Elkwood AI, Colicchio AR, CeCe J, Jarrahy R, Willekes LJ, et al. Functional restoration of diaphragmatic paralysis: an evaluation of phrenic nerve reconstruction. Ann Thorac Surg. 2014 Jan. 97(1):260-6. [Medline].

Petrovic M, Lahrmann H, Pohl W, Wanke T. Idiopathic diaphragmatic paralysis--satisfactory improvement of inspiratory muscle function by inspiratory muscle training. Respir Physiol Neurobiol. 2009 Feb 28. 165(2-3):266-7. [Medline].

Easton PA, Fleetham JA, de la Rocha A, Anthonisen NR. Respiratory function after paralysis of the right hemidiaphragm. Am Rev Respir Dis. 1983 Jan. 127(1):125-8. [Medline].

Xu WD, Gu YD, Lu JB, Yu C, Zhang CG, Xu JG. Pulmonary function after complete unilateral phrenic nerve transection. J Neurosurg. 2005 Sep. 103(3):464-7. [Medline].

Respiratory management following spinal cord injury: a clinical practice guideline for health-care professionals. J Spinal Cord Med. 2005. 28(3):259-93. [Medline].
Medscape Reference © 2011 WebMD, LLC