Neurogenic Pulmonary Edema Workup
Author: Tej K Naik, MD; Chief Editor: Zab Mosenifar, MD, FACP, FCCP  more...
Updated: Dec 31, 2015
What would you like to print?
Laboratory Studies
No specific laboratory study confirms the diagnosis of neurogenic pulmonary edema (NPE). Cardiac injury enzyme levels are elevated in patients with neurologic injury, especially subarachnoid hemorrhage. The magnitude of elevation often correlates with the severity of the neurologic event and its effect on cardiac function.
In one series, 20% of patients with subarachnoid hemorrhage were found to have serum troponin I levels greater than 1 mcg/L (range, 0.3-50 mcg/L).

[19]

Elevated natriuretic peptides, A-type and B-type, have also been reported in patients with subarachnoid hemorrhage, with B-type natriuretic peptide peak levels reported as 355 ± 80 pg/mL.

[20]
Imaging Studies
Chest radiographs demonstrate a bilateral alveolar filling process and a normal-sized heart. This may mimic congestive heart failure with cephalization of blood flow, although other features of heart failure, such as septal Kerley B lines, are usually not evident. See the images below.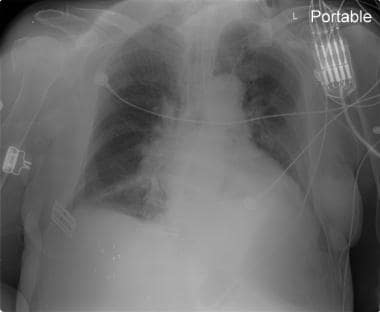 Neurogenic pulmonary edema in a patient with a subdural hematoma.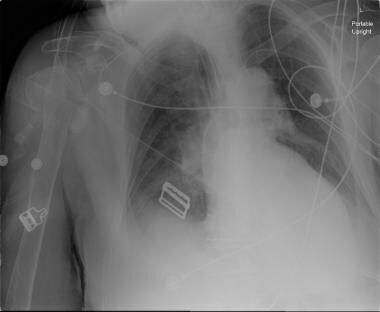 Progression of neurogenic pulmonary edema in the same patient in the image above, with subdural hematoma (day 2).
Other Tests
No specific test confirms the diagnosis of neurogenic pulmonary edema.
Initial studies of cardiac function are usually unremarkable. These include normal ECG findings, echocardiography findings, central venous pressure, and pulmonary artery occlusion (pulmonary artery capillary wedge) pressure.

Serial monitoring of cardiac function may demonstrate reduced left ventricular function attributed to a neurogenic stress cardiomyopathy. Findings include regional wall motion abnormalities that extend beyond a single vascular bed. Echocardiographic findings may demonstrate a reduced ejection fraction and large areas of akinesis in the setting of modestly elevated serum troponin levels. Normal pulmonary artery capillary wedge pressures may increase and approach high levels.

Coronary angiography, if performed, shows no obstructing lesions.

Separating the cardiac effects of the neurologic event from the effect of therapy used in these critically ill patients may be difficult.
Procedures
Hemodynamic measurements with right-sided heart catheterization (ie, Swan-Ganz catheter) may be necessary to differentiate neurogenic pulmonary edema from hydrostatic or cardiogenic pulmonary edema. Systemic blood pressure, cardiac output, and pulmonary capillary wedge pressure are usually normal by the time neurogenic pulmonary edema is diagnosed clinically.
Histologic Findings
No specific histologic findings confirm the diagnosis of neurogenic pulmonary edema.
Staging
No staging system is applicable to neurogenic pulmonary edema.
References
Sedy J, Zicha J, Kunes J, Jendelova P, Sykova E. Mechanisms of neurogenic pulmonary edema development. Physiol Res. 2008. 57(4):499-506. [Medline].

Hoff JT, Nishimura M, Garcia-Uria J, Miranda S. Experimental neurogenic pulmonary edema. Part 1: The role of systemic hypertension. J Neurosurg. 1981 May. 54(5):627-31. [Medline].

Maron MB, Dawson CA. Pulmonary venoconstriction caused by elevated cerebrospinal fluid pressure in the dog. J Appl Physiol. 1980 Jul. 49(1):73-8. [Medline].

Baumann A, Audibert G, McDonnell J, Mertes PM. Neurogenic pulmonary edema. Acta Anaesthesiol Scand. 2007 Apr. 51(4):447-55. [Medline].

Mutoh T, Kazumata K, Ueyama-Mutoh T, Taki Y, Ishikawa T. Transpulmonary Thermodilution-Based Management of Neurogenic Pulmonary Edema After Subarachnoid Hemorrhage. Am J Med Sci. 2015 Nov. 350 (5):415-9. [Medline].

Chen WL, Huang CH, Chen JH, Tai HC, Chang SH, Wang YC. Electrocardiographic abnormalities predict neurogenic pulmonary edema in patients with subarachnoid hemorrhage. Am J Emerg Med. 2015 Sep 25. [Medline].

Khademi S, Frye MA, Jeckel KM, Schroeder T, Monnet E, Irwin DC, et al. Hypoxia mediated pulmonary edema: potential influence of oxidative stress, sympathetic activation and cerebral blood flow. BMC Physiol. 2015 Oct 9. 15 (1):4. [Medline].

Reuter-Rice K, Duthie S, Hamrick J. Neurogenic pulmonary edema associated with pediatric status epilepticus. Pediatr Emerg Care. 2011 Oct. 27(10):957-8. [Medline].

Muroi C, Keller M, Pangalu A, Fortunati M, Yonekawa Y, Keller E. Neurogenic pulmonary edema in patients with subarachnoid hemorrhage. J Neurosurg Anesthesiol. 2008 Jul. 20(3):188-92. [Medline].

Piazza O, Venditto A, Tufano R. Neurogenic pulmonary edema in subarachnoid hemorrage. Panminerva Med. 2011 Sep. 53(3):203-10. [Medline].

Solenski NJ, Haley EC Jr, Kassell NF, et al. Medical complications of aneurysmal subarachnoid hemorrhage: a report of the multicenter, cooperative aneurysm study. Participants of the Multicenter Cooperative Aneurysm Study. Crit Care Med. 1995 Jun. 23(6):1007-17. [Medline].

Fontes RB, Aguiar PH, Zanetti MV, Andrade F, Mandel M, Teixeira MJ. Acute neurogenic pulmonary edema: case reports and literature review. J Neurosurg Anesthesiol. 2003 Apr. 15(2):144-50. [Medline].

Lee VH, Oh JK, Mulvagh SL, Wijdicks EF. Mechanisms in neurogenic stress cardiomyopathy after aneurysmal subarachnoid hemorrhage. Neurocrit Care. 2006. 5(3):243-9. [Medline].

Wartenberg KE, Mayer SA. Medical complications after subarachnoid hemorrhage: new strategies for prevention and management. Curr Opin Crit Care. 2006 Apr. 12(2):78-84. [Medline].

Goncalves V, Silva-Carvalho L, Rocha I. Cerebellar haemorrhage as a cause of neurogenic pulmonary edema - case report. Cerebellum. 2005. 4(4):246-9.

Qin SQ, Sun W, Wang HB, Zhang QL. Neurogenic pulmonary edema in head injuries: analysis of 5 cases. Chin J Traumatol. 2005 Jun. 8(3):172-4, 178. [Medline].

Rochester CL, Mohsenin V. Respiratory complications of stroke. Semin Respir Crit Care Med. 2002 Jun. 23(3):248-60. [Medline].

Brewer RP, Borel CO. Neurogenic pulmonary edema during intracranial endovascular therapy. Neurocrit Care. 2004. 1(4):423-7. [Medline].

Naidech AM, Bassin SL, Garg RK, et al. Cardiac troponin I and acute lung injury after subarachnoid hemorrhage. Neurocrit Care. 2009. 11(2):177-82. [Medline].

Nakamura T, Okuchi K, Matsuyama T, et al. Clinical significance of elevated natriuretic peptide levels and cardiopulmonary parameters after subarachnoid hemorrhage. Neurol Med Chir (Tokyo). 2009 May. 49(5):185-91; discussion 191-2. [Medline].

Fletcher SJ, Atkinson JD. Use of prone ventilation in neurogenic pulmonary oedema. Br J Anaesth. 2003 Feb. 90(2):238-40. [Medline].

Schraufnagel DE, Thakkar MB. Pulmonary venous sphincter constriction is attenuated by alpha-adrenergic antagonism. Am Rev Respir Dis. 1993 Aug. 148(2):477-82. [Medline].

Knudsen F, Jensen HP, Petersen PL. Neurogenic pulmonary edema: treatment with dobutamine. Neurosurgery. 1991 Aug. 29(2):269-70. [Medline].

[Guideline] Institute for Clinical Systems Improvement (ICSI). Palliative care. National Guidelines Clearinghouse. 2008 May.

Jain R, Deveikis J, Thompson BG. Management of patients with stunned myocardium associated with subarachnoid hemorrhage. AJNR Am J Neuroradiol. 2004 Jan. 25(1):126-9. [Medline].

Ohlmacher AP. Acute pulmonary edema as a terminal event in certain forms of epilepsy. Am J Med Sci. 1910. 139:417.

Simmons RL, Heisterkamp CA 3rd, Collins JA, Bredenberg CE, Mills DE, Martin AM Jr. Respiratory insufficiency in combat casualties. IV. Hypoxemia during convalescence. Ann Surg. 1969 Jul. 170(1):53-62. [Medline].

Simon RP, Gean-Marton AD, Sander JE. Medullary lesion inducing pulmonary edema: a magnetic resonance imaging study. Ann Neurol. 1991 Nov. 30(5):727-30. [Medline].

The Acute Respiratory Distress Syndrome Network. Ventilation with lower tidal volumes as compared with traditional tidal volumes for acute lung injury and the acute respiratory distress syndrome. The Acute Respiratory Distress Syndrome Network. N Engl J Med. 2000 May 4. 342(18):1301-8. [Medline].

Tung P, Kopelnik A, Banki N, et al. Predictors of neurocardiogenic injury after subarachnoid hemorrhage. Stroke. 2004 Feb. 35(2):548-51. [Medline].

Wray NP, Nicotra MB. Pathogenesis of neurogenic pulmonary edema. Am Rev Respir Dis. 1978 Oct. 118(4):783-6. [Medline].
Medscape Reference © 2011 WebMD, LLC