Tobacco Worker's Lung Workup
Author: Roger B Olade, MD, MPH; Chief Editor: Ryland P Byrd, Jr, MD  more...
Updated: Jun 03, 2014
What would you like to print?
Laboratory Studies
No specific tests exist for tobacco worker's lung (TWL); the diagnosis is established with a history of exposure and possibly with the support of the following tests:
Elevated serum levels of angiotensin-converting enzyme (ACE),

N-

acetyl-beta-glucosaminidase (NAG), and beta-glucuronidase (beta-GLU) may be present. Elevation of these enzymes does not have a high sensitivity or specificity.

[8]

Bronchoalveolar lavage (BAL) may show lymphocytosis, neutrophilia or eosinophilia, and reversal of CD4/CD8 ratio.

Immunoglobulin G, immunoglobulin M, and immunoglobulin A serum antibodies to causative antigens may be present.

Nonsmoking tobacco harvesters may have cotinine and nicotine levels as high as active smokers in the general populations.

[9]

ImmunoCAP technology can detect IgG antibodies against Aspergillus fumigatus.
Nonspecific markers of inflammation, such as the following, are elevated:
Elevated erythrocyte sedimentation rate

Elevated C-reactive protein

Positive rheumatoid factor

Elevated serum lactate dehydrogenase (LDH)
Imaging Studies
Chest radiograph
No distinctive changes are noted on chest radiography, but it might show progressive fibrotic changes associated with upper lobe volume loss or diffuse reticulonodular infiltrates in chronic exposure. In acute exposure, the infiltrates are usually more prevalent in the lower lobes.
High-resolution computed tomography (HRCT) scan
This may show a ground-glass appearance, prominent medium-sized bronchial walls, parenchymal micronodules, and absence of hilar adenopathy. Note the images below.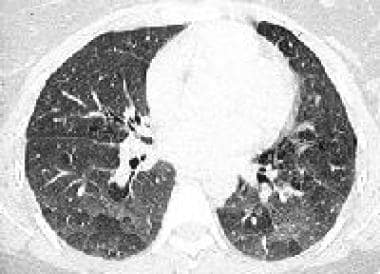 High-resolution CT scan of lungs shows ground-glass opacification seen in an acute phase of tobacco worker's lung.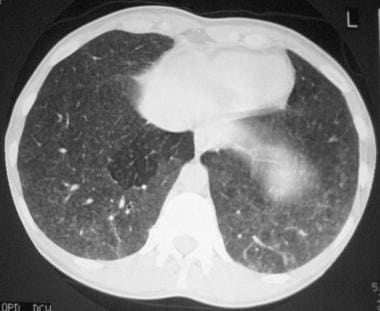 High-resolution CT (HRCT) scan shows a ground-glass appearance and reticulonodular opacities in subacute phase of hypersensitivity pneumonitis (HP) secondary to moldy hay.
Other Tests
Pulmonary function testing shows mostly restrictive patterns with occasionally mixed restrictive and obstructive patterns, impaired diffusion capacity, and lung volume loss. Peak expiratory flow rates also are reduced.[10]
Arterial hypoxemia with hypocapnia reflecting an increased A-a oxygen gradient commonly occurs at rest, with further worsening on exercise.
Procedures
Lung biopsies are rarely required to confirm diagnosis because diagnosis is primarily derived from a thorough occupational history, clinical features, and radiography. Both transbronchial and video-assisted thoracoscopic lung biopsy are used to provide adequate specimens for histopathological examination.
Histologic Findings
Samples from lung biopsies show chronic interstitial inflammation with infiltration of plasma cells, mast cells, macrophages, and lymphocytes, usually with poorly formed nonnecrotizing granulomas. The granulomas are loosely formed and tend to occur in proximity to the bronchioles. Cholesterol clefts and giant cells, as shown in the image below, also are observed within and outside the granulomas.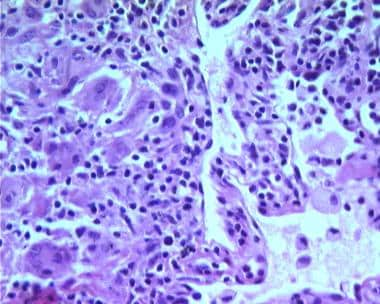 Giant cells are a characteristic feature of acute tobacco worker's lung, which is a form of hypersensitivity pneumonitis.
Medscape Reference © 2011 WebMD, LLC