Acute Poliomyelitis Treatment & Management
Author: Christine L Munson, MD; Chief Editor: Stephen Kishner, MD, MHA more...
Updated: Feb 11, 2016
What would you like to print?
Rehabilitation Program
Physical Therapy
Physical therapy plays an important role in rehabilitation for patients with poliomyelitis. Patients with muscle paralysis benefit from frequent passive range of motion (PROM) and splinting of joints to prevent contracture and joint ankylosis. Chest physical therapy (CPT) helps patients with bulbar involvement prevent any pulmonary complications, such as atelectasis. Frequent repositioning of paralyzed patients helps to prevent bedsores (see image below).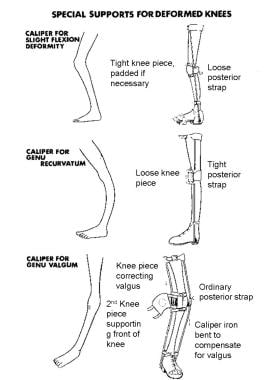 Orthotic treatment for deformities around the knee in poliomyelitis.
Occupational Therapy
Patients with paralysis of the extremities may benefit from hand or arm splints, knee or trochanter rolls, a footboard, or Multi-Podus boots to prevent foot drop, ulcers, and other deformities. Hot packs also are helpful to relieve the muscle pain.
Speech Therapy
Patients with cranial nerve involvement may develop swallowing dysfunction. To protect the airway and prevent aspiration pneumonia, a speech therapist needs to be involved early to perform an evaluation of the safety of swallowing. Decisions on the appropriate consistency of oral foods and use of various strategies/techniques greatly reduce the risk of aspiration. Periodic follow up of patient status can be performed with serial video swallow testing.
Recreational Therapy
Patients may attend leisure activities to reduce stress and learn how to get involved in group activities.
Medical Issues/Complications
All patients should be placed on bedrest in an isolation unit. Monitor patients' vital signs carefully; focus especially on the swallowing function, vital capacity, pulse, and blood pressure, in anticipation of respiratory or circulatory complications. Patients who develop respiratory failure because of depression of the brainstem respiratory center, in addition to paralysis of the intercostal and diaphragmatic muscles, may require immediate positive pressure ventilation and/or tracheotomy in the respiratory intensive care unit.
Surgical Intervention
In severe cases of contracture from limb immobilization, the patient may benefit from orthopedic surgery to release the contracture and restore limb function (see image below).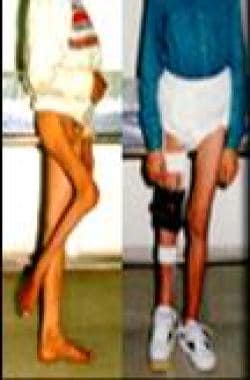 Surgical correction of a fixed flexion deformity of the knee and hip due to iliotibial band contracture, by Souttar and Yount's release.
Other Treatment
No specific treatment exists for acute poliomyelitis except supportive care, which may help to ensure survival, modify the disability, and improve the outcome.
References
Farag NH, Wadood MZ, Safdar RM, et al. Progress Toward Poliomyelitis Eradication - Pakistan, January 2014-September 2015. MMWR Morb Mortal Wkly Rep. 2015 Nov 20. 64 (45):1271-5. [Medline]. [Full Text].

Previsani N, Tangermann RH, Tallis G, Jafari HS. World Health Organization Guidelines for Containment of Poliovirus Following Type-Specific Polio Eradication - Worldwide, 2015. MMWR Morb Mortal Wkly Rep. 2015 Aug 28. 64 (33):913-7. [Medline]. [Full Text].

Henderson DA. The eradication of smallpox - An overview of the past, present, and future. Vaccine. 2011 Dec 19. [Medline].

Progress toward poliomyelitis eradication--Afghanistan and Pakistan, January 2010-September 2011. MMWR Morb Mortal Wkly Rep. 2011 Nov 11. 60:1523-7. [Medline].

Global routine vaccination coverage, 2010. MMWR Morb Mortal Wkly Rep. 2011 Nov 11. 60:1520-2. [Medline].

Kindberg E, Ax C, Fiore L, Svensson L. Ala67Thr mutation in the poliovirus receptor CD155 is a potential risk factor for vaccine and wild-type paralytic poliomyelitis. J Med Virol. 2009 May. 81(5):933-6. [Medline].

Racaniello VR. One hundred years of poliovirus pathogenesis. Virology. 2006 Jan 5. 344(1):9-16. [Medline].

Resurgence of wild poliovirus type 1 transmission and consequences of importation--21 countries, 2002-2005. MMWR Morb Mortal Wkly Rep. 2006 Feb 17. 55(6):145-50. [Medline]. [Full Text].

Wild poliovirus type 1 and type 3 importations--15 countries, Africa, 2008-2009. MMWR Morb Mortal Wkly Rep. 2009 Apr 17. 58(14):357-62. [Medline]. [Full Text].

Progress toward interruption of wild poliovirus transmission--worldwide, 2008. MMWR Morb Mortal Wkly Rep. 2009 Apr 3. 58(12):308-12. [Medline]. [Full Text].

WHO/UNICEF. WHO/UNICEF Strategic Plan for Polio Outbreak. 2013 Nov. Available at http://www.polioeradication.org/Portals/0/Document/InfectedCountries/MiddleEast/ME_StrategicPlan.pdf.

Tsai HC, Hung TH, Chen CC, et al. Prevalence and risk factors for upper extremity entrapment neuropathies in polio survivors. J Rehabil Med. 2009 Jan. 41(1):26-31. [Medline].

Oncu J, Durmaz B, Karapolat H. Short-term effects of aerobic exercise on functional capacity, fatigue, and quality of life in patients with post-polio syndrome. Clin Rehabil. 2009 Feb. 23(2):155-63. [Medline].

Ploeger HE, Bus SA, Brehm MA, et al. Ankle-foot orthoses that restrict dorsiflexion improve walking in polio survivors with calf muscle weakness. Gait Posture. 2014 Jul. 40(3):391-8. [Medline].

Adams RD, Victor M, Ropper AH. Viral infection. In: Poliomyelitis. Principles of Neurology. 6th ed. 1997:136-7.

Alcala H. [The differential diagnosis of poliomyelitis and other acute flaccid paralyses]. Bol Med Hosp Infant Mex. 1993 Feb. 50(2):136-44. [Medline].

Birk TJ. Poliomyelitis and the post-polio syndrome: exercise capacities and adaptation--current research, future directions, and widespread applicability. Med Sci Sports Exerc. 1993 Apr. 25(4):466-72. [Medline].

Centers for Disease Control and Prevention. Poliovirus infections in four unvaccinated children--Minnesota, August-October 2005. MMWR Morb Mortal Wkly Rep. 2005 Oct 21. 54(41):1053-5. [Medline].

Frustace SJ. Poliomyelitis: late and unusual sequelae. Am J Phys Med. 1987 Dec. 66(6):328-37. [Medline].

Howard RS. Poliomyelitis and the postpolio syndrome. BMJ. 2005 Jun 4. 330(7503):1314-8. [Medline]. [Full Text].

Kidd D, Williams AJ, Howard RS. Poliomyelitis. In: Classic Diseases Revisited. 1996:641-647.

Miller MA, Sutter RW, Strebel PM, Hadler SC. Cost-effectiveness of incorporating inactivated poliovirus vaccine into the routine childhood immunization schedule. JAMA. 1996 Sep 25. 276(12):967-71. [Medline].

Price RW, Plum F. Poliomyelitis. In: Handbook of Clinical Neurology. Vol 32. 1978:2091-2092.

Rowland LP. Viral infections of the nervous system: syndrome of acute anterior poliomyelitis. In: Merritt's Neurology. 10th ed. 2000:764-767.
Medscape Reference © 2011 WebMD, LLC