Physical Medicine and Rehabilitation for Morton Neuroma
Author: Kevin Berry, MD; Chief Editor: Consuelo T Lorenzo, MD  more...
Updated: Jan 11, 2016
What would you like to print?
Background
Morton neuroma (interdigital neuroma), first described in 1876, is a perineural fibrosis and nerve degeneration of the common digital nerve.[1] Morton neuroma, or Morton's neuroma, is not a true neuroma, although it results in neuropathic pain in the distribution of the interdigital nerve secondary to repetitive irritation of the nerve. The most frequent location is between the third and fourth metatarsals (third webspace). Other, less common locations are between the second and third metatarsals (second webspace) and, rarely, between the first and second (first webspace) or fourth and fifth (fourth webspace) metatarsals.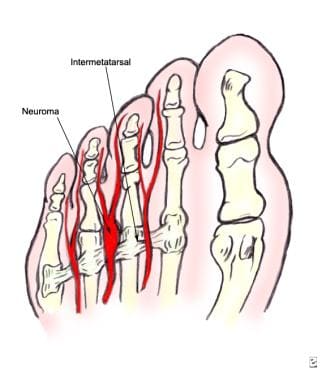 Plantar view showing the relationships between the metatarsal heads, the intermetatarsal ligament, and the neuroma.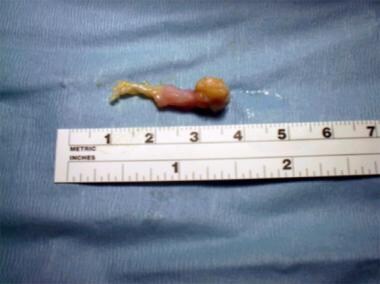 Neuroma and adherent fibrofatty tissue.
Episodes of pain are intermittent. Patients may experience 2 attacks in a week and then none for a year. Recurrences are variable and tend to become more frequent. Between attacks, no symptoms or physical signs occur. Two neuromas coexist on the same foot about 2-3% of the time. Other diagnoses should be considered when 2 or more areas of tenderness are present.
Pathophysiology
Interdigital nerves are composed of communicating branches from the lateral and medial plantar nerves. At the level of the metatarsal heads, the interdigital nerve traverses inferior to the intermetatarsal ligament. At this site, the nerve may be compressed or stretched from repetitive toe flexion and extension. Other studies have shown perineural fibrosis and demyelination at the level of the metatarsal heads, indicating that the damage in Morton's neuroma may be more distal than the intermetatarsal ligament.[2]
Epidemiology
Frequency
United States
Morton's neuroma is a common disease entity of the foot.
International
The incidence of Morton's neuroma is presumed to be the same internationally as in United States.
Sex
The female-to-male ratio for Morton's neuroma is 5:1.
Age
The highest prevalence of Morton's neuroma is found in patients aged 15-50 years, but the condition may occur in any ambulatory patient.
References
Morton TG. Peculiar painful affection of fourth metatarsophalangeal articulation. Am J Med Sci. 1876. 71:37.

Kim JY, Choi JH, Park J, et al. An anatomical study of Morton's interdigital neuroma: the relationship between the occurring site and the deep transverse metatarsal ligament (DTML). Foot Ankle Int. 2007 Sep. 28(9):1007-10. [Medline].

Pastides P, El-Sallakh S, Charalambides C. Morton's neuroma: A clinical versus radiological diagnosis. Foot Ankle Surg. 2012 Mar. 18(1):22-4. [Medline].

O'Connor FG, Wilder RP, Nirschl R. Foot Injuries in the Runner. In:Textbook of Running Medicine. New York: McGraw-Hill; 2001. 258-260.

Bignotti B, Signori A, Sormani MP, Molfetta L, Martinoli C, Tagliafico A. Ultrasound versus magnetic resonance imaging for Morton neuroma: systematic review and meta-analysis. Eur Radiol. 2015 Aug. 25 (8):2254-62. [Medline].

Zanetti M, Weishaupt D. MR imaging of the forefoot: Morton neuroma and differential diagnoses. Semin Musculoskelet Radiol. 2005 Sep. 9(3):175-86.

Akermark C, Saartok T, Zuber Z. A prospective 2-year follow-up study of plantar incisions in the treatment of primary intermetatarsal neuromas (Morton's neuroma). Foot Ankle Surg. 2008. 14(2):67-73. [Medline].

Monacelli G, Cascioli I, Prezzemolo G, Spagnoli A, Irace S. [Surgical treatment of Morton's neuroma: our experience and literature review]. Clin Ter. 2008 May-Jun. 159(3):165-7. [Medline].

Valente M, Crucil M, Alecci V. Operative treatment of interdigital Morton's neuroma. Chir Organi Mov. 2008 May. 92(1):39-43. [Medline].

Lee KT, Lee YK, Young KW, et al. Results of operative treatment of double Morton's neuroma in the same foot. J Orthop Sci. 2009 Sep. 14(5):574-8. [Medline].

Villas C, Florez B, Alfonso M. Neurectomy versus neurolysis for Morton's neuroma. Foot Ankle Int. 2008 Jun. 29(6):578-80. [Medline].

Title CI, Schon LC. Morton neuroma: primary and secondary neurectomy. J Am Acad Orthop Surg. 2008 Sep. 16(9):550-7. [Medline].

Pace A, Scammell B, Dhar S. The outcome of Morton's neurectomy in the treatment of metatarsalgia. Int Orthop. 2010 Apr. 34(4):511-5. [Medline].

Faraj AA, Hosur A. The outcome after using two different approaches for excision of Morton's neuroma. Chin Med J (Engl). 2010 Aug. 123(16):2195-8. [Medline].

Kundert HP, Plaass C, Stukenborg-Colsman C, Waizy H. Excision of Morton's Neuroma Using a Longitudinal Plantar Approach: A Midterm Follow-up Study. Foot Ankle Spec. 2015 Aug 7. [Medline].

Rout R, Tedd H, Lloyd R, et al. Morton's neuroma: diagnostic accuracy, effect on treatment time and costs of direct referral to ultrasound by primary care physicians. Qual Prim Care. 2009. 17(4):277-82. [Medline].

Markovic M, Crichton K, Read JW, et al. Effectiveness of ultrasound-guided corticosteroid injection in the treatment of Morton's neuroma. Foot Ankle Int. 2008 May. 29(5):483-7. [Medline].

Yap LP, McNally E. Patient's assessment of discomfort during ultrasound-guided injection of Morton's neuroma: selecting the optimal approach. J Clin Ultrasound. 2012 May 15. [Medline].

Fridman R, Cain JD, Weil L Jr. Extracorporeal shockwave therapy for interdigital neuroma: a randomized, placebo-controlled, double-blind trial. J Am Podiatr Med Assoc. 2009 May-Jun. 99(3):191-3. [Medline].

Moore JL, Rosen R, Cohen J, Rosen B. Radiofrequency thermoneurolysis for the treatment of Morton's neuroma. J Foot Ankle Surg. 2012 Jan-Feb. 51(1):20-2. [Medline].

Betts LO. Morton's Metatarsalgia. Med J Aust. 1940. 1:514.

Lee MJ, Kim S, Huh YM, Song HT, Lee SA, Lee JW, et al. Morton neuroma: evaluated with ultrasonography and MR imaging. Korean J Radiol. 2007 Mar-Apr. 8(2):148-55. [Medline].
Medscape Reference © 2011 WebMD, LLC