Lumbar Compression Fracture Treatment & Management
Author: Andrew L Sherman, MD, MS; Chief Editor: Stephen Kishner, MD, MHA more...
Updated: May 23, 2016
What would you like to print?
Rehabilitation Program
Physical Therapy
The indications for surgical management of lumbar compression fractures are discussed in Surgical Intervention. Nonoperative treatment consists of pain relief, bracing, and rehabilitation.
Traumatic injuries with neurologic compromise usually require comprehensive inpatient rehabilitation. Mobility and strength rehabilitation programs are individualized to each patient's capabilities. All therapy disciplines comprising the multidisciplinary team participate in the comprehensive program. In most cases, rehabilitation begins with the patient in a thoracic-lumbar-sacral orthosis (TLSO). More information on comprehensive spinal cord rehabilitation is available in Spinal Cord Injury and Aging.
Elderly patients with osteoporotic compression fractures are often treated with TLSO bracing and rehabilitation. To facilitate progress in the rehabilitation program, some patients can be treated in a less restrictive corset or abdominal binder if their pain is well controlled. Early mobilization is important to prevent secondary complications of immobility. The therapy occasionally begins in an inpatient setting and then moves to an outpatient setting. Weight-bearing exercises are usually part of the program and are believed to be the main type of therapy required to prevent progression of the osteoporosis in the future. Extension exercises are also considered beneficial. Radiographic monitoring of the fracture over the ensuing months is important, because some fractures can worsen to the point at which they require surgical stabilization.
In a study of patients with benign, conservatively managed thoracic or lumbar A1 compression fractures (as identified using the AOSpine thoracolumbar spine injury classification system), Piazzolla et al found that vertebral bone marrow edema slowly decreased over 3 months, with corresponding improvement in clinical symptoms. Patients in the study were treated with a C35 hyperextension brace, bed rest, and, for those with osteoporotic fractures, antiresorptive therapy and vitamin D supplementation.[9]
Occupational Therapy
Used primarily when a patient requires inpatient rehabilitation, occupational therapy is essential to restore the patient's maximal level of function.
Recreational Therapy
Recreational therapy is an essential component of the inpatient rehabilitation program. For many patients, recreational therapists bridge the gap between the hospital and the community.
Medical Issues/Complications
Early mobilization is extremely important to decrease the frequency of secondary medical complications. Complications can occur in young adults and in elderly patients.
Osteoporotic lumbar fractures

Many of these patients have comorbid medical illnesses such as heart disease, lung disease, or diabetes. Often, a period of bed rest can worsen these and other conditions.
Other common complications that can occur during bed rest include pneumonia, deep vein thrombosis, pulmonary embolism, skin breakdown, and gastric ulceration.
Prolonged bed rest in an elderly individual can worsen underlying osteoporosis and increase the risk of additional fractures.

Pathologic fractures

All patients with compression fractures require a thorough examination to make certain the fracture is not a secondary manifestation of a systemic illness.
If a systemic disease is identified (eg, malignancy, infection, renal disease), proper medical treatment is needed.

Traumatic injuries

As in nontraumatic injuries, early mobilization is important in patients with traumatic injuries, to prevent secondary complications.
These patients can also have neurologic injury affecting the bowel and bladder, in addition to the complications listed above. Therefore, programs for catheterization and bowel evacuation are required.
Surgical Intervention
Surgical intervention is required when neurologic dysfunction and/or instability occurs as a result of the lumbar fracture.
Neurologic impairment

Neurologic problems may manifest in many ways. Reduced leg strength (paresis) or complete weakness (paralysis) is an obvious problem. Loss of sensation in the lower extremities and in the perianal area (saddle anesthesia) can be just as important. Urinary retention and urinary and fecal incontinence are very important signs that indicate the need for emergency surgery.
The extent of neurologic problems also depends on whether there is compression of the lower portion of the spinal cord (conus medullaris) or lumbar nerve roots (cauda equina).
Clinical instability is manifested primarily by severe pain that does not improve or that worsens with time. Patients with clinical instability may require surgery. This information is corroborated radiographically by visualizing kyphotic deformity on plain radiographs and disruption of the interspinous ligaments on MRIs.
Radiographic instability refers to cases in which the ligamentous disruption is severe, canal compromise occurs to a degree that neurologic symptoms are present, and movement of the fracture fragments is seen on dynamic or motion radiographs. These fractures almost always need surgical fixation, although on rare occasions a rigid brace will suffice. Some patients who initially are braced may show gradual worsening of symptoms on radiographs, with findings of progressive kyphosis with loss of vertebral body height. These patients also require surgical intervention.

Types of surgery

The surgical procedure used for correction of a lumbar fracture depends on certain factors. These critical factors include the degree of bony canal compromise seen on axial images, the angulation on sagittal views, the level of fracture, neurologic examination findings, and the patient's premorbid health status.
The choice of an anterior or a posterior approach for decompression is dictated by the location and severity of bony canal compromise. The fractured segment also must be stabilized, a procedure that is often performed with instrumentation using various plating and rod techniques. Anterior procedures involving the upper lumbar vertebrae (ie, L1, L2) may require the diaphragm to be mobilized because the crura attach at these levels. Fractures in the lower lumbar levels (eg, L5) are difficult to decompress anteriorly and are often stabilized surgically using a posterior method. Minimally invasive techniques are becoming more pervasive and popular and soon should impact the ability to perform surgery in these complex cases.[10, 11, 12]

Postoperative bracing

Once a patient has undergone surgery, a brace is prescribed in the postoperative period, depending on the etiology of the fracture.
The time period is variable for individual patients, depending on their health status.
Consultations
In patients thought to have a pathologic cause for lumbar fractures, appropriate consultations with medical specialists are required to assist with either the diagnostic workup or medical management of these conditions.
Orthopedic and neurosurgical specialists are consulted in traumatic injuries to assist with surgical management and to help decide if the fracture can be managed nonoperatively via kyphoplasty.

[13]

Consultation with a surgeon also may be required in nontraumatic lumbar fractures if radiographic progression occurs or if the pain does not improve.

A rheumatologist is often helpful in the treatment of generalized osteoporosis.

A physiatrist should almost always be consulted in these cases to assist with rehabilitation, brace management, pain management, and functional restoration of the fracture patient.

A specialist who performs vertebroplasty (eg, physiatrist, radiologist, surgeon, pain management specialist) should be consulted if kyphoplasty cannot be performed and the pain is not improving with bracing over the first 2-6 weeks.
Other Treatment
Two related procedures, vertebroplasty and kyphoplasty, are available for the patient with a lumbar wedge fracture who continues to experience pain despite aggressive conservative treatment.
Vertebroplasty
Vertebroplasty has been available for many years. This procedure involves injecting a form of cement polymer into the fractured vertebral body. The vertebral body then has better resistance to physiologic loads when the patient is upright, thus decreasing the amount of pain associated with the fracture. The procedure may be performed with the patient under local or general anesthesia. A percutaneous trocar or large needle is introduced into the fractured body through the pedicle, and the cement is injected. Fluoroscopy is used to guide the surgeon for correct localization.
A Mayo Clinic review of the first 1000 compression fractures treated by vertebroplasty at that institution found a high rate of success and a low rate of complications, the most common being rib fractures. Most patients reported significant pain relief at the 2-hour postprocedure evaluation.[14] A prospective study from the Netherlands with 36-month follow-up found an immediate, significant, and lasting reduction in the average and worst back pain with vertebroplasty.[15]
In another study, Rapan et al concluded that in patients with vertebral compression fracture who undergo vertebroplasty, the degree of pain reduction that occurs by 24 hours postprocedure predicts the intensity of pain patients will be experiencing 3 months later. Treatment was administered to a total of 28 thoracic and 57 lumbar vertebrae; patients in the study had sustained vertebral fractures from spinal metastases or osteoporosis.[16]
Prior to vertebroplasty, the patients' average pain score on the Visual Analog Scale (VAS) was 8.36, while 24 hours postprocedure it had fallen to an average of 2.23. At 3-month follow-up, the reduction in the VAS score remained nearly the same. Among the study's patients, 1 serious complication, paraparesis resulting from cement leakage into the spinal canal, occurred.[16]
Another study, by study by Kim et al, found percutaneous vertebroplasty to be an effective treatment for osteoporotic vertebral compression fractures. The investigators determined that back pain improved in 92% of the study's 673 patients, who underwent single-level or multilevel vertebroplasty. A total of 1174 of the procedures were performed, with more cement needed for the lumbar vertebrae than for the thoracic vertebrae.[17]
A study by Han et al of 120 patients who underwent percutaneous vertebroplasty for osteoporotic compression fracture indicated that the procedure is less effective in patients with such fractures of the lower lumbar spine than it is in those with higher lumbar fractures. At a median follow-up period of 22 months after percutaneous vertebroplasty, only 55.7% of patients with osteoporotic compression fractures at the L4 or L5 level of the spine (63 patients) reported reduced pain and improved function, compared with 71.7% with L3 fractures (57 patients). The investigators also found that 46% of the patients with L4 or L5 fractures required additional lumbar procedures, compared with 16% of those in the L3 group.[18]
Kyphoplasty
Kyphoplasty (seen in the image below) is similar to vertebroplasty, except a balloon is used to expand the volume of the fractured segment prior to introducing the cement polymer.[13, 19]
Kyphoplasty may be the treatment of choice in patients with secondary posture kyphosis, because the procedure appears to be able to partly restore vertebral height and thereby reduce kyphotic deformity.[20] Extrusion of cement into the spinal canal is less likely with kyphoplasty than with vertebroplasty, because the cement is delivered into a closed balloon.
Unfortunately, kyphoplasty cannot be performed for every fracture. Canal compromise usually contraindicates kyphoplasty (and sometimes vertebroplasty). An extremely severe fracture may not allow the balloon to enter.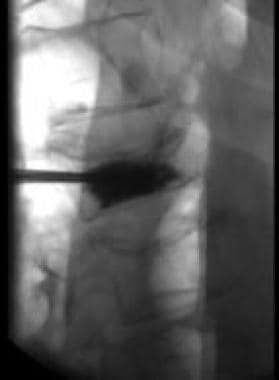 Fluoroscopic view of a kyphoplasty procedure.
Risks and benefits
The main risk from vertebroplasty and kyphoplasty is migration of bone or cement fragments into the spinal canal. Leakage of cement into the venous circulation, with subsequent pulmonary embolism, has also been reported.[14, 20]
Another risk from vertebroplasty is subsequent vertebral body fracture, often of an adjacent vertebra.[21] This occurs with increased frequency in patients who have recently undergone vertebroplasty. Trout and colleagues found the risk for subsequent fracture to be 4 1/2 times greater in patients who underwent the procedure versus those who did not.[22]
Adjacent-level fractures are often reported with kyphoplasty, but research is ongoing to try to reduce the frequency of this complication.
Despite the risks, vertebroplasty and kyphoplasty have proved so successful that they are now being advocated earlier in the course of treatment. At first, they were used after brace failure, 10-12 weeks after the fracture occurred; however, many authorities now advocate the use of these procedures 2-6 weeks after the fracture in selected patients.
Malignant fractures are more often treated surgically with cement, but vertebroplasty and kyphoplasty are also used to provide palliation of pain and symptom relief.[2] Fluoroscopy is used in a manner similar to that used in vertebroplasty.
References
Suh TT, Lyles KW. Osteoporosis considerations in the frail elderly. Curr Opin Rheumatol. 2003 Jul. 15(4):481-6. [Medline].

Sundaresan N, Rosen G, Boriani S. Primary malignant tumors of the spine. Orthop Clin North Am. 2009 Jan. 40(1):21-36, v. [Medline].

Fast Facts on Osteoporosis. National Osteoporosis Foundation. Available at http://www.nof.org/osteoporosis/diseasefacts.htm. Accessed: May 26. 2009.

Imai N, Endo N, Hoshino T, et al. Mortality after hip fracture with vertebral compression fracture is poor. J Bone Miner Metab. 2014 Dec 14. [Medline].

Gibson JE, Pilgram TK, Gilula LA. Response of nonmidline pain to percutaneous vertebroplasty. AJR Am J Roentgenol. 2006 Oct. 187(4):869-72. [Medline]. [Full Text].

Karaca L, Yuceler Z, Kantarci M, et al. The feasibility of dual-energy CT in differentiation of vertebral compression fractures. Br J Radiol. 2016. 89 (1057):20150300. [Medline].

American College of Radiology. ACR Appropriateness Criteria® osteoporosis and bone mineral density. National Guideline Clearinghouse. Available at http://guideline.gov/summary/summary.aspx?doc_id=11559. Accessed: May 26, 2009.

Bredella MA, Essary B, Torriani M, Ouellette HA, Palmer WE. Use of FDG-PET in differentiating benign from malignant compression fractures. Skeletal Radiol. 2008 May. 37(5):405-13. [Medline]. [Full Text].

Piazzolla A, Solarino G, Lamartina C, et al. Vertebral Bone Marrow Edema (VBME) in Conservatively Treated Acute Vertebral Compression Fractures (VCFs): Evolution and Clinical Correlations. Spine (Phila Pa 1976). 2015 Jul 15. 40 (14):E842-8. [Medline].

Hsieh PC, Koski TR, Sciubba DM, Moller DJ, O'Shaughnessy BA, Li KW, et al. Maximizing the potential of minimally invasive spine surgery in complex spinal disorders. Neurosurg Focus. 2008. 25(2):E19. [Medline].

Selznick LA, Shamji MF, Isaacs RE. Minimally invasive interbody fusion for revision lumbar surgery: technical feasibility and safety. J Spinal Disord Tech. 2009 May. 22(3):207-13. [Medline].

Castellon AT, Meves R, Avanzi O. Intraoperative neurophysiologic spinal cord monitoring in thoracolumbar burst fractures. Spine (Phila Pa 1976). 2009 Nov 15. 34(24):2662-8. [Medline].

Dalbayrak S, Onen MR, Yilmaz M, et al. Clinical and radiographic results of balloon kyphoplasty for treatment of vertebral body metastases and multiple myelomas. J Clin Neurosci. 2010 Feb. 17(2):219-24. [Medline].

Layton KF, Thielen KR, Koch CA, Luetmer PH, Lane JI, Wald JT, et al. Vertebroplasty, first 1000 levels of a single center: evaluation of the outcomes and complications. AJNR Am J Neuroradiol. 2007 Apr. 28(4):683-9. [Medline]. [Full Text].

Muijs SP, Nieuwenhuijse MJ, Van Erkel AR, Dijkstra PD. Percutaneous vertebroplasty for the treatment of osteoporotic vertebral compression fractures: evaluation after 36 months. J Bone Joint Surg Br. 2009 Mar. 91(3):379-84. [Medline].

Rapan S, Jovanovic S, Gulan G. Vertebroplasty for vertebral compression fracture. Coll Antropol. 2009 Sep. 33(3):911-4. [Medline].

Kim BS, Hum B, Park JC, et al. Retrospective review of procedural parameters and outcomes of percutaneous vertebroplasty in 673 patients. Interv Neuroradiol. 2014 Oct 31. 20(5):564-75. [Medline]. [Full Text].

Han S, Park HS, Pee YH, et al. The clinical characteristics of lower lumbar osteoporotic compression fractures treated by percutaneous vertebroplasty: a comparative analysis of 120 cases. Korean J Spine. 2013 Dec. 10(4):221-6. [Medline]. [Full Text].

Wardlaw D, Cummings SR, Van Meirhaeghe J, Bastian L, Tillman JB, Ranstam J, et al. Efficacy and safety of balloon kyphoplasty compared with non-surgical care for vertebral compression fracture (FREE): a randomised controlled trial. Lancet. 2009 Mar 21. 373(9668):1016-24. [Medline].

Taylor RS, Fritzell P, Taylor RJ. Balloon kyphoplasty in the management of vertebral compression fractures: an updated systematic review and meta-analysis. Eur Spine J. 2007 Aug. 16(8):1085-100. [Medline]. [Full Text].

Lo YP, Chen WJ, Chen LH, Lai PL. New vertebral fracture after vertebroplasty. J Trauma. 2008 Dec. 65(6):1439-45. [Medline].

Trout AT, Kallmes DF, Kaufmann TJ. New fractures after vertebroplasty: adjacent fractures occur significantly sooner. AJNR Am J Neuroradiol. 2006 Jan. 27(1):217-23. [Medline].

Ohtori S, Yamashita M, Inoue G, et al. L2 spinal nerve-block effects on acute low back pain from osteoporotic vertebral fracture. J Pain. 2009 Aug. 10(8):870-5. [Medline].

Bischoff-Ferrari HA, Willett WC, Wong JB, Stuck AE, Staehelin HB, Orav EJ, et al. Prevention of nonvertebral fractures with oral vitamin D and dose dependency: a meta-analysis of randomized controlled trials. Arch Intern Med. 2009 Mar 23. 169(6):551-61. [Medline].

O'Daly BJ, Morris SF, O'Rourke SK. Long-term functional outcome in pyogenic spinal infection. Spine. 2008 Apr 15. 33(8):E246-53. [Medline].

Luzzati R, Giacomazzi D, Danzi MC, Tacconi L, Concia E, Vento S. Diagnosis, management and outcome of clinically- suspected spinal infection. J Infect. 2009 Apr. 58(4):259-65. [Medline].

Hirakawa M, Kobayashi N, Ishiyama M, Fuwa S, Saida Y, Honda H, et al. Radiological findings as favorable predictors of pain relief in patients with osteoporotic compression fractures after percutaneous vertebroplasty: a retrospective study of 156 cases. Jpn J Radiol. 2012 Feb 28. [Medline].

Benzel EC, Ball PA. Management of low lumbar fractures by dorsal decompression, fusion, and lumbosacral laminar distraction fixation. J Neurosurg. 2000 Apr. 92(2 Suppl):142-8. [Medline].

Crandall D, Slaughter D, Hankins PJ, et al. Acute versus chronic vertebral compression fractures treated with kyphoplasty: early results. Spine J. 2004 Jul-Aug. 4(4):418-24.

Dunnagan SA, Knox MF, Deaton CW. Osteoporotic compression fracture with persistent pain. Treatment with percutaneous vertebroplasty. J Ark Med Soc. 1999 Dec. 96(7):258-9. [Medline].

Garfin SR, Yuan HA, Reiley MA. New technologies in spine: kyphoplasty and vertebroplasty for the treatment of painful osteoporotic compression fractures. Spine. 2001 Jul 15. 26(14):1511-5. [Medline].

Harrington KD. Vertebral compression fractures: differentiation between benign and malignant causes. Iowa Orthop J. 1993. 13:85-96.

Hu SS, Capen DA, Rimoldi RL, Zigler JE. The effect of surgical decompression on neurologic outcome after lumbar fractures. Clin Orthop. 1993 Mar. (288):166-73. [Medline].

Kai MC, Anderson M, Lau EM. Exercise interventions: defusing the world''s osteoporosis time bomb. Bull World Health Organ. 2003. 81(11):827-30.

Shaffrey CI, Shaffrey ME, Whitehill R, Nockels RP. Surgical treatment of thoracolumbar fractures. Neurosurg Clin N Am. 1997 Oct. 8(4):519-40. [Medline].

Sinaki M, Wollan PC, Scott RW, Gelczer RK. Can strong back extensors prevent vertebral fractures in women with osteoporosis?. Mayo Clin Proc. 1996 Oct. 71(10):951-6. [Medline].

Siris ES, Chen YT, Abbott TA, et al. Bone mineral density thresholds for pharmacological intervention to prevent fractures. Arch Intern Med. 2004 May 24. 164(10):1108-12.

Teng MM, Cheng H, Ho DM, Chang CY. Intraspinal leakage of bone cement after vertebroplasty: a report of 3 cases. AJNR Am J Neuroradiol. 2006 Jan. 27(1):224-9. [Medline].

Viljakainen HT, Natri AM, Karkkainen M, et al. A positive dose-response effect of vitamin D supplementation on site-specific bone mineral augmentation in adolescent girls: a double-blinded randomized placebo-controlled 1-year intervention. J Bone Miner Res. 2006 Jun. 21(6):836-44.

Von Feldt JM. Managing osteoporotic fractures: minimizing pain and disability. Rev Rhum Engl Ed. 1997 Jun 30. 64(6 Suppl):78S-80S. [Medline].
Medscape Reference © 2011 WebMD, LLC