Spina Bifida Workup
Author: Mark R Foster, MD, PhD, FACS; Chief Editor: Elizabeth A Moberg-Wolff, MD more...
Updated: Apr 21, 2016
What would you like to print?
Approach Considerations
Laboratory screening tests for neural tube defects can be performed through blood tests, amniocentesis, or both. These typically are used in combination with fetal ultrasonography. Prenatal diagnosis and ultrasonographic confirmation allow for preparation and parental referral to appropriate care services.
The fetal presence of an open neural tube defect is marked by an elevated alpha-fetoprotein (AFP) level in the amniotic fluid. Peak concentrations of AFP in the 13th to 15th weeks of pregnancy permit diagnosis, and ultrasonographic confirmation with amniocentesis generally is possible at 15-18 weeks. Encephaloceles or skin-covered myeloceles are unlikely to be detected by AFP measurement.
In children with spina bifida, in addition to routine laboratory screening examination, testing would include levels of anticonvulsants, urine cultures, and perhaps cystometrograms and skin testing for latex sensitivity. The last can be performed by enzyme-linked immunosorbent assay (ELISA) or skin prick.
Urine Studies
Perform urinalysis, urine culture, and a serum urea nitrogen creatinine test at birth to evaluate renal function in neonates with spina bifida. Recommend regular bacterial urinary cultures for children who have vesicoureteral reflux or signs and symptoms of urinary tract infection.
Early accurate assessment and subsequent frequent reassessments of neurologic status are necessary with anatomic and physiologic evaluation techniques. Obtain the anatomic information with a voiding cystogram that assesses the lower urinary tract, including bladder capacity and the presence of vesicoureteral reflux. Urodynamics help in physiologic evaluation of urologic function by characterizing abnormalities of detrusor control and sphincter function.
Alpha-Fetoprotein and Acetylcholinesterase
Estimation of maternal serum AFP has been used since the late 1970s. Blood samples are taken early in the second trimester. The AFP level is elevated in 70-75% of cases in which the fetus has an open spina bifida.
Since many possible reasons exist for false-positive results, a presumptive diagnosis based on maternal serum AFP is confirmed with amniocentesis and assay of the amniotic fluid for AFP, as well as for the presence of acetylcholinesterase, a nerve-specific enzyme. Myelomeningocele can be detected in 99% of affected fetuses through combined use of these tests.
Siblings of patients with spina bifida have an increased incidence of neural tube defects. Consequently, following the birth of a child with spina bifida, amniocentesis is suggested during subsequent pregnancies to monitor AFP.
Psychometric Assessment
As previously discussed, cognitive dysfunction is most strongly correlated with the presence of hydrocephalus, along with hydrocephalus-related illness parameters (ie, the necessity of shunting, number of shunt revisions, shunt infections, and additional structural abnormalities of the CNS).[18] Cognitive function has also been related to the level of the patient's lesion.
Psychometric assessments of intelligence and cognitive function are indicated for patients with hydrocephalus and for patients who display deficits in speech and language functions and/or cognitive or academic skills. Repeated, prolonged ventriculoperitoneal shunt dysfunction, as well as CNS infections, is associated with an increased risk of functional and cognitive deficits.
Gait Analysis
Gait analysis has been introduced to evaluate patients functionally. It is also used to study muscle innervation, strength, and coordination patterns, which may interfere with ambulation or with a patient's ability to live independently.
Gait analysis may serve as a useful preoperative diagnostic tool. It can be helpful in evaluating patients for reduction of a dislocated hip and transfer of muscles for imbalances (which lead to progressive deformities, difficulty bracing, and problems with ambulating).
Fetal Ultrasonography
Some centers use fetal ultrasonography as the primary screening tool for neural tube defects, usually at approximately 18 weeks' gestational age. This trend reflects the increasing sophistication of fetal ultrasonographic technology. The procedure avoids the roughly 1% risk of abortion following amniocentesis, but accurate diagnosis depends on the skill and experience of the operator and the quality of the equipment.
The combination of maternal serum AFP screening with second-trimester ultrasonographic screening detects over 90% of neural tube defects from 20 weeks' gestation.
With ultrasonography, myelomeningocele may be detected during scanning of the fetal head for subtle changes in the cranial and cerebellar configurations. The diagnosis of myelomeningocele is certain when the following 3 classic central findings are present:
Concavity of the frontal bones

Ventriculomegaly

Chiari II malformation
Currently, ultrasonography is not sensitive enough to provide reliable and accurate detection of the level of the defect. Preliminary experience indicates that the use of 3- and 4-dimensional ultrasonography improves the accuracy in determining the upper level of the myelomeningocele lesion.
After confirmation of fetal myelomeningocele, clinicians at most tertiary care centers perform weekly ultrasonographic examinations to observe the growth and development of the fetus.
CT Scanning and MRI
Hydrocephalus can be tracked with serial cranial ultrasonograms (in infants) or computed tomography (CT) scans. A CT scan of the head is appropriate to evaluate for possible recurrent hydrocephalus or a change in the size or function of the ventricles, which may be affected even with normal pressure hydrocephalus.
Magnetic resonance imaging (MRI) of the spine and brain is helpful in neurologic assessment and provides a baseline for comparison in future investigations, especially in the context of progressive neurologic deterioration. MRI provides considerable detailed information regarding the spinal cord and its malformations, including low-lying or tethered cords. (See the images below.)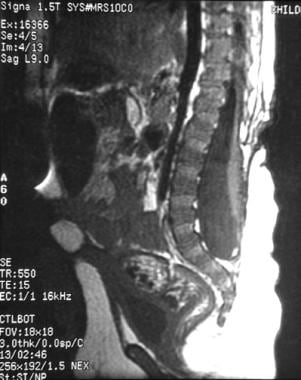 Sagittal, T1-weighted magnetic resonance imaging (MRI) scan of a child after closure of his myelomeningocele. Child is aged 7 years. Note the spinal cord ends in the sacral region far below the normal level of T12-L1. It is tethered at the point at which the neural placode was attached to the skin defect during gestation. The MRI scan showed dorsal tethering, and the child complained of back pain and had a new foot deformity on examination. By definition, all children with a myelomeningocele have a tethered cord on MRI, but only about 20% of children require an operation to untether the spinal cord during their first decade of life, during their rapid growth spurts. Thus, the MRI scan must be placed in context of a history and examination consistent with mechanical tethering and a resultant neurologic deterioration.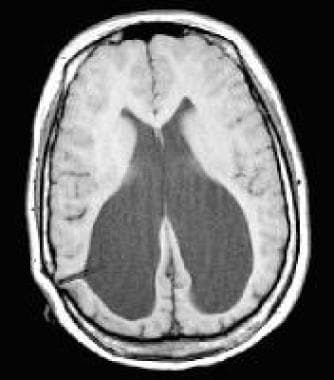 Axial, T1-weighted MRI scan of a 15-year-old girl who was born with thoracic myelomeningocele, hydrocephalus, and Arnold-Chiari II syndrome. She was treated with a ventriculoperitoneal shunt. The ventricular system has a characteristic shape, with small frontal and large occipital horns, which are typical in patients with spina bifida. The shunt tube is shown in the right parietal region.
By definition, all children with a myelomeningocele have a tethered cord on MRI, but only about 20% of children require an operation to untether the spinal cord during their first decade of life, during rapid growth spurts. Thus, the MRI scan must be placed in the context of a history and examination consistent with mechanical tethering and the resultant neurologic deterioration.
Radiography
Radiographs of the vertebrae provide information for early evaluation when an infant is born with myelomeningocele. After delivery, the criterion standard for determining the level of the lesion is a plain film radiograph.
Congenital spinal deformities need to be tracked closely. Acquired or neuromuscular spinal deformities require imaging based on clinical examination; these deformities should be followed routinely during growth and more frequently during times of rapid growth.
Plain radiographs are important for clinical evaluation of the patient for scoliosis, dysplasia, and dislocation of the hip. Radiographs, along with ultrasonographic evaluation, should be used to assess any area of pain because of the high risk of pathologic fractures.
References
Vinck A, Nijhuis-van der Sanden MW, Roeleveld NJ, et al. Motor profile and cognitive functioning in children with spina bifida. Eur J Paediatr Neurol. 2010 Jan. 14(1):86-92. [Medline].

Thompson DN. Postnatal management and outcome for neural tube defects including spina bifida and encephalocoeles. Prenat Diagn. 2009 Apr. 29(4):412-9. [Medline].

Fletcher JM, Copeland K, Frederick JA, et al. Spinal lesion level in spina bifida: a source of neural and cognitive heterogeneity. J Neurosurg. 2005 Apr. 102(3 Suppl):268-79. [Medline].

McLone DG, Knepper PA. The cause of Chiari II malformations: a unified theory. Pediatr Neurosci. 1989. 15:1-12.

Ausili E, Focarelli B, Tabacco F, et al. Bone mineral density and body composition in a myelomeningocele children population: effects of walking ability and sport activity. Eur Rev Med Pharmacol Sci. 2008 Nov-Dec. 12(6):349-54. [Medline].

Wu YW, Croen LA, Henning L, et al. Potential association between infertility and spinal neural tube defects in offspring. Birth Defects Res A Clin Mol Teratol. 2006 Oct. 76(10):718-22. [Medline].

Canfield MA, Ramadhani TA, Shaw GM, et al. Anencephaly and spina bifida among Hispanics: maternal, sociodemographic, and acculturation factors in the National Birth Defects Prevention Study. Birth Defects Res A Clin Mol Teratol. 2009 Jul. 85(7):637-46. [Medline].

Milunsky A, Jick H, Jick SS, Bruell CL, MacLaughlin DS, Rothman KJ, et al. Multivitamin/folic acid supplementation in early pregnancy reduces the prevalence of neural tube defects. JAMA. 1989 Nov 24. 262(20):2847-52. [Medline].

Centers for Disease Control and Prevention. Spina bifida and anencephaly before and after folic acid mandate--United States, 1995-1996 and 1999-2000. MMWR Morb Mortal Wkly Rep. 2004 May 7. 53(17):362-5. [Medline].

Racial/ethnic differences in the birth prevalence of spina bifida - United States, 1995-2005. MMWR Morb Mortal Wkly Rep. 2009 Jan 9. 57(53):1409-13. [Medline]. [Full Text].

Holmes LB. Does taking vitamins at the time of conception prevent neural tube defects?. JAMA. 1988 Dec 2. 260(21):3181. [Medline].

Mulinare J, Cordero JF, Erickson JD, Berry RJ. Periconceptional use of multivitamins and the occurrence of neural tube defects. JAMA. 1988 Dec 2. 260(21):3141-5. [Medline].

Cotter AM, Daly SF. Neural tube defects: is a decreasing prevalence associated with a decrease in severity?. Eur J Obstet Gynecol Reprod Biol. 2005 Apr 1. 119(2):161-3. [Medline].

Centers for Disease Control and Prevention. Current Trends Economic Burden of Spina Bifida -- United States, 1980-1990. MMWR Morb Mortal Wkly Rep. Apr 21 1989;38(15):264-7. Available at http://www.cdc.gov/mmwr/preview/mmwrhtml/00001378.htm. Accessed: Mar 6 2014.

Canfield MA, Marengo L, Ramadhani TA, Suarez L, Brender JD, Scheuerle A. The prevalence and predictors of anencephaly and spina bifida in Texas. Paediatr Perinat Epidemiol. 2009 Jan. 23(1):41-50. [Medline].

Velie EM, Shaw GM, Malcoe LH, et al. Understanding the increased risk of neural tube defect-affected pregnancies among Mexico-born women in California: immigration and anthropometric factors. Paediatr Perinat Epidemiol. 2006 May. 20(3):219-30. [Medline].

Williams LJ, Rasmussen SA, Flores A, et al. Decline in the prevalence of spina bifida and anencephaly by race/ethnicity: 1995-2002. Pediatrics. 2005 Sep. 116(3):580-6. [Medline].

Lindquist B, Uvebrant P, Rehn E, Carlsson G. Cognitive functions in children with myelomeningocele without hydrocephalus. Childs Nerv Syst. 2009 Aug. 25(8):969-75. [Medline].

Oakeshott P, Hunt GM, Poulton A, Reid F. Open spina bifida: birth findings predict long-term outcome. Arch Dis Child. 2012 May. 97(5):474-6. [Medline].

Lewis D, Tolosa JE, Kaufmann M, Goodman M, Farrell C, Berghella V. Elective cesarean delivery and long-term motor function or ambulation status in infants with meningomyelocele. Obstet Gynecol. 2004 Mar. 103(3):469-73. [Medline].

Danzer E, Gerdes M, Bebbington MW, et al. Lower extremity neuromotor function and short-term ambulatory potential following in utero myelomeningocele surgery. Fetal Diagn Ther. 2009. 25(1):47-53. [Medline].

Jackson EM, Schwartz DM, Sestokas AK, Zarnow DM, Adzick NS, Johnson MP, et al. Intraoperative neurophysiological monitoring in patients undergoing tethered cord surgery after fetal myelomeningocele repair. J Neurosurg Pediatr. 2014 Feb 7. [Medline].

Hoffer MM, Feiwell E, Perry R, Perry J, Bonnett C. Functional ambulation in patients with myelomeningocele. J Bone Joint Surg Am. 1973 Jan. 55(1):137-48. [Medline].

Barden GA, Meyer LC, Stelling FH 3rd. Myelodysplastics--fate of those followed for twenty years or more. J Bone Joint Surg Am. 1975 Jul. 57(5):643-7. [Medline].

Dicianno BE, Kinback N, Bellin MH, et al. Depressive symptoms in adults with spina bifida. Rehabil Psychol. 2015 Aug. 60 (3):246-53. [Medline].

McAndrew I. Adolescents and Young People with Spina Bifida, 1975-1976: A Study of the Physical Difficulties and Some of the Emotional Problems Faced by 35 Young People with Myelomengocele. Melbourne, Australia: Ability Press; 1977.

Anderson EM, Spain B. The Child with Spina Bifida. London, United Kingdom: Methuen; 1977.

Meeks JJ, Hagerty JA, Chaviano AH. Bulbar urethral ligation for managing persistent urinary incontinence in young men with myelomeningocele. BJU Int. 2009 Jul. 104(2):221-4. [Medline].

da Silva SA, de Almeida MF, Moron AF, Cavalheiro S, Dastoli PA, Guinsburg R. Resuscitation at birth in neonates with meningomyelocele. J Perinat Med. 2014 Jan. 42(1):113-9. [Medline].

Vachha B, Adams R. Implications of family environment and language development: comparing typically developing children to those with spina bifida. Child Care Health Dev. 2009 Sep. 35(5):709-16. [Medline].

Dias MS. Neurosurgical causes of scoliosis in patients with myelomeningocele: an evidence-based literature review. J Neurosurg. 2005 Jul. 103(1 Suppl):24-35. [Medline].

Fichter MA, Dornseifer U, Henke J, et al. Fetal spina bifida repair--current trends and prospects of intrauterine neurosurgery. Fetal Diagn Ther. 2008. 23(4):271-86. [Medline].

Adzick NS, Thom EA, Spong CY, et al. A randomized trial of prenatal versus postnatal repair of myelomeningocele. N Engl J Med. 2011 Mar 17. 364(11):993-1004. [Medline].

Jacobson LA, Tarazi RA, McCurdy MD, Schultz S, Levey E, Mahone EM, et al. The Kennedy Krieger Independence Scales-Spina Bifida Version: a measure of executive components of self-management. Rehabil Psychol. 2013 Feb. 58(1):98-105. [Medline].

Cancel D, Capoor J. Patient safety in the rehabilitation of children with spinal cord injuries, spina bifida, neuromuscular disorders, and amputations. Phys Med Rehabil Clin N Am. 2012 May. 23(2):401-22. [Medline].

Houtrow AJ, Maselli JH, Okumura MJ. Inpatient care for children, ages 1-20 years, with spina bifida in the United States. J Pediatr Rehabil Med. 2013. 6(2):95-101. [Medline].

Stubberud J, Langenbahn D, Levine B, Stanghelle J, Schanke AK. Goal management training of executive functions in patients with spina bifida: a randomized controlled trial. J Int Neuropsychol Soc. 2013 Jul. 19(6):672-85. [Medline].

Verhoef M, Barf HA, Post MW, van Asbeck FW, Gooskens RH, Prevo AJ. Functional independence among young adults with spina bifida, in relation to hydrocephalus and level of lesion. Dev Med Child Neurol. 2006 Feb. 48(2):114-9. [Medline].

Bier JA, Prince A, Tremont M, Msall M. Medical, functional, and social determinants of health-related quality of life in individuals with myelomeningocele. Dev Med Child Neurol. 2005 Sep. 47(9):609-12. [Medline].

Alman BA, Bhandari M, Wright JG. Function of dislocated hips in children with lower level spina bifida. J Bone Joint Surg Br. 1996 Mar. 78(2):294-8. [Medline].

Eichholzer M, Tönz O, Zimmermann R. Folic acid: a public-health challenge. Lancet. 2006 Apr 22. 367(9519):1352-61. [Medline].

Robbins JM, Tilford JM, Bird TM, et al. Hospitalizations of newborns with folate-sensitive birth defects before and after fortification of foods with folic acid. Pediatrics. 2006 Sep. 118(3):906-15. [Medline].

De Wals P, Tairou F, Van Allen MI, et al. Reduction in neural-tube defects after folic acid fortification in Canada. N Engl J Med. 2007 Jul 12. 357(2):135-42. [Medline].

De Wals P, Tairou F, Van Allen MI, et al. Spina bifida before and after folic acid fortification in Canada. Birth Defects Res A Clin Mol Teratol. 2008 Sep. 82(9):622-6. [Medline].

Bell KN, Oakley GP Jr. Update on prevention of folic acid-preventable spina bifida and anencephaly. Birth Defects Res A Clin Mol Teratol. 2009 Jan. 85(1):102-7. [Medline].

Oakley GP Jr. The scientific basis for eliminating folic acid-preventable spina bifida: a modern miracle from epidemiology. Ann Epidemiol. 2009 Apr. 19(4):226-30. [Medline].

Humblet M, Verpoorten C, Christiaens MH, Hirche H, Jansen K, Buyse G, et al. Long-term outcome of intravesical oxybutynin in children with detrusor-sphincter dyssynergia: With special reference to age-dependent parameters. Neurourol Urodyn. 2014 Jan 16. [Medline].
Medscape Reference © 2011 WebMD, LLC