Neurogenic Bowel Dysfunction Clinical Presentation
Author: Juan L Poggio, MD, MS, FACS, FASCRS; Chief Editor: Elizabeth A Moberg-Wolff, MD  more...
Updated: May 26, 2016
What would you like to print?
History
The initial step in the management of neurogenic bowel dysfunction (NBD) is to establish a history of premorbid and current bowel function and patterns. This includes the following:
Bowel frequency

Presence of strain

Presence of hard or lumpy stool

Presence of incomplete evacuation sensation

Sensation of anorectal obstruction

Need for additional manual maneuvers to facilitate defecation
It is important to ascertain whether any gastrointestinal (GI) problems or any other medical conditions (eg, diabetes, irritable bowel syndrome [IBS], lactose intolerance, inflammatory bowel disease [IBD], or rectal bleeding) existed previously. The patient's functional status should be evaluated. An effort should be made to determine whether the bowel symptoms are affecting the patient's ability to perform activities of daily living and carry out social and work responsibilities.
Assessment should include the following:
Ability to learn a bowel program

Sitting tolerance

Sitting balance

Upper limb strength and proprioception

Upper limb function

Spasticity

Transfer skills

Actual and potential risks to skin

Home accessibility

Equipment needs
This assessment should involve both the patient and the caregiver.
Symptoms can include the following:
Abdominal pain

Abdominal distention

Early satiety

Loss of voluntary control over defecation (ie, fecal incontinence)

Difficulty with evacuation

Associated neurologic bladder symptoms

Associated symptoms of autonomic dysreflexia in patients with spinal cord lesions at T6 and above
Physical Examination
The physical examination should include the following:
Complete abdominal and rectal examination

Assessment of anal sphincter tone

Elicitation of anocutaneous and bulbocavernosus reflexes to determine if the patient has upper motor neuron (UMN) or lower motor neuron (LMN) bowel dysfunction

Neurologic examination to assess the extent of nerve damage
The abdomen should be inspected for distention, increased abdominal muscle tone indicative of spasticity, and bowel sounds.
The tone of the external anal sphincter is assessed by means of digital examination. The external anal sphincter is normally puckered, with LMN impairment being manifested by flattening or scalloping. Tone is reduced or absent in acute complete spinal cord lesions and LMN impairment. Rectal sensation usually is absent in lesions above L3.
The anocutaneous reflex is assessed by means of stimulation with pinprick in the perianal region, which leads to visible reflexive anal contraction. The anocutaneous reflex is normally present if the S2-S4 reflex arc is intact. This reflex does not correlate with internal sphincter function.
The bulbocavernosus reflex is assessed by squeezing the glans penis or clitoris (or applying traction on an indwelling catheter), which results in palpable rectal contraction. This reflex is normally present in most patients. The reflex is brisk with UMN lesions and is absent in LMN lesions or spinal shock.
Sensory examination tests the integrity of sacral dermatomes to light touch and pinprick.
Complications
Autonomic dysreflexia is an abnormal sympathetic nervous system response to a noxious stimulus below the level of injury in individuals with a spinal cord injury (SCI) above T6. An acute episode results in rapidly rising blood pressure with an accompanying risk of brain hemorrhage and death. Symptoms include flushing, sweating and blotchiness above the lesion, chills, nasal congestion, and headache.
Fecal impaction (see the image below) occurs in almost 80% of patients with SCI and can lead to bowel distention, which, if left untreated, may result in perforation and even death.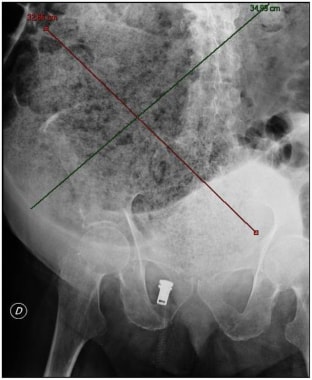 Abdominal X-ray showing fecal impaction extending from pelvis upward to left subphrenic space and from left toward right flank, measuring over 40 cm in length and 33 cm in width. Image courtesy of Wikimedia Commons
Gastroesophageal reflux results from chronic overdistention of the bowel. Diverticulosis (see the video below) also results from chronic overdistention, as well as from increased intraluminal pressures brought on by fecal impaction.
Colonoscopy reveals diverticulosis (pockets within colon that can bleed or become infected). Video courtesy of Dawn Sears, MD, and Dan C Cohen, MD, Division of Gastroenterology, Scott & White Healthcare.
Rectal prolapse results from repeated passage of large hard stools in patients with a weakened anorectal mechanism, especially in cases involving LMN lesions. Hemorrhoids result from repeated passage of large hard stools as a result of constipation and can lead to chronically high pressures in the anorectal marginal veins. The prevalence of hemorrhoids in this setting may be as high as 76%. Anal fissures may be caused by increased anal tone or by the passage of hard stool; they may manifest as increased spasm of the sphincter and autonomic dysreflexia.
Megacolon is relatively common in patients with NBD, and it may be associated with sigmoid volvulus, fecal impaction, autonomic dysreflexia, dyspnea from diaphragmatic splinting, weight loss, and chronic malnutrition.
Reduced quality of life occurs as a consequence of fear of incontinence and may lead to reduced social activity and isolation, which are associated with depression and anxiety.
References
Coggrave M, Norton C. Neurogenic bowel. Handb Clin Neurol. 2013. 110:221-8. [Medline].

Gor RA, Katorski JR, Elliott SP. Medical and surgical management of neurogenic bowel. Curr Opin Urol. 2016 May 5. [Medline].

Ash D. Sustaining safe and acceptable bowel care in spinal cord injured patients. Nurs Stand. 2005 Nov 2-8. 20 (8):55-64, quiz 66. [Medline].

Benevento BT, Sipski ML. Neurogenic bladder, neurogenic bowel, and sexual dysfunction in people with spinal cord injury. Phys Ther. 2002 Jun. 82 (6):601-12. [Medline]. [Full Text].

Gurjar SV, Jones OM. Physiology: evacuation, pelvic floor and continence mechanisms. Surgery. 2011 Aug. 29 (8):358-61.

Brading A, Ramalingham T. Mechanisms controlling normal defaecation and the potential effects of spinal cord injury. Weaver LC, Polosa C (eds). Progress in Brain Research. Philadelphia: Elsevier; 2006. 345-58.

Krogh K, Christensen P. Neurogenic colorectal and pelvic floor dysfunction. Best Pract Res Clin Gastroenterol. 2009. 23 (4):531-43. [Medline].

Coggrave M. Management of neurogenic bowel. Br J Neurosci Nurs. 2005. 1:6-13.

Pellat GC. Neurogenic continence. Part 1: pathophysiology and quality of ilfe. Br J Nurs. 2008 Jul 10-23. 17 (13):836-41. [Medline].

Wiesel P, Bell S. Bowel dysfunction: assessment and management in the neurological patient. Bowel Continence Nursing. 2004. 181-203.

Johanson JF, Lafferty J. Epidemiology of fecal incontinence: the silent affliction. Am J Gastroenterol. 1996 Jan. 91 (1):33-6. [Medline].

Nelson RL. Epidemiology of fecal incontinence. Gastroenterology. 2004 Jan. 126 (1 Suppl 1):S3-7. [Medline].

Higgins PD, Johanson JF. Epidemiology of constipation in North America: a systematic review. Am J Gastroenterol. 2004 Apr. 99 (4):750-9. [Medline].

Krogh K, Nielsen J, Djurhuus JC, Mosdal C, Sabroe S, Laurberg S. Colorectal function in patients with spinal cord lesions. Dis Colon Rectum. 1997 Oct. 40 (10):1233-9. [Medline].

Glickman S, Kamm MA. Bowel dysfunction in spinal-cord-injury patients. Lancet. 1996 Jun 15. 347 (9016):1651-3. [Medline].

Hinds JP, Eidelman BH, Wald A. Prevalence of bowel dysfunction in multiple sclerosis. A population survey. Gastroenterology. 1990 Jun. 98 (6):1538-42. [Medline].

Coggrave M, Norton C, Cody JD. Management of faecal incontinence and constipation in adults with central neurological diseases. Cochrane Database Syst Rev. 2014 Jan 13. 1:CD002115. [Medline].

Krogh K, Ostergaard K, Sabroe S, Laurberg S. Clinical aspects of bowel symptoms in Parkinson's disease. Acta Neurol Scand. 2008 Jan. 117 (1):60-4. [Medline].

Doshi VS, Say JH, Young SH, Doraisamy P. Complications in stroke patients: a study carried out at the Rehabilitation Medicine Service, Changi General Hospital. Singapore Med J. 2003 Dec. 44 (12):643-52. [Medline]. [Full Text].

Sonnenberg A, Tsou VT, Müller AD. The "institutional colon": a frequent colonic dysmotility in psychiatric and neurologic disease. Am J Gastroenterol. 1994 Jan. 89 (1):62-6. [Medline].

Ozisler Z, Koklu K, Ozel S, Unsal-Delialioglu S. Outcomes of bowel program in spinal cord injury patients with neurogenic bowel dysfunction. Neural Regen Res. 2015 Jul. 10 (7):1153-8. [Medline]. [Full Text].

Caruana BJ, Wald A, Hinds JP, Eidelman BH. Anorectal sensory and motor function in neurogenic fecal incontinence. Comparison between multiple sclerosis and diabetes mellitus. Gastroenterology. 1991 Feb. 100 (2):465-70. [Medline].

Yi Z, Jie C, Wenyi Z, Bin X, Hongzhu J. Comparison of efficacies of vegetable oil based and polyethylene glycol based bisacodyl suppositories in treating patients with neurogenic bowel dysfunction after spinal cord injury: a meta-analysis. Turk J Gastroenterol. 2014 Oct. 25 (5):488-92. [Medline]. [Full Text].

Gordon M, Naidoo K, Akobeng AK, Thomas AG. Cochrane Review: Osmotic and stimulant laxatives for the management of childhood constipation (Review). Evid Based Child Health. 2013 Jan. 8 (1):57-109. [Medline].

Coggrave M. Neurogenic continence. Part 3: Bowel management strategies. Br J Nurs. 2008 Aug 14-Sep 10. 17 (15):962-8. [Medline].

Hoy NY, Metcalfe P, Kiddoo DA. Outcomes following fecal continence procedures in patients with neurogenic bowel dysfunction. J Urol. 2013 Jun. 189 (6):2293-7. [Medline].

Gstaltner K, Rosen H, Hufgard J, Märk R, Schrei K. Sacral nerve stimulation as an option for the treatment of faecal incontinence in patients suffering from cauda equina syndrome. Spinal Cord. 2008 Sep. 46 (9):644-7. [Medline]. [Full Text].

Lombardi G, Del Popolo G, Cecconi F, Surrenti E, Macchiarella A. Clinical outcome of sacral neuromodulation in incomplete spinal cord-injured patients suffering from neurogenic bowel dysfunctions. Spinal Cord. 2010 Feb. 48 (2):154-9. [Medline]. [Full Text].

Rasmussen MM, Kutzenberger J, Krogh K, Zepke F, Bodin C, Domurath B, et al. Sacral anterior root stimulation improves bowel function in subjects with spinal cord injury. Spinal Cord. 2015 Apr. 53 (4):297-301. [Medline].

Levitt M, Peña A. Update on pediatric faecal incontinence. Eur J Pediatr Surg. 2009 Feb. 19 (1):1-9. [Medline].

Griffin SJ, Parkinson EJ, Malone PS. Bowel management for paediatric patients with faecal incontinence. J Pediatr Urol. 2008 Oct. 4 (5):387-92. [Medline].

Emmanuel A. Review of the efficacy and safety of transanal irrigation for neurogenic bowel dysfunction. Spinal Cord. 2010 Sep. 48 (9):664-73. [Medline]. [Full Text].

Christensen P, Andreasen J, Ehlers L. Cost-effectiveness of transanal irrigation versus conservative bowel management for spinal cord injury patients. Spinal Cord. 2009 Feb. 47 (2):138-43. [Medline].

[Guideline] Duncan PW, Zorowitz R, Bates B, Choi JY, Glasberg JJ, Graham GD, et al. Management of Adult Stroke Rehabilitation Care: a clinical practice guideline. Stroke. 2005 Sep. 36 (9):e100-43. [Medline]. [Full Text].
Medscape Reference © 2011 WebMD, LLC