Posttraumatic Syringomyelia Treatment & Management
Author: Lance L Goetz, MD; Chief Editor: Stephen Kishner, MD, MHA more...
Updated: Dec 21, 2015
What would you like to print?
Rehabilitation Program
Physical Therapy
The focus of physical therapy in patients with syringomyelia should be preservation of range of motion and maintenance of function, including transfers, wheelchair mobility, and gait if applicable. Selection of appropriate assistive devices also is important. The physical therapist (PT) is helpful in monitoring manual muscle strength and joint function. Exercises and other mobilization activities that produce effects like the Valsalva maneuver should be avoided until normal CSF flow has been restored.
Occupational Therapy
The occupational therapist (OT) is helpful in assessing and treating the function of the person in performance of activities of daily living. The OT may perform splinting to maintain functional positions of the upper extremities and prevent contracture formation. Functional splints and other assistive devices can facilitate the performance of self-care tasks. The OT may perform detailed sensory testing of the upper extremities and quantitative pinch and grip strength testing. The PT and OT may work together in the selection of manual or power wheelchairs and seating systems.
Medical Issues/Complications
See the list below:
Increased weakness can result in functional loss, including transfers, wheelchair propulsion, gait, or self-care abilities.

Functional losses, as well as impairments in sensation, predispose the patient to burns or skin breakdown.

Progressive impairments in respiratory function place patients at risk for atelectasis, pneumonia, or respiratory failure.

Neuropathic arthropathy (Charcot joint) can occur as a result of lack of protective joint position sense.
Surgical Intervention
Surgery frequently is performed to prevent further expansion and collapse syrinx cavities. Neurologic deterioration, pain, or autonomic dysreflexia may be indications for surgery.[7] No surgical procedure has been uniformly successful in relief of symptoms or resolution of radiographic abnormalities.
Surgical treatment has included simple drainage, a variety of shunting procedures,[8] and decompressive laminectomy with expansion duraplasty.[9, 10, 11, 12] Cordectomy has also been performed.[13] The question of which persons to treat surgically is controversial. Ideally, surgery should be performed on persons with syrinx cavities that are enlarging but are not yet symptomatic or that have become symptomatic only recently. All surgical procedures potentially can cause loss of motor, sensory, reflex, or autonomic function.[14]
Shunting of syrinx cavities, when performed alone, historically has been complicated by a high rate (up to 50%) of shunt failure or blockage and recurrent cyst expansion.

Duraplasty/dural grafting and adhesiolysis may be performed with the goal of reestablishing unrestricted subarachnoid CSF flow. An expansile duraplasty is felt by some to be a more physiologic way of treating a tethered spinal cord with associated syringomyelia.

Percutaneous CT-guided drainage has been performed but rarely is used.

Fetal neural tissue has been used to treat progressive PTS in cases where other treatments have failed. Successful obliteration of cyst cavities and survival of fetal tissue have been demonstrated in humans.

Surgical approaches are evolving with the aim of improving long-term success.
See the images below.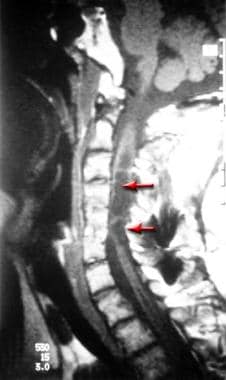 This illustration shows a T1-weighted, cervical magnetic resonance imaging (MRI) scan of multiple syrinx cavities (arrows). Note the lowest thin cavity extending into the thoracic spinal cord.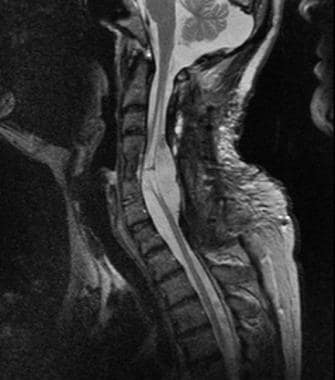 T2-weighted magnetic resonance imaging (MRI) scan (same patient as above) after patient underwent expansile duraplasty. Note dramatic reduction in size of the main syrinx cavity (white).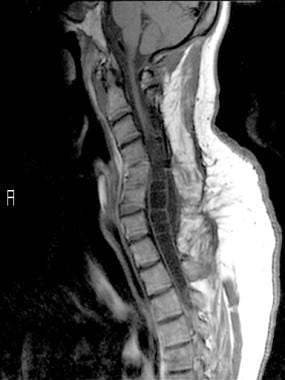 T1-weighted image demonstrating a large, multiloculated cervical syrinx cavity. This is a recurrent syrinx, having come back despite an attempt at drainage utilizing expansile duraplasty.
A literature review by Ghobrial et al suggested that in adult patients with postinfectious or posttraumatic syringomyelia, arachnolysis, but not CSF diversion, extends the length of time to clinically symptomatic syringomyelia recurrence.[15]
Consultations
Consultation with a neurosurgeon generally is indicated.
References
Svircev JN, Little JW. Syringomyelia. Lin V, ed. Spinal Cord Medicine: Principles and Practice. 2nd ed. New York, NY: Demos; 2010. 569-575/42.

Berkouk K, Carpenter PW, Lucey AD. Pressure wave propagation in fluid-filled co-axial elastic tubes. Part 1: Basic theory. J Biomech Eng. 2003 Dec. 125(6):852-6. [Medline].

Carpenter PW, Berkouk K, Lucey AD. Pressure wave propagation in fluid-filled co-axial elastic tubes. Part 2: Mechanisms for the pathogenesis of syringomyelia. J Biomech Eng. 2003 Dec. 125(6):857-63. [Medline].

Elliott NS, Lockerby DA, Brodbelt AR. The pathogenesis of syringomyelia: a re-evaluation of the elastic-jump hypothesis. J Biomech Eng. 2009 Apr. 131(4):044503. [Medline].

Krebs J, Koch HG, Hartmann K, Frotzler A. The characteristics of posttraumatic syringomyelia. Spinal Cord. 2015 Dec 1. [Medline].

Jackson K, Ramadorai U, Abell B, Devine J. Charcot arthropathy of the wrist associated with cervical spondylotic myelopathy. Global Spine J. 2012 Dec. 2(4):227-30. [Medline].

Sixt C, Riether F, Will BE, et al. Evaluation of quality of life parameters in patients who have syringomyelia. J Clin Neurosci. 2009 Oct 7. [Medline].

Hayashi T, Ueta T, Kubo M, Maeda T, Shiba K. Subarachnoid-subarachnoid bypass: a new surgical technique for posttraumatic syringomyelia. J Neurosurg Spine. 2013 Apr. 18(4):382-7. [Medline].

Lam S, Batzdorf U, Bergsneider M. Thecal shunt placement for treatment of obstructive primary syringomyelia. J Neurosurg Spine. 2008 Dec. 9(6):581-8. [Medline].

Cacciola F, Capozza M, Perrini P, et al. Syringopleural shunt as a rescue procedure in patients with syringomyelia refractory to restoration of cerebrospinal fluid flow. Neurosurgery. 2009 Sep. 65(3):471-6; discussion 476. [Medline].

Kunert P, Janowski M, Zakrzewska A, et al. Syringoperitoneal shunt in the treatment of syringomyelia. Neurol Neurochir Pol. 2009 May-Jun. 43(3):258-62. [Medline].

Byun MS, Shin JJ, Hwang YS, Park SK. Decompressive surgery in a patient with posttraumatic syringomyelia. J Korean Neurosurg Soc. 2010 Mar. 47(3):228-31. [Medline]. [Full Text].

Ewelt C, Stalder S, Steiger HJ, Hildebrandt G, Heilbronner R. Impact of cordectomy as a treatment option for posttraumatic and non-posttraumatic syringomyelia with tethered cord syndrome and myelopathy. J Neurosurg Spine. 2010 Aug. 13(2):193-9. [Medline].

Aghakhani N, Baussart B, David P, Lacroix C, Benoudiba F, Tadie M, et al. Surgical treatment of posttraumatic syringomyelia. Neurosurgery. 2010 Jun. 66(6):1120-7; discussion 1127. [Medline].

Ghobrial GM, Dalyai RT, Maltenfort MG, Prasad SK, Harrop JS, Sharan AD. Arachnolysis or cerebrospinal fluid diversion for adult-onset syringomyelia? A Systematic review of the literature. World Neurosurg. 2015 May. 83 (5):829-35. [Medline].

Bonsanto MM, Metzner R, Aschoff A. 3D ultrasound navigation in syrinx surgery - a feasibility study. Acta Neurochirurgica. 2005. 147(5):533-41.

Carroll AM, Brackenridge P. Post-traumatic syringomyelia: a review of the cases presenting in a regional spinal injuries unit in the north east of England over a 5-year period. Spine. 2005. 30(10):1206-10. [Medline].

Laxton AW, Perrin RG. Cordectomy for the treatment of posttraumatic syringomyelia. Report of four cases and review of the literature. Journal of Neurosurgery Spine. 2006. 4(2):174-8.

Lee TT, Alameda GJ, Camilo E. Surgical treatment of post-traumatic myelopathy associated with syringomyelia. Spine. 2001. 26(24 Suppl):S119-27.

Nogues MA. Spontaneous electromyographic activity in spinal cord lesions. [Review]. Muscle & Nerve. 2002. Suppl. 11:s77-82.

Rittenberg JD, Burns SP, Little JW. Worsening myelopathy masked by peripheral nerve disorders. J Spinal Cord Med. 2004. 27(1):72-7.

Silber JS, Vaccaro AR, Green B. Summary statement: chronic long-term sequelae after spinal cord injury: post-traumatic spinal deformity and post-traumatic myelopathy associated with syringomyelia.[comment]. Spine. 2001. 26(24 Suppl):S128.

Vannemreddy SS, Rowed DW, Bharatwal N. Posttraumatic syringomyelia: predisposing factors. Br J Neurosurgery. 2002. 16(3):276-83.
Medscape Reference © 2011 WebMD, LLC