Physical Medicine and Rehabilitation for De Quervain Tenosynovitis Treatment & Management
Author: Patrick M Foye, MD; Chief Editor: Stephen Kishner, MD, MHA more...
Updated: Apr 27, 2016
What would you like to print?
Rehabilitation Program
Physical Therapy
Various forms of physical therapy (PT) or occupational therapy (OT) may be used in the treatment of patients with de Quervain tenosynovitis. In the acute stage, the therapist may use cryotherapy (eg, cold packs, ice massage) to reduce the inflammation and edema. Local inflammation also can be treated with topical corticosteroids (eg, hydrocortisone), which are driven into the subcutaneous tissues using ultrasound (ie, phonophoresis) or electrically charged ions (ie, iontophoresis).[17]
PT or OT also may be indicated for individuals who have undergone surgical correction at the first dorsal compartment. Once the patient has recovered, the goals of therapy are to strengthen and regain range of motion (ROM) at the thumb, hand, and wrist.[18]
Occupational Therapy
An occupational therapist can perform an assessment of a patient's activities of daily living (ADL) to help determine possible precipitating factors in the development of de Quervain syndrome; he/she can then suggest activity modifications. Although off-the-shelf orthotic devices usually are adequate, sometimes a custom-made thumb spica can be fabricated by a trained occupational therapist.
Medical Issues/Complications
Please see Other Treatment, which includes a discussion of potential complications of corticosteroid injections.
Surgical Intervention
For severe, unresponsive cases of de Quervain tenosynovitis in which injections, splinting, and ergonomic modification of activities have failed, a referral for surgical treatment to decompress the first dorsal compartment is needed.[6, 19]
In a study of 94 patients with de Quervain tenosynovitis, Scheller et al investigated the long-term results of simple decompression of the abductor pollicis longus and extensor pollicis brevis tendons combined with partial resection of the extensor ligament.[20] The outcome was successful in all patients, as demonstrated by a negative Finkelstein test. See the image below.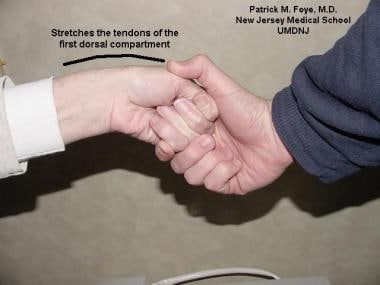 The Finkelstein test is performed by having the patient make a fist with the thumb inside the fingers. The clinician then applies ulnar deviation of the wrist to reproduce the presenting symptoms of dorsolateral wrist pain.
Complications consisted of 4 transient lesions of the radial nerve, 1 instance of delayed wound healing, and 1 superficial wound infection.
Consultations
Clinicians who are inexperienced or uncomfortable with performing corticosteroid injections for de Quervain's tenosynovitis can refer the patient to a musculoskeletal physiatrist or other physician who is skilled in these procedures.
Other Treatment
Using a thumb spica splint or performing local corticosteroid injection can be very effective in treating de Quervain tenosynovitis.[6]
Splinting with a thumb spica - Unlike a typical wrist splint, a spica has a component that wraps around the thumb, providing some degree of immobilization at the first CMC joint but, classically, leaving the interphalangeal joint free.
Data from a pooled, quantitative literature review by Richie and Briner indicated that corticosteroid injection alone produces an 83% cure rate for de Quervain tenosynovitis, compared with a 14% cure rate when a thumb spica splint alone is used and, interestingly, a 61% cure rate when a combination of splint and injection is employed. These results suggest that corticosteroid injection should be a first-line treatment for de Quervain tenosynovitis.[21]
A recent study aimed to further elucidate whether treatment with splinting alone versus treatment with corticosteroid injection plus splinting yielded better outcomes. Success was defined as an absence of wrist pain and tenderness, as well as negative Finkelstein test results and 90% or greater improvement in pain score. The overall success rate was 86.4% in the injection-plus-cast group versus 36% in the cast-only group.[22]
Corticosteroid injection for de Quervain tenosynovitis[23, 24] involves mixing 40 mg (1 mL) of corticosteroid with a few milliliters of local anesthetic. Inject the mixture into the tendon sheath of the first dorsal compartment. Take care to avoid injecting directly into the tendons, since direct injection can cause weakening and potential rupture. Avoid injecting within the very superficial layer of the subcutaneous tissue, because of the possibility of skin depigmentation, which is particularly noticeable in dark-skinned individuals.
Inform the patient that the procedure may cause a mild, transient increase in local tenderness; this will disappear within a few days, when the corticosteroid begins to have a noticeable, therapeutic effect.
Evaluate the patient immediately for sensation in the first web space of the hand to assess for any anesthetic effect to the superficial radial nerve.
If sensory deficit is present, reassure the patient that the deficit is usually transient and should most likely resolve within a few hours.
An orthopedic study compared different techniques for corticosteroid injections for de Quervain disease; the investigation examined outcomes in 38 hands (of 36 patients).[25] Half of the patients received corticosteroid injections made at a single point immediately above the indurated tendon sheath in the first dorsal compartment. The rest of the patients received injections at 2 points (each point receiving half of the therapeutic injectate volume), which corresponded with the paths of the extensor pollicis brevis (EPB) and abductor pollicis brevis (APB) tendons. Repeat injections, for the patients receiving them, were performed after a 2-week interval, with no significant difference in the number of repeat injections between the groups. Comparing the 1-point injection and the 2-point injection, the outcomes were, respectively, excellent in 50% versus 75% of patients, good in 28% versus 25% of patients, and fair in 22% versus 0% of patients. Thus, the 2-point injections seemed to be superiortothe1-point injections.
Another recent study proposed a 4-point injection protocol designed to overcome anatomic variations in the first dorsal compartment that may inhibit the success of conservative treatment. In the 4-point injection model, the point of maximal tenderness over the first dorsal compartment was identified and the injections were then administered, 2 distally and 2 proximally to this point, along the course of the EPB and APL tendons. When compared with patients receiving injections at 2 points, there were significantly more symptom-free patients in the 4-point injection group. Furthermore, those patients in the 4-point injection group needed less repeat injections and were operated on less than those getting injections at 2 points.[26]
A prospective study of 103 patients found suprafibrous injection with corticosteroids to be easier to perform than is intrasynovial injection and to have the same effects.[27]
Ultrasonography-guided injections of corticosteroids avoid the complication of intratendinous injections, allowing accurate visualization of correct needle placement. These injections also reduce fat atrophy and depigmentation complications of steroid injections.[28]
Several potential complications of injection must be taken into account. They include the following:
Bleeding or bruising can occur, especially in individuals with bleeding disorders or in patients taking anticoagulants.

Infection at the injection site is rare but possible. Minimize risk through the use of sterile technique for the procedure.

In patients with diabetes, a transient elevation of the blood glucose level may occur after corticosteroid injection.

Allergic reactions to injected medications are rare, but possible.

Given the proximity to the superficial radial nerve, injection at this site may cause transient anesthesia in the first web space of the dorsal hand. Lack of sensation at the site generally resolves within a few hours unless significant direct needle trauma has been delivered to the radial nerve. Such trauma is a rare complication that can cause persistent pain within the distribution of that nerve (cheiralgia paresthetica).

Skin hypopigmentation can occur, particularly if injection is performed within superficial layers of the skin, rather than within the tendon sheath alone. The mechanism behind hypopigmentation is not fully understood but is thought to be a loss of melanocyte function rather than actual loss of melanocytes.

[29]

Tendon weakening and rupture is rare, but possible.

A combination of cheiralgia paresthetica and linear atrophy have been observed as a rare complication of local steroid injection for de Quervain tenosynovitis. The atrophy is thought to result from a lymphatic spread of the steroid.

[30]
References
Breen TF. Wrist and hand. Steinberg GG, Akins CM, Baran DT. Orthopaedics in Primary Care. 3rd ed. Philadelphia, Pa: Lippincott Williams & Wilkins; 1999. 99-138.

Brinker MR, Miller MD. The adult wrist. Fundamentals of Orthopaedics. Philadelphia, Pa: WB Saunders; 1999. 179-95.

McGee DJ. Forearm, wrist, and hand. Orthopedic Physical Assessment. 2nd ed. Philadelphia, Pa: WB Saunders; 1992. 198-215.

Snider RK. Hand and wrist. Snider RK, ed. Essentials of Musculoskeletal Care. Rosemont, Ill: American Academy of Orthopaedic Surgeons; 1997. 160-263.

Strakowski JA, Wiand JW, Johnson EW. Upper limb musculoskeletal pain syndromes. Braddom RL, ed. Physical Medicine and Rehabilitation. Philadelphia, Pa: WB Saunders; 1996. 756-82.

Ilyas AM, Ast M, Schaffer AA, et al. De quervain tenosynovitis of the wrist. J Am Acad Orthop Surg. 2007 Dec. 15(12):757-64. [Medline].

Wolf JM, Sturdivant RX, Owens BD. Incidence of de Quervain's tenosynovitis in a young, active population. J Hand Surg Am. 2009 Jan. 34(1):112-5. [Medline].

Schned ES. DeQuervain tenosynovitis in pregnant and postpartum women. Obstet Gynecol. 1986 Sep. 68(3):411-4. [Medline].

Forget N, Piotte F, Arsenault J, et al. Bilateral thumb's active range of motion and strength in de Quervain's disease: comparison with a normal sample. J Hand Ther. 2008 Jul-Sep. 21(3):276-84; quiz 285. [Medline].

Goubau JF, Goubau L, Van Tongel A, Van Hoonacker P, Kerckhove D, Berghs B. The wrist hyperflexion and abduction of the thumb (WHAT) test: a more specific and sensitive test to diagnose de Quervain tenosynovitis than the Eichhoff's Test. J Hand Surg Eur Vol. 2014 Mar. 39(3):286-92. [Medline].

Lutsky K, Kim N, Medina J, Maltenfort M, Beredjiklian PK. Hand Dominance and Common Hand Conditions. Orthopedics. 2016 Mar 17. 1-5. [Medline].

Batteson R, Hammond A, Burke F, et al. The de Quervain's screening tool: validity and reliability of a measure to support clinical diagnosis and management. Musculoskeletal Care. 2008 Sep. 6(3):168-80. [Medline].

Hanlon DP, Luellen JR. Intersection syndrome: a case report and review of the literature. J Emerg Med. 1999 Nov-Dec. 17(6):969-71. [Medline].

Glajchen N, Schweitzer M. MRI features in de Quervain's tenosynovitis of the wrist. Skeletal Radiol. 1996 Jan. 25(1):63-5. [Medline].

Kwon BC, Choi SJ, Koh SH, Shin DJ, Baek GH. Sonographic Identification of the intracompartmental septum in de Quervain's disease. Clin Orthop Relat Res. 2010 Aug. 468(8):2129-34. [Medline].

McDermott JD, Ilyas AM, Nazarian LN, Keinberry CF. Ultrasound-guided injections for de Quervain's tenosynovitis. Clin Orthop Relat Res. Jul 2012. 470(7):1925-31. [Medline].

Diop AN, Ba-Diop S, Sane JC, et al. [Role of US in the management of de Quervain's tenosynovitis: review of 22 cases]. J Radiol. 2008 Sep. 89(9 Pt 1):1081-4. [Medline].

Lennard TA. Fundamentals of procedural care. Lennard TA, ed. Physiatric Procedures in Clinical Practice. Philadelphia, Pa: Hanley & Belfus; 1995. 1-13.

Robson AJ, See MS, Ellis H. Applied anatomy of the superficial branch of the radial nerve. Clin Anat. 2008 Jan. 21(1):38-45. [Medline].

Scheller A, Schuh R, Honle W, et al. Long-term results of surgical release of de Quervain's stenosing tenosynovitis. Int Orthop. 2009 Oct. 33(5):1301-3. [Medline].

Richie CA 3rd, Briner WW Jr. Corticosteroid injection for treatment of de Quervain's tenosynovitis: a pooled quantitative literature evaluation. J Am Board Fam Pract. 2003 Mar-Apr. 16(2):102-6. [Medline]. [Full Text].

Mehdinasab SA, Alemohammad SA. Methylprednisolone acetate injection plus casting versus casting alone for the treatment of de Quervain's tenosynovitis. Arch Iran Med. Jul 2010. 13(4):270-4. [Medline].

Geiringer SR. Tendon sheath and insertion injections. Lennard TA, ed. Physiatric Procedures in Clinical Practice. Philadelphia, Pa: Hanley & Belfus; 1995. 44-8.

Goldfarb CA, Gelberman RH, McKeon K, et al. Extra-articular steroid injection: early patient response and the incidence of flare reaction. J Hand Surg [Am]. 2007 Dec. 32(10):1513-20. [Medline].

Sawaizumi T, Nanno M, Ito H. De Quervain's disease: efficacy of intra-sheath triamcinolone injection. Int Orthop. 2007 Apr. 31(2):265-8. [Medline]. [Full Text].

Pagonis T, Ditsios K, Toli P, Givissis P, Christodoulou A. Improved corticosteroid treatment of recalcitrant de Quervain tenosynovitis with a novel 4-point injection technique. Am J Sports Med. Feb 2011. 39(2):398-403. [Medline].

Apimonbutr P, Budhraja N. Suprafibrous injection with corticosteroid in de Quervain's disease. J Med Assoc Thai. 2003 Mar. 86(3):232-7. [Medline].

Jeyapalan K, Choudhary S. Ultrasound-guided injection of triamcinolone and bupivacaine in the management of De Quervain's disease. Skeletal Radiol. 2009 Nov. 38(11):1099-103. [Medline].

Venkatesan P, Fangman WL. Linear hypopigmentation and cutaneous atrophy following intra-articular steroid injections for de Quervain's tendonitis. J Drugs Dermatol. 2009 May. 8(5):492-3. [Medline].

Chodoroff G, Honet JC. Cheiralgia paresthetica and linear atrophy as a complication of local steroid injection. Arch Phys Med Rehabil. 1985 Sep. 66(9):637-9. [Medline].

Green SM. Nonsteroidal anti-inflammatories. Tarascon Pocket Pharmacopoeia 2000. Loma Linda, Calif: Tarascon Pub; 2000. 2000:11-2.

Cavaleri R, Schabrun SM, Te M, Chipchase LS. Hand therapy versus corticosteroid injections in the treatment of de Quervain's disease: a systematic review and meta-analysis. J Hand Ther. 2016 Jan-Mar. 29 (1):3-11. [Medline].
Medscape Reference © 2011 WebMD, LLC