Olecranon Bursitis Clinical Presentation
Author: J Michael Wieting, DO, MEd, FAOCPMR, FAAPMR; Chief Editor: Stephen Kishner, MD, MHA  more...
Updated: Jun 10, 2016
What would you like to print?
History
Patient history may include the following findings:
Focal swelling at the posterior elbow is usually noticed by the patient

The patient may report pain at the affected site, although sometimes the swelling is painless, especially in noninflammatory, aseptic bursitis

Pain often is exacerbated by pressure, such as when the patient leans on the elbow or when the patient rubs the elbow against a table while writing with the ipsilateral hand or with associated prolonged elbow flexion over 90°

Chronic, recurrent swelling usually is not tender; swelling may have gradual (mostly due to a chronic cause) or acute/sudden (due to trauma or infection/inflammation) onset

Frequent bumping of the swollen elbow may occur because the elbow protrudes further than normal

The patient may report a history of isolated trauma (eg, contusion) or repetitive microtrauma (such as constant rubbing of the elbow against a table while writing)

The onset may be sudden if the condition is secondary to infection or acute trauma

The onset may be gradual if olecranon bursitis is secondary to chronic irritation
Physical Examination
The most classic finding in olecranon bursitis is posterior elbow swelling that is often fluctuant and that is very clearly demarcated, appearing as a goose egg over the olecranon process (see the image below).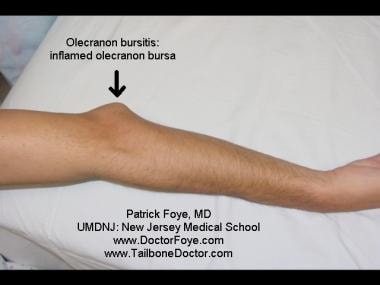 Olecranon bursitis seen with the elbow extended; the focal olecranon swelling is more visible than it is when the elbow is flexed. Image courtesy of UMDNJ-New Jersey Medical School, www.DoctorFoye.com, and www.TailboneDoctor.com.
Other findings in olecranon bursitis include the following:
The affected site may be tender to palpation; pain is variable; severe pain is often due to a traumatic or infectious cause; pain with pressure on the tip of the elbow may interfere with sleep

The area may be warm and red, particularly with infection

Skin inspection may reveal abrasion or contusion if trauma recently occurred

Vital signs may reveal fever, but generally only with advanced infection.

Elbow range of motion (ROM) usually is normal, but occasionally the end range of elbow flexion is slightly limited because of pain or, in chronic cases, due to bursal thickening; this decreased ROM may interfere with performance of basic activities of daily living, such as dressing, bathing, and grooming

Patients with systemic inflammatory processes (eg, rheumatoid arthritis) or a crystal deposition disease (eg, gout,

pseudogout

) may reveal evidence of focal inflammation at other sites or extending distally in the forearm if there is an associated cellulitis

Upon inspection of the elbow, rheumatoid nodules may be found in patients with rheumatoid arthritis (see the image below); firm "bumps" or "lumps", due to residual scar tissue, may be felt as swelling recedes, especially when the elbow is bumped
References
Snider RK. Olecranon bursitis. Snider RK, ed. Essentials of Musculoskeletal Care. 2nd ed. Rosemont, Ill: American Academy of Orthopaedic Surgeons; 1997. 156-9.

McGee DJ. Elbow joints. Orthopedic Physical Assessment. 2nd ed. Philadelphia, Pa: WB Saunders Co; 1992. 143-167.

Strakowski JA, Wiand JW, Johnson EW. Upper limb musculoskeletal pain syndromes. Braddom RL, ed. Physical Medicine and Rehabilitation. Philadelphia, Pa: WB Saunders Co; 1996. 756-82.

Morgan WJ. Elbow and forearm. Steinberg GG, Akins C, Baran D, eds. Orthopaedics in Primary Care. 3rd ed. Philadelphia, Pa: Lippincott Williams & Wilkins; 1998. 70-98.

Brinker MR, Miller MD. The adult elbow. Fundamentals of Orthopaedics. Philadelphia, Pa: WB Saunders Co; 1999. 153-64.

Wasserman AR, Melville LD, Birkhahn RH. Septic bursitis: a case report and primer for the emergency clinician. J Emerg Med. 2009 Oct. 37(3):269-72. [Medline].

Lass-Flörl C, Mayr A. Human protothecosis. Clin Microbiol Rev. 2007 Apr. 20(2):230-42. [Medline]. [Full Text].

Wagner C, Iking-Konert C, Hug F, et al. Cellular inflammatory response to persistent localized Staphylococcus aureus infection: phenotypical and functional characterization of polymorphonuclear neutrophils (PMN). Clin Exp Immunol. 2006 Jan. 143(1):70-7. [Medline]. [Full Text].

Wessolossky M, Haran JP, Bagchi K. Paecilomyces lilacinus olecranon bursitis in an immunocompromised host: case report and review. Diagn Microbiol Infect Dis. 2008 Jul. 61(3):354-7. [Medline].

Turan H, Serefhanoglu K, Karadeli E, Timurkaynak F, Arslan H. A case of brucellosis with abscess of the iliacus muscle, olecranon bursitis, and sacroiliitis. Int J Infect Dis. 2009 Nov. 13(6):e485-7. [Medline].

Malkin J, Shrimpton A, Wiselka M, Barer MR, Duddridge M, Perera N. Olecranon bursitis secondary to Mycobacterium kansasii infection in a patient receiving infliximab for Behcet's disease. J Med Microbiol. 2009 Mar. 58:371-3. [Medline].

Senécal L, Leblanc M. Olecranon bursitis in chronic haemodialysis patients. Nephrol Dial Transplant. 2001 Sep. 16(9):1956-7. [Medline]. [Full Text].

Gregory T, Mir O, Medioni J, Augereau B, Oudard S. Olecranon bursitis in patients treated with sunitinib for renal cell carcinoma. Med Oncol. 2010 Jun. 27(2):446-8. [Medline].

Larsen BT, Smith ML, Grys TE, Vikram HR, Colby TV. Histopathology of Disseminated Mycobacterium bovis Infection Complicating Intravesical BCG Immunotherapy for Urothelial Carcinoma. Int J Surg Pathol. 2015 May. 23 (3):189-95. [Medline].

Schumacher HR. Arthrocentesis, synovial fluid analysis, and synovial biopsy. Schumacher HR, ed. Primer on Rheumatic Diseases. 10th ed. Atlanta, Ga: Arthritis Foundation; 1993. 67-72.

Blankstein A, Ganel A, Givon U, Mirovski Y, Chechick A. Ultrasonographic findings in patients with olecranon bursitis. Ultraschall Med. 2006 Dec. 27(6):568-71. [Medline].

Floemer F, Morrison WB, Bongartz G, Ledermann HP. MRI characteristics of olecranon bursitis. AJR Am J Roentgenol. 2004 Jul. 183(1):29-34. [Medline]. [Full Text].

Olsen NK, Press JM, Young JL. Bursal injections. Lennard TA, ed. Physiatric Procedures in Clinical Practice. Philadelphia, Pa: Hanley & Belfus; 1995. 36-43.

Friedman ND, Sexton DJ. Bursitis due to Mycobacterium goodii, a recently described, rapidly growing mycobacterium. J Clin Microbiol. 2001 Jan. 39(1):404-5. [Medline]. [Full Text].

Degreef I, De Smet L. Complications following resection of the olecranon bursa. Acta Orthop Belg. 2006 Aug. 72(4):400-3. [Medline].

Ogilvie-Harris DJ, Gilbart M. Endoscopic bursal resection: the olecranon bursa and prepatellar bursa. Arthroscopy. 2000 Apr. 16(3):249-53. [Medline].

Baumbach SF, Lobo CM, Badyine I, et al. Prepatellar and olecranon bursitis: literature review and development of a treatment algorithm. Arch Orthop Trauma Surg. 2014 Mar. 134(3):359-70. [Medline].

Rhyou I, Park K, Kim K, Lee J, S Kim. Endoscopic Olecranon Bursal Resection for Olecranon Bursitis. J Hand Surg Asian-Pac. 2016 Jun. 21:167-72.

Weinstein PS, Canoso JJ, Wohlgethan JR. Long-term follow-up of corticosteroid injection for traumatic olecranon bursitis. Ann Rheum Dis. 1984 Feb. 43(1):44-6. [Medline]. [Full Text].

Kim JY, Chung SW, Kim JH, et al. A Randomized Trial Among Compression Plus Nonsteroidal Antiinflammatory Drugs, Aspiration, and Aspiration With Steroid Injection for Nonseptic Olecranon Bursitis. Clin Orthop Relat Res. 2016 Mar. 474 (3):776-83. [Medline].

Green SM. Nonsteroidal anti-inflammatory drugs (NSAIDs). Tarascon Pocket Pharmacopoeia 2000. Loma Linda, Calif: Tarascon; 2000. 11-2.

Perez C, Huttner A, Assal M, Bernard L, Lew D, Hoffmeyer P, et al. Infectious olecranon and patellar bursitis: short-course adjuvant antibiotic therapy is not a risk factor for recurrence in adult hospitalized patients. J Antimicrob Chemother. 2010 May. 65(5):1008-14. [Medline]. [Full Text].

Lennard TA. Fundamentals of procedural care. Physiatric Procedures in Clinical Practice. Philadelphia, Pa: Hanley & Belfus; 1995. 1-13.

Wasserzug O, Balicer RD, Boxman J, Klement E, Ambar R, Zimhony O. A cluster of septic olecranon bursitis in association with infantry training. Mil Med. 2011 Jan. 176(1):122-4. [Medline].
Medscape Reference © 2011 WebMD, LLC