Behcet Disease Clinical Presentation
Author: Fatima A Alnaimat, MBBS; Chief Editor: Herbert S Diamond, MD more...
Updated: Apr 26, 2016
What would you like to print?
History
In 1990, the International Study Group (ISG) for Behçet's Disease clarified criteria for the diagnosis of Behçet disease.[4] The ISG group compared the clinical findings of 914 patients with a history of aphthous ulcers with those of controls. Initial criteria for diagnosis require the occurrence of at least three episodes of oral herpetiform or aphthous ulcerations within a 12-month period observed directly by a physician or reported by the patient. To confirm the diagnosis, at least two of the following must also be demonstrated:
Recurrent painful genital ulcers that heal with scarring

Ophthalmic lesions, including anterior or posterior uveitis, hypopyon, or retinal vasculitis

Skin lesions, including erythema nodosum–like lesions, pseudofolliculitis, or papulopustular or acneiform lesions

Positive results from pathergy skin testing, defined as the formation of a sterile erythematous papule 2 mm in diameter or larger that appears 48 hours following a skin prick with a sharp sterile needle (22-24 gauge [a dull needle may be used as a control])
Considering the above diagnostic criteria, case presentation often includes the following characteristics:
Multiorgan system involvement, often beginning with mucocutaneous involvement and usually sparing the liver, kidneys, and heart

Age of 25-35 years at onset

Organ-specific manifestations characterized by exacerbations and a relapsing/remitting course
Skin and mucous membrane manifestations
Painful oral lesions (aphthous or herpetiform) are one of the criteria for diagnosis and may be the first manifestation (70% of cases). See the image below.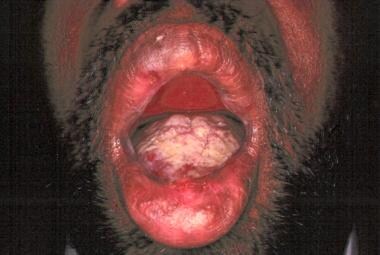 Oral aphthous ulcers secondary to Behçet disease.
Oral lesions are commonly found in keratinized areas of the oropharynx, often excluding the nonkeratinized surfaces of the dorsal tongue, gums, and hard palate. The lesions are usually not distinguishable from those due to other causes but often have a high recurrence rate (often more than five times per year, despite only three times per year specified in ISG criteria) and appear as multiple lesions or crops (often more than six simultaneous lesions at a given time).
Skin lesions often occur in the genital region of both sexes. In males, scrotal involvement is most characteristic; however, lesions can also develop on the penile shaft. In females, the labial area is most commonly involved, with lesions occasionally developing in the vagina and on the perineum. Genital ulcerations typically heal with scarring and are more painful in men. Development of ulcerations in women may correlate with menstruation.
Nodules that resemble erythema nodosum are more common in the lower extremities of females. They are tender, erythematous, and nodular and usually resolve after 2-3 weeks but often recur. Erythema nodosum may be an indicator of mild Behçet disease.
Acneiform papulopustular lesions are more common in men and are usually found on the trunk and extremities, although they may develop anywhere on the body.
Extragenital ulcerations that heal with scarring are rare and affect only 3% of patients.[26] These are very specific for Behçet disease. They can be found in the axillae, neck, breast, interdigital skin of the feet, and groin.
Positive pathergy test is more common in Turkish and Japanese populations, as well as patients with ophthalmic and neurologic manifestations.
Ocular lesions
Ocular presentations (anterior or posterior uveitis, hypopyon, retinal vasculitis, cystoid macular degeneration) represent the first manifestation of disease in 10% of patients with Behçet disease but usually occur following oral ulceration.[16]
Symptoms commonly include blurred vision, periorbital pain, photophobia, scleral injection, and excessive lacrimation.
Men, particularly of Iranian and Japanese descent, tend to present with more severe eye involvement.
Highly recurrent posterior uveitis can lead to blindness.
Ocular symptoms usually present in the first years of illness. Cases that cause blindness commonly develop within the first 7 years. The prognosis is better for persons who develop symptoms later in the disease course.
Neurologic manifestations
Collectively, neurologic symptoms tend to be an unusual late manifestation, 1-8 years after disease onset.
Memory tends to be affected in most cases, particularly affecting recall and learning.
Orientation, arithmetic, and language are often unaffected.
Symptoms are usually parenchymal in nature, predominantly with brainstem involvement.
Behavioral changes, primarily apathy or disinhibition, occur in 54% of patients.[24]
Seizures and bulbar signs with ophthalmoplegia are less common. Other less common findings include infarctions due to vasculitis or thrombosis, meningoencephalitis, lymphocytic meningeal infiltration, or demyelinization.
Vasculopathy
Behçet disease can cause aneurysms in the pulmonary arterial tree that often prove to be fatal. Pulmonary artery aneurysmal involvement is associated with right-sided cardiac thromboses and can manifest as hemoptysis, cough, chest pain, or dyspnea.[13]
Vasculitis of the small and large vessels can cause a panoply of symptoms depending on location of the lesions.
Arterial disease predominantly affects males and only rarely occurs in women.[27]
Venous involvement (usually in the form of superficial thrombophlebitis) is more common than arterial involvement.[26] Superficial thrombophlebitis presents in a linear fashion with overlying erythema and is often confused with erythema nodosum. In males, formation of these linear areas of vasculopathy leads to sclerosis and stringlike thickening in the affected areas.
Symptoms correlate with the vessel involved and may be devastating. For example, extension of an inferior vena caval clot to the hepatic vein may be the mechanism of Budd-Chiari syndrome in Behçet disease.[27]
Arthritis
Arthritis and arthralgias occur in as many as 60% of patients and primarily affect the lower extremities, especially the knee. Ankles, wrists, and elbows can also be primarily involved.
The arthritis is nondeforming and asymmetric in nature and can assume a monoarticular, oligoarticular, or polyarticular pattern of involvement.
Symptoms relapse and remit and rarely become chronic.
Diffuse arthralgias are also common.
Gastrointestinal (GI)/genitourinary manifestations (GU)
GI involvement affects 3-16% of patients with Behçet disease.[28] Areas affected often include the esophagus and ileocecal area. Symptoms include abdominal pain, bloating, and GI bleeding. Complications often result from deep ulceration of intestinal sections.
GU involvement can include epididymitis, neurogenic bladder, and sterile urethritis. Neurogenic bladder can present with typical symptoms of urinary retention.
Renal manifestations
Renal manifestations may be underreported. One study found that 1-29% of patients with Behçet disease developed such manifestations.[29]
Associated amyloidosis may develop.
The first presentation is often nephritic-range proteinuria found incidentally. Crescenteric and proliferative glomerulonephritis, as well as IgA nephritis, have also been reported in some cases.[29, 30, 31]
Other manifestations
Cardiac manifestations include coronary vasculitis and thrombosis, pericarditis, myocarditis, endocarditis with granulomatous changes or fibrosis, regurgitation, and diastolic dysfunction (5-17% of cases).
Lung involvement occurs in up to 18% of patients with Behçet disease. Pulmonary vasculitis, hypertension, and pleural effusions have been reported. Aneurysms represent a dreaded complication of Behçet disease and may result in massive hemoptysis. The detection of a pulmonary aneurysm in the setting of a vasculitic illness is highly suggestive of Behçet disease.[32]
Physical Examination
Oral ulcers
Ulcers are aphthous or herpetiform in nature and can occur in various keratinized areas of the oral cavity. They can be very painful, can last up to 3-5 weeks, and can vary in size. Large ulcers (>10 mm in diameter) heal with scarring, as do their genital counterparts.
Skin
Pseudofolliculitis and acneiform lesions, found more commonly in males with Behçet disease, primarily affect the trunk and extremities.
Erythema nodosum, which is more common in females with the disease, are occasionally differentiated from alternate etiologies based on ulceration, which is a characteristic more unique to Behçet disease.
Eyes
Eye findings may include the following:
Anterior uveitis with and without hypopyon formation

Posterior uveitis that may cause blindness

Glaucoma

Synechiae

Retinal vasculitis

Infarctions

Hemorrhage

Edematous appearance of the disc, with retinal detachment

Leaky retinal vessels revealed by fluorescein angiography, leading to atrophy and fibrosis in some cases
In a retrospective observational case series of 132 patients with Behçet-associated uveitis, the most common presentation was panuveitis, which occurred in 118 patients (89.4%). Bilateral episodes were observed in 100 patients (75.8%). At baseline, best-corrected visual acuity (BCVA) was 20/125 in both eyes.[33]
Other ocular manifestations at presentation included retinal vasculitis (61 eyes, 26.3%), occlusive vasculitis in (59 eyes, 25.4%), and macular edema (42 eyes, 18.1%). Anterior segment complications included glaucoma in 44 eyes (19%) and cataracts in 34 eyes (14.7%). Optic nerve atrophy was the most commonly observed posterior segment complication. BCVA was better than 20/50 at last follow-up in 131 eyes (56.5%).[33]
Nervous System
Pyramidal tract lesions with spastic paralysis and dementia have been demonstrated in some patients with Behçet disease.[24] Neurologic signs may include the following:
Mental status changes

Seizures

Clonus

Positive Babinski sign

Difficulty with speech and swallowing

Emotional lability

Acute deafness
Apathy or disinhibition is common. Difficulty with recall and learning has been demonstrated. Peripheral nerve involvement is rare.
Vascular system
Lower-extremity superficial thrombophlebitis often presents in a linear fashion with overlying erythema and tenderness. Palpation of sclerosed thrombophlebitis yields subcutaneous stringlike quality.
Deep venous thrombosis (DVT) develops in some cases and typically manifests as local tenderness or as disparity in limb girth.
Saadoun et al found that cerebral venous thrombosis (CVT) was present in 7.8% of a large cohort of patients with Behçet disease. The main complication of CVT was severe visual loss due to optic atrophy. Papilledema and concurrent prothrombotic risk factors were independently associated with the occurrence of sequelae; peripheral venous thrombosis and concurrent prothrombotic risk factors were associated with relapse of thrombosis. Anticoagulant therapy proved safe and effective in up to 90% of patients.[34]
Arterial vasculitis may manifest as claudication symptoms.
Musculoskeletal system
The arthritis has predominance for the lower extremities but may occur in any pattern.
Arthritis is usually not destructive or deforming. Joint-fluid content often reflects only inflammatory properties. Aseptic necrosis develops in rare cases.
Gastrointestinal system
Ulcerative lesions can cause abdominal pain, bloody diarrhea, and occasional intestinal perforation. GI lesions are indistinguishable from those associated with inflammatory bowel disease but commonly occur in the ileocecal region.
Genitourinary system
In females, genital lesions commonly appear in the labial folds but can also be found in the vulva and vagina. In males, they are usually scrotal in nature but can also develop in the perianal region and penile shaft. Epididymitis manifests as scrotal tenderness.
Genital ulcers last longer than oral lesions, are deeper, and typically scar after healing.
References
Alpsoy E. Behçet's disease: A comprehensive review with a focus on epidemiology, etiology and clinical features, and management of mucocutaneous lesions. J Dermatol. 2016 Apr 14. [Medline].

Adamantiades B. A case of recurrent hypopyon iritis. Medical Society of Athens. 1930. 586-93.

Behcet H. Uber rezidiverendeaphthose durch ein virus verursachte Geschwure am Mund, am Auge, und an den Genitalien. Dermatol Wochenschr. 1937. 105:1152-7.

International Study Group for Behçet's Disease. Criteria for diagnosis of Behçet's disease. International Study Group for Behçet's Disease. Lancet. 1990 May 5. 335(8697):1078-80. [Medline].

Emmi L, Brugnolo F, Salvati G, et al. Immunopathological aspects of Behçet's disease. Clin Exp Rheumatol. 1995 Nov-Dec. 13(6):687-91. [Medline].

Kaneko S, Suzuki N, Yamashita N, Nagafuchi H, Nakajima T, Wakisaka S, et al. Characterization of T cells specific for an epitope of human 60-kD heat shock protein (hsp) in patients with Behcet's disease (BD) in Japan. Clin Exp Immunol. 1997 May. 108(2):204-12. [Medline].

Hasan A, Fortune F, Wilson A, Warr K, Shinnick T, Mizushima Y, et al. Role of gamma delta T cells in pathogenesis and diagnosis of Behcet's disease. Lancet. 1996 Mar 23. 347(9004):789-94. [Medline].

Suzuki Y, Hoshi K, Matsuda T, et al. Increased peripheral blood gamma delta+ T cells and natural killer cells in Behçet's disease. J Rheumatol. 1992 Apr. 19(4):588-92. [Medline].

Direskeneli H, Eksioglu-Demiralp E, Kibaroglu A, Yavuz S, Ergun T, Akoglu T. Oligoclonal T cell expansions in patients with Behçet's disease. Clin Exp Immunol. 1999 Jul. 117(1):166-70. [Medline]. [Full Text].

Direskeneli H, Eksioglu-Demiralp E, Yavuz S, Ergun T, Shinnick T, Lehner T, et al. T cell responses to 60/65 kDa heat shock protein derived peptides in Turkish patients with Behçet's disease. J Rheumatol. 2000 Mar. 27(3):708-13. [Medline].

Frassanito MA, Dammacco R, Cafforio P, Dammacco F. Th1 polarization of the immune response in Behçet's disease: a putative pathogenetic role of interleukin-12. Arthritis Rheum. 1999 Sep. 42(9):1967-74. [Medline].

Sugi-Ikai N, Nakazawa M, Nakamura S, Ohno S, Minami M. Increased frequencies of interleukin-2- and interferon-gamma-producing T cells in patients with active Behçet's disease. Invest Ophthalmol Vis Sci. 1998 May. 39(6):996-1004. [Medline].

Hamzaoui K, Berraies A, Kaabachi W, Ammar J, Hamzaoui A. Pulmonary manifestations in Behcet disease: impaired natural killer cells activity. Multidiscip Respir Med. 2013 Apr 4. 8(1):29. [Medline].

Hallett MB, Lloyds D. Neutrophil priming: the cellular signals that say 'amber' but not 'green'. Immunol Today. 1995 Jun. 16(6):264-8. [Medline].

Sakane T, Takeno M, Suzuki N, Inaba G. Behçet's disease. N Engl J Med. 1999 Oct 21. 341(17):1284-91. [Medline].

Sakane T, Suzuki N, Takeno M. Innate and acquired immunity in Behçet's disease. 8th International Congress on Behçet's Disease. Reggio Emilia, Italy, 7-9 October 1998. Program and Abstracts: 56.

Takeno M, Shimayano Y, Suzuki N, Sakane T. Prolonged survival of autoprimed neutrophils from patients with Behçet 's disease.: 8th International Congress on Behçet's Disease. Reggio Emilia, Italy, 7-9 October 1998. Program and Abstracts: 57.

Koné-Paut I, Geisler I, Wechsler B, et al. Familial aggregation in Behçet's disease: high frequency in siblings and parents of pediatric probands. J Pediatr. 1999 Jul. 135(1):89-93. [Medline].

de Menthon M, Lavalley MP, Maldini C, Guillevin L, Mahr A. HLA-B51/B5 and the risk of Behçet's disease: a systematic review and meta-analysis of case-control genetic association studies. Arthritis Rheum. 2009 Oct 15. 61(10):1287-96. [Medline].

Kiraz S, Ertenli I, Oztürk MA, et al. Pathological haemostasis and "prothrombotic state" in Behçet's disease. Thromb Res. 2002 Jan 15. 105(2):125-33. [Medline].

Krause I, Yankevich A, Fraser A, Rosner I, Mader R, Zisman D, et al. Prevalence and clinical aspects of Behcet's disease in the north of Israel. Clin Rheumatol. 2007 Apr. 26(4):555-60. [Medline].

Calamia KT, Wilson FC, Icen M, Crowson CS, Gabriel SE, Kremers HM. Epidemiology and clinical characteristics of Behçet's disease in the US: a population-based study. Arthritis Rheum. 2009 May 15. 61(5):600-4. [Medline]. [Full Text].

Saadoun D, Wechsler B, Desseaux K, et al. Mortality in Behçet's disease. Arthritis Rheum. 2010 Sep. 62(9):2806-12. [Medline].

Akman-Demir G, Serdaroglu P, Tasçi B. Clinical patterns of neurological involvement in Behçet's disease: evaluation of 200 patients. The Neuro-Behçet Study Group. Brain. 1999 Nov. 122 ( Pt 11):2171-82. [Medline].

Gungor AN, Kalkan G, Oguz S, Sen B, Ozoguz P, Takci Z, et al. Behcet disease and pregnancy. Clin Exp Obstet Gynecol. 2014. 41 (6):617-9. [Medline].

Alpsoy E, Zouboulis CC, Ehrlich GE. Mucocutaneous lesions of Behcet's disease. Yonsei Med J. 2007 Aug 31. 48(4):573-85. [Medline].

Calamia KT, Schirmer M, Melikoglu M. Major vessel involvement in Behçet disease. Curr Opin Rheumatol. 2005 Jan. 17(1):1-8. [Medline].

Kobayashi K, Ueno F, Bito S, et al. Development of consensus statements for the diagnosis and management of intestinal Behçet's disease using a modified Delphi approach. J Gastroenterol. 2007 Sep. 42(9):737-45. [Medline].

Hemmen T, Perez-Canto A, Distler A, et al. IgA nephropathy in a patient with Behçet's syndrome--case report and review of literature. Br J Rheumatol. 1997 Jun. 36(6):696-9. [Medline].

Hashimoto T, Toya Y, Kihara M, Yabana M, Inayama Y, Tanaka K, et al. Behçet's disease complicated by IgA nephropathy with nephrotic syndrome. Clin Exp Nephrol. 2008 Jun. 12(3):224-7. [Medline].

Akpolat T, Akkoyunlu M, Akpolat I, et al. Renal Behçet's disease: a cumulative analysis. Semin Arthritis Rheum. 2002 Apr. 31(5):317-37. [Medline].

Kokturk A. Clinical and Pathological Manifestations with Differential Diagnosis in Behçet's Disease. Patholog Res Int. 2012. 2012:690390. [Medline]. [Full Text].

Arevalo JF, Lasave AF, Al Jindan MY, Al Sabaani NA, Al-Mahmood AM, Al-Zahrani YA, et al. Uveitis in Behçet Disease in a Tertiary Center Over 25 Years: The KKESH Uveitis Survey Study Group. Am J Ophthalmol. 2015 Jan. 159(1):177-184.e2. [Medline].

Saadoun D, Wechsler B, Resche-Rigon M, Trad S, Le Thi Huong D, Sbai A, et al. Cerebral venous thrombosis in Behçet's disease. Arthritis Rheum. 2009 Apr 15. 61(4):518-26. [Medline].

Seyahi E, Cakmak OS, Tutar B, Arslan C, Dikici AS, Sut N, et al. Clinical and Ultrasonographic Evaluation of Lower-extremity Vein Thrombosis in Behcet Syndrome: An Observational Study. Medicine (Baltimore). 2015 Nov. 94 (44):e1899. [Medline].

Oktayoglu P, Mete N, Caglayan M, Bozkurt M, Bozan T, Em S, et al. Elevated serum levels of calprotectin (MRP8/MRP14) in patients with Behçet's disease and its association with disease activity and quality of life. Scand J Clin Lab Invest. 2014 Dec 4. 1-7. [Medline].

Hatemi G, Silman A, Bang D, et al. EULAR recommendations for the management of Behçet disease. Ann Rheum Dis. 2008 Dec. 67(12):1656-62. [Medline].

Aktulga E, Altac M, Muftüoglu A, et al. A double blind study of colchicine in Behçet's disease. Haematologica. 1980 Jun. 65(3):399-402. [Medline].

Calis M, Ates F, Yazici C, Kose K, Kirnap M, Demir M, et al. Adenosine deaminase enzyme levels, their relation with disease activity, and the effect of colchicine on adenosine deaminase levels in patients with Behçet's disease. Rheumatol Int. 2005 Aug. 25(6):452-6. [Medline].

Markomichelakis N, Delicha E, Masselos S, Sfikakis PP. Intravitreal infliximab for sight-threatening relapsing uveitis in Behçet disease: a pilot study in 15 patients. Am J Ophthalmol. 2012 Sep. 154(3):534-541.e1. [Medline].

Keino H, Okada AA, Watanabe T, Taki W. Decreased ocular inflammatory attacks and background retinal and disc vascular leakage in patients with Behcet's disease on infliximab therapy. Br J Ophthalmol. 2011 Sep. 95(9):1245-50. [Medline].

Deuter CM, Zierhut M, Mohle A, et al. Long-term remission after cessation of interferon-a treatment in patients with severe uveitis due to Behçet's disease. Arthritis Rheum. 2010 Sep. 62(9):2796-805. [Medline].

Nuñez-Sotelo CM, Gutiérrez-Gonzalez LA, Rodriguez MA. Rapid, complete and sustained response to corticosteroids and pulse cyclophosphamide therapy in a patient with behçet and central nervous disease. Maedica (Buchar). 2012 Dec. 7(4):348-51. [Medline]. [Full Text].

Borhani Haghighi A, Pourmand R, Nikseresht AR. Neuro-Behçet disease. A review. Neurologist. 2005 Mar. 11(2):80-9. [Medline].

Ueda A, Takeno M, Ishigatsubo Y. Adalimumab in the management of Behçet's disease. Ther Clin Risk Manag. 2015. 11:611-9. [Medline].

Melikoglu M, Fresko I, Mat C, Ozyazgan Y, Gogus F, Yurdakul S, et al. Short-term trial of etanercept in Behçet's disease: a double blind, placebo controlled study. J Rheumatol. 2005 Jan. 32 (1):98-105. [Medline].

Vallet H, et al; French Behçet Network. Efficacy of anti-TNF alpha in severe and/or refractory Behçet's disease: Multicenter study of 124 patients. J Autoimmun. 2015 Aug. 62:67-74. [Medline].

Takayama K, Ishikawa S, Enoki T, Kojima T, Takeuchi M. Successful Treatment with Infliximab for Behçet Disease during Pregnancy. Ocul Immunol Inflamm. 2013 Apr 25. [Medline].

Davatchi F, Shams H, Rezaipoor M, Sadeghi-Abdollahi B, Shahram F, Nadji A, et al. Rituximab in intractable ocular lesions of Behcet's disease; randomized single-blind control study (pilot study). Int J Rheum Dis. 2010 Aug. 13 (3):246-52. [Medline].

Sadreddini S, Noshad H, Molaeefard M, Noshad R. Treatment of retinal vasculitis in Behçet's disease with rituximab. Mod Rheumatol. 2008. 18 (3):306-8. [Medline].

Perez-Pampin E, Campos-Franco J, Blanco J, Mera A. Remission induction in a case of refractory Behçet disease with alemtuzumab. J Clin Rheumatol. 2013 Mar. 19(2):101-3. [Medline].

Mesquida M, Victoria Hernández M, Llorenç V, et al. Behçet disease-associated uveitis successfully treated with golimumab. Ocul Immunol Inflamm. 2013 Apr. 21(2):160-2. [Medline].

Hatemi G, Melikoglu M, Tunc R, Korkmaz C, Turgut Ozturk B, Mat C, et al. Apremilast for Behçet's syndrome--a phase 2, placebo-controlled study. N Engl J Med. 2015 Apr 16. 372 (16):1510-8. [Medline].

Estrach C, Mpofu S, Moots RJ. Behçet's syndrome: response to infliximab after failure of etanercept. Rheumatology (Oxford). 2002 Oct. 41(10):1213-4. [Medline].

Sfikakis PP, Markomichelakis N, Alpsoy E, et al. Anti-TNF therapy in the management of Behcet's disease--review and basis for recommendations. Rheumatology (Oxford). 2007 May. 46(5):736-41. [Medline].
Medscape Reference © 2011 WebMD, LLC