Calcium Pyrophosphate Deposition Disease Workup
Author: Constantine K Saadeh, MD; Chief Editor: Herbert S Diamond, MD more...
Updated: Jul 15, 2016
What would you like to print?
Approach Considerations
Revised diagnostic criteria for calcium pyrophosphate deposition disease (CPDD) are from Primer on Rheumatic Diseases (1997) and are used with permission from the Arthritis Foundation. The criteria are as follows[10] :
Criterion I - Demonstration of calcium pyrophosphate crystal deposition in tissue or synovial fluid by definitive means (eg, characteristic radiographs, diffraction analysis, or chemical analysis)

Criterion IIa - Identification of monoclinic or triclinic crystals showing no or weakly positive birefringence by compensated polarized light microscopy

Criterion IIb - Presence of typical radiographic calcifications

Criterion IIIa - Acute arthritis, especially of knees or other large joints

Criterion IIIb - Chronic arthritis, especially of knee, hip, wrist, carpus, elbow, shoulder, or MCP joint, particularly if accompanied by acute exacerbation
In criterion IIIb, chronic arthritis shows the following features, which are helpful in differentiating it from osteoarthritis:
Uncommon sites - Wrist, MCP joint, elbow, shoulder

Radiographic appearance - Radiocarpal or patellofemoral joint-space narrowing, especially if isolated (eg, patella wrapped around the femur)

Subchondral cyst formation

Severity of degeneration - Progressive, with subchondral bony collapse and fragmentation with formation of intra-articular, radiodense bodies

Osteophyte formation - Variable and inconsistent

Tendon calcifications - Especially triceps, Achilles, obturators
Criteria-based categories include the following:
Definite disease - Criterion I or IIa plus IIb must be fulfilled

Probable disease - Criterion IIa or IIb must be fulfilled

Possible disease - Criterion IIIa or IIIb should alert the clinician to the possibility of underlying calcium pyrophosphate deposition
Arthrocentesis
Arthrocentesis is the most important procedure to perform, especially in patients with acute pseudogout. The acquired fluid can be examined using compensated polarized microscopy, and fluid cultures can be performed.
Histologic Findings
Histologic changes associated with CPDD correspond to calcium deposits and to inflammation due to cartilage fragments. These changes are nonspecific, but calcium deposits inside the chondrocartilage are perhaps the most typical finding in patients with this condition. The pathognomonic finding with compensated polarized microscopy is the presence of weakly positively birefringent crystals, typically intracellular, that are usually rhomboid in shape.
Associated conditions
A number of conditions have been associated with CPDD. When CPDD is diagnosed, especially in a patient younger than 60 years, a metabolic workup should be performed, including measurements of serum calcium, magnesium phosphorus, alkaline phosphatase, iron, total iron-binding capacity, transferrin saturation and ferritin, and thyroid-stimulating hormone. Associated conditions include the following:
True associations - Familial (autosomal dominant), prior trauma or prior surgery, hyperparathyroidism, hemochromatosis, hypophosphatasia, hypomagnesemia, aging

Probable associations - Hypothyroidism, gout, familial hypercalciuria

Possible associations - Acromegaly, diabetes mellitus, ochronosis, Wilson disease
Lab Studies
General laboratory studies usually are not helpful in calcium pyrophosphate deposition disease (CPDD). The white blood cell (WBC) count and erythrocyte sedimentation rate (ESR) may be elevated.
Evaluating for an underlying metabolic disease (eg, hemochromatosis, hyperparathyroidism, hypothyroidism) is reasonable, especially in younger patients.
Laboratory tests can include the following:
Serum calcium, phosphorus, and magnesium and alkaline phosphatase levels

Iron levels

Total iron-binding capacity

Transferrin saturation and ferritin

Thyroid-stimulating hormone and free thyroxine levels
Pseudogout
Occasionally, pseudogout may present as a pseudoseptic syndrome with acute arthritis, fever, and leukocytosis with a left shift.
The diagnosis of acute pseudogout is made by performing compensated polarized microscopy after aspiration of fluid from the involved joint. The most commonly involved joint is the knee, followed by the wrist, the MCP joints, the elbows, and the MTP joints.
The crystals are rhomboid-shaped, weakly positively birefringent, and difficult to see. If intracellular, an acute attack of pseudogout is strongly suggested. Aspiration of the fluid from affected joints during an acute attack usually yields mildly to moderately inflammatory fluid, with 10,000-50,000 WBCs/µL, more than 90% of which are neutrophils. (See the images below.)
Gout and pseudogout can coexist, even in the same joint; therefore, the presence of gout does not rule out the possibility of pseudogout and vice versa. Ultrasonography may be helpful in diagnosing pseudogout. (See the image below.)
Pseudorheumatoid arthritis
The ESR is usually elevated in pseudorheumatoid arthritis. The older age at onset for this condition, the lack of rheumatoid factor, and the presence of chondrocalcinosis help to differentiate it from true rheumatoid arthritis. However, rheumatoid arthritis can occur in older individuals. In addition, older individuals may have low-titer–positive rheumatoid factor. Thus, the diagnosis must be made with care.
Imaging Studies
Radiography is the criterion diagnostic standard for imaging of CPPD. However, ultrasonography appears more useful for detection of chondrocalcinosis (cartilage calcification, most commonly due to CPPD).[11] For complete discussion of imaging techniques, see Imaging in Calcium Pyrophosphate Deposition Disease.
Radiography
Radiologic studies usually include the hands, wrists, pelvis, and knees (see the images below). The pelvic radiograph should include an anteroposterior view that shows the symphysis pubis and hips.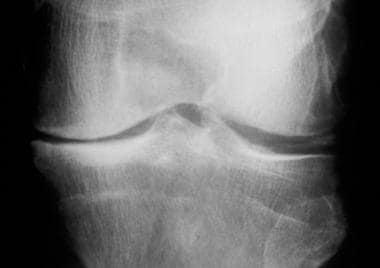 Calcium pyrophosphate deposition disease. Radiograph of the knee showing chondrocalcinosis involving the meniscal cartilage, as well as evidence of osteoarthritis.
CPP
Calcium pyrophosphate deposition disease. Radiograph of the wrist and hand showing chondrocalcinosis of the articular disc of the wrist and atypical osteoarthritis involving the metacarpophalangeal joints in a patient with underlying hemochromatosis.
Chondrocalcinosis is usually found in the articular cartilage or meniscal cartilage of the knee, the triangular ligament of the wrist, the symphysis pubis, or the glenoid or acetabulum labra. Chondrocalcinosis has also been noticed in other areas of the wrist (aside from the fibrocartilage), such as the distal radioulnar joint and the midcarpal joint, as well as in the pisotriquetral joint. In addition, it has been reported in the spine as calcification of the ligamentum flavum.[12]
In some situations, hemochromatosis can produce specific radiographic findings, such as large, hooklike osteophytes, especially around the second to fifth MCP joints. However, these findings also can occur in patients with CPDD alone.
Hooklike osteophytes are a common radiologic finding in patients with a pseudo-osteoarthritis condition and are usually present along the second and third metacarpal heads.
Radiologically, erosions can be observed in pseudorheumatoid arthritis but are usually associated with chondrocalcinosis.
MRI and ultrasonography
Routine magnetic resonance imaging (MRI) has not been shown to be as sensitive as radiography in detecting the presence of CPPD deposits. However, 4T MRI holds better promise in detecting these crystals.
Ultrasonography (US) has been significantly beneficial in the visualization of CPDD crystals.[13] (See the image below.) In addition, Gutierrez et al reported that US is accurate and reliable for detecting articular cartilage calcification at the knee level in patients with CPDD. In their study, US detected hyaline cartilage spots in at least one knee in 44 of 74 patients with CPDD (59.5%), whereas radiography detected hyaline cartilage spots in 34 patients (45.9%) (P < 0.001).[14]
A systematic review concluded that US is potentially a useful tool for the diagnosis of CPPD. However, the accuracy of US varied widely, depending on the reference standards used, and these authors suggest that universally accepted definitions are necessary in order to assess the role of US in the diagnostic process.[15]
References
Zabotti A, Della Siega P, Picco L, Quartuccio L, Bassetti M, De Vita S. Gitelman syndrome disclosed by calcium pyrophosphate deposition disease: early diagnosis by ultrasonographic study. Reumatismo. 2016 Jun 23. 68(1):53-5. [Medline].

Beutler A, Rothfuss S, Clayburne G. Calcium pyrophosphate dihydrate crystal deposition in synovium. Relationship to collagen fibers and chondrometaplasia. Arthritis Rheum. 1993 May. 36(5):704-15. [Medline].

Tsui FW. Genetics and Mechanisms of Crystal Deposition in Calcium Pyrophosphate Deposition Disease. Curr Rheumatol Rep. 2011 Dec 24. [Medline].

Pritzker KP, Cheng PT, Renlund RC. Calcium pyrophosphate crystal deposition in hyaline cartilage. Ultrastructural analysis and implications for pathogenesis. J Rheumatol. 1988. 15(5):828-35. [Medline].

Ryan LM, Wortmann RL, Karas B. Pyrophosphohydrolase activity and inorganic pyrophosphate content of cultured human skin fibroblasts. Elevated levels in some patients with calcium pyrophosphate dihydrate deposition disease. J Clin Invest. 1986 May. 77(5):1689-93. [Medline].

Zaka R, Williams CJ. Genetics of chondrocalcinosis. Osteoarthritis Cartilage. 2005 Sep. 13(9):745-50. [Medline].

Williams CJ. The role of ANKH in pathologic mineralization of cartilage. Curr Opin Rheumatol. 2016 Mar. 28(2):145-51. [Medline].

Ramos YF, Bos SD, van der Breggen R, Kloppenburg M, Ye K, Lameijer EW, et al. A gain of function mutation in TNFRSF11B encoding osteoprotegerin causes osteoarthritis with chondrocalcinosis. Ann Rheum Dis. 2014 Apr 17. [Medline].

Patel T, Ryan L, Dubois M, Carrera G, Baynes K, Mannem R, et al. The prevalence of chondrocalcinosis of the symphysis pubis on CT scan and correlation with calcium pyrophosphate dihydrate crystal deposition disease. Clin Rheumatol. 2016 Mar. 35(3):771-3. [Medline].

Ryan LM. Calcium pyrophosphate dihydrate crystal deposition. Weyand CM, Wortman R, Klippel JH, eds. Primer on Rheumatic Diseases. 11th ed. Atlanta, Ga: Arthritis Foundation; 1997. 226-9.

[Guideline] Zhang W, Doherty M, Bardin T, Barskova V, Guerne PA, et al. European League Against Rheumatism recommendations for calcium pyrophosphate deposition. Part I: terminology and diagnosis. Ann Rheum Dis. 2011 Apr. 70(4):563-70. [Medline].

Saffar P. Chondrocalcinosis of the wrist. J Hand Surg [Br]. 2004 Oct. 29(5):486-93. [Medline].

Ellabban AS, Kamel SR, Omar HA, El-Sherif AM, Abdel-Magied RA. Ultrasonographic diagnosis of articular chondrocalcinosis. Rheumatol Int. 2011 Dec 23. [Medline].

Gutierrez M, Di Geso L, Salaffi F, Carotti M, Girolimetti R, De Angelis R, et al. Ultrasound detection of cartilage calcification at knee level in calcium pyrophosphate deposition disease. Arthritis Care Res (Hoboken). 2014 Jan. 66(1):69-73. [Medline].

Filippou G, Adinolfi A, Iagnocco A, Filippucci E, Cimmino MA, Bertoldi I, et al. Ultrasound in the diagnosis of calcium pyrophosphate dihydrate deposition disease. A systematic literature review and a meta-analysis. Osteoarthritis Cartilage. 2016 Jun. 24(6):973-81. [Medline].

Ea HK, Liote F. Calcium pyrophosphate dihydrate and basic calcium phosphate crystal-induced arthropathies: update on pathogenesis, clinical features, and therapy. Curr Rheumatol Rep. 2004 Jun. 6(3):221-7. [Medline].

Announ N, Palmer G, Guerne PA, Gabay C. Anakinra is a possible alternative in the treatment and prevention of acute attacks of pseudogout in end-stage renal failure. Joint Bone Spine. 2009 Jul. 76(4):424-6. [Medline].

Ottaviani S, Brunier L, Sibilia J, Maurier F, Ardizzone M, Wendling D, et al. Efficacy of anakinra in calcium pyrophosphate crystal-induced arthritis: a report of 16 cases and review of the literature. Joint Bone Spine. 2013 Mar. 80(2):178-82. [Medline].

Moltó A, Ea HK, Richette P, Bardin T, Lioté F. Efficacy of anakinra for refractory acute calcium pyrophosphate crystal arthritis. Joint Bone Spine. 2012 Dec. 79(6):621-3. [Medline].

Doherty M, Hamilton E, Henderson J. Familial chondrocalcinosis due to calcium pyrophosphate dihydrate crystal deposition in English families. Br J Rheumatol. 1991 Feb. 30(1):10-5. [Medline].

Ea HK, Lioté F. Advances in understanding calcium-containing crystal disease. Curr Opin Rheumatol. 2009 Mar. 21(2):150-7. [Medline].

Halverson PB, McCarty DJ. Patterns of radiographic abnormalities associated with basic calcium phosphate and calcium pyrophosphate dihydrate crystal deposition in the knee. Ann Rheum Dis. 1986 Jul. 45(7):603-5. [Medline].

Pritzker KP. Calcium pyrophosphate dihydrate crystal deposition and other crystal deposition diseases. Curr Opin Rheumatol. 1994 Jul. 6(4):442-7. [Medline].

Rachow JW, Ryan LM, McCarty DJ. Synovial fluid inorganic pyrophosphate concentration and nucleotide pyrophosphohydrolase activity in basic calcium phosphate deposition arthropathy and Milwaukee shoulder syndrome. Arthritis Rheum. 1988 Mar. 31(3):408-13. [Medline].

Rothschild BM, Woods RJ. Osteoarthritis, calcium pyrophosphate deposition disease, and osseous infection in Old World primates. Am J Phys Anthropol. 1992 Mar. 87(3):341-7. [Medline].

Ryan LM, Rachow JW, McCarty DJ. Synovial fluid ATP: a potential substrate for the production of inorganic pyrophosphate. J Rheumatol. 1991 May. 18(5):716-20. [Medline].

Suan JC, Chhem RK, Gati JS, et al. 4 T MRI of chondrocalcinosis in combination with three-dimensional CT, radiography, and arthroscopy: a report of three cases. Skeletal Radiol. 2005 Nov. 34(11):714-21. [Medline].

Yamazaki H, Uchiyama S, Kato H. Median nerve and ulnar nerve palsy caused by calcium pyrophosphate dihydrate crystal deposition disease: case report. J Hand Surg Am. 2008 Oct. 33(8):1325-8. [Medline].
Medscape Reference © 2011 WebMD, LLC