Relapsing Polychondritis Workup
Author: Nicholas Compton, MD; Chief Editor: Herbert S Diamond, MD more...
Updated: Jun 21, 2016
What would you like to print?
Laboratory Studies
No laboratory findings are specific for relapsing polychondritis (RP). Anemia, if present, is typically normochromic and normocytic and is associated with a poor prognosis. Nonspecific indicators of inflammation (eg, elevated erythrocyte sedimentation rate, elevated levels of C-reactive protein) are often present. Mild leukocytosis may be detected.
Because relapsing polychondritis is associated with many multisystemic diseases, a laboratory evaluation commensurate with the spectrum of reported symptoms is indicated to ascertain the presence of complicating conditions.
Use antinuclear antibody reflexive panel, rheumatoid factor, and antiphospholipid antibodies (if history of thrombosis is found) to evaluate for other autoimmune connective-tissue diseases.
For a vasculitis workup, perform the following studies:
Complete blood cell count (CBC) with differential

Metabolic panel

Serum creatinine

Liver transaminase and serum alkaline phosphatase studies

Urinalysis dipstick and microscopic evaluation of sediment

Cryoglobulins

Viral hepatitis panel

Antinuclear antibody (ANA)

Antineutrophil cytoplasmic antibody (ANCA)
Use the purified protein derivative test to evaluate for exposure to tuberculosis. (Tuberculosis is often overlooked as an infectious cause of perichondritis.)
Use serologic tests for syphilis if it is suspected, including rapid plasma reagent or VDRL testing. Saddle-nose deformity is a clinical manifestation of congenital syphilis and can go undiagnosed into adulthood; however, it can also be a consequence of gumma formation in adulthood.
Cultures may be indicated, depending on the clinical presentation, as follows:
Sputum cultures for bacteria and acid-fast bacilli may be needed in patients with respiratory symptoms.

Bacterial, acid-fast bacilli, and fungal cultures may be appropriate for cartilage biopsy samples, especially from the respiratory tree.

Blood cultures may be useful in the assessment of febrile episodes that are combined with nausea, vertigo, and/or muscle weakness.

Bacterial and viral cultures of the cerebrospinal fluid may be indicated to exclude meningitis or to help exclude aseptic meningitis or CNS vasculitis.
Imaging Studies
Chest radiography (posteroanterior [PA] and lateral views)
Tracheal stenosis may be observed on plain radiographs. See the image below.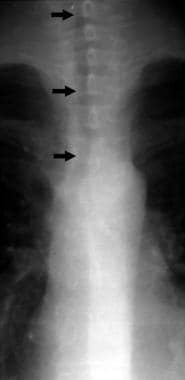 Tracheal stenosis on chest x-ray film. Courtesy of Julie E. Takasugi, MD.
Calcification of cartilaginous structures supports the diagnosis of relapsing polychondritis.
Coexisting systemic vasculitis may be suggested by the presence of pulmonary parenchymal infiltrates.
Spiral CT scanning (without contrast)
Spiral CT scanning (without contrast), from the superior trachea to the lower lobe bronchi, is advised in patients with relapsing polychondritis and respiratory symptoms.
Spiral CT scanning is a noninvasive test that readily identifies tracheal and bronchial thickening, stenosis, and calcification. Smooth anterior and lateral wall thickening with sparing of the posterior wall of the trachea and mainstem bronchi is virtually pathognomonic for relapsing polychondritis.
High-resolution CT scanning can reveal air trapping and diffuse or focal thickening of the airways. Expiratory CT scanning can be used to evaluate for air trapping and malacia of the airways. A series of 18 patients with relapsing polychondritis and pulmonary symptoms revealed that 94% had airway malacia and air trapping on dynamic expiratory CT scans.[42] The authors suggest that this modality should be used in all patients with relapsing polychondritis to allow for early detection of airway compromise. However, they did not provide the duration of disease in the study population, nor did they correlate the findings with those of pulmonary function tests. The benefit of dynamic expiratory CT scanning is unproven but may provide more information in difficult cases.
CT scanning results correlate well with pulmonary function tests, identifying obstructive patterns. CT scanning is not only safer but is also more sensitive and specific than bronchoscopy.
FDG-PET/CT
Yamashita et al reported on the use of of fluorodeoxyglucose (FDG)-PET/CT for the diagnosis of relapsing polychondritis and evaluation of disease activity. According to the authors, FDG-PET/CT is a potentially powerful tool for the early diagnosis of RPC, especially in patients without easily biopsied organ involvement, and facilitates evaluation of disease extent and disease activity during treatment. Typical FDG accumulation was noted in the following sites in the 13 patients studied[43] :
Tracheobronchial tree (nine patients)

Costal cartilage (five)

Joints (five)

Larynx (four)

Nasal cavity/paranasal sinuses (three)

Auricles (three)

Lymph nodes (three)

Aorta (one)
MRI
MRI has been a useful adjunct in the clinical diagnosis of relapsing polychondritis. MRI is better able to distinguish between edema, fibrosis, and inflammation than is CT scanning.
T1-weighted images, T2-weighted images, and T1-weighted images with gadolinium contrast provide characterization of relapsing polychondritis-related changes in cartilaginous tissues.
MRI also reveals thickening of the thoracic aorta before dilatation occurs.
MRI may be useful for monitoring the effects of treatment.
Posteroanterior and lateral dye contrast pharyngotracheogram
PA and lateral dye contrast pharyngotracheogram may be helpful if tracheal narrowing or edema is suggested.
Both PA and lateral views are required to avoid underestimating the severity of stenosis or swelling.
Scintigraphy
Scintigraphy may prove helpful for identifying potential sites for biopsy to aid the histologic diagnosis when the clinical diagnosis is in doubt (ie, because of unfulfilled diagnostic criteria).
Technetium-99m methylene diphosphonate bone scintigraphy has been used in the evaluation of chest pain, allowing identification of possible sites for biopsy in costochondral tissues.
Gallium-67 citrate scintigraphy has also been found to show increased uptake in affected areas.
Other Tests
Pulmonary function testing (PFT) with flow-volume loops is strongly recommended in patients who present with respiratory symptoms, since PFT may assist in the differential diagnoses and provide information about severity of the disease. This may also be used to monitor patients' disease activity. PFT in patients with relapsing polychondritis who have respiratory involvement demonstrates a nonreversible obstructive pattern with collapse and stenosis of the airways. The decrease in forced expiratory volume in 1 second correlates with the degree of dyspnea.
Perform ECG to assess patients with relapsing polychondritis who demonstrate signs of vasculitis. Also, perform ECG to monitor these patients, since they may incur silent ischemia if vasculitis has developed.
An echocardiogram may be needed to assess aortic root dilatation and degree of aortic regurgitation.
Procedures
Intubation may be dangerous and futile.
Tracheostomy is usually the best method for providing an airway in patients with relapsing polychondritis in acute respiratory distress (because of the high likelihood of tracheal or bronchial stenosis or edema).
Biopsy of the cartilage is a potential source of infection and cosmetic damage. Perform biopsy on cartilage only if histopathological data are required to meet the diagnostic criteria for relapsing polychondritis.
Biopsy of skin lesions (nonadjacent to cartilage) may provide useful adjunctive information.
Histologic Findings
Biopsy of cartilage in patients with relapsing polychondritis demonstrates chondrolysis, chondritis, and perichondritis. The cartilage loses its basophilia, probably by release of sulfated proteoglycans from the matrix, and the chondrocytes are decreased in number and may appear pyknotic. Early relapsing polychondritis is characterized by a mixed inflammatory infiltrate of lymphocytes, neutrophils, and plasma cells in the perichondrium. As the cartilage degenerates, mononuclear cells and macrophages infiltrate the matrix. The cartilage matrix is eventually destroyed and replaced by fibrous connective tissue. Despite the presence of clinical erythema, overlying skin is normal.
Distant lesions with the clinical appearance of vasculitis have histologic features consistent with the clinical syndrome, including leukocytoclastic or granulomatous vascular injury.
References
Longo L, Greco A, Rea A, Lo Vasco VR, De Virgilio A, De Vincentiis M. Relapsing polychondritis: A clinical update. Autoimmun Rev. 2016 Jun. 15 (6):539-43. [Medline].

Jaksch-Wartenhorst R. Polychondropathia. Wien Arch F Inn Med. 1923. 6:93-100.

Pearson CM, Kline HM, Newcomer VD. Relapsing polychondritis. N Engl J Med. 1960 Jul 14. 263:51-8. [Medline].

Childs LF, Rickert S, Wengerman OC, Lebovics R, Blitzer A. Laryngeal Manifestations of Relapsing Polychondritis and a Novel Treatment Option. J Voice. 2011 Nov 12. [Medline].

Arnaud L, Mathian A, Haroche J, Gorochov G, Amoura Z. Pathogenesis of relapsing polychondritis: a 2013 update. Autoimmun Rev. 2014 Feb. 13(2):90-5. [Medline].

Foidart JM, Abe S, Martin GR, et al. Antibodies to type II collagen in relapsing polychondritis. N Engl J Med. 1978 Nov 30. 299(22):1203-7. [Medline].

Hansson AS, Heinegard D, Piette JC, Burkhardt H, Holmdahl R. The occurrence of autoantibodies to matrilin 1 reflects a tissue-specific response to cartilage of the respiratory tract in patients with relapsing polychondritis. Arthritis Rheum. 2001 Oct. 44(10):2402-12. [Medline].

Ebringer R, Rook G, Swana GT, Bottazzo GF, Doniach D. Autoantibodies to cartilage and type II collagen in relapsing polychondritis and other rheumatic diseases. Ann Rheum Dis. 1981 Oct. 40(5):473-9. [Medline].

Tanaka Y, Nakamura M, Matsui T, et al. Proteomic surveillance of autoantigens in relapsing polychondritis. Microbiol Immunol. 2006. 50(2):117-26. [Medline].

Takagi D, Iwabuchi K, Iwabuchi C, Nakamaru Y, Maguchi S, Ohwatari R. Immunoregulatory defects of V alpha 24V+ beta 11+ NKT cells in development of Wegener's granulomatosis and relapsing polychondritis. Clin Exp Immunol. 2004 Jun. 136(3):591-600. [Medline].

Stabler T, Piette JC, Chevalier X, Marini-Portugal A, Kraus VB. Serum cytokine profiles in relapsing polychondritis suggest monocyte/macrophage activation. Arthritis Rheum. 2004 Nov. 50(11):3663-7. [Medline].

Buckner JH, Van Landeghen M, Kwok WW, Tsarknaridis L. Identification of type II collagen peptide 261-273-specific T cell clones in a patient with relapsing polychondritis. Arthritis Rheum. 2002 Jan. 46(1):238-44. [Medline].

McCune WJ, Schiller AL, Dynesius-Trentham RA, Trentham DE. Type II collagen-induced auricular chondritis. Arthritis Rheum. 1982 Mar. 25(3):266-73. [Medline].

Buckner JH, Wu JJ, Reife RA, Terato K, Eyre DR. Autoreactivity against matrilin-1 in a patient with relapsing polychondritis. Arthritis Rheum. 2000 Apr. 43(4):939-43. [Medline].

Lamoureux JL, Buckner JH, David CS, Bradley DS. Mice expressing HLA-DQ6alpha8beta transgenes develop polychondritis spontaneously. Arthritis Res Ther. 2006. 8(4):R134. [Medline].

McAdam LP, O'Hanlan MA, Bluestone R, Pearson CM. Relapsing polychondritis: prospective study of 23 patients and a review of the literature. Medicine (Baltimore). 1976 May. 55(3):193-215. [Medline].

Zeuner M, Straub RH, Rauh G, Albert ED, Scholmerich J, Lang B. Relapsing polychondritis: clinical and immunogenetic analysis of 62 patients. J Rheumatol. 1997 Jan. 24(1):96-101. [Medline].

Michet CJ Jr, McKenna CH, Luthra HS, O'Fallon WM. Relapsing polychondritis. Survival and predictive role of early disease manifestations. Ann Intern Med. 1986 Jan. 104(1):74-8. [Medline].

Trentham DE, Le CH. Relapsing polychondritis. Ann Intern Med. 1998 Jul 15. 129(2):114-22. [Medline].

Priori R, Conti F, Pittoni V, Valesini G. Relapsing polychondritis: a syndrome rather than a distinct clinical entity?. Clin Exp Rheumatol. 1997 May-Jun. 15(3):334-5. [Medline].

Piette JC, El-Rassi R, Amoura Z. Antinuclear antibodies in relapsing polychondritis. Ann Rheum Dis. 1999 Oct. 58(10):656-7. [Medline].

Haigh R, Scott-Coombes D, Seckl JR. Acute mastitis; a novel presentation of relapsing polychondritis. Postgrad Med J. 1987 Nov. 63(745):983-4. [Medline].

Cohen PR. Granuloma annulare, relapsing polychondritis, sarcoidosis, and systemic lupus erythematosus: conditions whose dermatologic manifestations may occur as hematologic malignancy-associated mucocutaneous paraneoplastic syndromes. Int J Dermatol. 2006 Jan. 45(1):70-80. [Medline].

Kent PD, Michet CJ Jr, Luthra HS. Relapsing polychondritis. Curr Opin Rheumatol. 2004 Jan. 16(1):56-61. [Medline].

Letko E, Zafirakis P, Baltatzis S, Voudouri A, Livir-Rallatos C, Foster CS. Relapsing polychondritis: a clinical review. Semin Arthritis Rheum. 2002 Jun. 31(6):384-95. [Medline].

Hager MH, Moore ME. Relapsing polychondritis syndrome associated with pustular psoriasis, spondylitis and arthritis mutilans. J Rheumatol. 1987 Feb. 14(1):162-4. [Medline].

Cipriano PR, Alonso DR, Baltaxe HA, Gay WA Jr, Smith JP. Multiple aortic aneurysms in relapsing polychondritis. Am J Cardiol. 1976 Jun. 37(7):1097-102. [Medline].

Bernard P, Bedane C, Delrous JL, Catanzano G, Bonnetblanc JM. Erythema elevatum diutinum in a patient with relapsing polychondritis. J Am Acad Dermatol. 1992 Feb. 26(2 Pt 2):312-5. [Medline].

Weinberger A, Myers AR. Relapsing polychondritis associated with cutaneous vasculitis. Arch Dermatol. 1979 Aug. 115(8):980-1. [Medline].

Astudillo L, Launay F, Lamant L, Sailler L, Bazex J, Couret B. Sweet's syndrome revealing relapsing polychondritis. Int J Dermatol. 2004 Oct. 43(10):720-2. [Medline].

Cohen PR. Sweet's syndrome and relapsing polychondritis: is their appearance in the same patient a coincidental occurrence or a bona fide association of these conditions?. Int J Dermatol. 2004 Oct. 43(10):772-7. [Medline].

Disdier P, Andrac L, Swiader L, et al. Cutaneous panniculitis and relapsing polychondritis: two cases. Dermatology. 1996. 193(3):266-8. [Medline].

Firestein GS, Gruber HE, Weisman MH, Zvaifler NJ, Barber J, O'Duffy JD. Mouth and genital ulcers with inflamed cartilage: MAGIC syndrome. Five patients with features of relapsing polychondritis and Behçet's disease. Am J Med. 1985 Jul. 79(1):65-72. [Medline].

Imai H, Motegi M, Mizuki N, et al. Mouth and genital ulcers with inflamed cartilage (MAGIC syndrome): a case report and literature review. Am J Med Sci. 1997 Nov. 314(5):330-2. [Medline].

Stewart SS, Ashizawa T, Dudley AW Jr, Goldberg JW, Lidsky MD. Cerebral vasculitis in relapsing polychondritis. Neurology. 1988 Jan. 38(1):150-2. [Medline].

Fujiki F, Tsuboi Y, Hashimoto K, Nakajima M, Yamada T. Non-herpetic limbic encephalitis associated with relapsing polychondritis. J Neurol Neurosurg Psychiatry. 2004 Nov. 75(11):1646-7. [Medline].

Ohta Y, Nagano I, Niiya D, Fujioka H, Kishimoto T, Shoji M. Nonparaneoplastic limbic encephalitis with relapsing polychondritis. J Neurol Sci. 2004 May 15. 220(1-2):85-8. [Medline].

Berg AM, Kasznica J, Hopkins P, Simms RW. Relapsing polychondritis and aseptic meningitis. J Rheumatol. 1996 Mar. 23(3):567-9. [Medline].

Chang-Miller A, Okamura M, Torres VE, et al. Renal involvement in relapsing polychondritis. Medicine (Baltimore). 1987 May. 66(3):202-17. [Medline].

Terao C, Yoshifuji H, Yamano Y, Kojima H, Yurugi K, Miura Y, et al. Genotyping of relapsing polychondritis identified novel susceptibility HLA alleles and distinct genetic characteristics from other rheumatic diseases. Rheumatology (Oxford). 2016 May 30. [Medline].

Labarthe MP, Bayle-Lebey P, Bazex J. Cutaneous manifestations of relapsing polychondritis in a patient receiving goserelin for carcinoma of the prostate. Dermatology. 1997. 195(4):391-4. [Medline].

Lee KS, Ernst A, Trentham DE, Lunn W, Feller-Kopman DJ, Boiselle PM. Relapsing polychondritis: prevalence of expiratory CT airway abnormalities. Radiology. 2006 Aug. 240(2):565-73. [Medline].

Yamashita H, Takahashi H, Kubota K, Ueda Y, Ozaki T, Yorifuji H, et al. Utility of fluorodeoxyglucose positron emission tomography/computed tomography for early diagnosis and evaluation of disease activity of relapsing polychondritis: a case series and literature review. Rheumatology (Oxford). 2014 Aug. 53(8):1482-90. [Medline].

Carter JD. Treatment of relapsing polychondritis with a TNF antagonist. J Rheumatol. 2005 Jul. 32(7):1413. [Medline].

Ratzinger G, Kuen-Spiegl M, Sepp N. Successful treatment of recalcitrant relapsing polychondritis with monoclonal antibodies. J Eur Acad Dermatol Venereol. 2009 Apr. 23(4):474-5. [Medline].

Richez C, Dumoulin C, Coutouly X, Schaeverbeke T. Successful treatment of relapsing polychondritis with infliximab. Clin Exp Rheumatol. 2004 Sep-Oct. 22(5):629-31. [Medline].

Seymour MW, Home DM, Williams RO, Allard SA. Prolonged response to anti-tumour necrosis factor treatment with adalimumab (Humira) in relapsing polychondritis complicated by aortitis. Rheumatology (Oxford). 2007 Nov. 46(11):1738-9. [Medline].

Wendling D, Govindaraju S, Prati C, Toussirot E, Bertolini E. Efficacy of anakinra in a patient with refractory relapsing polychondritis. Joint Bone Spine. 2008 Oct. 75(5):622-4. [Medline].

Vounotrypidis P, Sakellariou GT, Zisopoulos D, Berberidis C. Refractory relapsing polychondritis: rapid and sustained response in the treatment with an IL-1 receptor antagonist (anakinra). Rheumatology (Oxford). 2006 Apr. 45(4):491-2. [Medline].

Handler RP. Leflunomide for relapsing polychondritis: successful longterm treatment. J Rheumatol. 2006 Sep. 33(9):1916; author reply 1916-7. [Medline].

Kemta Lekpa F, Kraus VB, Chevalier X. Biologics in Relapsing Polychondritis: A Literature Review. Semin Arthritis Rheum. 2011 Nov 7. [Medline].

Liu L, Liu S, Guan W, Zhang L. Efficacy of tocilizumab for psychiatric symptoms associated with relapsing polychondritis: the first case report and review of the literature. Rheumatol Int. 2016 Jun 3. 19 (6):46-50. [Medline].

Wierzbicka M, Tokarski M, Puszczewicz M, Szyfter W. The efficacy of submucosal corticosteroid injection and dilatation in subglottic stenosis of different aetiology. J Laryngol Otol. 2016 Apr 27. 1-6. [Medline].

Bermas BL, Hill JA. Effects of immunosuppressive drugs during pregnancy. Arthritis Rheum. 1995 Dec. 38(12):1722-32. [Medline].

Papo T, Wechsler B, Bletry O, Piette AM, Godeau P, Piette JC. Pregnancy in relapsing polychondritis: twenty-five pregnancies in eleven patients. Arthritis Rheum. 1997 Jul. 40(7):1245-9. [Medline].

Anderson NG, Garcia-Valenzuela E, Martin DF. Hypopyon uveitis and relapsing polychondritis: a report of 2 patients and review of autoimmune hypopyon uveitis. Ophthalmology. 2004 Jun. 111(6):1251-4. [Medline].

Cazabon S, Over K, Butcher J. The successful use of infliximab in resistant relapsing polychondritis and associated scleritis. Eye. 2005 Feb. 19(2):222-4. [Medline].

Cohen PR. Paraneoplastic relapsing polychondritis. Arch Dermatol. 2007 Jul. 143(7):949-50. [Medline].

Dolev JC, Maurer TA, Reddy SG, Ramirez LE, Berger T. Relapsing polychondritis in HIV-infected patients: a report of two cases. J Am Acad Dermatol. 2004 Dec. 51(6):1023-5. [Medline].

Hansson AS, Johannesson M, Svensson L, Nandakumar KS, Heinegard D, Holmdahl R. Relapsing polychondritis, induced in mice with matrilin 1, is an antibody- and complement-dependent disease. Am J Pathol. 2004 Mar. 164(3):959-66. [Medline].

Herrera I, Concha R, Molina EG, Schiff ER, Altman RD. Relapsing polychondritis, chronic hepatitis C virus infection, and mixed cryoglobulemia. Semin Arthritis Rheum. 2004 Jun. 33(6):388-403. [Medline].

Manghani MK, Andrews J, Higgens CS. Kaposi's sarcoma in a patient with severe relapsing polychondritis. Rheumatol Int. 2004 Sep. 24(5):309-11. [Medline].

Marie I, Martinaud O, Omnient Y, Mihout B, Levesque H. Facial diplegia revealing relapsing polychondritis. Rheumatology (Oxford). 2005 Jun. 44(6):827-8. [Medline].

Peebo BB, Peebo M, Frennesson C. Relapsing polychondritis: a rare disease with varying symptoms. Acta Ophthalmol Scand. 2004 Aug. 82(4):472-5. [Medline].

Rozin AP, Gez E, Bergman R. Recurrent auricular chondritis and cartilage repair. Ann Rheum Dis. 2005 May. 64(5):783-4. [Medline].

Segel MJ, Godfrey S, Berkman N. Relapsing polychondritis: reversible airway obstruction is not always asthma. Mayo Clin Proc. 2004 Mar. 79(3):407-9.

Serratrice J, de Roux-Serratrice C, Ene N, et al. Urticarial vasculitis revealing relapsing polychondritis. Eur J Intern Med. 2005 Jun. 16(3):207-208.

Sharma A, Bambery P, Wanchu A, et al. Relapsing polychondritis in North India: a report of 10 patients. Scand J Rheumatol. 2007 Nov-Dec. 36(6):462-5. [Medline].
Table. Autoimmune Conditions Reported in Patients With Relapsing Polychondritis
Disease
Patients With Condition/Total Patients
References
Systemic vasculitis
3 (5%) of 62
Zeuner et al[17]
11 (10%) of 112
Michet et al[18]
8 (12%) of 66
Trentham and Le[19]
28 (18%) of 159
McAdam et al[16]
50 (13%) of 399
Total
Cutaneous leukocytoclastic vasculitis
2 (33%) of 6
Priori et al[20]
6 (5%) of 112
Michet et al[18]
8 (7%) of 118
Total
Thyroid disease
8 (5%) of 159
McAdam et al[16]
10 (15%) of 66
Trentham and Le[19]
2 (33%) of 6
Priori et al[20]
4 (4%) of 112
Michet et al[18]
2 (3%) of 62
Zeuner et al[17]
26 (6%) of 405
Total
Rheumatoid arthritis*
8 (5%) of 159
McAdam et al[16]
3 (2%) of 180
Piette et al[21]
8 (7%) of 112
Michet et al[18]
7 (11%) of 62
Zeuner et al[17]
26 (5%) of 513
Total
Systemic lupus erythematosus†
2 (1%) of 159
McAdam et al[16]
9 (5%) of 180
Piette et al[21]
1 (17%) of 6
Priori et al[20]
6 (5%) of 112
Michet et al[18]
3 (5%) of 62
Zeuner et al[17]
21 (4%) of 519
Total
Sjögren syndrome (possible)
5 (3%) of 159
McAdam et al[16]
5 (5%) of 111
Piette et al[21]
10 (4%) of 270
Total
Ulcerative colitis
3 (2%) of 159
McAdam et al[16]
2 (3%) of 62
Zeuner et al[17]
5 (2%) of 221
Total
Crohn disease
2 (1%) of 180
Piette et al[21]
1 (2%) 62
Zeuner et al[17]
1 (100%) of 1
Haigh et al[22]
4 (2%) of 243
Total
Mixed connective-tissue disease
5 (3%) of 180
Piette et al[21]
2 (2%) of 112
Michet et al[18]
7 (2%) of 292
Total
Takayasu arteritis
3 (2%) of 180
Piette et al[21]
Mesenteric panniculitis
3 (2%) of 180
Piette et al[21]
Spondyloarthropathy
2 (1%) of 180
Piette et al[21]
3 (3%) of 112
Michet et al[18]
2 (3%) of 62
Zeuner et al[17]
7 (2%) of 354
Total
Diabetes mellitus
1 (2%) of 62
Zeuner et al[17]
3 (2%) of 159
McAdam et al[16]
4 (2%) of 221
Total
Reactive arthritis/psoriatic arthritis
2 (1%) of 159
McAdam et al[16]
1 (< 1%) of 112
Michet et al[18]
3 (1%) of 271
Total
Systemic sclerosis
2 (1%) of 159
McAdam et al[16]
Raynaud syndrome
2 (1%) of 159
McAdam et al[16]
Glomerulonephritis
2 (1%) of 159
McAdam et al[16]
Dysgammaglobulinemia
2 (1%)of 159
McAdam et al[16]
Pernicious anemia
1 (1%) of 159
McAdam et al[16]
Behçet disease*
1 (< 1%) of 112
Michet et al[18]
Psoriasis
2 (1%) of 180
Piette et al[21]
Lichen planus
2 (1%) of 180
Piette et al[21]
Primary biliary cirrhosis
1 (< 1%) of 112
Michet et al[18]
*Individual patients may carry more than one autoimmune diagnosis.



†Reported as 13 (20%) of 66 prevalence by Trentham and Le without division by disease




Medscape Reference © 2011 WebMD, LLC