Overview
Overview
The introduction of infectious agents results in various responses from the central nervous system (CNS). In the earliest stage of purulent bacterial brain infection, the generalized initial reaction is cerebritis. Within the background of cellular response to the infection, cerebritis evolves into a localized abscess in a predictable series of stages. Neuroimaging of these stages reflects the underlying pathophysiology of abscess formation. Variations in the brain's reaction at different locations and similarities in the brain's reaction to certain agents and in the appearances of aggressive neoplasms all require correlation of medical history, neuroimaging, and results of microbiologic analysis.
Early and improved diagnostic imaging techniques have allowed the discovery of brain abscess at a much earlier stage. (See the images below.)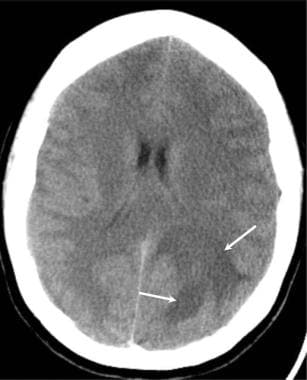 Brain abscess. Axial CT scan in a patient who presented with a headache, fever, and a history of a recent pneumonia demonstrates a poorly defined area of posterior parietal brain edema (arrows). Early cerebritis may not outline a focal mass clearly.
Brain abscess. Axial nonenhanced cranial CT scan in a patient who presented with fever, headache, and a previous paranasal sinus infection demonstrates a poorly defined pattern of mass effect and low attenuation in the left temporal lobe. The pattern is consistent with possible early cerebritis; however, glioma and infarct may have similar presentations.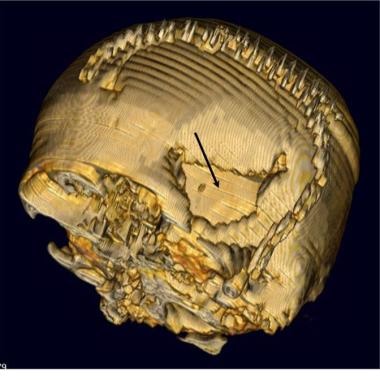 Brain abscess. Three-dimensional surface model of a cranial CT scan in a patient with a postcraniotomy abscess. The large deformity in the skull indicates the route of abscess spread.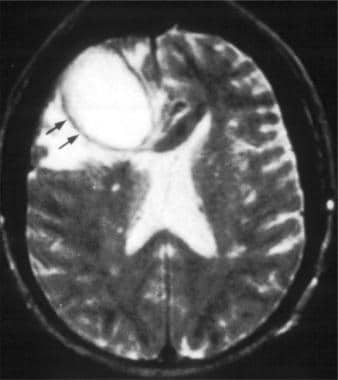 Brain abscess. Axial T2-weighted MRI in a patient with a right frontal abscess. Note the mass effect and surrounding edema. The wall of the abscess is relatively thin (black arrows).
See Can't-Miss Findings on Noncontrast Head CT, a Critical Images slideshow, to identify several different abnormalities depicted in noncontrast CT studies.
Pathophysiology
Brain abscesses may occur as a result of direct skull trauma or following surgery. The spread of infection from the paranasal sinuses, the middle ear and the mastoid air cells, a tooth abscess, or by hematogenous spread from the lungs or heart are other potential infectious mechanisms. See the images below.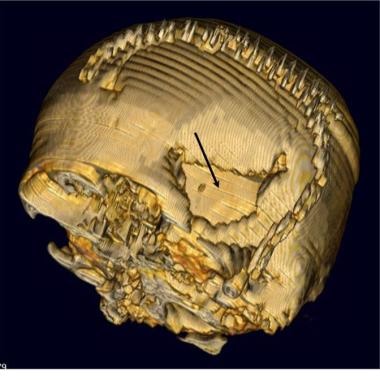 Brain abscess. Three-dimensional surface model of a cranial CT scan in a patient with a postcraniotomy abscess. The large deformity in the skull indicates the route of abscess spread.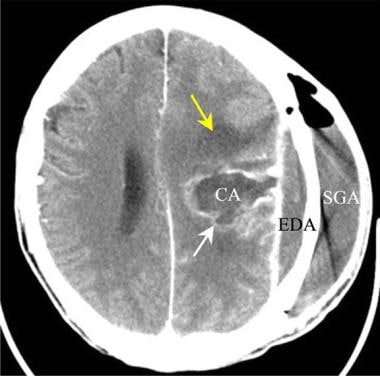 Brain abscess. Axial contrast-enhanced CT scan in a patient who was treated surgically for a depressed skull fracture. The left parietal cranial injury has become complicated by an abscess of the subgaleal space (SGA), of the epidural space (EDA), and within the left cerebral hemisphere (CA). Edema related to the abscess is indicated by the yellow arrow. The cerebral abscess wall enhances (white arrow).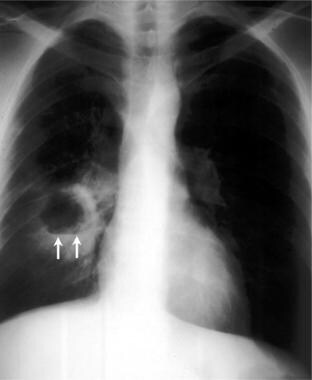 Brain abscess. Anterior view of a chest radiograph in a patient with thick-walled right lung abscess. The patient later developed a brain abscess.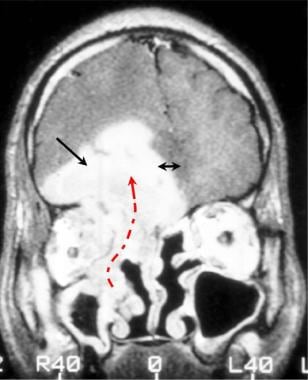 Brain abscess. Gadolinium-enhanced coronal T1-weighted MRI in a patient who presented with headache, fever, and diplopia. The right frontal lobe of the brain is shifted across the midline (double arrow) by an intracranial abscess (single black arrow) that has extended upward from the medial right orbit and medial ethmoid air cells (curved dotted arrow). Aspergillus organisms were recovered from the sinuses and brain tissue.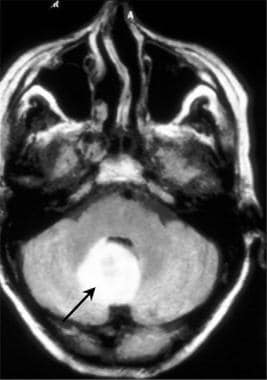 Brain abscess. Axial fluid-attenuated inversion recovery (FLAIR) MRI in a patient with Nocardia-related abscess of the cerebellar vermis (black arrow).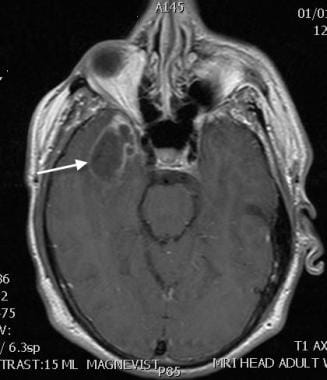 Cerebral abscess. This T1 contrast-enhanced MRI of a right temporal abscess demonstrates an irregular mass with moderate peripheral enhancement. This image was obtained early in the clinical course. The etiology of the brain abscess was an abscessed tooth.
Differentials
Bacterial Meningitis Empiric Therapy
Bacterial Meningitis Organism-Specific Therapy
Brain Imaging in Multiple Sclerosis
Toxoplasmosis Organism-Specific Therapy
Preferred examination
In the earliest stages of the evolution of a cerebral abscess, a CT scan of the brain may be negative or it may show subtle nonspecific findings. MRI of the brain performed without and with a gadolinium contrast agent is the more sensitive test. The enhancement seen on MRI following intravenous contrast is relatively more sensitive and somewhat more specific than CT.
The preferred initial examination of the patient in whom brain abscess is suspected is MRI with and without gadolinium enhancement. Similar diagnostic results can be expected from cranial CT scans without and with the intravenous administration of iodinated contrast medium. Both imaging techniques help detect the mass effect of the abscess; however, findings in MRI with a diffusion protocol are more specific in differentiating cerebral tumor, stroke, and abscess. In particular, examination of the metabolite peaks with MR spectroscopy can help to specifically differentiate tumor, radiation necrosis, and abscess by identifying their different spectral profiles. [1, 2, 3, 4, 5]
Perfusion MRI has also been used to differentiate these lesions by evaluating vascularity with blood flow analysis with dynamic intravenous gadolinium contrast injection studies.
Occasionally, distinguishing brain abscess from neoplasm or postoperative changes from infection is difficult. In these patients, a nuclear agent can be used to tag white blood cells or antibodies to help differentiation.
Gadolinium-based contrast agents have been linked to the development of nephrogenic systemic fibrosis (NSF) or nephrogenic fibrosing dermopathy (NFD). For more information, see the Medscape Reference topic Nephrogenic Systemic Fibrosis. The disease has occurred in patients with moderate to end-stage renal disease after being given a gadolinium-based contrast agent to enhance MRI or MRA scans. NSF/NFD is a debilitating and sometimes fatal disease. Characteristics include red or dark patches on the skin; burning, itching, swelling, hardening, and tightening of the skin; yellow spots on the whites of the eyes; joint stiffness with trouble moving or straightening the arms, hands, legs, or feet; pain deep in the hip bones or ribs; and muscle weakness. For more information, see Use of Gadolinium in MRI and MRA Linked to NSF/NFD in Patients With Renal Failure.
Limitations of techniques
Plain radiographs of the paranasal sinuses can only suggest a possible etiology for cerebral abscess. Early findings of CT examinations are not specific for cerebral abscess. The edema pattern and moderate mass effect cannot be differentiated from tumor or stroke in some patients. MRI findings in patients with cerebritis may resemble findings in stroke, while findings in the infarcts that result from vasculitis and cerebritis may resemble those of embolic strokes. Nuclear medicine single photon emission computed tomographic (SPECT) findings are not specific for brain abscess unless a white cell tag is used.
Follow-up scans for certain infectious agents, such as M tuberculosis, may be necessary because infection by these organisms may not follow a predictable response to treatment. Tuberculosis-related brain abscesses that retain positive results to culture and smears following 4 weeks of treatment may not represent treatment failure. In addition, treatment of fungal infections may require many weeks of treatment with interval follow-up imaging studies. Follow-up imaging during the treatment for toxoplasmosis is important in avoiding brain biopsy.
Intervention
Intervention in patients with cerebral abscess is most commonly limited to biopsy and aspiration of infectious material that may represent the origin of a CNS infection. Aspiration and biopsy of small lesions is performed best using a CT-guided computer-assisted technique or with the aid of an external frame, which (with the aid of CT data) directs the placement of the aspiration needle. More recently, fully computer-aided virtual imaging programs have provided greater flexibility in the application of both CT and MRI sets during craniotomy procedures and in the aspiration of selected lesions. Intraoperative ultrasonography may aid in the detection and treatment of relatively large superficial abscess collections. [6]
Recent studies
In a study by Chiang et al, diffusion, perfusion-weighted, and spectroscopic MRIs were able to differentiate cerebral abscesses from necrotic tumors. The authors found that the mean apparent diffusion coefficient value at the central cavities of the cerebral abscesses were significantly lower; the mean relative cerebral blood volume values of the necrotic tumor walls were significantly higher; and amino acids were present only in the cerebral abscesses. [7]
Sepahdari et al found that in 9 cases of orbital cellulitis, including 6 cases of pyogenic abscess, diffusion-weighted imaging confirmed abscess in a majority of cases without contrast-enhanced imaging. According to the authors, this may be of particular importance in patients in whom the use of contrast is contraindicated. Diffusion-weighted imaging improved diagnostic confidence in virtually all the patients with orbital abscess when it was used along with contrast-enhanced imaging. [8]
For excellent patient education resources, visit eMedicineHealth's Brain and Nervous System Center. Also, see eMedicineHealth's patient education article Brain Infection.
Radiography
Radiographic findings usually are limited to paranasal or mastoid sinus opacification; however, gas bubbles or air-fluid levels within the cranium may indicate a gas-producing organism or a communication with the paranasal sinuses or the nose.
Direct evidence of osteomyelitis of the skull is generally a mixed pattern of lucency with a destruction of the outer or inner tables of the skull.
Occasionally, foreign bodies (eg, in gunshot wounds) or osteomyelitis of the maxillary bone may indicate a probable source for an intracranial abscess. Bone destruction of the roof, floor, or lateral wall of the sinuses may indicate an aggressive osteomyelitis with extension into the intracranial space.
Degree of confidence
Clouding of the sinuses is not a direct indication of an intracranial abscess, merely a possible etiology. Air-fluid levels within the cranial vault strongly suggest abscess formation.
False positives/negatives
Patients with established intracranial abscesses may develop fluid retention within the mastoid and paranasal sinuses secondary to endotracheal intubation and chronic disability. Most patients with osteomyelitis of the mandible or maxilla do not develop intracranial abscesses.
Computed Tomography
On nonenhanced CT, Toxoplasma encephalitis appears as areas of isointense or hypodense mass effect. The basal ganglia and the corticomedullary junction are most commonly affected. Contrast-enhanced CT demonstrates a ring or nodular enhancement pattern with lesions of 1-3 cm in diameter. The enhancement is greatest within the intermediate zone where inflammation is the greatest. (See the images below.)
CT manifestations of an intracranial abscess depend on the stage of the abscess formation. The earliest phase may be related to meningitis, with no findings on unenhanced CT studies. Enhancement of the meningeal surfaces is a nonspecific and inconsistent finding in patients with meningitis. [9]
During early cerebritis, nonenhanced CT scans may demonstrate normal findings or may show only poorly marginated subcortical hypodense areas. Contrast-enhanced CT studies demonstrate an ill-defined contrast-enhancing area within the edematous region.
During the early stage of a formed abscess, the lesion coalesces, with an irregular enhancing rim that surrounds a central low-attenuating area.
Scans obtained with a time delay following contrast enhancement in cerebritis may show contrast "filling in" the central low-attenuating region. A formed abscess will not "fill in" the central portion of the abscess.
Peripheral edema results in considerable mass effect with sulcal obliteration.
The early capsule stage is characterized by a distinct collagenous capsule, while a relatively thin, well-delineated capsule marks the final stage of a fully formed abscess.
Ring-enhancing lesions are commonly seen in various disease conditions. Besides abscess, metastatic brain tumors, some primary brain tumors (particularly grade 4 astrocytomas), granulomas, resolving hematomas, and infarctions are associated with a ringlike enhancement pattern. The cystic pattern is a particularly prominent feature of cysticercosis, due to the infestation of the larva of Taenia solium. In most pyogenic abscesses, the ring is smooth and thin walled (< 5 mm). The medial margin is often thinner along the medial margin, which may reflect the variation of cerebral perfusion of gray and white matter. The wall of a cystic neoplasm is generally thick and irregular, frondlike, or lobulated. (See the images below.)
Degree of confidence
The moderate vasogenic edema that is seen in the early stages of cerebritis and abscess formation must be interpreted in the context of the clinical presentation. The presence of fever, known infection, and immunosuppression supports the probable diagnosis of early abscess formation; however, cerebrovascular accidents (CVAs) and tumors must be included in the differential diagnosis. Later, the well-formed abscess wall must be inspected within the context of other known malignancies, which may be a source for cerebral metastatic disease, glioma, lymphoma, and multiple sclerosis.
False positives/negatives
False-negative CT scans may occur if intravenous contrast enhancement is not adequate or if imaging of the brain is performed too soon after contrast administration, which can happen easily when a rapid CT (eg, multisection) scanner is used.
False-positive results primarily are the result of mistaking alternative causes of ringlike lesions of the brain for an abscess. Ring-enhancing lesions must be placed into the differential diagnosis, which includes some primary brain tumors (eg, anaplastic astrocytoma), metastatic brain tumors, abscess, granuloma, resolving hematoma, brain infarct, thrombosed vascular malformation, demyelinating disease (eg, multiple sclerosis), thrombosed aneurysm, and other primary brain tumors, particularly primary CNS lymphoma in patients with AIDS.
Magnetic Resonance Imaging
The findings of a brain abscess on noncontrasted CT are somewhat nonspecific. Most commonly, mass effect with surrounding edema is found, as in the image below.
MRI of the brain offers a better opportunity to differentiate a brain abscess from other causes of a cerebral mass. [3, 4]
The use of intravenous contrast helps to define the wall of the abscess and improves the differentiation of a brain abscess from cerebral contusion or infarcts. Many brain neoplasms have a similar enhancement pattern and may be difficult to differentiate from a brain abscess. [10] See the images below.
Abscesses that conform to the common cerebrospinal fluid spaces can be differentiated by the characteristics of diffusion restriction and marginal contrast enhancement on MRI. See the images below.
MRI of the brain without and with intravenous gadolinium contrast enhancement is the most sensitive test for Toxoplasma encephalitis. Lesions with contrast may be hyperintense compared with normal brain tissue and may be difficult to identify compared to the edema pattern otherwise seen in the surrounding brain. The ring enhancement, which is best seen on T1-weighted gadolinium-enhanced studies, represents the enhancement within the most active area of the infection. Following treatment with pyrimethamine and sulfadiazine or clindamycin, the lesions become reduced in size with resolution of the ring of enhancement. (See the images below.)
MRI findings of brain abscess vary with time. [11, 12, 13, 14, 15, 16, 17]
Early cerebritis stage
The early cerebritis stage presents as an ill-defined subcortical hyperintense zone that can be noted on T2-weighted imaging.
Lesions appearing hyperintense on diffusion-weighted imaging with apparent-diffusion-coefficient (ADC) values of < 0.9 are most commonly brain abscess, whereas hypointense lesions on diffusion-weighted imaging with ADC values > 2 are more likely nonabscess cystic lesions.
Contrast-enhanced T1-weighted studies demonstrate poorly delineated enhancing areas within the isointense to mildly hypointense edematous region.
Late cerebritis stage
During the late cerebritis stage, the central necrotic area is hyperintense to brain tissue on proton-density and T2-weighted sequences.
The thick, somewhat irregularly marginated rim appears isointense to mildly hyperintense on spin-echo T1-weighted images and isointense to relatively hypointense on proton-density and T2-weighted scans.
Peripheral edema is common. The rim enhances intensely following contrast administration. Satellite lesions may be demonstrated.
Early and late capsule stages
During the early and late capsule stages, the collagenous abscess capsule is visible prior to contrast as a comparatively thin-walled, isointense to slightly hyperintense ring that becomes hypointense on T2-weighted MRIs.
Diffusion-weighted imaging aids in depiction of specific features of a brain abscess. If a cerebral abscess ruptures into the ventricular system, diffusion-weighted images demonstrate specific patterns.
Purulent material within the ventricle appears similar to that of the central abscess cavity, with a strongly hyperintense signal on diffusion-weighted images.
Magnetic resonance spectroscopy
Magnetic resonance (MR) spectroscopy may be helpful in the differential diagnosis of toxoplasmosis versus CNS lymphoma. CNS lymphoma generally shows a mild pattern of elevated lipid and lactate peaks, with a prominent choline peak with some other normal metabolites. In toxoplasmosis, there are elevated lipid and lactate peaks, while other normal brain metabolites are nearly absent.
Diffusion-weighted MRI
Diffusion-weighted MRI may be useful in differentiating abscess from necrotic tumor. Diffusion-weighted echo planar images demonstrate an abscess as a high signal intensity with a corresponding reduction in the apparent diffusion coefficient. The brightness on diffusion-weighted imaging (DWI) is related to the cellularity and viscosity of the contents within the abscess cavity. Tumors with central necrosis have marked hypointensity on diffusion-weighted images and much higher apparent diffusion coefficient values. The pattern described above for an abscess has also been noted for acute cerebral infarction.
Degree of confidence
In patients with ring-enhancing cerebral mass lesions, restricted diffusion is characteristic but is not pathognomonic for abscess. Low apparent diffusion coefficient values also may be found in brain metastases. Diffusion imaging techniques should be corrected for T2 brightness contribution. Corrected diffusion maps more accurately reflect the relative diffusion within a large or complex lesion. Diffusion imaging is more sensitive than conventional MRI alone in detection of changes due to infections and ischemic lesions.
Single-voxel proton MR spectroscopy is useful in differentiating ringlike enhanced lesions that cannot be diagnosed correctly using enhanced MRI alone. MR spectroscopy can help to specifically differentiate tumor, radiation necrosis, or abscess by identifying their different spectral profiles. Perfusion MRI has also been used to differentiate these lesions by evaluating their degree of vascularity through dynamic blood flow analysis studies.
False positives/negatives
Diffusion MRI does not help in differentiating brain abscess formation from focal brain infarcts related to venous thrombosis, although superior imaging of the anatomic distribution of lesions proves useful. Restricted diffusion within ring enhancement is not pathognomonic for brain abscess.
Ultrasonography
On ultrasonograms, cerebral abscess is depicted as a complex cystic pattern with an echogenic wall and an ultrasonographically hypoechoic or mildly hyperechoic central zone of necrosis. Cerebral ultrasonography is rarely used in the evaluation of cerebral abscess in the adult, except for intraoperative guidance for aspiration procedures, because the intact skull is a barrier to the procedure.
In the neonate, abscess can be diagnosed by using ultrasonographic images obtained through the anterior fontanelle. Brain ultrasonograms can reveal the size and number of abscesses but provide only a limited suggestion of a possible origin for the infection. Ultrasonography-guided aspiration of brain abscesses through a single burr hole has been performed with excellent overall results.
Degree of confidence
Ultrasonography cannot help to differentiate a cystic neoplasm from an abscess. When seen in the neonate, periventricular and arachnoid cysts commonly are not abscesses.
False positive/negatives
Porencephalic cysts may suggest thin-walled abscesses if communication with the ventricle is not depicted clearly. Arachnoid cysts have thin walls with a marked, hypoechoic pattern.
Nuclear Imaging
Brain SPECT imaging by using thallous chloride Tl 201 (thallium-201;201Tl)can help detect and differentiate infectious processes from lymphoma and other primary brain neoplasms. Brain abscess may be evaluated using gallium Ga 67 (gallium-67; 67Ga) citrate and technetium-99mm hexamethylpropyleneamine oxime (HMPAO)–labeled leukocytes. In patients with an active abscess, nuclear agents collect in the wall of the abscess. Similar findings occur within high-grade brain tumors (glioma). Differential considerations of rounded (ring) lesions of the brain include some primary brain tumors (eg, anaplastic astrocytoma), metastatic brain tumors, abscess, granuloma, resolving hematoma, brain infarct, thrombosed vascular malformation, demyelinating disease, thrombosed aneurysm, and primary CNS lymphoma in patients with AIDS.
Degree of confidence
Tl-201 brain SPECT imaging appears to be unreliable for differentiating primary lymphoma from nonmalignant brain lesions in patients with AIDS. Follow-up scans showing improvement may help further differentiate the lesions, but brain biopsy is necessary to establish a definitive diagnosis in questionable cases.
False positives/negatives
False-positive 201Tl SPECT imaging in brain abscess may indicate focally increased intracranial 201Tl uptake; however, such activity may be an abscess if positive tumor activity is reported. Single lesions demonstrated on MRI scans with focal accumulation of 201Tl strongly suggest lymphoma. Multiple lesions demonstrated on MRIs with 201Tl SPECT uptake ratios ≥ 2.9 also suggest lymphoma; however, uptake ratios < 2.1 do not aid in discrimination.
Differentiation of toxoplasmosis abscess from primary brain lymphoma requires a difficult combination of clinical history, laboratory findings, and radiographic considerations. A trial period of treatment against the toxoplasmosis organism with follow-up imaging is necessary in some patients before excluding the possibility of CNS lymphoma.
Angiography
Cerebral angiography is rarely performed to define an abscess; however, mycotic cerebral aneurysms may occur related to an infectious vasculitis. These may rupture, resulting in a cerebral hematoma. If the hematoma is evacuated without adequate antibiotic treatment, the bed of the hematoma near the site of the mycotic aneurysm may become infected, later forming an abscess.
Degree of confidence
Cerebral angiography is the best means with which to detect vasculitis or mycotic aneurysms. The mass effect caused by an abscess can be localized using angiographic criteria.
False positives/negatives
The beaded appearance of the blood vessels affected by active vasculitis may be mistaken for movement on the part of the patient.
What would you like to print?