Pneumocystis Carinii Pneumonia Imaging
Author: Ali Nawaz Khan, MBBS, FRCS, FRCP, FRCR; Chief Editor: Eugene C Lin, MD more...
Updated: Oct 03, 2015
What would you like to print?
Overview
Pneumocystis carinii pneumonia (PCP) is caused by the ubiquitous unicellular eukaryote, P carinii. This organism is a rare cause of infection in the general population, but it is a frequent cause of morbidity and mortality in persons who are immunocompromised, especially patients with acquired immunodeficiency syndrome (AIDS). (See the images below.)[1, 2, 3, 4]
Patients who do not have AIDS but are immunocompromised and at risk for PCP include individuals with hematologic malignancies[4] ; organ transplant recipients[5, 6] ; and those receiving long-term steroid or cytotoxic therapy, including patients with systemic vasculitis or other autoimmune deficiency. Other patients with immune deficiency disorders who are at particular risk for PCP include those with thymic dysplasia, those with severe combined immunodeficiency, and those with hypogammaglobulinemia. Severe malnutrition may predispose patients to PCP.
A subset of patients presents with atypical clinical and radiographic features termed chronic PCP. These patients have a prolonged clinical course over months or years, with persistent stable symptoms and radiographic abnormalities corresponding to pathologic findings of interstitial fibrosis, traction bronchiectasis, and honeycombing.
Preferred examination
Chest radiographs should be included in the initial evaluation for PCP. Frequently, these are the only images required. High-resolution computed tomography (HRCT) scanning[7, 8, 9, 10, 11] and, occasionally, gallium-67 (67 Ga) scanning[12, 13, 14, 15] are useful in symptomatic patients in whom chest radiograph findings are normal or equivocal.[16, 17, 18, 19, 20]
Chest radiography retains a key role in the diagnosis of pneumonia in the immune compromised. Chest radiography retains its position as the prime modality in the diagnosis and exclusion of pneumonia, follow-up imaging to check for resolution, and to evaluate potential complications. CT scanning is more sensitive and, with certain infections, more specific. MRI provides an option for monitoring progress, although it cannot yet replace chest radiography or CT scanning as the initial diagnostic procedure.[21]
Limitations of techniques
Chest radiograph findings may be normal in 10-39% of patients with PCP. With CT and67 Ga scanning, the appearance of PCP is nonspecific.
For excellent patient education resources, visit eMedicineHealth's Lung Disease and Respiratory Health Center and Sexual Health Center. Also, see eMedicineHealth's patient education articles Viral Pneumonia, Acute Respiratory Distress Syndrome, HIV/AIDS, and HIV Testing.
Radiography
In patients with Pneumocystis carinii pneumonia (PCP), chest radiographs classically demonstrate bilateral, diffuse, often perihilar, fine, reticular interstitial opacification, which may appear somewhat granular. This opacification progresses to air-space consolidation over 3-4 days. This appearance may be followed by coarse reticulation as the infection resolves. (See the images below.)[7, 8, 14]
Chest radiograph findings may be normal in 10-39% of patients, or radiographic changes may lag behind the clinical symptoms.
Trends are changing in the radiographic manifestations of PCP; features that previously were considered to be unusual are seen with increasing frequency.[7]
Atypical radiographic patterns are reported to occur in 5% of patients and include cystic lung disease, spontaneous pneumothorax, and isolated lobar or focal consolidation, particularly with an upper-lobe predominance.
Pulmonary nodules, which may be cavitated, have been described, but they are rare in PCP. The nodules have been shown histologically to represent granulomas, and these are usually encountered early in the course of HIV infection, when the patient is still capable of mounting a granulomatous response.
Miliary nodularity, bronchiectasis, endobronchial lesions, and mediastinal lymphadenopathy (18%), which may show calcification, have been reported.[22]
Pleural effusions and hilar lymphadenopathy are uncommon. Indeed, the presence of an effusion should prompt the search for a different pathogen.
Cysts
Cysts are visible on chest radiographs in 10% of patients, although these entities are appreciated far more commonly on HRCT scans (33%). Findings of cysts or pneumatoceles are not infrequent in patients with PCP.
Cysts may occur in the acute or postinfective period and range in number, size, shape, and distribution. They are are commonly multiple, with a predilection for the upper lobes, and may be related to an ongoing or previous PCP infection.
The etiology of the cysts is unclear, but several hypotheses have been proposed, including the release of elastase from alveolar macrophages, which causes tissue necrosis and cavitation; vascular invasion with subsequent infarction; and cavitation obstruction of small airways, leading to a ball-valve effect.
Radiologic-pathologic correlation has shown persistent infection in some of the cyst walls.
Spontaneous pneumothorax
Spontaneous pneumothorax may be a feature of PCP infection, with a reported incidence of approximately 6%, rising to approximately 35% in patients with cysts. Development of a spontaneous pneumothorax has important implications for treatment and prognosis of patients because this condition tends to be refractory to conventional tube drainage, frequently requiring pleurodesis or surgical intervention. In addition, spontaneous pneumothorax is associated with a significantly higher mortality rate, particularly in patients on ventilation. Pneumothoraces are frequently bilateral.
Resolution
Chest radiograph findings usually resolve within 2-4 weeks with successful treatment. This resolution may be accelerated by the use of steroids. Occasionally, radiographic findings remain abnormal, and the images demonstrate reticular opacities, interstitial fibrosis, or focal scarring and/or nodularity.
Degree of confidence
Despite the presence of overlapping radiographic features in PCP, chest radiograph findings are often of diagnostic value. Usually, chest radiography is the only imaging required, and the overall accuracy for the diagnosis of PCP is approximately 75%.
False positives/negatives
Chest radiograph findings may be normal in 5-30% of patients with PCP. The literature reports a false-negative rate for the diagnosis of PCP by using chest radiography of 35-40%. Adult respiratory distress syndrome, pulmonary edema, other opportunistic lung infections, lymphoma, and Kaposi sarcoma may mimic PCP.
Computed Tomography
HRCT scanning is more sensitive than chest radiography for the detection and exclusion of Pneumocystis carinii pneumonia (PCP), and the results may be positive when chest radiograph findings are normal.[7, 8, 9, 10, 11]
The hallmark finding of PCP on HRCT scans is ground-glass attenuation, which is present in more than 90% of patients and represents an exudative alveolitis. The term ground-glass refers to parenchymal opacification, which does not obscure the underlying pulmonary architecture. This usually occurs in a bilateral, symmetrical, predominantly perihilar distribution and may be geographic or mosaic in appearance (56%), with areas of normal lung adjacent to areas of affected lung. (See the images below.)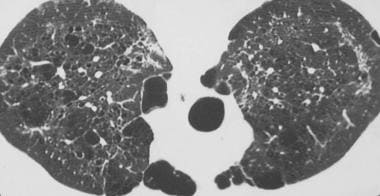 High-resolution computed tomography scan obtained through the upper lobes in the prone position in a patient with a history of Pneumocystis carinii pneumonia. This image shows parenchymal and subpleural cysts and patchy fibrosis that resulted from the Pneumocystis carinii infection.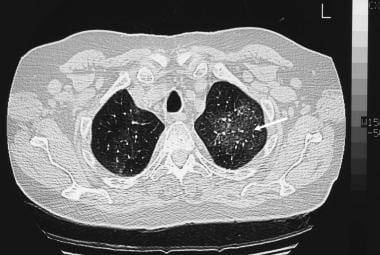 High-resolution CT (HRCT) scan in a 32-year-old man with HIV infection showing ground-glass appearance due to Pneumocystis carinii pneumonia.
Thickening of interlobular septa (due to edema) and foci of consolidation may be associated. Septal thickening in the subacute stage is usually more extensive and represents organizing inflammatory infiltrate.
Degree of confidence
In the proper clinical setting, the presence of ground-glass attenuation on HRCT scans in patients with AIDS is virtually diagnostic of PCP, with a diagnostic accuracy of approximately 94%. Normal HRCT findings virtually exclude the possibility of PCP.
False positives/negatives
Ground-glass attenuation is highly suggestive of PCP, but cytomegalovirus (CMV), pneumonitis, and lymphoid interstitial pneumonia can (albeit infrequently) give rise to a similar appearance. However, CMV pneumonitis is rare in patients with CD4 counts of greater than 50 cells/mm3.
Although PCP can give rise to parenchymal nodules, this feature is more common in CMV infection; thus, the combination of ground-glass attenuation and nodularity is more likely to be secondary to CMV infection.
Motion artifacts and low lung volumes due to reduced inspiratory effort may occasionally give rise to a spurious ground-glass appearance.
Ground-glass opacification can also be seen in conditions such as pulmonary edema, pulmonary hemorrhage, drug toxicity, other infections, and hypersensitivity pneumonitis. Clinical correlation usually allows the exclusion of most of these differential diagnoses.
Hilar lymphadenopathy may occur in patients with tuberculosis, Mycobacterium avium-intracellulare (MAI or MAC) infection, fungal infection, Kaposi sarcoma, and AIDS-related lymphoma, but this condition is rare in patients with PCP.
Ultrasonography
Ultrasonography may be useful in the evaluation of systemic Pneumocystis carinii infection (hepatic/splenic and renal microabscesses), but this imaging modality is of no value in assessing pulmonary disease.
Nuclear Imaging
Ga citrate is useful in the investigation of fevers of unknown origin (FUO), because it is taken up by areas of inflammation, infection, and tumor.67 Ga also accumulates in Pneumocystis carinii pneumonia (PCP) infection and can detect PCP in asymptomatic patients with AIDS in the absence of abnormal plain radiographic findings.
The most common pattern of radionuclide uptake seen in patients with PCP is diffuse pulmonary uptake.[12, 13, 14, 15] A negative heart with diffuse pulmonary uptake in a patient with AIDS is indicative of PCP. However, uptake varies in patients treated with aerosolized pentamidine and is observed only in areas of the lungs where the drug fails to reach. Patchier uptake is seen with recurrent PCP; however, gallium scanning is expensive, is poorly tolerated by patients, and requires delayed scans at 48 hours. In practice, this study is little used.
Indium-111 (111In) – labeled autologous leukocytes accumulate in PCP, but the overall performance in immunosuppressed patients is poor compared with67 Ga studies.
The clearance of technetium-99m (99mTc) diethylenetriamine pentaacetic acid (DTPA) aerosol across the alveolar-capillary membrane is accelerated in patients with PCP. The shortened half-life for clearance of radionuclide activity has been shown to be more sensitive than in67 Ga imaging. After effective therapy, the shortened clearance times rapidly return to normal.[23]
Tc-99m-labeled nonspecific polyclonal human immunoglobulin (HIG) has been used in the evaluation of patients with AIDS.[13, 24] The sensitivity varies from 0-100% in PCP. Similar to 67Ga scanning,99m Tc-labeled nonspecific polyclonal HIG appears more sensitive than chest radiography. The pattern of activity is usually diffuse, but focal uptake has been described.
An Fab fragment of an antibody labeled with 99mTc has been used to image the infection in patients with AIDS; this fragment recognizes PCP. In a small series, a sensitivity of 85.7% and a specificity of 86.7% were achieved.[25]
Degree of confidence
Ga-67 scans are extremely sensitive for Pneumocystis carinii pneumonia (PCP), with reported sensitivities of 87-100%; however, the specificity of67 Ga imaging may vary considerably and reportedly ranges from 20-100%. This variation partly depends on the nuclear medicine department's clinical practice and referral patterns. The specificity can be increased when diffuse pulmonary uptake of greater intensity than the liver is included in the diagnostic criteria. The discordance between pulmonary 67Ga uptake and negative chest radiographic findings in patients with AIDS can be used to increase the specificity in detecting PCP.
The overall performance with the uptake of radiolabeled leukocytes is poor in PCP, and this technique should be reserved for imaging suggesting bacterial pneumonia and infections at other sites in patients with AIDS and patients who are immunosuppressed but do not have AIDS.
Tc-99m DTPA aerosol clearance times provide a simple and noninvasive technique for follow-up imaging in patients receiving treatment for PCP. Although abnormalities in the clearance of 99mTc DTPA aerosol have been reported with other pulmonary infections in patients with AIDS, a clearance time greater than 4.5% per minute has been shown to be specific for PCP in patients with AIDS.
The sensitivity and specificity of99m Tc–labeled HIG are too variable to warrant use of this technique in patients with AIDS-related PCP. Further large-scale studies are required to justify its use.
False positives/negatives
Ga-67 also accumulates in lymphoma and other malignant processes that are associated with AIDS.
Accelerated clearance of 99mTc DTPA aerosol is not specific in patients with Pneumocystis carinii pneumonia (PCP), and this process has been reported with other pneumonitides that are associated with AIDS.
Medscape Reference © 2011 WebMD, LLC