Overview
Overview
Primary sclerosing cholangitis (PSC) is a chronic, progressive, inflammatory disease characterized by fibrosis of the bile ducts. The cause is unknown, but a hypersensitivity reaction is implicated. Patients present with abnormalities of liver function tests and progressive intermittent obstructive jaundice, which may be associated with fever chills, night sweats, pain, and itching. A liver biopsy, endoscopic retrograde cholangiopancreatogram (ERCP), or percutaneous cholangiogram can help achieve diagnosis. The term primary is used to distinguish this condition from bile duct strictures that are secondary to bile duct injury, cholelithiasis, ischemia, and chemical injury. [1, 2, 3, 4, 5, 6] The radiologic characteristics of PSC are demonstrated in the images below.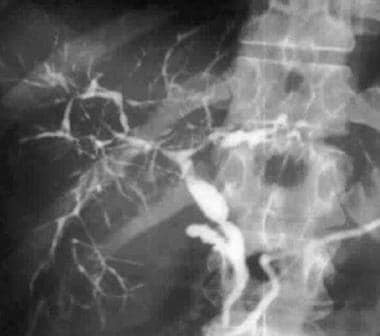 Endoscopic retrograde cholangiopancreatography performed in a patient with abnormal liver function test results shows multiple intrahepatic bile duct strictures and beading.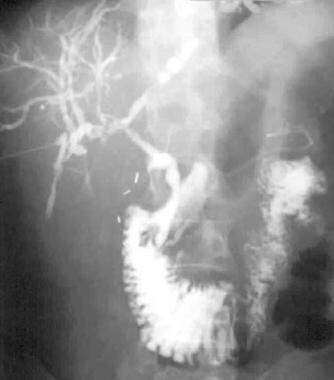 Percutaneous transhepatic cholangiogram shows dilatation, stricturing, and beading of the intrahepatic bile ducts. Note the surgical clips from a previous cholecystectomy.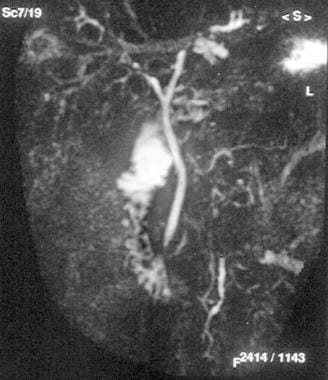 Magnetic resonance cholangiopancreatography shows a normal-sized common bile duct, but strictures of both the left and right ducts are noted as well as a dilated proximal left hepatic duct.
Preferred examination
Ultrasonography (US) is the initial examination modality of choice in patients presenting with jaundice and right upper quadrant pain. The liver may demonstrate nonspecific abnormalities on US, which infrequently leads to definitive diagnosis. The primary role of US is in helping clinicians make the diagnosis of other bile duct mechanical obstructions, such as gallstones and neoplasia. [7]
ERCP and percutaneous transhepatic cholangiography (PTC) remain the preferred investigations. Advances in software have improved the diagnostic quality of magnetic resonance cholangiopancreatography (MRCP), [8] and although preliminary studies indicate that MRCP may be sensitive and specific in PSC, larger studies are required before it replaces traditional invasive methods. [7, 9, 10, 11, 12, 13, 14]
Limitations of techniques
ERCP and PTC are invasive and can potentially cause ascending cholangitis. [15] Technical advances have improved MRCP such that third- and fourth-order intrahepatic bile ducts can be resolved, but appearances remain nonspecific.
Computed tomography (CT) scans also demonstrate nonspecific changes. Indistinguishable features may occur with cholangiocarcinoma and other forms of cholangitis.
Radiography
Plain radiographs have little role to play in the diagnosis of PSC. Cholangiography in PSC is performed using either PTC or ERCP. ERCP is preferable because of its higher success rate in the absence of dilated intrahepatic bile ducts. (See the images below.)
Cholangiographic features of PSC include predominantly intrahepatic ductal disease with short multiple strictures associated with multifocal mild ductal dilations. Cholangiography demonstrates a pruned-tree appearance with filling of the central ducts and diffuse obstruction of the peripheral smaller radicles. More advanced disease is associated with long strictures.
Bile duct dilations may result from the inflammatory process or distal obstruction. Multifocal strictures have a predilection for bifurcations. Skip lesions may be observed in which the duct is of normal caliber.
The above features provide a beaded appearance to the ducts. Coarse nodularity with mural irregularities may produce a cobblestone appearance. Ductal diverticula or pseudodiverticula observed as small saccular outpouchings are pathognomonic findings for PSC.
The common bile duct (CBD) is almost always involved.
The cystic duct also shows strictures, mural nodularity, and dilations with diverticula formation in 18% of patients. Gallbladder irregularity is uncommon. Pancreatic duct strictures and irregularities are observed in 8% of patients. [16]
Intrahepatic pigment calculi, which are easily crushable, are found in 8% of patients and may cause mechanical obstruction. Rarely, these calculi may obstruct the CBD; however, bile duct dilatation may not occur in the presence of cholangiocarcinoma. [16]
Degree of confidence
Appearances of the terminal bile ducts vary, particularly on ERCP, and overinterpretation is common. To tackle this problem, numerous views are obtained at various stages of contrast filling, which may help resolve equivocal changes. Radiographic distinction between a cholangiocarcinoma and sclerosing cholangitis occasionally may be impossible, because the diagnostic specificity of intrahepatic bile duct changes remains controversial.
False positives/negatives
Ascending cholangitis, AIDS-related cholangiopathy, cholangiocarcinoma, chemotherapy-induced cholangitis, eosinophilic cholangitis, recurrent pyogenic cholangitis, cholangitis secondary to parasites, and primary biliary cirrhosis can produce similar radiographic appearances.
Computed Tomography
Intrahepatic bile duct changes demonstrated on CT scans reflect cholangiography features with pruning and beading of the ducts. Pruning on CT scans is defined as the presence on a single CT slice of a 4-cm or longer segment of dilated duct (excluding the main right and left ducts) that lacks the expected side branching. Beading is defined as at least 3 closely alternating regions of change in caliber in an intrahepatic duct on a single CT slice.
Skip dilatations, defined as isolated dilated peripheral bile ducts with no visible connection to the other dilated ducts on contiguous images, are strongly suggestive of PSC.
CT appearances of extrahepatic bile duct involvement by PSC include focal or diffuse eccentric or concentric involvement and wall thickening (>2 mm and < 5 mm), bile duct dilatation, relative lack of dilatation proximal to an apparent bile duct stricture, and enhancing intraluminal intramural nodules (>1 cm in diameter) seen on thin-section high-resolution images.
Contrast enhancement of the bile duct is a nonspecific finding that can be observed in normal and abnormal bile ducts.
As many as 65% of patients with PSC may have benign celiac, gastrohepatic ligament, porta hepatis, periaortic, pancreaticoduodenal, and mesenteric lymphadenopathy. [17, 18, 19]
Lymph nodes are usually homogeneous and isodense with the pancreas.
Degree of confidence
Intrahepatic bile duct changes on CT scans reflect cholangiographic features with pruning and beading of the ducts. Skip dilatations, defined as isolated dilatation of the intrahepatic bile ducts, are strongly suggestive of PSC; however, ductal delineation and demonstration of strictures can be difficult in the early stages using US or CT scans. CT has a complementary role to that of cholangiography; moreover, do not use CT as a screening examination.
False positives/negatives
Beading, pruning, irregularity, and asymmetry of the intrahepatic bile ducts as demonstrated on CT scans are not specific for PSC. Similar CT changes may be found in other forms of cholangitis and cholangiocarcinoma.
Magnetic Resonance Imaging
Biliary tract, liver parenchymal, and pancreatic features suggestive of PSC have been reported using MRI. [20, 21, 22]
Use of T1-weighted, fat-suppressed, spin-echo pulse sequences, with or without intravenous gadolinium, facilitates visualization of the bile duct wall. Peripheral, wedge-shaped areas of high T2-weighted signal intensity in the liver parenchyma and dilatation of the bile ducts are characteristic MRI features of PSC observed in approximately 72% of patients.
Associated features include periportal edema (40%), lobar atrophy (8-28%), and portal hypertension (35%).
Abnormal hyperintensity of the liver parenchyma on T1-weighted images may be observed in 23% of patients. Increased enhancement of the liver parenchyma on dynamic arterial-phase gradient-echo images, predominantly in the peripheral areas, may be observed in 56% of patients. Periportal inflammation may be demonstrated on MRI images as a region of low signal intensity on T1-weighted images and as intermediate signal between liver and bile on T2-weighted images.
On gadolinium-enhanced images, enhancement of inflammatory periportal tissue permits distinction from nonenhancing periportal edema.
Characteristic changes on MRI have been recognized within the pancreas, suggestive of PSC. Increased signal on T2-weighted images, decreased signal on T1-weighted images, enlargement of the pancreas, and decreased contrast enhancement are suggestive of pancreatic disease associated with PSC.
MRCP may be used, but the extent of intrahepatic disease may be estimated incorrectly because ductal distension cannot be achieved using this technique. (See the image below.)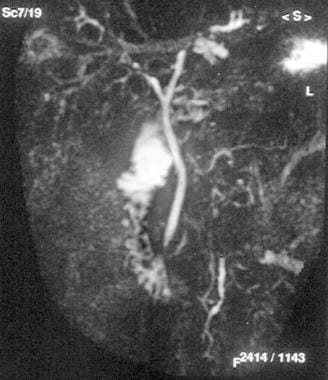 Magnetic resonance cholangiopancreatography shows a normal-sized common bile duct, but strictures of both the left and right ducts are noted as well as a dilated proximal left hepatic duct.
The addition of diffusion-weighted MRI to standard MRCP protocols is valuable in the diagnosis of PSC and the evaluation of disease severity. Moreover, diffusion-weighted imaging could be used in continuation with standard MRI sequences for the evaluation of liver fibrosis stage and distribution. [23]
Gadolinium-based contrast agents (gadopentetate dimeglumine [Magnevist], gadobenate dimeglumine [MultiHance], gadodiamide [Omniscan], gadoversetamide [OptiMARK], gadoteridol [ProHance]) have recently been linked to the development of nephrogenic systemic fibrosis (NSF) or nephrogenic fibrosing dermopathy (NFD). For more information, see the eMedicine topic Nephrogenic Systemic Fibrosis.
NSF/NFD has occurred in patients with moderate to end-stage renal disease after being given a gadolinium-based contrast agent to enhance MRI or MR angiography (MRA) scans. As of late December 2006, the FDA had received reports of 90 such cases. Worldwide, over 200 cases have been reported, according to the FDA. NSF/NFD is a debilitating and sometimes fatal disease. Characteristics include red or dark patches on the skin; burning, itching, swelling, hardening, and tightening of the skin; yellow spots on the whites of the eyes; joint stiffness with trouble moving or straightening the arms, hands, legs, or feet; pain deep in the hip bones or ribs; and muscle weakness. For more information, see Medscape.
Degree of confidence
The number of patients with PSC who have been studied using MRI has been small; thus, the reliability of the changes described above is uncertain. MRCP may be used, but the extent of intrahepatic disease may be estimated incorrectly because ductal distention cannot be achieved using MRCP.
MRI features of PSC are not specific and may occur with cholangiocarcinoma and other forms of cholangitis.
Ultrasonography
Ultrasonographically, biliary abnormalities are not usually visible, unless biliary dilatation is associated. Intrahepatic saccular dilations occasionally may be visualized, and in long-standing disease, echogenic intraductal structures, representing sludge or calculi, are visible on US images. Bile duct wall thickening and small intraluminal protrusions also have been reported in patients with PSC. In end-stage disease, US signs of portal hypertension may be demonstrated.
Secondary biliary cirrhosis occurs as a part of the disease complex of PSC. Most patients with secondary biliary cirrhosis have no ultrasonographic abnormalities, but occasionally, irregular segmental duct dilatation can be observed.
Patients with advanced disease may show an increase in periportal echogenicity.
Cirrhotic changes, such as nodularity-increased liver attenuation and splenomegaly, also may be apparent.
Degree of confidence
US appearances of PSC are nonspecific; seldom can a confident diagnosis of PSC be made using US alone. The primary role of US is in the diagnosis of other causes of obstructive jaundice.
False positives/negatives
The differential diagnosis includes cholangiocarcinoma and other causes of ascending cholangitis and primary biliary cirrhosis. In addition to PSC, bile duct wall thickening is associated with hepatic clonorchiasis, recurrent pyogenic cholangitis (Oriental cholangiohepatitis), biliary ascariasis, peribiliary cysts, and AIDS-related cholangiopathy.
Nuclear Imaging
Radionuclide scanning using technetium-99m (99mTc) iminodiacetic acid compounds shows multiple focal areas of persistent activity distributed in the liver parenchyma. The clearance rate of the isotope through the liver is markedly prolonged, with gallbladder visualization achieved in 70% of patients. [16, 24] The specificity of 99mTc iminodiacetic acid scanning is low, but it is a valuable technique to use for quantifying biliary kinetics. (See the image below.)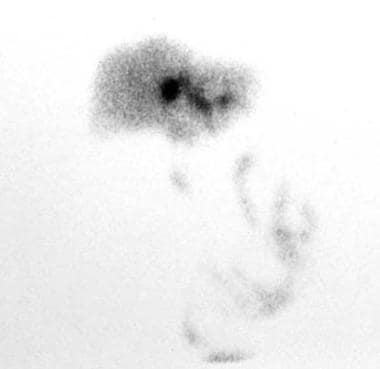 Technetium-99m iminodiacetic acid scan shows retention of the radionuclide proximal to strictures in the distribution of the left hepatic duct. Note the lack of filling of the gallbladder because of a previous cholecystectomy. Isotope has entered the small bowel.
Prolonged isotope transit time may occur in other causes of hepatic dysfunction; similarly, nonvisualization of the gallbladder may occur with cystic duct obstruction and chronic gallbladder disease.
What would you like to print?