Chondroblastoma Imaging
Author: Bonnie P Fines, MD; Chief Editor: Felix S Chew, MD, MBA, MEd more...
Updated: May 11, 2015
What would you like to print?
Overview
A chondroblastoma is a rare benign cartilaginous neoplasm that characteristically arises in the epiphysis of a long bone in young patients.[1, 2] Chondroblastomas account for less than 2% of all bone tumors, and metaphyseal or diaphyseal chondroblastoma occurs in only 2% of all cases of chondroblastoma.[3, 4]
The following 4 images are from the same patient with chondroblastoma:
Anatomy
Chondroblastomas typically occur in the epiphysis or apophysis of a long tubular bone, and the tumor is confined to the epiphysis in 40% of cases. In the remainder of the cases, the tumor extends to the adjacent metaphysis. Rarely, chondroblastomas arise in the metaphysis and, even less frequently, in the diaphysis.
The most commonly affected site is the lower extremity (72% of cases), in which 50% of the chondroblastomas occur around the knee (see the following images).
The femur is involved in 33% of cases; the humerus, in 20%; and the tibia, in 18%. Lesions in the proximal femur are 3 times more likely to occur in the greater trochanter than in the femoral head (as shown in the image below).
About 90% of the lesions in the humerus occur in the proximal humeral head (see the example in the following image).
Approximately 10% of all chondroblastomas occur in the small bones of the hands and feet; the talus and calcaneus are common sites (see the following image).
Other rare sites include the para-acetabular innominate bone, ribs, skull, mandible, maxillae, vertebrae, scapulae, patellae, and sternum (see examples in the images below)
Case reports describe occurrences in the temporal bone[5] and thoracic spine.[6]
Preferred examination
The preferred modalities for evaluation of chondroblastomas are standard radiography and either computed tomography (CT) scanning or magnetic resonance imaging (MRI).[7, 8, 9, 10]
Limitations of techniques
Underexposed radiographs may fail to depict a chondroblastoma. CT scanning may be useful for the better definition of possible cortical erosion and matrix mineralization, although this modality is usually inferior to MRI in the evaluation of transphyseal or transcortical extension, both of which are important factors in preoperative planning. Other modalities may be useful on a case-by-case basis.
Differential diagnosis and other problems to be considered
The differential diagnosis includes chondrosarcoma, skeletal eosinophilic granuloma, giant cell tumor, hemangioma of bone, and osteomyelitis. Other considerations are degenerative cysts of osteoarthritis (eg, subchondral cysts, geodes), intraosseous ganglion, and avascular necrosis.
Radiologic intervention
Rybak et al demonstrated that radiofrequency ablation can be used safely and effectively to treat selected cases of chondroblastoma.[11] In their study, radiofrequency ablation was performed in 17 patients with a single-tip electrode, using CT for guidance. Of 17 patients, all patients reported relief of symptoms on postprocedure day 1. Of the 14 available for follow-up, 12 had complete relief of symptoms with no need for medications and full return to all activities. The authors noted, however, that larger lesions beneath weight-bearing surfaces should be approached with caution because of an increased risk of articular collapse and recurrence.[11]
Angiographic embolotherapy has no role in cases of chondroblastomas, although image-guided percutaneous therapy for difficult surgical cases may become more common in the future.
Special concerns
Although a chondroblastoma has nonspecific findings, if any, at physical examination, the imaging findings of chondroblastomas are often straightforward when a nonaggressive epiphyseal lesion is identified in a child or adolescent patient. From an imaging standpoint, pitfalls reflect a lack of detection of the lesion or a misinterpretation of the radiologic findings.
Occasionally, a chondroblastoma may be mistaken for one of the entities listed in the Differential diagnosis and other problems to be considered section, above. However, these other entities are almost never confined to the epiphysis, with the exception of degenerative cysts, avascular necrosis, and clear cell chondrosarcomas (which usually occur in older patients), and infection (which usually occurs in patients with fever, leukocytosis, and an elevated erythrocyte sedimentation rate [ESR]).
Confusion may arise if the chondroblastoma extends across the physis and mimics a metaphyseal lesion or if it arises in an atypical location such as the pelvis. If the chondroblastoma crosses the physis, it may be mistaken for either a chondromyxoid fibroma or a giant cell tumor (which typically occurs in a slightly older patient population, generally has no mineralization, and usually has nonsclerotic borders). If the chondroblastoma occurs in the pelvis, it may mimic either fibrous dysplasia or a nonossifying fibroma, both of which are often multifocal "don't touch" lesions.
Radiography
The radiographic appearance of chondroblastomas is reflected by the benign, slow-growing nature of these lesions. The tumors typically arise in the epiphysis of a long bone, most commonly in the lower extremities. They are usually round or oval, geographic, lucent lesions with sharply marginated borders (see the first image below). The rim may be sclerotic, nonsclerotic, or incompletely sclerotic (see the second image below).
About 80% of chondroblastomas are 1-4 cm in diameter, although lesions as large as 13 cm have been reported. An eccentric position of the tumor in the epiphysis is most common, but central locations sometimes occur. Approximately 40-50% of chondroblastomas are confined to the epiphysis, with the remainder demonstrating metaphyseal extension, as shown in the first image above and the CT scans and MRI below.
Chondroblastomas have variable matrix mineralization patterns. About 40% are uniformly lucent, and 60% have a mottled opacity due to amorphous calcification or peripheral septae. The calcifications occur less often in the punctate, "rings and arcs" form. Opacity due to septae and calcification is best differentiated on CT scans.
With increasing size, chondroblastomas may extend into the metaphysis and cause endosteal scalloping, bulging of the overlying cortex, and/or periosteal reaction. Periosteal reaction occurs in 15-30% of cases and may be solid or laminated (see the image below), but it never occurs in the aggressive sunburst or Codman triangle pattern. The longer the lesion is present, the more likely the presence of periosteal reaction and matrix mineralization. Periosteal reaction may be distant from the actual tumor; this finding is not completely understood.
Computed Tomography
CT scanning with a review of the soft-tissue and bone windows is rarely necessary in chondroblastoma. Typically, this modality is reserved for the evaluation of aggressive or recurrent tumors. CT scans can depict matrix mineralization, soft-tissue extension, and cortical erosion, if present. A fluid-fluid level may be identified; this is a nonspecific finding that also occurs with aneurysmal bone cysts, giant cell tumors, and telangiectatic osteosarcoma.[12, 13] Coronal and sagittal reconstructions, like conventional CT scans, can be used to assess extension across the physeal plate. See the images below.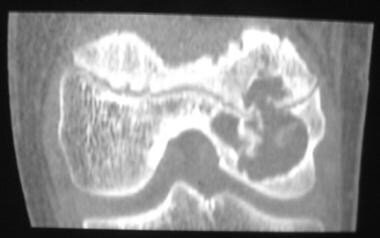 Coronal reconstructed computed tomography scan of the knee in a 12-year-old boy. This image confirms extension of the chondroblastoma into the metaphysis.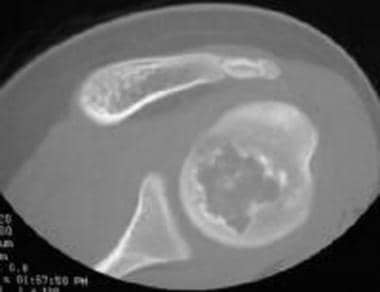 Axial computed tomography scan of a humeral head chondroblastoma in a 16-year-old girl. The mottled central opacity that was demonstrated on the plain radiograph was due to amorphous calcifications within the lesion, which occur in approximately 60% of all chondroblastomas.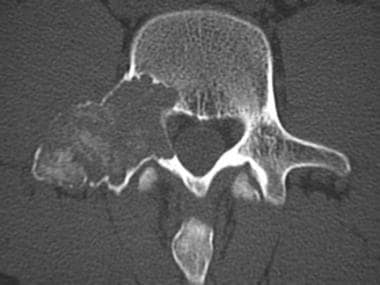 Axial computed tomography scan of a spinal chondroblastoma. Chondroblastoma rarely occurs in the spine.
Magnetic Resonance Imaging
MRI provides useful information regarding the extent of the tumor when a chondroblastoma extends to the metaphysis. The signal-intensity characteristics of the chondroblastoma reflect the prominent cellular stroma of the tumor, which has low signal intensity on T1-weighted images and variable signal intensity on T2-weighted images (see the following images).[14]
Foci of hypointense signals in the lesion on T2-weighted images are purportedly correlated with the histologic findings of abundant immature chondroid matrix, chondroblastic hypercellularity, calcification, and hemosiderin deposition.[14] Occasionally, the hypointensity is uniform throughout the lesion. As with CT scans, MRIs may show fluid-fluid levels (see the image below).
In contrast to chondroblastomas, the signal intensities of enchondromas, osteochondromas, and well-differentiated osteosarcomas tend to be high on T2-weighted images. Clear cell chondrosarcomas, however, show characteristics similar to those of chondroblastomas, and the signal intensity on T2-weighted images varies with the cellularity of the tumor and the extent of the adjacent inflammatory change.
The adjacent inflammatory changes, not seen with standard radiography or CT scans, are usually hyperintense on T2-weighted MRIs. This adjacent signal-intensity abnormality may be misleading, because its extent is discordant with the radiographic appearance. When such discordance is encountered, the radiographic findings should be the basis for the diagnosis.
Nuclear Imaging
Nuclear medicine studies have limited value in the evaluation of chondroblastomas. Avid uptake of the bone-seeking radiopharmaceutical agent may, in part or in whole, be due to the regional hyperemia of the tumor (see the following image).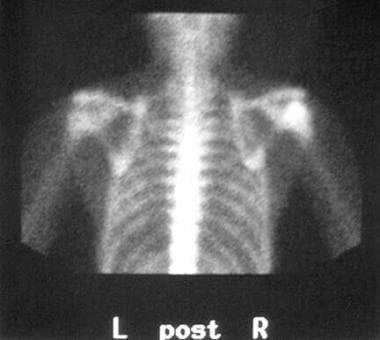 Bone scan of a humeral head chondroblastoma in a 16-year-old girl. Uptake of the bone-seeking agent may be due in part to the regional hyperemia of the tumor.
In the presence of a periosteal reaction, radionuclide uptake may extend beyond the lesion margins (see the image below). If radionuclide uptake is present in multiple areas, chondroblastomas are less likely than enchondromas or osteochondromas, which are more frequently multiple.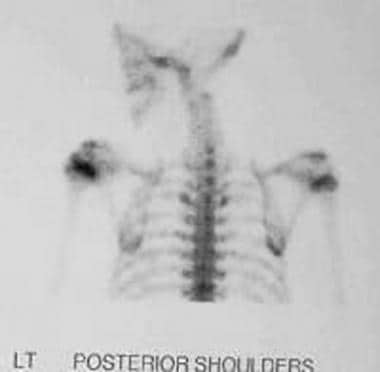 Bone scan of a proximal humeral chondroblastoma in a 17-year-old boy. In the presence of a periosteal reaction, uptake of the bone-seeking agent may extend beyond the lesion's margins.
Angiography
Angiography may be used to create a vascular road map of the chondroblastoma for surgical planning, but the angiograms usually show no vascular abnormality. A periosteal reaction and neovascularity at the cortical surface near the tumor site or in the adjacent synovium have been described. Vascular displacement may be present if the tumor is large.
References
Resnik D. Tumors and tumor-like lesions of bone: imaging and pathology of specific lesions. Diagnosis of Bone and Joint Disorders. 3rd ed. Philadelphia, Co: WB Saunders Co; 1995. 3711-20.

Brower AC, Moser RP, Gilkey FW. Chondroblastoma. Davidson AJ, ed. Cartilaginous Tumors of the Skeleton Skeleton: AFIP Atlas of Radiologic-Pathologic Correlations Fascicle II. Philadelphia, Pa: Hanley & Belfus; 1990. 74-113.

Demertzis JL, Kyriakos M, Connolly S, McDonald DJ. Surface-based chondroblastoma of the tibia: a unique presentation. Skeletal Radiol. 2015 Apr 8. [Medline].

Dutt L, Schade VL, Manoso MW. Calcaneal chondroblastoma with pathologic fracture and recurrence. J Foot Ankle Surg. 2015 Mar-Apr. 54(2):258-67. [Medline].

Shek TW. Chondroblastoma of temporal bone. Am J Otol. 2000 Jul. 21(4):597-8. [Medline].

Attar A, Ugur HC, Caglar YS, Erdogan A, Ozdemir N. Chondroblastoma of the thoracic vertebra. J Clin Neurosci. 2001 Jan. 8(1):59-60. [Medline].

Jaovisidha S, Siriapisith R, Chitrapazt N, De Zordo T, Woratanarat P, Subhadrabandhu T, et al. Radiological findings in 31 patients with chondroblastoma in tubular and non-tubular bones. Singapore Med J. 2013 May. 54(5):275-80. [Medline].

Wu CT, Chen AC, Wang CJ, Wang CW, Fu CJ, Wong YC. Chondroblastoma of the triquetrum. Pediatr Neonatol. 2013 Aug. 54(4):278-80. [Medline].

Ningegowda RV, Subramanian K, Suresh I. Chondroblastoma of the talus. J Foot Ankle Surg. 2013 Sep-Oct. 52(5):673-7. [Medline].

Bancroft LW, Pettis C, Wasyliw C. Magnetic resonance imaging of hip tumors. Magn Reson Imaging Clin N Am. 2013 Feb. 21(1):141-54. [Medline].

Rybak LD, Rosenthal DI, Wittig JC. Chondroblastoma: radiofrequency ablation--alternative to surgical resection in selected cases. Radiology. 2009 May. 251(2):599-604. [Medline].

Keenan S, Bui-Mansfield LT. Musculoskeletal lesions with fluid-fluid level: a pictorial essay. J Comput Assist Tomogr. 2006 May-Jun. 30(3):517-24. [Medline].

Van Dyck P, Vanhoenacker FM, Vogel J, et al. Prevalence, extension and characteristics of fluid-fluid levels in bone and soft tissue tumors. Eur Radiol. 2006 Dec. 16(12):2644-51. [Medline].

Jee WH, Park YK, McCauley TR, et al. Chondroblastoma: MR characteristics with pathologic correlation. J Comput Assist Tomogr. 1999 Sep-Oct. 23(5):721-6. [Medline].

Brien EW, Mirra JM, Kerr R. Benign and malignant cartilage tumors of bone and joint: their anatomic and theoretical basis with an emphasis on radiology, pathology and clinical biology. I. The intramedullary cartilage tumors. Skeletal Radiol. 1997 Jun. 26(6):325-53. [Medline].

Ghekiere J, Geusens E, Lateur L, et al. Chondroblastoma of the patella with a secondary aneurysmal bone cyst. Eur Radiol. 1998. 8(6):992-5. [Medline].

Khalili K, White LM, Kandel RA, Wunder JS. Chondroblastoma with multiple distant soft tissue metastases. Skeletal Radiol. 1997 Aug. 26(8):493-6. [Medline].

Tins B, Cassar-Pullicino V, McCall I, et al. Radiofrequency ablation of chondroblastoma using a multi-tined expandable electrode system: initial results. Eur Radiol. 2006 Apr. 16(4):804-10. [Medline].
Medscape Reference © 2011 WebMD, LLC