Rheumatoid Arthritis Spine Imaging
Author: Michele Calleja, MD, FRCR, MRCP; Chief Editor: Felix S Chew, MD, MBA, MEd more...
Updated: Nov 14, 2015
What would you like to print?
Overview
Rheumatoid arthritis (RA) is a chronic multisystemic disease of unknown cause. The characteristic feature is persistent inflammatory synovitis usually involving peripheral joints in a symmetrical distribution. Synovial inflammation causes cartilage destruction and bone erosion. Subsequently, joint deformity occurs. The axial skeleton, with the exception of the cervical spine, is affected later and less frequently. See the images below.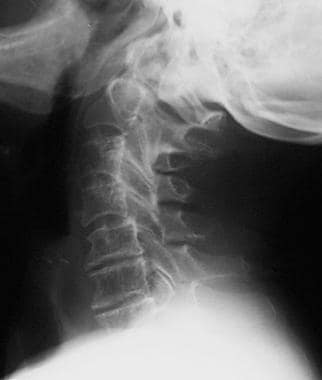 Lateral view of the cervical spine in a patient with rheumatoid arthritis shows erosion of the odontoid process.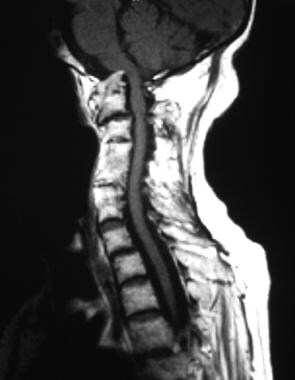 T1-weighted sagittal MRI of the cervical spine shows basilar invagination with cranial migration of an eroded odontoid peg. There is minimal pannus. The tip of the peg indents the medulla, and there is narrowing of the foramen magnum due to the presence of the peg. Inflammatory fusion of several cervical vertebral bodies is shown.
The clinical manifestations of RA were first clearly described in 1800 by Landre-Bouvais, a physician at the Salpetrière Hospital in Paris. It was not until 1859 that Garrod formally named the disease process.[1] As early as 1890, Garrod reported that 36% of his patients with RA had cervical-spine involvement. There is no example of RA in the extensive pathologic collection of William Hunter (1718-1783) at the Royal Infirmary in Glasgow, Scotland.
After the metacarpophalangeal joints, the most common region to be involved in RA is the cervical spine. This can lead to severe pain and disability, as well as various neurologic manifestations, although some patients with significant radiographic evidence of disease may be entirely asymptomatic. The frequency of radiographic signs of involvement of the cervical area is in the range of 43-86% depending on the duration of the disease.
RA activity in the cervical spine begins early, with 83% of patients in prospective studies developing anterior atlantoaxial subluxation within 2 years of disease onset. Activity in the cervical spine progresses clinically and radiologically in tandem with the peripheral-joint involvement. In fact, the severity of the peripheral erosive damage is strongly correlated with the degree of structural damage in the cervical spine. Features of spinal involvement in RA include erosive synovitis, ligamentous subluxation, osteopenia, and vertebral-body fractures.[2, 3]
The effect of disease duration on cervical spine changes is controversial. Cervical spine involvement has been described within 2 years of disease onset. In a 5-year study by Pellicci et al in 106 RA patients, radiological evidence of cervical spine involvement was present in 43% of patients at baseline and in 76% of patients at last follow-up.[4]
Rheumatoid arthritis is usually associated with significant morbidity, disability, and mortality. Spontaneous clinical remission is uncommon. After 5 years with the disease, about 33% of patients are unable to work, and after 10 years, around 50% of patients have substantial physical disability. Oostveen et al reported an overall mortality rate of 17% in patients with RA and radiographic evidence of cervical subluxation.[5] This rate is similar to that found in other series of patients with severe RA and no cervical involvement.
From a historical perspective, RA appears either to have been absent, relatively rare, or present in a milder form before the 19th century. The era of intensive investigation into the immunologic aspects of RA began following the discovery of rheumatoid factor (RhF) by Waaler in 1940 and by Rose et al in 1948.
See Rheumatoid Arthritis: In and Out of the Joint, a Critical Images slideshow, to help identify the distinguishing features of RA as well as the signs of extra-articular manifestations of this disfiguring disease.
The mainstay of imaging the rheumatoid spine is plain radiography.
Radiography
The mainstay of imaging the rheumatoid spine remains plain radiography. Flexion/extension views are necessary to assess the level of involvement and any evidence of instability. The need for further imaging by means of CT, MRI, or myelography may also be assessed during radiography.[6]
Anterior atlantoaxial subluxation
Only half of patients with radiographic evidence of atlantoaxial subluxation (AAS) are actually symptomatic. The role of plain radiography is to establish whether there are risk factors for cord compression.
Anterior atlantodental interval
AAS is defined as an anterior atlantodental interval (AADI) greater than 2.5 mm in adults. This distance is measured as the interosseous distance between the posterior aspect of the arch of the atlas and the anterior aspect of the odontoid process. The point of measurement of the joint is a subject of debate: the inferior point is the most popular.
There may be a slight variation in normal measurements between men and women. More importantly, it should be noted that an atlantodental interval of less than 2.5 mm, which changes considerably on flexion and extension, may also be abnormal. An AADI of 3-6 mm indicates early instability and implies transverse ligament damage. An AADI of greater than 6 mm indicates that the alar ligaments are also damaged. Some authors consider an AADI of greater than 9 mm to be an indication for surgical stabilization.
Posterior atlantodental interval
Studies suggest that the posterior atlantodental interval (PADI) is a better method of assessing AAS because the PADI directly measures the spinal canal and therefore shows how much is narrowed by the subluxation. The PADI is the distance between the posterior surface of the odontoid and the anterior margin of the posterior ring of the atlas. At all cervical spinal levels, the cord requires a minimum canal width of 10 mm; the CSF, 2 mm; and the dura, 2 mm. Therefore, a minimum PADI of 14 mm is required to avoid cord compression. The normal spinal canal measures 17-29 mm at C1.
In 1993, Boden et al investigated the predictive value of the PADI and found that a value of less that 14 mm on plain radiographs had a 97% ability to detect patients with neurological deficit.[7] Also, neurological recovery from surgery was unlikely if the PADI fell beneath 10 mm. Moreover, complete motor recovery occurred if the surgery was performed while the PADI was greater than 14 mm.
Detecting vertical subluxation
Regarding the McGregor method, VS has been defined as the protrusion of the odontoid tip by more than 4.5 mm above the McGregor line.[8] This is drawn between the posterosuperior aspect of the hard palate and the most caudal aspect of the occiput. However, it is not the most accurate of measurements in the rheumatoid spine due to odontoid erosion and often marked osteoporosis.
The Ranawat index is used to assess vertical subluxation (VS) by detecting settling of C1 on C2. The measurement is made from the center of the pedicles of C2 to a line connecting the midpoint of the anterior and posterior arches of C1. Normal values are 15 mm or greater for men and 13 mm or greater for women. Anything less than this confirms VS.
Confirming subaxial subluxation
The diameter of the spinal canal is actually a better predictor of the development of paralysis than the degree of subluxation of 1 vertebral body on another. The normal sagittal diameter from C3 to C7 is 14-23 mm. A spinal canal sagittal diameter of at least 14 mm is critical at all levels in the cervical spine, as this is the minimum space required for the cord, CSF, and dura.
The cervical height index (CHI) is a method for assessing subaxial subluxation that takes into account the contribution of subluxations at multiple levels, together with loss of disk height and bony collapse. The CHI is calculated by first measuring the distance from the center of the sclerotic ring of C2 (as used in the Ranawat method) to the tip of the spinous process of C2. This distance is then divided into the distance from the center of the C2 sclerotic ring to the midpoint of the inferior border of C7 vertebral body. A CHI of less than 2 has a sensitivity and specificity approaching 100% in predicting neurologic compromise.
These plain radiographic measurements, along with dynamic flexion-extension views provide a reliable and efficient means of assessing spinal involvement of rheumatoid disease and targeting at-risk patients, as well as selecting those who warrant further radiological studies with a view to surgical stabilization.
Thoracic and lumbar spinal involvement
RA changes in the apophyseal joints of the thoracic and lumbar spine are reported only infrequently. Alterations at the discovertebral junctions have also been noted. Intervertebral disk-space narrowing, irregularity of the subchondral margins of the vertebral bodies, erosion and sclerosis can be evident on radiography. Patients with RA who are receiving corticosteroid medication are predisposed to ischemic necrosis of bone. Although the femoral head is the usual site for this, vertebral bodies in the thoracic and lumbar regions of the spine can be affected. On radiography, this may be seen as vertebral collapse and fragmentation. Radiolucent fracture lines, which may accumulate gas from surrounding tissues, are an important clue to the diagnosis.
Magnetic Resonance Imaging
The major role for CT and MRI is in the preoperative assessment of the 2 main indications for surgical intervention, namely neurologic deficit and severe pain.[9, 10] The subluxations that are of a degree likely to result in paralysis need to be identified, as better outcomes are recorded with earlier interventions. The effect of pannus and intracanal granulations on the cord cannot be accurately assessed on plain images, despite the fact that a posterior atlantodental interval (PADI) of less than 14 mm is a sensitive indicator of paralysis risk.[11, 12, 6]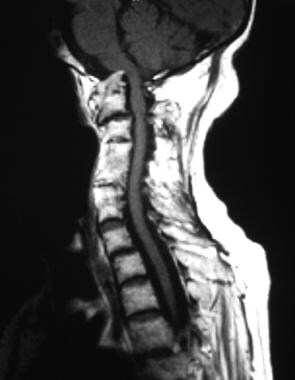 T1-weighted sagittal MRI of the cervical spine shows basilar invagination with cranial migration of an eroded odontoid peg. There is minimal pannus. The tip of the peg indents the medulla, and there is narrowing of the foramen magnum due to the presence of the peg. Inflammatory fusion of several cervical vertebral bodies is shown.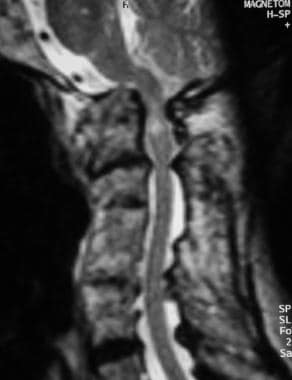 Sagittal T2-weighted MRI of the cervical spine in the same case as in Image above. The compromised foramen magnum is easily appreciated, and there is increased signal intensity within the upper cord; this is consistent with compressive myelomalacia. Further narrowing of the canal is seen at multiple levels.
Although CT scanning can document bone damage and alignment abnormalities, especially with more detailed multiplanar reconstruction, MRI has become the preferred modality for evaluation of the spinal cord and neural elements.[13] It demonstrates the presence and effect of pannus on the spinal cord, and is useful in assessing its resolution following posterior fusion and stabilization. On MRI, the direct relationships of the odontoid to the medulla and brainstem can be documented. Spinal cord signal can be assessed; edematous changes in the cord are associated with a poor clinical status, as well as a poor prognosis and a poor postoperative outcome.[14, 15]
The major indications for MRI in RA are abnormal measurements on plain radiographs,[16] unremitting suboccipital/cervical pain, progressive/severe subluxations, symptoms of cord/brainstem compression, and vertebral-artery compression.
Dynamic MRI has been used with the patient in flexed or extended positions and in the traditional neutral position. Roca et al suggested that functional (flexed position) MRIs be obtained in patients with RA in whom cervical subluxation is suspected when routine MRI findings in the neutral position are normal.[17] Others recommend functional MRI as a preoperative examination.[18]
Pathologic series have suggested that cord atrophy in rheumatoid cervical myelopathy results from repeated traction injury as a result of compression, stretch, and movement as opposed to an inflammatory process per se. This is unsurprising considering that the atlantoaxial joint is the most mobile segment of the cervical spine.
In a study looking at those features of rheumatoid cervical myelopathy on MRI that were associated with subsequent deterioration, it was found that where axial compression or impingement was present on MRI, 60% experienced a deterioration resulting in death or surgical intervention over a median period of 12 months.
When functional imaging is performed, patient monitoring is advised, and rapid sequences are desirable because patients may find the flexed position uncomfortable. Some authors suggest that functional MRI is unnecessary and even contraindicated in patients in whom medullary or spinal cord compression is discovered on studies made in the neutral position.
Degree of confidence
The correlation of MRI findings with symptoms is crucial before any surgical decisions can be made. There is a close correlation between the severity of cervical myelopathy and the degree of compression, as demonstrated by MRI. Besides influencing the selection of patients for spinal surgery, MRIs can help in planning surgical procedures, especially those in patients with more than 2 levels of cord compression.
References
Garrod AB. The nature and treatment of gout and rheumatic gout. London: Walton and Maberly; 1859.

Cassar-Pullicino VN. The spine in rheumatological disorders. Imaging. 1999. 11:104-18.

Resnick D, Kyriakos M, Greenway GD. Rheumatoid arthritis. Diagnosis of Bone and Joint Disorders. 4th ed. Philadelphia: WB Saunders; 2002. 2: 891-974.

Pellicci PM, Ranawat CS, Tsairis P, Bryan WJ. A prospective study of the progression of rheumatoid arthritis of the cervical spine. J Bone Joint Surg Am. 1981 Mar. 63(3):342-50. [Medline].

Oostveen JC, Roozeboom AR, van de Laar MA, Heeres J, den Boer JA, Lindeboom SF. Functional turbo spin echo magnetic resonance imaging versus tomography for evaluating cervical spine involvement in rheumatoid arthritis. Spine. 1998 Jun 1. 23(11):1237-44. [Medline].

Joaquim AF, Ghizoni E, Tedeschi H, Appenzeller S, Riew KD. Radiological evaluation of cervical spine involvement in rheumatoid arthritis. Neurosurg Focus. 2015 Apr. 38 (4):E4. [Medline].

Boden SD, Dodge LD, Bohlman HH, Rechtine GR. Rheumatoid arthritis of the cervical spine. A long-term analysis with predictors of paralysis and recovery. J Bone Joint Surg Am. 1993 Sep. 75(9):1282-97. [Medline].

McGregor M. The significance of certain measurments of the skull in the diagnosis of basilar impression. Br J Radiol. 1948. 21:171-81.

Kelleher MO, McEvoy L, Yang JP, Kamel MH, Bolger C. Lateral mass screw fixation of complex spine cases: a prospective clinical study. Br J Neurosurg. 2008 Oct. 22(5):663-8. [Medline].

Cakir B, Kafer W, Reichel H, Schmidt R. [Surgery of the cervical spine in rheumatoid arthritis. Diagnostics and indication]. Orthopade. 2008 Nov. 37(11):1127-40; quiz 1141. [Medline].

Söderman T, Olerud C, Shalabi A, Alavi K, Sundin A. Static and dynamic CT imaging of the cervical spine in patients with rheumatoid arthritis. Skeletal Radiol. 2015 Feb. 44 (2):241-8. [Medline].

Narváez J, Narváez JA, Serrallonga M, de Lama E, Hernández-Gañan J, Gómez-Vaquero C, et al. Subaxial cervical spine involvement in symptomatic rheumatoid arthritis patients: Comparison with cervical spondylosis. Semin Arthritis Rheum. 2015 Aug. 45 (1):9-17. [Medline].

Narvaez JA, Narvaez J, Serrallonga M, et al. Cervical spine involvement in rheumatoid arthritis: correlation between neurological manifestations and magnetic resonance imaging findings. Rheumatology (Oxford). 2008 Dec. 47(12):1814-9. [Medline].

Dvorak J, Grob D, Baumgartner H, et al. Functional evaluation of the spinal cord by magnetic resonance imaging in patients with rheumatoid arthritis and instability of upper cervical spine. Spine. 1989 Oct. 14(10):1057-64. [Medline].

Janssen H, Weissman BN, Aliabadi P, Zamani AA. MR imaging of arthritides of the cervical spine. Magn Reson Imaging Clin N Am. 2000 Aug. 8(3):491-512. [Medline].

Roche CJ, Eyes BE, Whitehouse GH. The rheumatoid cervical spine: signs of instability on plain cervicalradiographs. Clin Radiol. 2002 Apr. 57(4):241-9. [Medline].

Roca A, Bernreuter WK, Alarcon GS. Functional magnetic resonance imaging should be included in the evaluation the cervical spine in patients with rheumatoid arthritis. J Rheumatol. 1993 Sep. 20(9):1485-8. [Medline].

Weissman BN, Aliabadi P, Weinfeld MS, et al. Prognostic features of atlantoaxial subluxation in rheumatoid arthritispatients. Radiology. 1982 Sep. 144(4):745-51. [Medline].
Medscape Reference © 2011 WebMD, LLC