Subclavian Vein Thrombosis Treatment & Management
Author: Shabir Bhimji, MD, PhD; Chief Editor: Mary C Mancini, MD, PhD, MMM more...
Updated: Aug 03, 2015
What would you like to print?
Approach Considerations
In patients with effort-induced vein thrombosis of less than 2 weeks' duration, thrombolytic therapy is recommended. Chronic axillary-subclavian vein thrombosis (ASVT) does not respond to thrombolytics and is better treated either conservatively with warfarin or, if symptoms are severe, with surgical bypass.
Surgery is rarely indicated for ASVT associated with central lines. Thrombolytic drug therapy is rarely recommended for patients who present with chronic subclavian vein thrombosis.
Medical Therapy
Initial treatment of subclavian vein thrombosis consists of conservative management, which includes rest, elevation of the limb, and application of heat or warm compresses.
In a few patients who have minimal symptoms and no anatomic defects, physical therapy is always the first goal of therapy. Structured physical therapy may help the patient lose weight and loosens the adhesions at the site of obstruction. Physical therapy may also improve range of motion, decrease swelling, and help decrease pain.
The different natural histories of Paget–von Schrötter syndrome and catheter-induced subclavian vein thrombosis indicate different treatment protocols. Because large series of patients with this condition are lacking, the therapeutic approach to subclavian vein thrombosis is mainly anecdotal.
Anticoagulation
Unfractionated heparin (UFH) or low-molecular-weight heparin (LMWH) can maintain the patency of the venous collaterals and reduce the chance of propagation of the thrombus. In all cases, heparin therapy is followed by warfarin therapy, with a target international normalized ratio (INR) of 2-3.
Heparin is usually the initial therapy, followed by warfarin. LMWH has been used for both inpatient and outpatient therapy. Most studies have shown that LMWH is just as effective as UFH, but the former is associated with a significantly decreased incidence of venous thromboembolism.
Warfarin is continued for 6-9 months, and an INR of 2-3 is maintained. Patients who only receive inpatient heparin and are no longer on warfarin therapy are at risk for recurrence and long-term disability. Anticoagulation is required in all patients for a period of 6-9 months or longer, depending on the cause of the thoracic outlet syndrome. In some patients who also have hypercoagulable disorders, treatment is lifelong.
Levy et al, in a study involving 300 patients with upper-extremity deep vein thrombosis (DVT; including 161 with subclavian obstruction and 107 with axillary obstruction), concluded that in view of the low (2%) incidence of pulmonary embolism (PE) attributable to upper-extremity DVT, regardless of anticoagulant therapy, analysis of risks vs benefits does not favor routine anticoagulation in this setting.[9]
Paget–von Schrötter syndrome
Currently, most investigators favor using thrombolytic therapy to rapidly restore the patency of the vein. Thrombolytic therapy should be initiated within 5-7 days of venous thrombosis. Fortunately, this syndrome occurs in fairly young individuals who do not have multiple medical illnesses that may contraindicate thrombolytic therapy. Thrombolytic therapy is preferred to thrombectomy because it does not carry the risks of an operation and the possibility of an intimal tear related to the embolectomy catheter.
In some cases, therapy may involve diagnostic venography, followed by thrombolysis, followed by several weeks of anticoagulation. If symptoms recur, a repeat venography may be indicated, possibly followed by balloon dilatation with or without stenting of the subclavian vein, and more anticoagulation. (See the image below.) The desired INR is 2-3. The goal of therapy is to minimize the likelihood of significant symptoms of venous obstruction.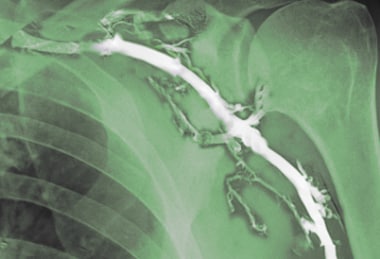 Recanalization after thrombolytic therapy and stent placement. Patient underwent first rib resection and scalenectomy later.
To perform catheter-directed thrombolysis, the catheter is embedded in the thrombus. Urokinase infusion is started with a loading dose of 250,000 IU, followed by 4000 IU for the first hour, and 1000 IU for the next 24 hours. Heparin is infused at a rate of 800 IU/hr. Monitoring is performed by maintaining a fibrinogen level of at least 80-100 mg/dL. If venous patency is assured, warfarin is maintained for 3-6 months.
The removal of urokinase from the US market forced interventional radiologists to adopt less clinically defined protocols using tissue plasminogen activator (tPA). As the clinical situation with thrombolytic agents evolves and newer agents enter the market, flexibility in thrombolytic administration protocols will be paramount.
Catheter-associated subclavian vein thrombosis
Prophylaxis in patients undergoing chemotherapy may include giving a fixed 1-mg dose of warfarin sodium daily, beginning on day 3 before catheter placement. This has been shown to lower the incidence of thrombosis. Exercise caution in selecting patients for thrombolytic therapy because patients with catheter-associated subclavian thrombosis often have significant comorbidity.
Surgical Therapy
Indications for surgical treatment include the following:
Presence of an anatomic anomaly, such as an anomalous subclavius or scalenus anterior, congenital fibromuscular bands, or narrowing of the costoclavicular space from depression of the shoulder

Rethrombosis of the vein after previous thrombolytic treatment

Endoluminal stent placement to prevent stent fracture from compression against the first rib
Possible forms of surgical treatment include the following:
Embolectomy

Bypass

First-rib resection via a transaxillary or supraclavicular approach

Medial subtotal claviculectomy
Conventional approach
Preoperative evaluation
The purpose of the preoperative evaluation is to determine whether there is any known or unsuspected coexisting disease that should delay, modify, or preclude the operation. Obtain a history and physical examination to identify risk factors and warning signs of coexisting diseases. This information guides further direction and depth of study. Relevant laboratory tests include the following:
Complete blood count (CBC)

Serum electrolyte levels

Urinalysis

Chest radiography

Electrocardiography (ECG)

Clotting profile

Crossmatch

Stool examination for blood.
Consultations should include a general internal medicine physician and an anesthesiologist.
Procedure
A first-rib resection may be carried out via either the transaxillary route[10] or the supraclavicular route. Typically, the transaxillary route is simpler and safer and offers cosmetic benefits. The procedure is described below.
The patient is placed in the lateral thoracotomy position with the arm elevated. A skin incision is made in the axillary hairline between the pectoralis major and the latissimus dorsi. The first rib is reached by blunt dissection in the axillary tunnel, with care taken to avoid the second intercostobrachial nerve.
The subclavian artery and vein are identified, and the subclavius tendon is divided. Then, the scalenus anterior is identified and divided at the point where it inserts onto the first rib, anterior to the artery.
At this point, a digital search is made for anomalous bands. They may originate from the C7 transverse process, from an incomplete cervical rib, or from the scalenus medius.
After any bands are divided, the scalenus medius and the intercostal muscle attachments are pushed off the first rib. When all the muscle fibers are cleared and the T1 nerve root is visualized and protected, the rib is divided and removed.
The wound is irrigated with saline to detect pneumothorax. If pneumothorax is present, it can be treated by inserting a small chest tube into the pleural space. The tube can be removed in the recovery room if the lung is fully expanded and no air leak is present.
Postoperative care
Pain relief is one of the most important aspects of postoperative care. Various forms of narcotics can be administered parenterally or by patient-controlled analgesia devices. The importance of adequate pain control cannot be overemphasized.
Vital signs should be closely monitored as per unit protocol, then every 4 hours for 24 hours, and then every shift. In most cases, a Foley catheter is not required. Administer 5% dextrose in lactated Ringer solution at a rate of 125 mL/hr, and keep the arm elevated.
If the operation is not complicated, routine postoperative laboratory tests are not required. The prothrombin time (PT) and activated partial thromboplastin time (aPTT) should be measured every 6 hours if heparin therapy is started.
Early mobilization is important, and discharge planning should begin at admission. Patients usually are discharged when they are medically stable, afebrile, tolerant of oral intake, ambulatory, and reasonably comfortable with the ongoing rehabilitation exercises.
Endovascular treatment
Angioplasty with stenting is an excellent way to maintain venous patency; though data and follow-up on this technique are limited. When the superior vena cava is also involved, current endovascular techniques allow for stenting of the vessel, which produces excellent results.
Suction thrombectomy with an AngioJet System (Possis Medical, Minneapolis, MN) is often used with thrombolysis when the thrombus is localized. The procedure can rapidly extract the thrombus and reduce both the dose and duration of thrombolytic therapy. Suction thrombectomy is most useful for patients who present early. Surgical thrombectomy is fast becoming the procedure of choice; it is a better alternative to simple anticoagulation.
Long-Term Monitoring
Follow up carefully with patients with subclavian vein thrombosis to ensure that the condition does not recur. Patients with persistent symptoms and evidence of recurrence may require radiologic workup and, possibly, surgery.
References
Paget J. Clinical Lectures and Essays. London, UK: Longmans Green and Co; 1875.

Von Schroetter L. Nothragel Handbuch der pathologie and therapie. Vienna, Austria: Holder; 1884.

Hughes ESR. Venous obstruction in the upper extremity (Paget-Schroetter Syndrome). Collective Reviews. 1949. 88:89-127.

Ge X, Cavallazzi R, Li C, et al. Central venous access sites for the prevention of venous thrombosis, stenosis and infection. Cochrane Database Syst Rev. 2012. 3:CD004084. [Medline].

Berea-Baltierra R, Rivas-Ruiz R, Vela-Martinez E, Sevilla-Gonzalez Mde L, Talavera-Pina JO, Valencia-Jimenez E, et al. Risk factors for subclavian vein thrombosis in cancer patients with total parenteral nutrition. J Clin Med Res. 2014 Oct. 6 (5):345-53. [Medline].

Karkee DV. Subclavian vein dialysis access catheter-complications are low. Nepal Med Coll J. 2010 Dec. 12(4):248-52. [Medline].

Margey R, Schainfeld RM. Upper Extremity Deep Vein Thrombosis: The Oft-forgotten Cousin of Venous Thromboembolic Disease. Curr Treat Options Cardiovasc Med. 2011 Apr. 13(2):146-58. [Medline].

Bosma J, Vahl AC, Coveliers HM, Rauwerda JA, Wisselink W. Primary subclavian vein thrombosis and its long-term effect on quality of life. Vascular. 2011 Nov 29. [Medline].

Levy MM, Albuquerque F, Pfeifer JD. Low incidence of pulmonary embolism associated with upper-extremity deep venous thrombosis. Ann Vasc Surg. 2012 Oct. 26 (7):964-72. [Medline].

Roos DB. Axillary-subclavian vein occlusion. Rutherford RB, ed. Vascular Surgery. Philadelphia, Pa: WB Saunders; 1984. 1385-93.

Aburahma AF, Sadler D, Stuart P. Role of thrombolytic therapy in axillary-subclavian vein thrombosis. W V Med J. 1990 Apr. 86(4):144-9. [Medline].

Aburahma AF, Sadler DL, Robinson PA. Axillary subclavian vein thrombosis. Changing patterns of etiology, diagnostic, and therapeutic modalities. Am Surg. 1991 Feb. 57(2):101-7. [Medline].

Anderson AJ, Krasnow SH, Boyer MW. Thrombosis: the major Hickman catheter complication in patients with solid tumor. Chest. 1989 Jan. 95(1):71-5. [Medline].

Becker DM, Philbrick JT, Walker FB 4th. Axillary and subclavian venous thrombosis. Prognosis and treatment. Arch Intern Med. 1991 Oct. 151(10):1934-43. [Medline].

Becker GJ, Holden RW, Rabe FE. Local thrombolytic therapy for subclavian and axillary vein thrombosis. Treatment of the thoracic inlet syndrome. Radiology. 1983 Nov. 149(2):419-23. [Medline].

Bern MM, Bothe A Jr, Bistrian B. Prophylaxis against central vein thrombosis with low-dose warfarin. Surgery. 1986 Feb. 99(2):216-21. [Medline].

Bern MM, Lokich JJ, Wallach SR. Very low doses of warfarin can prevent thrombosis in central venous catheters. A randomized prospective trial. Ann Intern Med. 1990 Mar 15. 112(6):423-8. [Medline].

Bottino J, McCredie KB, Groschel DH. Long-term intravenous therapy with peripherally inserted silicone elastomer central venous catheters in patients with malignant diseases. Cancer. 1979 May. 43(5):1937-43. [Medline].

Campbell CB, Chandler JG, Tegtmeyer CJ. Axillary, subclavian, and brachiocephalic vein obstruction. Surgery. 1977 Dec. 82(6):816-26. [Medline].

Coon WW, Willis PW 3d. Thrombosis of axillary and subclavian veins. Arch Surg. 1967 May. 94(5):657-63. [Medline].

Coon WW, Willis PW 3d. Thrombosis of the deep veins of the arm. Surgery. 1968 Nov. 64(5):990-4. [Medline].

Dellinger RP, Savage PJ. Axillary vein thrombosis simulating superior vena cava syndrome. South Med J. 1984 Apr. 77(4):507-10. [Medline].

Drapanas T, Curran WL. Thrombectomy in the treatment of "effort" thrombosis of the axillary and subclavian veins. J Trauma. 1966 Jan. 6(1):107-19. [Medline].

Gagne PJ, Martinez JM. Treatment of upper extremity phlegmasia cerulea dolens with intraarterial thrombolytics. J Vasc Surg. 1999. 33(6):633-9.

Goldhaber SZ, Hennekens CH. Time trends in hospital mortality and diagnosis of pulmonary embolism. Am Heart J. 1982 Aug. 104(2 Pt 1):305-6. [Medline].

Haire WD. Arm vein thrombosis. Clin Chest Med. 1995 Jun. 16(2):341-51. [Medline].

Haire WD, Lynch TG, Lieberman RP. Utility of duplex ultrasound in the diagnosis of asymptomatic catheter- induced subclavian vein thrombosis. J Ultrasound Med. 1991 Sep. 10(9):493-6. [Medline].

Haire WD, Lynch TG, Lund GB. Limitations of magnetic resonance imaging and ultrasound-directed (duplex) scanning in the diagnosis of subclavian vein thrombosis. J Vasc Surg. 1991 Mar. 13(3):391-7. [Medline].

Lee MC, Grassi CJ, Belkin M. Early operative intervention after thrombolytic therapy for primary subclavian vein thrombosis: an effective treatment approach. J Vasc Surg. 1998 Jun. 27(6):1101-7; discussion 1107-8. [Medline].

Lokich JJ, Bothe A Jr, Benotti P. Complications and management of implanted venous access catheters. J Clin Oncol. 1985 May. 3(5):710-7. [Medline].

Matas R. Primary thrombosis of the axillary vein caused by strain. Am J Surg. 1934. 24:642-56.

Ochsner A, Debakey ME, Decamp RT. Thromboembolism-analysis of cases at Charity Hospital in New Orleans over a 12-year period. Ann Surg. 1951. 134:405.

Roos DB. Congenital anomalies associated with thoracic outlet syndrome. Anatomy, symptoms, diagnosis, and treatment. Am J Surg. 1976 Dec. 132(6):771-8. [Medline].

Ross AH, Griffith CD, Anderson JR. Thromboembolic complications with silicone elastomer subclavian catheters. JPEN J Parenter Enteral Nutr. 1982 Jan-Feb. 6(1):61-3. [Medline].

Suwer D. Inhibition of intravascular fibrinolytic activation by trauma. Surg Forum. 1965. 16:124-6.

Taylor LM Jr, McAllister WR, Dennis DL. Thrombolytic therapy followed by first rib resection for spontaneous ("effort") subclavian vein thrombosis. Am J Surg. 1985 May. 149(5):644-7. [Medline].

Thompson RW. Challenges in the treatment of thoracic outlet syndrome. Tex Heart Inst J. 2012. 39(6):842-3. [Medline]. [Full Text].

Thompson RW. Comprehensive management of subclavian vein effort thrombosis. Semin Intervent Radiol. 2012 Mar. 29(1):44-51. [Medline]. [Full Text].

Tilney ML, Griffiths HJ, Edwards EA. Natural history of major venous thrombosis of the upper extremity. Arch Surg. 1970 Dec. 101(6):792-6. [Medline].

Zimmermann R, Morl H, Harenberg J. Urokinase therapy of subclavian-axillary vein thrombosis. Klin Wochenschr. 1981 Aug 3. 59(15):851-6. [Medline].
Medscape Reference © 2011 WebMD, LLC