Esophageal Rupture Workup
Author: Dale K Mueller, MD; Chief Editor: Mary C Mancini, MD, PhD, MMM more...
Updated: Mar 12, 2015
What would you like to print?
Laboratory Studies
Diagnosis of esophageal rupture depends on a high index of clinical awareness and relies on confirmatory radiographic findings. However, laboratory tests (eg, complete blood count [CBC] and pH test) should be ordered to establish baseline values and to help with follow-up care.
Evidence of leukocytosis on the CBC is commonplace for almost all esophageal perforations. Esophageal perforations with penetrance into the pleural cavity have pH levels lower than 7.2.
Imaging Studies
Although diagnostic images may not yield significant findings if obtained early, posteroanterior and lateral chest and upright abdominal radiographs (diagnostic in 90% of cases) should be obtained on an urgent basis to look for the following conditions:
Hydrothorax - This will usually be on the left

Hydropneumothorax

Subcutaneous emphysema

Mediastinal widening without emphysema

Subdiaphragmatic air

Pleural effusions - These are more common on the left but can occur bilaterally and, in rare cases, on the right only
Water-soluble contrast (eg, diatrizoate meglumine – diatrizoate sodium) or barium esophagography following plain radiography may be performed to look for extravasation of contrast and to determine the location and extent of the rupture or tear (see the image below). In 22% of patients considered to have a strong likelihood of esophageal perforation whose water-soluble contrast studies reveal negative results, barium contrast studies reveal esophageal perforation.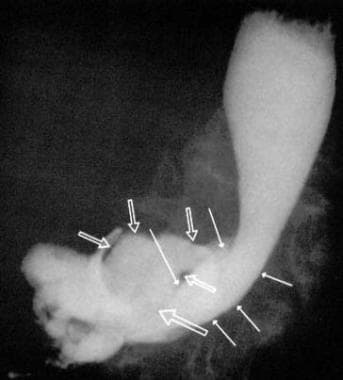 Water-soluble contrast esophagogram from patient with esophageal perforation after esophageal dilation shows contrast leak (arrowheads) and normal esophageal lumen (arrows).
If contrast esophagography cannot be performed, cannot localize a rupture, or is nondiagnostic, computed tomography (CT) may be performed.[12] A study by Suarez-Poveda found CT esophagography to yield good diagnostic results in the setting of suspected esophageal rupture.[13]
If the patient has been sedated, contrast studies should be delayed until the gag reflex has returned. Look for the following signs:
Air in the soft tissue of the mediastinum surrounding the esophagus

Abscess cavities in the pleural space/mediastinum

Communication of the esophagus with mediastinal fluid collections
For more information on imaging of this condition, see Esophagus, Tear.
Other Tests
Other tests may be considered, depend on the results of esophagography. Magnetic resonance imaging (MRI), CT, or both may be indicated for aortic dissection. Ventilation/perfusion (V/Q) scanning or CT of the lungs may reveal pulmonary embolism. Electrocardiography (ECG) may exclude myocardial infarction or associated cardiac abnormalities.
Diagnostic Procedures
Esophagogastroduodenoscopy (EGD) is not recommended for acute esophageal rupture. Thoracocentesis, though rarely needed, may reveal acidic pH, elevated salivary amylase, purulent malodorous fluid, or the presence of undigested food in pleural aspirate, which help confirm the diagnosis.
References
Derbes VJ, Mitchell RE Jr. Hermann Boerhaave's (1) atrocis, nec Descripti priu, morbi Historia; (2) the first translation of the classic case report of rupture of the esophagus, with annotations. Bull Med Libr Assoc. 1955. 43:217.

Scott HJ, Rosin RD. Thoracoscopic repair of a transmural rupture of the oesophagus (Boerhaave's syndrome). J R Soc Med. 1995 Jul. 88(7):414P-415P. [Medline].

Bobo WO, Billups WA, Hardy JD. Boerhaave's syndrome: a review of six cases of spontaneous rupture of the esophagus secondary to vomiting. Ann Thorac Surg. 1969. 172:1034-1038.

Curci JJ, Horman MJ. Boerhaave's syndrome: The importance of early diagnosis and treatment. Ann Surg. 1976 Apr. 183(4):401-8. [Medline].

Bladergroen MR, Lowe JE, Postlethwait RW. Diagnosis and recommended management of esophageal perforation and rupture. Ann Thorac Surg. 1986 Sep. 42(3):235-9. [Medline].

Bradley SL, Pairolero PC, Payne WS, Gracey DR. Spontaneous rupture of the esophagus. Arch Surg. 1981 Jun. 116(6):755-8. [Medline].

Brewer LA, Carter R, Mulder GA, Stiles QR. Options in the management of perforations of the esophagus. The American Journal of Surgery. 1986 Jul. 152:62-69. [Medline].

Henderson JA, Peloquin AJ. Boerhaave revisited: spontaneous esophageal perforation as a diagnostic masquerader. Am J Med. 1989 May. 86(5):559-67. [Medline].

Richardson JD, Martin LF, Borzotta AP, Polk HC Jr. Unifying concepts in treatment of esophageal leaks. Am J Surg. 1985 Jan. 149(1):157-62. [Medline].

Garas G, Zarogoulidis P, Efthymiou A, Athanasiou T, Tsakiridis K, Mpaka S, et al. Spontaneous esophageal rupture as the underlying cause of pneumothorax: early recognition is crucial. J Thorac Dis. 2014 Dec. 6(12):1655-8. [Medline]. [Full Text].

Bhatia P, Fortin D, Inculet RI, Malthaner RA. Current concepts in the management of esophageal perforations: a twenty-seven year Canadian experience. Ann Thorac Surg. 2011 Jul. 92(1):209-15. [Medline].

Jaworski A, Fischer R, Lippmann M. Boerhaave's syndrome. Computed tomographic findings and diagnostic considerations. Arch Intern Med. 1988 Jan. 148(1):223-4. [Medline].

Suarez-Poveda T, Morales-Uribe CH, Sanabria A, Llano-Sánchez A, Valencia-Delgado AM, Rivera-Velázquez LF, et al. Diagnostic performance of CT esophagography in patients with suspected esophageal rupture. Emerg Radiol. 2014 Oct. 21(5):505-10. [Medline].

Brown RH Jr, Cohen PS. Nonsurgical management of spontaneous esophageal perforation. JAMA. 1978 Jul 14. 240(2):140-2. [Medline].

Cameron JL, Kieffer RF, Hendrix TR. Selective nonoperative management of contained intrathoracic esophageal disruptions. Ann Thorac Surg. 1979. 27:404-408.

Shaffer HA Jr, Valenzuela G, Mittal RK. Esophageal perforation. A reassessment of the criteria for choosing medical or surgical therapy. Arch Intern Med. 1992 Apr. 152(4):757-61. [Medline].

Sabanathan S, Eng J, Richardson J. Surgical management of intrathoracic oesophageal rupture. Br J Surg. 1994 Jun. 81(6):863-5. [Medline].

Fischer A, Thomusch O, Benz S, von Dobschuetz E, Baier P, Hopt UT. Nonoperative treatment of 15 benign esophageal perforations with self-expandable covered metal stents. Ann Thorac Surg. 2006 Feb. 81(2):467-72. [Medline].

Kim JH, Song HY, Shin JH, et al. Palliative treatment of unresectable esophagogastric junction tumors: balloon dilation combined with chemotherapy and/or radiation therapy and metallic stent placement. J Vasc Interv Radiol. 2008 Jun. 19(6):912-7. [Medline].

Harries K, Masoud A, Brown TH, Richards DG. Endoscopic placement of fibrin sealant as a treatment for a long-standing Boerhaave's fistula. Dis Esophagus. 2004. 17(4):348-50. [Medline].

Schweigert M, Beattie R, Solymosi N, Booth K, Dubecz A, Muir A, et al. Endoscopic stent insertion versus primary operative management for spontaneous rupture of the esophagus (Boerhaave syndrome): an international study comparing the outcome. Am Surg. 2013 Jun. 79(6):634-40. [Medline].

Lyons WS, Seremetis MG, deGuzman VC, Peabody JW Jr. Ruptures and perforations of the esophagus: the case for conservative supportive management. Ann Thorac Surg. 1978 Apr. 25(4):346-50. [Medline].

Pate JW, Walker WA, Cole FH Jr. Spontaneous rupture of the esophagus: a 30-year experience. Ann Thorac Surg. 1989 May. 47(5):689-92. [Medline].

Griffin SM, Lamb PJ, Shenfine J, Richardson DL, Karat D, Hayes N. Spontaneous rupture of the oesophagus. Br J Surg. 2008 Sep. 95(9):1115-20. [Medline].

Anderson RL. Spontaneous rupture of the esophagus. Am J Surg. 1957 Feb. 93(2):282-90. [Medline].

DeMeester TR. Perforation of the esophagus. Ann Thorac Surg. 1986 Sep. 42(3):231-2. [Medline].

Graeber GM, Niezgoda JA, Albus RA, Burton NA, Collins GJ, Lough FC, et al. A comparison of patients with endoscopic esophageal perforations and patients with Boerhaave's syndrome. Chest. 1987 Dec. 92(6):995-8. [Medline].

Infatolino A, Ter RB. Rupture and perforation of the esophagus. The esophagus. 3rd ed. 1999. 595-605.

Justicz AG, Symbas PN. Spontaneous rupture of the esophagus: immediate and late results. Am Surg. 1991 Jan. 57(1):4-7. [Medline].

Kimberley KL, Ganesh R, Anton CK. Laparoscopic repair of esophageal perforation due to Boerhaave syndrome. Surg Laparosc Endosc Percutan Tech. 2011 Aug. 21(4):e203-5. [Medline].

Kossick PR. Spontaneous rupture of the oesophagus. S Afr Med J. 1973 Oct 6. 47(39):1807-9. [Medline].

Larrieu AJ, Kieffer R. Boerhaave syndrome: report of a case treated non-operatively. Ann Surg. 1974. 181:452-454.

Macchi V, Porzionato A, Bardini R, Parenti A, De Caro R. Rupture of Ascending Aorta Secondary to Esophageal Perforation by Fish Bone. J Forensic Sci. 2008 Jul 17. [Medline].

Netter FH. Upper digestive tract. The Ciba collection of medical illustrations. 1971. 3:44.

O'Connell ND. Spontaneous rupture of the esophagus. Am J Roentgenol Radium Ther Nucl Med. 1967 Jan. 99(1):186-203. [Medline].

Orringer MB, Stirling MC. Esophagectomy for esophageal disruption. Ann Thorac Surg. 1990 Jan. 49(1):35-42; discussion 42-3. [Medline].

Sherr HP, Light RW, Merson MH, Wolf RO, Taylor LL, Hendrix TR. Origin of pleural fluid amylase in esophageal rupture. Ann Intern Med. 1972 Jun. 76(6):985-6. [Medline].

Sozio MS, Cave M. Boerhaave's syndrome following chiropractic manipulation. Am Surg. 2008 May. 74(5):428-9. [Medline].

Tong BC, Yang SC, Harmon J. Esophageal perforation. Principles of Surgery. 8th ed. 2004. 10-14.

Troum S, Lane CE, Dalton ML Jr. Surviving Boerhaave's syndrome without thoracotomy. Chest. 1994 Jul. 106(1):297-9. [Medline].

Walker WS, Cameron EW, Walbaum PR. Diagnosis and management of spontaneous transmural rupture of the oesophagus (Boerhaave's syndrome). Br J Surg. 1985 Mar. 72(3):204-7. [Medline].
Medscape Reference © 2011 WebMD, LLC