Thymic Tumors Workup
Author: Dale K Mueller, MD; Chief Editor: Mary C Mancini, MD, PhD, MMM more...
Updated: Nov 02, 2015
What would you like to print?
Laboratory Studies
Hemoglobin, hematocrit, and white blood cell count
Red blood cell (RBC) aplasia is found in approximately 5% of patients with thymoma and manifests as a normochromic-normocytic anemia. These studies are not routinely performed for evaluation of a mediastinal mass, but RBC aplasia may be an abnormality found in association with a mediastinal mass. Neutropenia, though rare, can be found in association with thymomas. These studies are also not part of the routine evaluation of a mediastinal mass, but neutropenia may be an associated abnormality.
Gamma globulin
Hypogammaglobulinemia is associated with some cases of thymoma.
Adrenocorticotropic hormone
The thorax should always be investigated for the source of ectopic adrenocorticotropic (ACTH) production. If the workup of a patient with Cushing syndrome calls for investigation for an extra-adrenal source, a neuroendocrine or carcinoid tumor of the thorax should be excluded. These tumors occur in the mediastinum, particularly in the thymus gland, and in the lung.
Antidiuretic hormone
Antidiuretic hormone levels may be elevated with some neuroendocrine tumors of the thymus.
Imaging Studies
Chest radiography
Posteroanterior and lateral radiographs of the chest taken for an unrelated cause are the usual ways an asymptomatic mediastinal mass is identified (see image below). Chest radiography is obviously the first radiologic study that would be performed in an individual with symptoms referable to the thorax. Most thymic neoplasms are visualized on standard chest radiograph.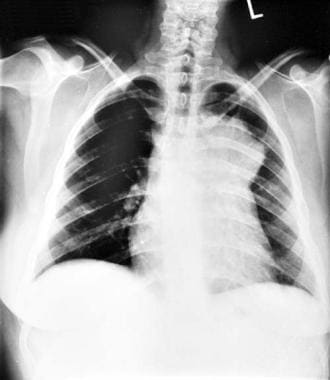 Posteroanterior chest film of a 34-year-old woman with large anterior mediastinal mass. Pathology results indicated malignant thymoma.
The lateral chest radiograph is very helpful in the determination of the involved compartment of the mediastinum (see image below). This information, combined with the age, sex, and associated clinical findings, aids the physician in the proper choice of subsequent diagnostic studies.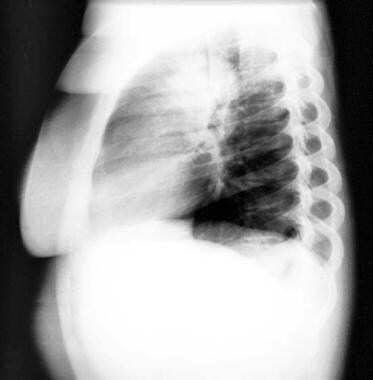 Lateral view of tumor in the image above (a 34-year-old woman with anterior mediastinal mass found to be a malignant thymoma). Note the fullness and haziness above the heart shadow.
CT scan of the chest and mediastinum
CT is a routine part of the diagnostic evaluation of mediastinal tumors, cysts, and other masses (see image below).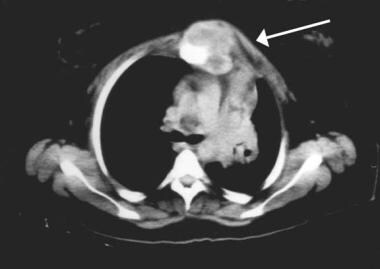 CT scan view of tumor in the images above (a 34-year-old woman with large anterior mediastinal mass found to be a malignant thymoma). Arrow indicates the area in which the tumor (malignant thymoma) is invading the anterior chest wall.
CT scans can greatly assist in determining the exact location of the mediastinal tumor and its relationship to adjacent structures. These images are also useful in differentiating masses that originate in the mediastinum from those that encroach on the mediastinum from the lung or other structures.
CT is very useful for helping differentiate tissue densities. This greatly assists in distinguishing structures that are cystic or vascular from those that are solid.
CT is the preferred imaging modality to visualize a thymoma. However, thymomas have no absolute diagnostic features; they are usually homogeneous and enhance with contrast. CT scan images can reveal evidence of local invasion of adjacent structures by a mass or the presence of intrathoracic metastases. CT has been found to be able to differentiate stage I/II from stage III/IV and may be useful to predict the need for neoadjunctive therapy.[1]
Magnetic resonance imaging
MRI is useful in both the initial diagnosis of a mediastinal mass and in the follow-up evaluation after treatment. MRI can help differentiate between a possible mediastinal mass and a vascular abnormality such as an aortic aneurysm.
MRI offers direct multiplanar imaging. It can be used when iodinated contrast cannot be given. MRI provides increased detail in the subcarinal and aortopulmonary window areas and in the inferior aspects of the mediastinum at the level of the diaphragm.
MRI adds little that CT does not provide and should not be performed except under special circumstances.
Radionuclide scanning
The origin of a mass located at the thoracic inlet can occasionally be difficult to identify. Additional testing, at times, may be required to better identify such a mass and help differentiate whether it is of thymic, thyroid, or other origin.
While the iodine I 131 or iodine I 123 scans are specific for thyroid tissue, they are mentioned here because they are very helpful in distinguishing thyroid tissue from other masses. They are often used in identifying an anterior mediastinal mass located at the level of the thoracic inlet as the substernal extension of a cervical thyroid goiter. A radioactive iodine scan may also help identify ectopic thyroid tissue within the mediastinum. These studies must be performed before any tests requiring the administration of iodinated contrast because this material may interfere with thyroid uptake and scanning.
The octreotide scan, using indium In 111–labeled pentetreotide, is useful for localizing various neuroendocrine neoplasms, including carcinoid tumors, pheochromocytomas, and paragangliomas. Carcinoid tumors, although uncommon, can occur in the thymus.
Echocardiography and ultrasonography
Ultrasonographic methods have been used to differentiate solid from cystic mediastinal masses and to assist in determining if a connection is present between a mass and adjacent structures. These studies are more useful in the evaluation of cardiac abnormalities than in the evaluation of mediastinal tumors.
Given the accuracy and detail provided by CT scan images, MRI, and selected radionuclide scan images, ultrasound techniques are generally not used as primary tools in the evaluation of mediastinal tumors and cysts.
Positron emission tomography (PET) scan
PET scans have been studied extensively for the evaluation of a number of neoplasms, such as lung, colorectal, breast, lymphoma, and melanoma. Its usefulness in the evaluation of mediastinal tumors is unknown.
Some results of using PET scan for thymomas suggest that a high 18-fluorodeoxyglucose (FDG) uptake on PET scan reflects the invasiveness of malignant nature of thymic tumors and can be used to differentiate these from benign thymomas.[2] A preliminary report suggests that PET scanning is a sensitive test for thymomas.[3]
Diagnostic Procedures
Transthoracic needle biopsy
In the past, percutaneous biopsy methods were believed to be too dangerous to use in the evaluation of mediastinal masses, and open surgical biopsy was the diagnostic procedure of choice.
Although still controversial, CT-guided fine-needle aspiration and core-needle biopsy techniques are being used with increasing success at several centers.[4, 5] Differentiation between thymomas, lymphomas, and germ cell tumors can be achieved in a number of cases when tissue obtained from a core-needle biopsy is subjected to special histologic staining methods, including immunohistochemical techniques. In some cases, lymphoma subtypes can also be identified.
Importantly, expert clinical judgment is necessary when selecting appropriate cases for this diagnostic method. In addition, considerable expertise in tissue processing and analysis is necessary for diagnostic accuracy. Many consider tumor size an important factor when deciding to proceed with needle biopsy. Tumors larger than 5 cm can be considered for biopsy because preoperative chemotherapy may be considered for invasive thymoma and thymic carcinoma.
Cervical mediastinoscopy and substernal extended mediastinotomy
Cervical mediastinoscopy is a commonly used surgical diagnostic procedure for the evaluation of the retrovascular pretracheal area of the mediastinum. It is used most often for staging of bronchogenic carcinoma and for evaluation of hilar and paratracheal lymphadenopathy, but it can be modified into what has been termed a substernal extended mediastinoscopy to evaluate the prevascular area of the mediastinum.
The thymus and any tumors or cysts found in this area, as well as lymph nodes of the aortopulmonary window, are accessible for biopsy via this approach.
Anterior mediastinotomy
This parasternal approach to the mediastinum has been used most commonly in situations in which standard cervical mediastinoscopy was believed or found to be inadequate. The classic approach is to the upper left parasternal area in order to obtain access to the aortopulmonary window and areas of the anterior mediastinum inferior to the aortic arch. Anterior mediastinotomy is being replaced in many centers, either by extended cervical mediastinoscopy or video-assisted thoracic surgical (VATS) techniques.[6]
Video-assisted thoracoscopy
VATS techniques have been used successfully for biopsy of various masses in all areas of the mediastinum.[7] VATS is commonly used for the sampling of perihilar lymph nodes or masses that are accessible via either thoracic cavity. VATS is superior to the various indirect biopsy techniques because it allows direct visualization of the mass or lesion from where the biopsy sample will be taken and a view of nearby structures and organs. This gives the surgeon an excellent idea of tumor extent and resectability.
Sternotomy and thoracotomy
In spite of the numerous minimally invasive options available for histologic diagnosis of mediastinal tumors and cysts, open surgical access is needed at times. In some cases, standard sternotomy or thoracotomy may be the safest method available to obtain an adequate tissue diagnosis. Ministernotomy can also be used for complete resection of a localized thymoma.
Histologic Findings
Thymoma
Thymomas arise from thymic epithelial cells. They are generally composed of 2 cell types, epithelial and lymphocytic. The morphology of the epithelial cells can be round, oval, or spindle-shaped. The cells are rather large and tend to organize into clusters. They have vesicular nuclei with small nucleoli and cytoplasm that is eosinophilic or amphophilic. The spindle-shaped variety of epithelial cell is often arranged in a whorl-type pattern. Individual cells have an appearance similar to that of fibroblasts. The lymphocytic component of thymomas is made up of mature lymphocytes with no significant atypia.
Thymomas are generally classified as predominantly epithelial, predominantly lymphocytic, mixed lymphoepithelial, and spindle cell type, which is a variant of the epithelial type and is composed mostly of the spindle-shaped epithelial cells. Other microscopic features that have been noted include Hassall corpuscles, keratinizing squamous epithelium, rosettes, glands and pseudoglands, cysts, papillary structures, and germinal centers. These features do not appear to have any significance in predicting the activity of the tumor.
Cellular makeup is not the prime consideration in the determination of a thymoma's malignant or indolent potential. The most important features are the gross pathologic characteristics. These include encapsulation of the tumor and fixation or invasion of adjacent structures. While no thymoma is truly benign, well-encapsulated thymomas with no evidence of invasion of the capsule are considered much less aggressive. Any evidence of invasion of the capsule or adjacent structures suggests a much more malignant level of activity.
Immunohistochemical staining methods with antikeratin antibodies can be helpful in the histologic identification of a thymoma. A number of thymic epithelial markers, such as cytokeratin, thymosin beta-3, thymosin alpha-1, and epithelial membrane antigen, have also been used.
Thymic carcinomas
The various types of carcinoma that occur in the thymus are quite rare. Squamous cell carcinoma of the thymus resembles typical squamous cell carcinoma. Well-differentiated tumors display prominent lobulation and are composed of large polygonal cells in groups or cords connected by intercellular bridges. The nuclei are vesicular or densely pigmented and have distinct nucleoli. The cytoplasm is eosinophilic, and keratin "pearls" are common. These tumors may be only locally invasive.
Poorly differentiated squamous cell tumors are more aggressive locally, have little of the lobular architecture found in the well-differentiated form, and may metastasize to distant sites. These tumors have a more disarrayed architecture and cellular atypia. Distinct fibrous septae or bridges within the tumor often are lacking. Cytoplasm is sparse and amphophilic. Keratin pearls are not seen.
Lymphoepitheliomalike carcinoma of the thymus is made up of dense sheets of polygonal epithelial cells with indistinct cytoplasmic membranes. These cells have round vesicular nuclei, large eosinophilic nucleoli, and amphophilic cytoplasm. The tumors always have groups of lymphocytes interspersed throughout. These tumors are virtually identical to lymphoepitheliomas located in the nasopharynx.
Neuroendocrine tumors of the thymus
These tumors have features virtually identical to neuroendocrine tumors identified in other parts of the body. A spectrum of disease exists for this type of tumor, ranging from the well-differentiated or typical carcinoid tumor to the highly aggressive small cell carcinoma.
In the more well-differentiated or typical carcinoid type, cells are arranged in nests surrounded by fibrovascular septae or are situated in cords or ribbons with minimal septation. Cells are small and have a regular shape with round nuclei that have clumped chromatin within them. The cytoplasm is abundant and acidophilic.
More poorly differentiated neuroendocrine tumors have more pronounced atypia. Nuclei are larger and have nucleoli that are more prominent. Mitotic figures are more frequent. The general architecture of these tumors takes on a more monotonous sheetlike appearance. Areas of necrosis are common.
Poorly differentiated tumors equivalent to small cell carcinoma have sheets or cords of remarkably atypical cells, large areas of necrosis, and high mitotic activity. Immunohistochemical staining, particularly using chromogranin, can be very helpful in identifying neuroendocrine tumors.
Staging
A great deal of controversy has been raised about the staging of thymomas. More than one staging system has been used for thymomas, based on the specific feature of the tumor. In the most commonly used system, thymomas are staged based on gross and microscopic features of the encapsulation or invasiveness of the tumor. This staging system is referred to as the Masaoka system, and several other authorities (eg, Koga) have modified it further.
Another staging method, put forth by Marino and M ü ller-Hermelink, is based on the cell type found within a given thymoma. Thymomas are classified as cortical, medullary, or mixed. The most accurate method of staging is likely some combination of these systems.
In the Masaoka system, thymomas are staged as follows:
Stage I - Grossly, the tumor is completely encapsulated; microscopically, no invasion of the capsule is seen

Stage IIA - Microscopically, tumor invasion is seen extending into the capsule

Stage IIB - Grossly, invasion is seen into the surrounding fatty tissues or mediastinal pleura

Stage III - Gross evidence of invasion into an adjacent organ or structure (eg, pericardium, lung, great vessels, including vena cava) is seen

Stage IVA - Tumor dissemination is seen in the pleura or pericardium

Stage IVB - Evidence of hematogenous or lymphogenous metastases is present
References
Marom EM, Milito MA, Moran CA, et al. Computed tomography findings predicting invasiveness of thymoma. J Thorac Oncol. 2011 Jul. 6(7):1274-81. [Medline].

Kubota K, Yamada S, Kondo T, et al. PET imaging of primary mediastinal tumours. Br J Cancer. 1996 Apr. 73(7):882-6. [Medline].

Liu RS, Yeh SH, Huang MH, et al. Use of fluorine-18 fluorodeoxyglucose positron emission tomography in the detection of thymoma: a preliminary report. Eur J Nucl Med. 1995 Dec. 22(12):1402-7. [Medline].

Greif J, Staroselsky AN, Gernjac M, et al. Percutaneous core needle biopsy in the diagnosis of mediastinal tumors. Lung Cancer. 1999 Sep. 25(3):169-73. [Medline].

Protopapas Z, Westcott JL. Transthoracic hilar and mediastinal biopsy. J Thorac Imaging. 1997 Oct. 12(4):250-8. [Medline].

Rieger R, Schrenk P, Woisetschlager R, Wayand W. Videothoracoscopy for the management of mediastinal mass lesions. Surg Endosc. 1996 Jul. 10(7):715-7. [Medline].

Demmy TL, Krasna MJ, Detterbeck FC, et al. Multicenter VATS experience with mediastinal tumors. Ann Thorac Surg. 1998 Jul. 66(1):187-92. [Medline].

[Guideline] NCCN Clinical Practice Guidelines in Oncology: Thymomas and Thymic Carcinomas, Version 1.2014. National Comprehensive Cancer Network. Available at http://www.tri-kobe.org/nccn/guideline/lung/english/thymic.pdf. Accessed: November 2, 2015.

Berman AT, Litzky L, Livolsi V, et al. Adjuvant radiotherapy for completely resected stage 2 thymoma. Cancer. 2011 Aug 1. 117(15):3502-8. [Medline].

Korst RJ, Bezjak A, Blackmon S, Choi N, Fidias P, Liu G, et al. Neoadjuvant chemoradiotherapy for locally advanced thymic tumors: a phase II, multi-institutional clinical trial. J Thorac Cardiovasc Surg. 2014 Jan. 147 (1):36-44, 46.e1. [Medline].

Petrella F, Leo F, Veronesi G, Solli P, Borri A, Galetta D, et al. "Salvage" surgery for primary mediastinal malignancies: is it worthwhile?. J Thorac Oncol. 2008 Jan. 3(1):53-8. [Medline].

Rea F, Bortolotti L, Girardi R, Sartori F. Thoracoscopic thymectomy with the 'da Vinci' surgical system in patient with myasthenia gravis. Interact Cardiovasc Thorac Surg. 2003 Mar. 2(1):70-2. [Medline].

Hamaji M, Ali SO, Burt BM. A meta-analysis of surgical versus nonsurgical management of recurrent thymoma. Ann Thorac Surg. 2014 Aug. 98 (2):748-55. [Medline].

Bacha EA, Chapelier AR, Macchiarini P, et al. Surgery for invasive primary mediastinal tumors. Ann Thorac Surg. 1998 Jul. 66(1):234-9. [Medline].

Geibel A, Kasper W, Keck A, et al. Diagnosis, localization and evaluation of malignancy of heart and mediastinal tumors by conventional and transesophageal echocardiography. Acta Cardiol. 1996. 51(5):395-408. [Medline].

Giron J, Fajadet P, Sans N, et al. Diagnostic approach to mediastinal masses. Eur J Radiol. 1998 Mar. 27(1):21-42. [Medline].

Kaga K, Nishiumi N, Iwasaki M, Inoue H. Thoracoscopic diagnosis and treatment of mediastinal masses. Usefulness of the Two Windows Method. J Cardiovasc Surg (Torino). 1999 Feb. 40(1):157-60. [Medline].

Kaiser LR. Thoracoscopic resection of mediastinal tumors and the thymus. Chest Surg Clin N Am. 1996 Feb. 6(1):41-52. [Medline].

Klemm KM, Moran CA. Primary neuroendocrine carcinomas of the thymus. Semin Diagn Pathol. 1999 Feb. 16(1):32-41. [Medline].

Laurent F, Latrabe V, Lecesne R, et al. Mediastinal masses: diagnostic approach. Eur Radiol. 1998. 8(7):1148-59. [Medline].

Luketich JD, Ginsberg RJ. The current management of patients with mediastinal tumors. Adv Surg. 1996. 30:311-32. [Medline].

Meade RH. Surgery of the Mediastinum. In: A History of Thoracic Surgery. Springfield, Ill: Charles C. Thomas; 1961:. 257-71.

Pai KR, Thonse VR, Azadeh B, Page RD. Ectopic thymoma of the chest wall. Interactive CardioVascular Thoracic Surgery. 2005. 4:9-11.

Regnard JF, Magdeleinat P, Dromer C, et al. Prognostic factors and long-term results after thymoma resection: a series of 307 patients. J Thorac Cardiovasc Surg. 1996 Aug. 112(2):376-84.

Ritter JH, Wick MR. Primary carcinomas of the thymus gland. Semin Diagn Pathol. 1999 Feb. 16(1):18-31. [Medline].

Ríos A, Torres J, Galindo PJ, et al. Prognostic factors in thymic epithelial neoplasms. Eur J Cardiothorac Surg. 2002 Feb. 21(2):307-13. [Medline].

Sasaki M, Kuwabara Y, Ichiya Y, et al. Differential diagnosis of thymic tumors using a combination of 11C-methionine PET and FDG PET. J Nucl Med. 1999 Oct. 40(10):1595-601. [Medline].

Serna DL, Aryan HE, Chang KJ, et al. An early comparison between endoscopic ultrasound-guided fine-needle aspiration and mediastinoscopy for diagnosis of mediastinal malignancy. Am Surg. 1998 Oct. 64(10):1014-8. [Medline].

Shields TW. Overview of primary mediastinal tumors and cysts. Shields TW, LoCicero J III, Ponn RB, eds. General Thoracic Surgery. 5th ed. Philadelphia, Pa: Williams and Wilkins; 2000. Vol 2: 2105-9.

Shields TW. Thymic tumors. Shields TW, LoCicero J III, Ponn RB, eds. General Thoracic Surgery. 5th ed. Philadelphia, Pa: Williams and Wilkins; 2000. Vol 2: 2181-205.

Shin HJ, Katz RL. Thymic neoplasia as represented by fine needle aspiration biopsy of anterior mediastinal masses. A practical approach to the differential diagnosis. Acta Cytol. 1998 Jul-Aug. 42(4):855-64. [Medline].

Strollo DC, Rosado de Christenson ML, Jett JR. Primary mediastinal tumors. Part 1: tumors of the anterior mediastinum. Chest. 1997 Aug. 112(2):511-22. [Medline].

Virgo KS, Johnson FE, Naunheim KS. Follow-up of patients with thoracic malignancies. Surg Oncol Clin N Am. 1999 Apr. 8(2):355-69. [Medline].

Whooley BP, Urschel JD, Antkowiak JG, Takita H. Primary tumors of the mediastinum. J Surg Oncol. 1999 Feb. 70(2):95-9. [Medline].
Medscape Reference © 2011 WebMD, LLC