Acquired Diaphragmatic Hernias Treatment & Management
Author: Anne T Saladyga, MD; Chief Editor: Jeffrey C Milliken, MD more...
Updated: Dec 05, 2014
What would you like to print?
Medical Therapy
For traumatic rupture, first provide initial resuscitation according to Advanced Trauma Life Support (ATLS) protocol, with particular attention to airway control. Avoid the use of military antishock trousers (MAST).
Prepare the patient for surgery. Sometimes, as with congenital hernias, surgical intervention can be briefly delayed until the patient's condition is stabilized. However, the high incidence of concomitant injuries necessitates emergency exploration in most cases.
Surgical Therapy
If the diaphragmatic injury is discovered during the acute phase of trauma, the standard surgical approach is laparotomy or, less commonly, thoracotomy. The generally accepted protocol in the acute setting is that a diaphragmatic rupture is approached via a celiotomy because concomitant intra-abdominal injuries are more likely to be present than thoracic injuries are (84% vs 53%).[2]
The problem regarding which approach to use arises when the diaphragmatic injury goes unnoticed for months or years. More surgeons approach long-standing hernias via a transthoracic or thoracoabdominal approach because the herniated intra-abdominal contents tend to be firmly attached to intrathoracic structures, making a transabdominal approach difficult.
Preoperative Details
As in any case of trauma, the patient's condition must be stabilized, and he or she must be resuscitated to the extent possible before operative treatment. People with traumatic hernias frequently have concomitant injuries and require emergency exploration.
Intraoperative Details
With traumatic ruptures, the surgical approach depends on the timing of the diagnosis with the surgical intervention. In the acute phase of trauma, an abdominal approach is preferred. In the latent phase of trauma, a transthoracic approach may be necessary because patients often have adhesions to intrathoracic organs.
Acute injuries are repaired with monofilament permanent sutures. Small lacerations may be repaired by using interrupted, horizontal mattress, or figure-eight stitches; larger lacerations may be repaired with continuous or double-layered closures. Absorbable sutures are associated with a high rate of recurrence.[3]
Laparoscopic abdominal exploration in the setting of trauma is becoming a popular way to determine whether diaphragmatic integrity is retained. It provides a minimally invasive mechanism by which the diaphragm can be directly viewed to determine if an injury has occurred. In the absence of other intra-abdominal injuries, the diaphragm can easily be repaired by applying laparoscopic techniques.
The best utility of laparoscopy is with penetrating thoracic and flank injuries when intraperitoneal penetration is being considered and if a projectile injured the diaphragm.
Follow-up
Recurrence is possible after traumatic herniation or a congenital diaphragmatic hernia that was repaired in an adult. Therefore, after an anatomic defect is corrected, periodic assessments of pulmonary function and chest radiography are important (see the image below). Although the spontaneous recurrence rate for repaired diaphragmatic hernias is low, small defects in the repair site have been reported; therefore, surveillance is crucial.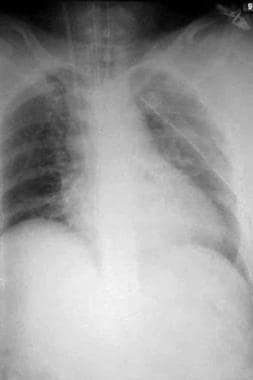 Postoperative chest radiograph in a 53-year-old woman who was a restrained passenger in an automobile accident.
Outcome and Prognosis
In traumatic ruptures, the outcome is generally related to concomitant injuries. Reported mortality ranges from 5.5% to 51%. People with isolated diaphragmatic injuries tend to recover without long-term disability.
Future and Controversies
Minimally invasive techniques for diaphragmatic repair are becoming more common than before. With advances in technology and surgical skills, repairing both acute and chronic diaphragmatic hernias is possible with laparoscopic,[13] thoracoscopic, or combined approaches.
References
Blaivas M, Brannam L, Hawkins M, Lyon M, Sriram K. Bedside emergency ultrasonographic diagnosis of diaphragmatic rupture in blunt abdominal trauma. Am J Emerg Med. 2004 Nov. 22(7):601-4. [Medline].

Hanna WC, Ferri LE, Fata P, Razek T, Mulder DS. The current status of traumatic diaphragmatic injury: lessons learned from 105 patients over 13 years. Ann Thorac Surg. 2008 Mar. 85(3):1044-1048. [Medline].

Turhan K, Makay O, Cakan A, Samancilar O, Firat O, Icoz G, et al. Traumatic diaphragmatic rupture: look to see. Eur J Cardiothorac Surg. 2008 Jun. 33(6):1082-5. [Medline].

Cameron JL. Diaphragmatic injury. Current Surgical Therapy. 9th ed. Philadelphia, PA: Mosby-Elsevier; 2008. 975-987.

Hamoudi D, Bouderka MA, Benissa N, Harti A. Diaphragmatic rupture during labor. Int J Obstet Anesth. 2004 Oct. 13(4):284-6. [Medline].

Hayden JD, Davies JB, Martin IG. Diaphragmatic rupture resulting from gastrointestinal barotrauma in a scuba diver. Br J Sports Med. 1998 Mar. 32(1):75-6. [Medline].

Mansour KA. Trauma to the diaphragm. Chest Surg Clin N Am. 1997 May. 7(2):373-83. [Medline].

Jacobs R, Honore PM, Hosseinpour N, Nieboer K, Spapen HD. Sudden cardiac arrest during pregnancy: a rare complication of acquired maternal diaphragmatic hernia. Acta Clin Belg. 2012 May-Jun. 67(3):198-200. [Medline].

West, John B. Normal Physiology; Acute Respiratory Failure. Anthony, Robert. Pulmonary Physiology and Pathophysiology. Baltimore, MD: Lippincott Williams & Wilkins; 2001. 2-3; 129.

Sliker CW. Imaging of diaphragm injuries. Radiol Clin North Am. 2006 Mar. 44(2):199-211, vii. [Medline].

Desir A, Ghaye B. CT of blunt diaphragmatic rupture. Radiographics. 2012 Mar-Apr. 32(2):477-98. [Medline].

Blaivas M, Brannam L, Hawkins M, Lyon M, Sriram K. Bedside emergency ultrasonographic diagnosis of diaphragmatic rupture in blunt abdominal trauma. Am J Emerg Med. 2004 Nov. 22(7):601-4. [Medline].

Xenaki S, Lasithiotakis K, Andreou A, Chrysos E, Chalkiadakis G. Laparoscopic repair of posttraumatic diaphragmatic rupture. Report of three cases. Int J Surg Case Rep. 2014. 5(9):601-4. [Medline]. [Full Text].

Ahmed N, Whelan J, Brownlee J, Chari V, Chung R. The contribution of laparoscopy in evaluation of penetrating abdominal wounds. J Am Coll Surg. 2005 Aug. 201(2):213-6. [Medline].

Düzgün AP, Ozmen MM, Saylam B, Coşkun F. Factors influencing mortality in traumatic ruptures of diaphragm. Ulus Travma Acil Cerrahi Derg. 2008 Apr. 14(2):132-8. [Medline].

Fell SC. Surgical anatomy of the diaphragm and the phrenic nerve. Chest Surg Clin N Am. 1998 May. 8(2):281-94. [Medline].

Irish MS, Holm BA, Glick PL. Congenital diaphragmatic hernia. A historical review. Clin Perinatol. 1996 Dec. 23(4):625-53. [Medline].

Mandell GA, Finkelstein MS, Hallowell M. Delayed presentation of a symptomatic Morgagni hernia. South Med J. 1989 Oct. 82(10):1299-302. [Medline].

Naunheim KS. Adult presentation of unusual diaphragmatic hernias. Chest Surg Clin N Am. 1998 May. 8(2):359-69. [Medline].

Shah R, Sabanathan S, Mearns AJ, Choudhury AK. Traumatic rupture of diaphragm. Ann Thorac Surg. 1995 Nov. 60(5):1444-9. [Medline].

Sharma OP. Traumatic diaphragmatic rupture: not an uncommon entity--personal experience with collective review of the 1980's. J Trauma. 1989 May. 29(5):678-82. [Medline].

van Vugt AB, Schoots FJ. Acute diaphragmatic rupture due to blunt trauma: a retrospective analysis. J Trauma. 1989 May. 29(5):683-6. [Medline].
Medscape Reference © 2011 WebMD, LLC