Cystinuria Workup
Author: Chandra Shekhar Biyani, MS, MBBS, DUrol, FRCS(Urol), FEBU; Chief Editor: Bradley Fields Schwartz, DO, FACS more...
Updated: Apr 16, 2015
What would you like to print?
Laboratory Studies
Cystine is one of the sulfur-containing amino acids; therefore, the urine may have the characteristic odor of rotten eggs.
Urinalysis may show typical hexagonal or benzene crystals, which are essentially pathognomonic of cystinuria. Microscopic crystalluria is present in 26%-83% of patients. Disappearance of cystine crystals in the first morning urine is a good index of treatment efficacy.
Daudon et al calculated the cystine crystal volume (Vcys) from microscopic analysis of early-morning urine to predict stone recurrence.[26] Patients who formed stones recurrently had an average Vcys of 8173 µ3/mm3, versus 233 µ3/mm3 in those who did not form stones. The absence of cystine crystals or a Vcys of less than 3000 µ3/mm3 was associated with the absence of cystine stone formation. The presence of multiple crystals (>20/mm3) and a Vcys of more than 3000 µ3/mm3 was predictive of stone recurrence.
The measurement of Vcys is helpful in assessing the effect of any treatment schedule. Daudon et al reported an average Vcys of 12,000 µ3/mm3 in untreated patients, 2600 µ3/mm3 associated with conservative therapy, 1141 µ3/mm3 in patients with high fluid intake receiving mercaptopropionyl-glycine therapy, and 791 µ3/mm3 in patients with high fluid intake receiving penicillamine therapy.
Assessments of cystine excretion or solubility in the presence of cystine-binding thiol drugs are difficult. Coe et al (2001) have developed an assay for determining cystine capacity, a measure of the ability of urine either to take up additional cystine from a preformed solid phase (undersaturation, or positive cystine capacity) or to give it up to the solid phase (supersaturation, or negative cystine capacity).[27]
Cystine capacity can be used to monitor the response to the drug therapy and can help the clinician to prescribe minimal effective dose.[28] It is slightly difficult to differentiate between cystine and cysteine-drug complex when thiol drugs are used. Coe et al reported that a solid-phase assay for cystine supersaturation could distinguish between cystine and the cysteine-drug complex to guide the treatment and drug dosing.[27]
The sodium cyanide–nitroprusside test is a rapid, simple, and qualitative determination of cystine concentrations. Cyanide converts cystine to cysteine. Nitroprusside then binds, causing a purple hue in 2-10 minutes. The test detects cystine levels of higher than 75 mg/g of creatinine.
False-positive test results occur in some individuals with homocystinuria or acetonuria and in people taking sulfa drugs, ampicillin, or N -acetylcysteine. In persons with Fanconi syndrome, a false-positive test result can result from generalized aminoaciduria.
For individuals with positive cyanide-nitroprusside test findings, perform ion-exchange chromatographic quantitative analysis of a 24-hour collected urine sample. Results are as follows:
The normal excretion rate is 40-80 mg/d (0.166-0.333 mmol/d).

Heterozygotes excrete 200-400 mg/d (0.8-1.7 mmol/d).

Homozygotes always excrete 600-1400 mg/d (2.5-5.8 mmol/d).
Collecting urine every 6 hours for one day (four specimen bottles) has been suggested by van Hoeve et al to identify diurnal variation in urinary cystine excretion.[29]
Other metabolic abnormalities that can be deteded on a 24-hour urine collection are hypercalciuria, hypocitraturia, and hyperuricosuria. Results may help define a subgroup of patients at risk for failure of medical therapy due to the formation of noncystine or mixed calculi.
Proton nuclear magnetic resonance spectroscopy of urine
Urine proton nuclear magnetic resonance spectroscopy is a very powerful technique that allows multicomponent analysis useful in both diagnosis and follow-up. As reported by Pontoni et al in 2000, the relevant amino acids can be detected in the urine of patients with cystinuria.[30] The most abundant amino acid in these patients is lysine (>5 mmol), whose typical signals become very high. Cystine, arginine, and ornithine are usually detectable, although pathologic concentrations are lower (< 2 mmol).
The nuclear magnetic resonance spectroscopy technique is also suitable in the follow-up of therapy with alpha-mercaptopropionylglycine (alpha-MPG) because it provides quantitation of cystine, citrates, and creatinine, thus allowing better monitoring.
Heterozygotes show a high level of lysine, and spectroscopy provides a very easy preliminary identification of this group.
Imaging Studies
Calculi are frequently multiple and bilateral, and they often form staghorns.
Plain radiography of the abdomen and pelvis and intravenous pyelography

Images from these studies may show faintly radiopaque calculi that become radiolucent with intravenous contrast materials.
Cystine stones have a homogeneous or ground-glass appearance on radiographs (see images below). Although radiopaque, they are often less dense than calcium-containing stones.

Plain radiograph of the abdomen showing cystine staghorn stones.

Faintly opaque (ground-glass appearance) left lower ureteric stone.

Intravenous urogram showing left ureterohydronephrosis.

Intravenous pyelography is essential for defining calyceal anatomy prior to extracorporeal shockwave lithotripsy (ESWL).

Helical CT scan without intravenous contrast

The stone burden, including calculi, is difficult to accurately visualize and assess on plain radiography.
Helical CT scans are ideal for patients with contrast allergy or renal insufficiency.

Renal ultrasonography

This study (see image below) is more economical than CT scan for monitoring the growth of renal calculi.

Renal sonogram demonstrating renal calculi in the lower pole.

The lack of radiation exposure makes this test ideal for children and patients with frequent recurrences, who would otherwise accumulate relatively large radiation doses over a lifetime.
Procedures
See the list below:
Jejunal biopsy was once used to distinguish among 3 subtypes of cystinuria. This procedure is not recommended as part of routine workup and is primarily a research tool.
Stone Analysis
Cystine stones are pale yellow. Electron microscopic evaluation coupled with x-ray diffraction crystallography has been useful in identifying stone components and specific spatial relationships of stone components (see image below). Pure cystine stones are observed in 60%-80% of cases.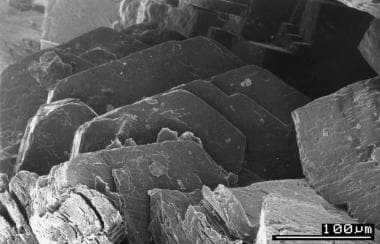 Electron microscopic picture showing cystine crystals.
Two subtypes of cystine calculi have been identified by electron microscopic evaluation of stones removed from persons with cystinuria: rough and smooth. Smooth calculi have an irregular, interlacing crystal structure, making them more resistant to ESWL fragmentation than the more homogenous hexagonal crystal structure of the rough subtype. Unfortunately, clinically differentiating the two types before ESWL is not possible.
Of patients, 20%-40% have cystine mixed with calcium oxalate, calcium phosphate, or magnesium ammonium calcium phosphate.
References
Wollaston WH. On cystic oxide. A new species of urinary calculus. Trans R Soc London. 1810. 100:223-30.

Berzellius J. Calculus urinaires. Traite Chem. 1833. 7:424.

Garrod AE. Inborn errors of metabolism. Lancet. 1908. 2:1, 73, 142, 214.

Yeh HL, Frankl W, Dunn MS. The urinary excretion of amino acids by cystinuric subjects. Am J Med Sci. 1974. 214:507-12.

Dent CC, Rose GA. Amino acid metabolism in cystinuria. Q J Med New Series. 1974. 214:507-12.

Harris H, Mittwoch U, Robson EB, Warren FL. Phenotypes and genotypes in cystinuria. Ann Hum Genet. 1955 Aug. 20(1):57-91. [Medline].

Milne MD, Asatoor AM, Edwards KD, Loughridge LW. The intestinal absorption defect in cystinuria. Gut. 1961 Dec. 2(4):323-37. [Medline].

Tabachnick M, Eisen HN, Levine B. A new mixed disulphide: penicillamine-cysteine. Nature. 1954 Oct 9. 174(4432):701-2. [Medline].

Crawhall JC, Scowen EF, Watts RW. Effect of penicillamine on cystinuria. Br Med J. 1963 Mar 2. 5330:588-90. [Medline].

Lee WS, Wells RG, Sabbag RV, et al. Cloning and chromosomal localization of a human kidney cDNA involved in cystine, dibasic, and neutral amino acid transport. J Clin Invest. 1993 May. 91(5):1959-63. [Medline].

Bisceglia L, Calonge MJ, Totaro A, et al. Localization, by linkage analysis, of the cystinuria type III gene to chromosome 19q13.1. Am J Hum Genet. 1997 Mar. 60(3):611-6. [Medline].

Chillarón J, Font-Llitjós M, Fort J, Zorzano A, Goldfarb DS, Nunes V, et al. Pathophysiology and treatment of cystinuria. Nat Rev Nephrol. 2010 Jul. 6(7):424-34. [Medline].

Dent CE, Senior B. Studies on the treatment of cystinuria. Br J Urol. 1955 Dec. 27(4):317-32. [Medline].

Pak CY, Fuller C, Sakhaee K, et al. Management of cystine nephrolithiasis with alpha- mercaptopropionylglycine. J Urol. 1986 Nov. 136(5):1003-8. [Medline].

Pak CY, Fuller CJ. Assessment of cystine solubility in urine and of heterogeneous nucleation. J Urol. 1983 May. 129(5):1066-70. [Medline].

Martins MC, Meyers AA, Whalley NA, Rodgers AL. Cystine: a promoter of the growth and aggregation of calcium oxalate crystals in normal undiluted human urine. J Urol. 2002 Jan. 167(1):317-21. [Medline].

Gasparini P, Calonge MJ, Bisceglia L, et al. Molecular genetics of cystinuria: identification of four new mutations and seven polymorphisms, and evidence for genetic heterogeneity. Am J Hum Genet. 1995 Oct. 57(4):781-8. [Medline].

Pras E. Cystinuria at the turn of the millennium: clinical aspects and new molecular developments. Mol Urol. 2000 Winter. 4(4):409-14. [Medline].

Dello Strologo L, Pras E, Pontesilli C, et al. Comparison between SLC3A1 and SLC7A9 cystinuria patients and carriers: a need for a new classification. J Am Soc Nephrol. 2002 Oct. 13(10):2547-53. [Medline].

Martens K, Jaeken J, Matthijs G, Creemers JW. Multi-system disorder syndromes associated with cystinuria type I. Curr Mol Med. 2008 Sep. 8(6):544-50. [Medline].

Rosenberg LE, Downing S, Durant JL, Segal S. Cystinuria: biochemical evidence for three genetically distinct diseases. J Clin Invest. 1966 Mar. 45(3):365-71. [Medline].

Barbey F, Joly D, Rieu P, et al. Medical treatment of cystinuria: critical reappraisal of long-term results. J Urol. 2000 May. 163(5):1419-23. [Medline].

Lindell A, Denneberg T, Granerus G. Studies on renal function in patients with cystinuria. Nephron. 1997. 77(1):76-85. [Medline].

Chow GK, Streem SB. Contemporary urological intervention for cystinuric patients: immediate and long-term impact and implications. J Urol. 1998 Aug. 160(2):341-4; discussion 344-5. [Medline].

Sakhaee K, Poindexter JR, Pak CY. The spectrum of metabolic abnormalities in patients with cystine nephrolithiasis. J Urol. 1989 Apr. 141(4):819-21. [Medline].

Daudon M, Cohen-Solal F, Barbey F, et al. Cystine crystal volume determination: a useful tool in the management of cystinuric patients. Urol Res. 2003 Jul. 31(3):207-11. [Medline].

Coe FL, Clark C, Parks JH, Asplin JR. Solid phase assay of urine cystine supersaturation in the presence of cystine binding drugs. J Urol. 2001 Aug. 166(2):688-93. [Medline].

Dolin DJ, Asplin JR, Flagel L, et al. Effect of cystine-binding thiol drugs on urinary cystine capacity in patients with cystinuria. J Endourol. 2005 Apr. 19(3):429-32. [Medline].

van Hoeve K, Vermeersch P, Regal L, Levtchenko E. Necessity of fractionated urine collection for monitoring patients with cystinuria. Clin Chem. 2011 May. 57(5):780-1. [Medline].

Pontoni G, Rotondo F, Spagnuolo G, et al. Diagnosis and follow-up of cystinuria: use of proton magnetic resonance spectroscopy. Amino Acids. 2000. 19(2):469-76. [Medline].

Tiselius HG. New horizons in the management of patients with cystinuria. Curr Opin Urol. 2010 Mar. 20(2):169-73. [Medline].

Goldfarb DS. Potential pharmacologic treatments for cystinuria and for calcium stones associated with hyperuricosuria. Clin J Am Soc Nephrol. 2011 Aug. 6(8):2093-7. [Medline]. [Full Text].

Sloand JA, Izzo JL Jr. Captopril reduces urinary cystine excretion in cystinuria. Arch Intern Med. 1987 Aug. 147(8):1409-12. [Medline].

Koide T, Yamaguchi S, Utsonomiya M. A new therapeutic agent for cystinuria. VII International Symposium on Urolithiasis. Cairns, Australia. New York, NY: Plenum; 1992. 168.

Rimer JD, An Z, Zhu Z, et al. Crystal growth inhibitors for the prevention of L-cystine kidney stones through molecular design. Science. 2010 Oct 15. 330(6002):337-41. [Medline].

Goldfarb DS. Potential pharmacologic treatments for cystinuria and for calcium stones associated with hyperuricosuria. Clin J Am Soc Nephrol. 2011 Aug. 6(8):2093-7. [Medline].

Kachel TA, Vijan SR, Dretler SP. Endourological experience with cystine calculi and a treatment algorithm. J Urol. 1991 Jan. 145(1):25-8. [Medline].

Miyagi K, Nakada F, Ohshiro S. Effect of glutamine on cystine excretion in a patient with cystinuria. N Engl J Med. 1979 Jul 26. 301(4):196-8. [Medline].

Akakura K, Egoshi K, Ueda T, et al. The long-term outcome of cystinuria in Japan. Urol Int. 1998. 61(2):86-9. [Medline].

Assimos DG, Leslie SW, Ng C, et al. The impact of cystinuria on renal function. J Urol. 2002 Jul. 168(1):27-30. [Medline].

Bertran J, Werner A, Chillaron J, et al. Expression cloning of a human renal cDNA that induces high affinity transport of L-cystine shared with dibasic amino acids in Xenopus oocytes. J Biol Chem. 1993 Jul 15. 268(20):14842-9. [Medline].

Bhatta KM, Prien EL Jr, Dretler SP. Cystine calculi--rough and smooth: a new clinical distinction. J Urol. 1989 Oct. 142(4):937-40. [Medline].

Borsani G, Bassi MT, Sperandeo MP, et al. SLC7A7, encoding a putative permease-related protein, is mutated in patients with lysinuric protein intolerance. Nat Genet. 1999 Mar. 21(3):297-301. [Medline].

Botzenhart E, Vester U, Schmidt C, et al. Cystinuria in children: distribution and frequencies of mutations in the SLC3A1 and SLC7A9 genes. Kidney Int. 2002 Oct. 62(4):1136-42. [Medline].

Calonge MJ, Nadal M, Calvano S, et al. Assignment of the gene responsible for cystinuria (rBAT) and of markers D2S119 and D2S177 to 2p16 by fluorescence in situ hybridization. Hum Genet. 1995 Jun. 95(6):633-6. [Medline].

Chow GK, Streem SB. Medical treatment of cystinuria: results of contemporary clinical practice. J Urol. 1996 Nov. 156(5):1576-8. [Medline].

Cohen TD, Streem SB, Hall P. Clinical effect of captopril on the formation and growth of cystine calculi. J Urol. 1995 Jul. 154(1):164-6. [Medline].

Dretler SP, Pfister RC, Newhouse JH, Prien EL Jr. Percutaneous catheter dissolution of cystine calculi. J Urol. 1984 Feb. 131(2):216-9. [Medline].

Feliubadalo L, Font M, Purroy J, et al. Non-type I cystinuria caused by mutations in SLC7A9, encoding a subunit (bo,+AT) of rBAT. International Cystinuria Consortium. Nat Genet. 1999 Sep. 23(1):52-7. [Medline].

Fjellstedt E, Denneberg T, Jeppsson JO, Tiselius HG. A comparison of the effects of potassium citrate and sodium bicarbonate in the alkalinization of urine in homozygous cystinuria. Urol Res. 2001 Oct. 29(5):295-302. [Medline].

Gambaro G, Favaro S, D'Angelo A. Risk for renal failure in nephrolithiasis. Am J Kidney Dis. 2001 Feb. 37(2):233-43. [Medline].

Goodyer P, Boutros M, Rozen R. The molecular basis of cystinuria: an update. Exp Nephrol. 2000 May-Jun. 8(3):123-7. [Medline].

Goodyer P, Saadi I, Ong P, et al. Cystinuria subtype and the risk of nephrolithiasis. Kidney Int. 1998 Jul. 54(1):56-61. [Medline].

Heimbach D, Jacobs D, Müller SC, Hesse A. Improving cystine stone therapy: an in vitro study of dissolution. Urology. 2000 Jan. 55(1):17-21. [Medline].

Ito H, Egoshi K, Mizoguchi K, Akakura K. Advances in genetic aspects of cystinuria. Mol Urol. 2000. 4(4):403-8. [Medline].

Jaeger P, Portmann L, Saunders A, et al. Anticystinuric effects of glutamine and of dietary sodium restriction. N Engl J Med. 1986 Oct 30. 315(18):1120-3. [Medline].

Kashiwazaki S, Shiokawa Y. Bucillamine: a new immunomodulator. Int M J Immunother. 1987. 3:1-6.

Knoll LD, Segura JW, Patterson DE, et al. Long-term followup in patients with cystine urinary calculi treated by percutaneous ultrasonic lithotripsy. J Urol. 1988 Aug. 140(2):246-8. [Medline].

Martensson J, Denneberg T, Lindell A, Textorius O. Sulfur amino acid metabolism in cystinuria: a biochemical and clinical study of patients. Kidney Int. 1990 Jan. 37(1):143-9. [Medline].

Mattoo A, Goldfarb DS. Cystinuria. Semin Nephrol. 2008 Mar. 28(2):181-91. [Medline].

McDonald MW, Stoller ML. Cystinuria: advances in medical therapy. Contemp Urol. 1996 Apr. 8:20-36.

Milliner DS. Cystinuria. Endocrinol Metab Clin North Am. 1990 Dec. 19(4):889-907. [Medline].

Pareek G, Steele TH, Nakada SY. Urological intervention in patients with cystinuria is decreased with medical compliance. J Urol. 2005 Dec. 174(6):2250-2, discussion 2252. [Medline].

Pietrow PK, Auge BK, Weizer AZ, et al. Durability of the medical management of cystinuria. J Urol. 2003 Jan. 169(1):68-70. [Medline].

Rudnick DM, Bennett PM, Dretler SP. Retrograde renoscopic fragmentation of moderate-size (1.5-3.0-cm) renal cystine stones. J Endourol. 1999 Sep. 13(7):483-5. [Medline].

Rutchik SD, Resnick MI. Cystine calculi. Diagnosis and management. Urol Clin North Am. 1997 Feb. 24(1):163-71. [Medline].

Sakhaee K, Sutton RA. Pathogenesis and medical management of cystinuria. Coe FL, Favus MJ, Pak C, eds. Kidney stones: Medical and Surgical Managements. Philadelphia, Pa: Lippincott-Raven; 1996. 1007-17.

Saltzman N, Gittes RF. Chemolysis of cystine calculi. J Urol. 1986 Oct. 136(4):846-9. [Medline].

Schmidt J, Madersbacher S, Hochreiter WW, et al. Simultaneous replacement of both ureters with small intestine in a woman with cystinuria. J Urol. 2001 Dec. 166(6):2315-6. [Medline].

Segal S, Thier SO. Cystinuria. Scriver CR, Beaudet AL, Sly WS, Valle S, eds. The Metabolic and Molecular Bases of Inherited Disease. 7th ed. New York, NY: McGraw-Hill; 1995. 3581-601.

Streem SB, Hall P. Effect of captopril on urinary cystine excretion in homozygous cystinuria. J Urol. 1989 Dec. 142(6):1522-4. [Medline].

Zhang XX, Rozen R, Hediger MA, et al. Assignment of the gene for cystinuria (SLC3A1) to human chromosome 2p21 by fluorescence in situ hybridization. Genomics. 1994 Nov 15. 24(2):413-4. [Medline].
Table. Classification of Cystinuria
Rosenberg et al [21]
Type I
Type II
Type III
Molecular
Type I
Non–Type I
Responsible gene
SLC3A1
SLC7A9
Band
2p21
19q13.1
No. of mutations
>60
39
Most common mutation
M467
V170M
Population affected
Mediterranean Spanish persons, 40%
Libyan Jews
Deletion rate
54%
25%
Protein
rBAT
BAT1
Amino acid transport system
Localization in proximal converted tubule
S3
S1, S2
Transporter characteristic
High affinity, low capacity
Low affinity, high capacity
Clinical features
Homozygotes
Symptomatic
approximately 90% symptomatic
Heterozygotes
Asymptomatic
approximately 10%-13% symptomatic
Urinary cystine levels
Normal
Elevated +++++
Elevated +
Plasma cystine levels after an oral load test
Same
Same or slight rise
Increased
Intestinal transport
Absent (no transport of cystine, lysine, or arginine)
Absent
Reduced
Medscape Reference © 2011 WebMD, LLC