Leydig Cell Tumors Workup
Author: Edmund S Sabanegh, Jr, MD; Chief Editor: Edward David Kim, MD, FACS more...
Updated: Apr 17, 2015
What would you like to print?
Laboratory Studies
Laboratory study results in patients with Leydig cell tumors are usually nonspecific. Levels of testicular tumor markers such as serum alpha-fetoprotein (AFP), beta human chorionic gonadotropin (beta-HCG), and lactate dehydrogenase (LDH) should be within the reference range in pure Leydig cell tumors.
The steroid secretion of Leydig cell tumors varies. Serum testosterone levels are usually elevated; however, serum estradiol levels may also be increased, especially when feminization is evident.
Urine and serum endocrinological tests such as urine ketosteroids, plasma cortisol, or the dexamethasone suppression test may help differentiate Leydig cell tumors from other adrenocortical disorders. Leydig cell tumor endocrine function is independent of the hypothalamus-pituitary-gonadal hormonal axis and should not demonstrate a response to adrenocorticotropic hormone stimulation or dexamethasone suppression.
Imaging Studies
See the list below:
Scrotal ultrasonography is typically performed to confirm the diagnosis, especially in patients in whom the physical examination findings are equivocal.

[1, 2]

MRI can reveal small nonpalpable Leydig cell tumors not otherwise visible on sonograms.

CT scanning of the abdomen and chest radiography are indicated if malignancy is suspected.
Histologic Findings
Macroscopically, Leydig cell tumors present as well-circumscribed, yellow to brown masses within the testicle.
Microscopically, these tumors are composed of large, closely packed cells with eosinophilic cytoplasm, bland nuclei, and small nucleoli (see image below). Reinke crystals are pale-staining, cylindrical, rectangular, or rhomboid inclusions that are pathognomonic for Leydig cell tumors and are found in up to 30% of patients with such tumors. Microscopic features such as necrosis, marked pleomorphism, lymphovascular invasion, increased mitotic activity, and DNA aneuploidy are more consistent with a malignant variant.[5]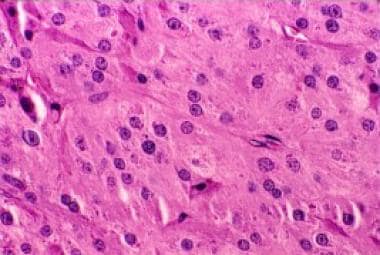 Leydig cell tumors.
Immunohistochemical markers such as alpha-inhibin,[6] calretinin,[7] and melan-A have also been shown to be valuable in the identification of Leydig cell and other sex cord-stromal testicular tumors.
Medscape Reference © 2011 WebMD, LLC