Enterovesical Fistula Workup
Author: Joseph Basler, MD, PhD; Chief Editor: Bradley Fields Schwartz, DO, FACS more...
Updated: Jan 21, 2015
What would you like to print?
Laboratory Studies
Urinalysis usually shows a full field of white blood cells, bacteria, and debris. A variant of the Bourne test (see Bourne test) using orally administered charcoal is also helpful. Charcoal in the urine is detected either visually or microscopically in the centrifuged urine.[33]
Urine culture findings are typically interpreted as mixed flora, although the most common organism identified is Escherichia coli. In the setting of sepsis, attempts should be made to characterize the predominant organisms and to obtain sensitivities to guide further therapy. Recurrent UTIs with various organisms are consistent with, but not diagnostic of, enterovesical fistulae.
Blood studies should include measurement of the blood urea nitrogen (BUN), creatinine, and electrolytes; findings are typically within the reference range. The results of the complete blood cell count (CBC) are typically normal. Leukocytosis may be found in cases associated with focal areas of undrained abscess or development of florid cystitis or pyelonephritis. Anemia may be present in patients with chronic disease and may be associated with malignancy.
Imaging Studies
Computed tomography
CT scanning of the abdomen and pelvis is the most sensitive imaging test for detecting a colovesical fistula, and CT scanning should be included as part of the initial evaluation of suspected colovesical fistulae.[34] CT scanning can demonstrate small amounts of air or contrast material in the bladder, localized thickening of the bladder wall, or an extraluminal gas-containing mass adjacent to the bladder. Three-dimensional reconstruction is useful when traditional axial and coronal images fail to demonstrate the anatomy in sufficient detail.[35] The images below show a series of CT scans.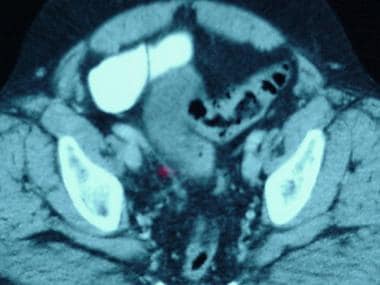 CT scan showing the adherence of the sigmoid colon to the lateral edge of the bladder.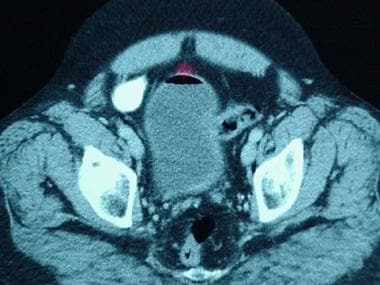 A lower cut of the CT scan from the related image. Note the sigmoid colon in direct proximity to the fistula and the air in the bladder.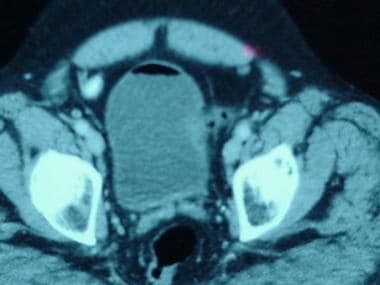 A CT scan one cut further inferiorly from the related images, showing the typical air pattern in the bladder and more obvious inflammatory changes at the site of the vesicoenteric fistula.
Preoperative CT scanning in nine consecutive patients with colovesical fistulae secondary to diverticulitis was accurately used to predict the presence and location of fistulae in 8 patients and led to suspicion in 1 patient.[36]
In another study, colovesical fistulae identified preoperatively with CT scanning in 12 patients were surgically confirmed in 11 of those patients. CT scanning was also used to exclude fistulae in 20 patients with uncomplicated acute diverticulitis.[37]
Avoiding oral contrast ingestion and having the patient evacuate rectally administered barium can enhance the value of CT scanning in the process of fistula identification.[38] CT scanning also plays an important role in preoperative surgical planning by demonstrating the extent and degree of pericolonic inflammation.
In another study, 3-dimensional CT scanning provided improved imaging of the anatomic relationships. Additionally, multidetector row CT urography is useful in identifying urinary tract abnormalities, including fistulae.[39] More sophisticated CT imaging modalities, such as CT colonoscopy, have been reported in the literature, but no clinical trials demonstrating a clinical benefit to this modality over traditional CT scanning have been published to date.[40]
Barium enema
Barium enema (BE) imaging is unreliable in revealing a fistula but is useful in differentiating diverticular disease from cancer. BE imaging can demonstrate the nature and extent of colonic disease. In a 1988 series, Woods et al used BE imaging to demonstrate fistulae in 42% of cases.[41]
Radiography of centrifuged urine samples obtained immediately after a nondiagnostic BE, called the Bourne test, may enhance the yield of the BE. Barium detected in the urine sediment confirms the presence of a fistula. In one study, the Bourne test results were positive in 9 of 10 patients. In 7 of these patients, the Bourne test finding was the only evidence of an otherwise occult colovesical fistula.[42]
Cystography
Cystography may demonstrate contrast outside the bladder but is less likely to demonstrate a fistula.
Radiographic signs have been described. The herald sign is a crescentic defect on the upper margin of the bladder that is visualized best in an oblique view. The herald sign represents a perivesical abscess. A "beehive on the bladder" sign is associated with the vesical end of the fistulous tract.[43]
Because of the superiority of CT scanning as a tool for diagnosis and treatment planning, plain cystography is no longer used in the evaluation of fistulae. CT scanning with rectal contrast only is the best diagnostic imaging modality.
Ultrasonography
Ultrasonography of colovesical fistulae has been described. In some instances, the fistula is easily identified, with no additional maneuvers needed.[44] Ultrasonographic examination of suspected fistulous sites has been enhanced with the technique of manual compression of the lower abdomen, which reveals an echogenic "beak sign" connecting the peristaltic bowel lumen and the urinary bladder.[45] As with cystography, ultrasonography is rarely used for primary imaging of fistulae.
Magnetic resonance imaging
MRI can be used to identify enterovesical fistulae. In a study of 25 patients with Crohn disease, 16 patients had enterovesical, deep perineal, or cutaneous fistulae. One false-negative result occurred in a patient who had a colovesical fistula.[46] Some authors recommend MRI evaluation in patients with Crohn disease given the presence of chronic inflammation and superior anatomic detail in relation to the anal sphincter. Another benefit is that this study does not expose the patient to additional radiation.[47]
T1-weighted images delineate the extension of the fistula relative to sphincters and adjacent hollow viscera and show inflammatory changes in fat planes.
T2-weighted images show fluid collections within the fistula, localized fluid collections in extra-intestinal tissues, and inflammatory changes within muscles.
MRI may be useful in identifying deep perineal fistulae but is not generally used in the routine workup of colovesical fistulae. In a study of 22 patients who presented with symptoms suggestive of colovesical fistula, MRI was performed in conjunction with cystoscopy. Afterward, 19 of the patients underwent laparotomy and repair. They found that MRI correctly identified 18 cases of fistula. Fistula was ruled out in the remaining patient. This data showed MRI to be a highly sensitive and specific study for colovesical fistula.
Although MRI is an excellent study, the increasing image quality of CT scanning, together with the high cost and limited availability of MRI, limit the practical application MRI as a diagnostic study for enterovesical fistulae.[48]
Diagnostic Procedures
Cystoscopy
Cystoscopy can be a helpful component of the diagnostic evaluation. Prior to the advancement of radiological diagnostic techniques, cystoscopy was considered to be the most reliable method of diagnosis.[31] The findings of this procedure can suggest the presence of a fistula, and cystoscopy can be used to evaluate for a possible malignancy.
Cystoscopy can be useful in paring down the list of differential diagnoses, and it enables the physician to obtain a biopsy of the fistula to check for malignancy. Localized erythema, papillary/bullous mucosal changes, and, occasionally, material oozing through an area are present in 80%-90% of diagnosed cases (see image below).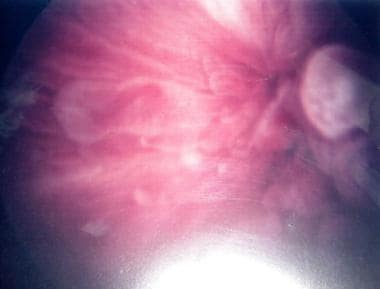 An endoscopic view of colovesical fistula (upper right). Note the prominent edema and erythema characteristic of the fistula (ie, herald patch). Occasionally, a whitish discharge with the consistency of toothpaste can be observed emanating from the orifice. The presentation of a vesicoenteric fistula includes the presence of air, fecal material, and polymicrobial recurrent urinary tract infection.
Inflammatory mucosal changes of edema and pseudopolyp formation have been termed the herald patch (see images below).[49]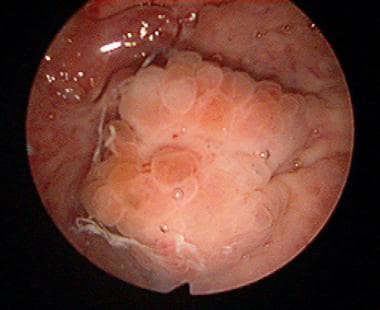 After a bladder wash-out, the fistula appears as a raised, edematous, sessile lesion in the bladder. The air bubble is observed at the top of the photo, and some remnant mucus threads are adherent at the bottom.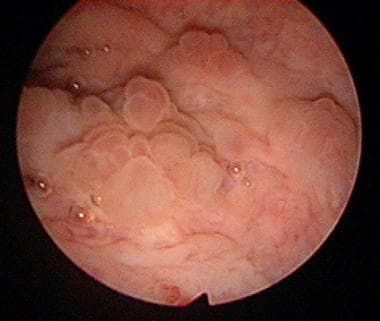 The edema surrounding the fistula often extends for a considerable distance around the bladder wall. A cobblestone appearance is typical when chronic inflammation is present.
Cystoscopy is used to initially diagnose fistulae in 30%-50% of cases. Cystoscopy findings are used to confirm enterovesical fistulae in 60%-75% of patients.
The presence of a localized area of edema and congestion is a typical finding in the early stages of a fistula. Bullous edema and mucosal papillomatous hyperplasia surround a fistula as it matures. Often, the fistula opening is not identified. Fecal material or mucus may be observed in the bladder.[49] An attempt may be made to catheterize the tract or inject contrast retrograde to confirm the presence of fistula using plain radiography or fluoroscopy. Lesions are most commonly observed on the dome of the bladder. A lesion on the left dome of the bladder is typically diverticular. A lesion on the right posterior wall or the right dome of the bladder is more likely associated with Crohn ileitis or an appendicovesical fistula.
Poppy seed test
The poppy seed test has recently proven to be a potentially helpful diagnostic tool. This test consists of administering 1.25 g of poppy seeds with 12 ounces of fluid or 6 ounces of yogurt to the patient. The urine is then collected for the next 48 hours and examined for poppy seeds.
In a recent trial, the accuracy of the poppy seed test was compared with CT scanning and nuclear cystography in 20 patients with surgically confirmed fistulae. The poppy seed test yielded a 100% detection rate, whereas CT scanning and nuclear cystography yielded rates of 70% and 80%, respectively. Because of the low cost of the test ($5.37 for the poppy seed test, $652.92 for CT scanning, $490.83 for nuclear cystography), this may serve as an excellent confirmatory test when fistula is suspected. An obvious problem with the poppy seed test is that it provides little detail as to the location and type of fistula present.[50]
When large areas of inflammation are appreciated or when abscess is involved, possible ureteral involvement should be considered, especially in the setting of any hydronephrosis. Preoperative evaluation with retrograde pyelography or intravenous pyelography (IVP) helps to demonstrate the extent of involvement for surgical repair.[51]
Colonoscopy
Colonoscopy, like BE, is not particularly valuable in detecting a fistula, but it is helpful in determining the nature of the bowel disease that caused the fistula and is typically part of the evaluation. Further, if malignancy is considered, colonoscopy should be performed preoperatively to allow for proper surgical planning.[49, 52]
Laparoscopy/laparotomy
The use of laparoscopy has been described in diagnosing a pediatric patient with an appendicovesical fistula.[13] Adult laparoscopy is commonly used for investigating abdominal pain in women and may become a more frequently used diagnostic tool in men. Exploratory laparotomy is used for diagnosis and therapy in all types of fistulae.
Histologic Findings
Histologic findings associated with a biopsy of fistulous sites are usually consistent with chronic inflammation. Even in the case of carcinoma, inflammation is the usual finding on the bladder side. In more advanced cases, mucin-producing adenocarcinoma may be identified. The differential diagnoses must include primary adenocarcinoma of the bladder or poorly differentiated urothelial carcinoma. The clinical scenario and laparotomy findings are usually helpful in determining the diagnosis.
References
Scozzari G, Arezzo A, Morino M. Enterovesical fistulas: diagnosis and management. Tech Coloproctol. 2010 Dec. 14(4):293-300. [Medline].

Cripps WH. The passage of air and faeces per urethra. Lancet. 1888. 2:619.

Garcea G, Majid I, Sutton CD, Pattenden CJ, Thomas WM. Diagnosis and management of colovesical fistulae; six-year experience of 90 consecutive cases. Colorectal Dis. 2006 May. 8(4):347-52. [Medline].

Karamchandani MC, West CF Jr. Vesicoenteric fistulas. Am J Surg. 1984 May. 147(5):681-3. [Medline].

Balsara KP, Dubash C. Complicated sigmoid diverticulosis. Indian J Gastroenterol. 1998 Apr. 17(2):46-7. [Medline].

Corman ML. Colovesical fistula complicating diverticulitis in brothers. Dis Colon Rectum. 1999 Nov. 42(11):1511. [Medline].

Charúa-Guindic L, Jiménez-Bobadilla B, Reveles-González A, Avendaño-Espinosa O, Charúa-Levy E. [Incidence, diagnosis and treatment of colovesical fistula]. Cir Cir. 2007 Sep-Oct. 75(5):343-9. [Medline].

Dearden C, Humphreys WG. Meckel's diverticulum: a vesico-diverticular fistula. Ulster Med J. 1983. 52(1):73-4. [Medline].

Kuntze JR, Herman MH, Evans SG. Genitourinary coccidioidomycosis. J Urol. 1988 Aug. 140(2):370-4. [Medline].

Piper JV, Stoner BA, Mitra SK, Talerman A. Ileo-vesical fistula associated with pelvic actinomycosis. Br J Clin Pract. 1969 Aug. 23(8):341-3. [Medline].

Cakmak MA, Aaronson IA. Appendicovesical fistula in a girl with cystic fibrosis. J Pediatr Surg. 1997 Dec. 32(12):1793-4. [Medline].

Cockell A, McQuillan T, Doyle TN, Reid DJ. Colovesical fistula caused by appendicitis. Br J Clin Pract. 1990 Dec. 44(12):682-3. [Medline].

Yamamoto H, Yoshida M, Sera Y, et al. Laparoscopic diagnosis of appendicovesical fistula in a pediatric patient. Surg Laparosc Endosc. 1997 Jun. 7(3):266-7. [Medline].

Athanassopoulos A, Speakman MJ. Appendicovesical fistula. Int Urol Nephrol. 1995. 27(6):705-8. [Medline].

Carter D, Choi HY, Telford G, Otterson M, Chitapalli K, Pintar K. Lymphadenopathy and entero-vesical fistula in Fabry's disease. Am J Clin Pathol. 1988 Dec. 90(6):726-31. [Medline].

Téllez Martinez-Fornés M, Fernandez A, Burgos F, et al. Colovesical fistula secondary to vesical gangrene in a diabetic patient. J Urol. 1991 Oct. 146(4):1115-7. [Medline].

Abbas F, Memon A. Colovesical fistula: an unusual complication of prostatomegaly. J Urol. 1994 Aug. 152(2 Pt 1):479-81. [Medline].

Pontari MA, McMillen MA, Garvey RH, Ballantyne GH. Diagnosis and treatment of enterovesical fistulae. Am Surg. 1992 Apr. 58(4):258-63. [Medline].

Dawam D, Patel S, Kouriefs C, Masood S, Khan O, Sheriff MK. A "urological" enterovesical fistula. J Urol. 2004 Sep. 172(3):943-4. [Medline].

Paul AB, Thomas JS. Enterovesical fistula caused by small bowel lymphoma. Br J Urol. 1993 Jan. 71(1):101-2. [Medline].

Miller B, Morris M, Gershenson DM, et al. Intestinal fistulae formation following pelvic exenteration: a review of the University of Texas M. D. Anderson Cancer Center experience, 1957-1990. Gynecol Oncol. 1995 Feb. 56(2):207-10. [Medline].

Gray MR, Curtis JM, Elkington JS. Colovesical fistula after laparoscopic inguinal hernia repair. Br J Surg. 1994 Aug. 81(8):1213-4. [Medline].

Levenback C, Gershenson DM, McGehee R, et al. Enterovesical fistula following radiotherapy for gynecologic cancer. Gynecol Oncol. 1994 Mar. 52(3):296-300. [Medline].

Ansari MS, Nabi G, Singh I, et al. Colovesical fistula an unusual complication of cytotoxic therapy in a case of non-Hodgkin's lymphoma. Int Urol Nephrol. 2001. 33(2):373-4. [Medline].

Crispen PL, Kansas BT, Pieri PG, Fisher C, Gaughan JP, Pathak AS, et al. Immediate postoperative complications of combined penetrating rectal and bladder injuries. J Trauma. 2007 Feb. 62(2):325-9. [Medline].

Nelson AM, Frank HD, Taubin HL. Colovesical fistula secondary to foreign-body perforation of the sigmoid colon. Dis Colon Rectum. 1979 Nov-Dec. 22(8):559-60. [Medline].

Potter D, Smith D, Shorthouse AJ. Colovesical fistula following ingestion of a foreign body. Br J Urol. 1998 Mar. 81(3):499-500. [Medline].

Andrews NJ, Hall CN, Taylor TV. Colovesical fistula caused by a chicken bone. Br J Urol. 1988 Dec. 62(6):617. [Medline].

Daoud F, Awwad ZM, Masad J. Colovesical fistula due to a lost gallstone following laparoscopic cholecystectomy: report of a case. Surg Today. 2001. 31(3):255-7. [Medline].

Khan MS, Bryson C, O'Brien A, Mackle EJ. Colovesical fistula caused by chronic chicken bone perforation. Ir J Med Sci. 1996 Jan-Mar. 165(1):51-2. [Medline].

Driver CP, Anderson DN, Findlay K, et al. Vesico-colic fistulae in the Grampian region: presentation, assessment, management and outcome. J R Coll Surg Edinb. 1997 Jun. 42(3):182-5. [Medline].

Krco MJ, Jacobs SC, Malangoni MA, Lawson RK. Colovesical fistulas. Urology. 1984 Apr. 23(4):340-2. [Medline].

Corman ML. Colovesical Fistula. Colon and Rectal Surgery. Philadelphia, Pa: JB Lippincott; 1984. 505.

Golabek T, Szymanska A, Szopinski T, Bukowczan J, Furmanek M, Powroznik J, et al. Enterovesical fistulae: aetiology, imaging, and management. Gastroenterol Res Pract. 2013. 2013:617967. [Medline]. [Full Text].

Shinojima T, Nakajima F, Koizumi J. Efficacy of 3-D computed tomographic reconstruction in evaluating anatomical relationships of colovesical fistula. Int J Urol. 2002 Apr. 9(4):230-2. [Medline].

Jarrett TW, Vaughan ED. Accuracy of computerized tomography in the diagnosis of colovesical fistula secondary to diverticular disease. J Urol. 1995 Jan. 153(1):44-6. [Medline].

Labs JD, Sarr MG, Fishman EK, et al. Complications of acute diverticulitis of the colon: improved early diagnosis with computerized tomography. Am J Surg. 1988 Feb. 155(2):331-6. [Medline].

Narumi Y, Sato T, Kuriyama K, Fujita M, Mitani T, Kameyama M. Computed tomographic diagnosis of enterovesical fistulae: barium evacuation method. Gastrointest Radiol. 1988 Jul. 13(3):233-6. [Medline].

Caoili EM, Cohan RH, Korobkin M, et al. Urinary tract abnormalities: initial experience with multi-detector row CT urography. Radiology. 2002 Feb. 222(2):353-60. [Medline].

Ing A, Lienert A, Frizelle F. Medical image. CT colonography for colovesical fistula. N Z Med J. 2008 Aug 8. 121(1279):105-8. [Medline].

Woods RJ, Lavery IC, Fazio VW, et al. Internal fistulas in diverticular disease. Dis Colon Rectum. 1988 Aug. 31(8):591-6. [Medline].

Amendola MA, Agha FP, Dent TL, et al. Detection of occult colovesical fistula by the Bourne test. AJR Am J Roentgenol. 1984 Apr. 142(4):715-8. [Medline].

Kaisary AV, Grant RW. "Beehive on the bladder": an indication of colovesical disease. Br J Urol. 1984 Feb. 56(1):35-7. [Medline].

Long MA, Boultbee JE. Case report: the transabdominal ultrasound appearances of a colovesical fistula. Br J Radiol. 1993 May. 66(785):465-7. [Medline].

Chen SS, Chou YH, Tiu CM, Chang T. Sonographic features of colovesical fistula. J Clin Ultrasound. 1990 Sep. 18(7):589-91. [Medline].

Haggett PJ, Moore NR, Shearman JD, Travis SP, Jewell DP, Mortensen NJ. Pelvic and perineal complications of Crohn's disease: assessment using magnetic resonance imaging. Gut. 1995 Mar. 36(3):407-10. [Medline].

Koelbel G, Schmiedl U, Majer MC, et al. Diagnosis of fistulae and sinus tracts in patients with Crohn disease: value of MR imaging. AJR Am J Roentgenol. 1989 May. 152(5):999-1003. [Medline].

Ravichandran S, Ahmed HU, Matanhelia SS, Dobson M. Is there a role for magnetic resonance imaging in diagnosing colovesical fistulas?. Urology. 2008 Oct. 72(4):832-7. [Medline].

Lavery IC. Colonic fistulas. Surg Clin North Am. 1996 Oct. 76(5):1183-90. [Medline].

Kwon EO, Armenakas NA, Scharf SC, Panagopoulos G, Fracchia JA. The poppy seed test for colovesical fistula: big bang, little bucks!. J Urol. 2008 Apr. 179(4):1425-7. [Medline].

Rames RA, Bissada N, Adams DB. Extent of bladder and ureteric involvement and urologic management in patients with enterovesical fistulas. Urology. 1991 Dec. 38(6):523-5. [Medline].

Najjar SF, Jamal MK, Savas JF, Miller TA. The spectrum of colovesical fistula and diagnostic paradigm. Am J Surg. 2004 Nov. 188(5):617-21. [Medline].

Amin M, Nallinger R, Polk HC Jr. Conservative treatment of selected patients with colovesical fistula due to diverticulitis. Surg Gynecol Obstet. 1984 Nov. 159(5):442-4. [Medline].

Solkar MH, Forshaw MJ, Sankararajah D, Stewart M, Parker MC. Colovesical fistula--is a surgical approach always justified?. Colorectal Dis. 2005 Sep. 7(5):467-71. [Medline].

Fiocchi C. Closing fistulas in Crohn's disease--should the accent be on maintenance or safety?. N Engl J Med. 2004 Feb 26. 350(9):934-6. [Medline].

Zhang W, Zhu W, Li Y, Zuo L, Wang H, Li N, et al. The respective role of medical and surgical therapy for enterovesical fistula in Crohn's disease. J Clin Gastroenterol. 2014 Sep. 48(8):708-11. [Medline].

Ferguson GG, Lee EW, Hunt SR, Ridley CH, Brandes SB. Management of the bladder during surgical treatment of enterovesical fistulas from benign bowel disease. J Am Coll Surg. 2008 Oct. 207(4):569-72. [Medline].

Kirsh GM, Hampel N, Shuck JM, Resnick MI. Diagnosis and management of vesicoenteric fistulas. Surg Gynecol Obstet. 1991 Aug. 173(2):91-7. [Medline].

Van Thillo EL, Delaere KP. Endoscopic treatment of colovesical fistula. An endoscopical approach. Acta Urol Belg. 1992. 60(2):151-2. [Medline].

Puente I, Sosa JL, Desai U, et al. Laparoscopic treatment of colovesical fistulas: technique and report of two cases. Surg Laparosc Endosc. 1994 Apr. 4(2):157-60. [Medline].

Joo JS, Agachan F, Wexner SD. Laparoscopic surgery for lower gastrointestinal fistulas. Surg Endosc. 1997 Feb. 11(2):116-8. [Medline].

Petropoulos P, Nassiopoulos K, Chanson C. [Laparoscopic therapy of diverticulitis]. Zentralbl Chir. 1998. 123(12):1390-3. [Medline].

Perniceni T, Burdy G, Gayet B, et al. [Results of elective segmental colectomy done with laparoscopy for complicated diverticulosis]. Gastroenterol Clin Biol. 2000 Feb. 24(2):189-92. [Medline].

Siriser F. Laparoscopic-assisted colectomy for diverticular sigmoiditis. A single-surgeon prospective study of 65 patients. Surg Endosc. 1999 Aug. 13(8):811-3. [Medline].

Moesgaard F, Hoffmann S, Nielsen R. Successful fibrin seal closure of a contaminated fistula. Case report. Acta Chir Scand. 1989 Aug. 155(8):427-8. [Medline].

McBeath RB, Schiff M, Allen V, et al. A 12-year experience with enterovesical fistulas. Urology. 1994 Nov. 44(5):661-5. [Medline].
Medscape Reference © 2011 WebMD, LLC