Radical Cystectomy Treatment & Management
Author: Michael Christopher Large, MD; Chief Editor: Bradley Fields Schwartz, DO, FACS more...
Updated: Dec 04, 2014
What would you like to print?
Medical Therapy
Alternative therapy for muscle-invasive disease
See the list below:
Transurethral resection of bladder tumor (TURBT) alone: Risks include incomplete resection, a high rate of disease recurrence, and the potential for disease progression.

Systemic chemotherapy in combination with TURBT

This regimen has historically included methotrexate, vinblastine, doxorubicin (Adriamycin), and cisplatin (MVAC).
A doublet of gemcitabine and cisplatin has shown similar response rates to MVAC in the metastatic setting and is easier to tolerate; therefore, this regimen is often considered the first-line therapy.[10, 11]

Primary radiation therapy: This therapy is more commonly used in countries outside the United States for patients with T2 and T3 cancer. The 5-year survival rate is 20%-40% (less than radical cystectomy).

Gofrit et al compared the results of radical cystectomy with those of chemoradiation in 2 age-matched populations. Between 1998 and 2008, 33 patients were treated with chemoradiation for biopsy-proven T2-4aN0M0 urothelial bladder cancer.

[12]

For every patient treated with chemoradiation, the investigators found an age-matched patient who underwent radical cystectomy during the same year for comparison. The mean dose of radiation therapy was 62 Gy; the median follow-up period for both groups was approximately 36 months. The groups were similar with respect to age, proportion of men, and length of follow-up. The Charlson comorbidity index was significantly lower for patients who underwent surgery. The 2- and 5-year overall survival rates after surgery were 74.4% and 54.8%, respectively; after chemoradiation, 2- and 5-year overall survival rates were 70.2% and 56.6%, respectively. The 2- and 5-year disease-free survival rates after surgery were 67.8% and 63.2%, respectively; after chemoradiation,theywere63%and 54.3%, respectively. The investigators concluded that treatment with chemoradiation should be considered in patients with T2-4aN0M0 bladder cancer.

[12]

Bladder-sparing multimodality therapy

Transurethral resection plus radiation therapy and concomitant cisplatin-based chemotherapy carries a 3- to 5-year estimated survival rate of 45%-64%. Delayed cystectomy is often required for palliation of symptoms or for recurrent disease. At 5 years following treatment, approximately 40% of patients are disease-free with their native bladder.
No significant improvement over up-front cystectomy has been shown, and the burden of therapy is often greater in patients who undergo multimodal therapy.
This therapy is considered only in patients who are highly motivated to preserve their bladder and reliably adhere to the rigorous surveillance protocol required.

Partial cystectomy: Partial cystectomy is for highly selected patients with a single tumor at a single point in time in a surgically amenable location who have no associated CIS and a bladder volume capable of tolerating a partial resection. Patients must be willing to accept the risk of local recurrence within the retained bladder and the risk of disease progression.
Surgical Therapy
The criterion standard for the treatment of patients with stage T2-T4 disease is radical cystoprostatectomy for men and anterior pelvic exenteration for women. Additionally, all patients should undergo bilateral pelvic lymphadenectomy.
Patients who undergo radical cystectomy may benefit from a cancer-specific survival advantage when neoadjuvant chemotherapy is given prior to surgery. The rationale of preoperative chemotherapy includes treatment of micrometastatic disease and pathologic downstaging. However, some patients with node-negative disease are needlessly treated with chemotherapy; in addition, surgery is significantly delayed. A recent meta-analysis of 11 trials showed an overall survival rate benefit of 6.5% among patients who received neoadjuvant chemotherapy. If locally advanced TCC is suspected based on clinical staging, the rationale for neoadjuvant chemotherapy prior to cystectomy is even stronger.[13]
Emerging retrospective data from multiple institutions suggest that an increased interval from the time of the diagnosis to radical cystectomy can adversely affect pathologic stage and survival. For example, at the University of Pennsylvania, patients who underwent radical cystectomy within 12 weeks of the diagnosis had a lower incidence of advanced pathologic stage (42% vs 84% with extravesical disease), lower incidence of positive lymph nodes, and an increased 3-year survival rate (62% vs 35%).[14] Although all studies have been retrospective, sufficient data support the concept of prompt surgical intervention.
Survival data based on pathologic stage and nodal status are detailed in Outcome and Prognosis.
Cystoprostatectomy
Cystoprostatectomy involves a bilateral pelvic lymphadenectomy and removal of the bladder, peritoneal covering, perivesical fat, distal ureters, prostate, seminal vesicles, vas deferentia, and, sometimes, the membranous or entire urethra. At centers with advanced laparoscopic experience, cystoprostatectomies and urinary diversion can be performed laparoscopically.
Anterior pelvic exenteration
This consists of a bilateral pelvic lymphadenectomy, cystectomy, urethrectomy, hysterectomy, salpingo-oophorectomy, and partial anterior vaginectomy.
Bilateral pelvic lymphadenectomy
A lymph node dissection must be bilateral and should include either a standard or extended template. A standard pelvic lymph node dissection generally includes removal of the bilateral external iliac, obturator, internal iliac (hypogastric), and common iliac lymph node chains. An extended dissection includes all nodes from the standard template plus paracaval, interaortocaval, para-aortic, and presacral lymph nodes.
Two recent studies have detailed the pattern of lymphatic spread for bladder cancer. A group from Mansoura, Egypt performed pelvic lymph node dissections (extending cranially to the inferior mesenteric artery) in 200 consecutive patients and harvested a mean of 50 lymph nodes per patient. Twenty-three of the patients had only one positive lymph node. Twenty-two of the positive lymph nodes were located in the obturator or hypogastric region. Based on these data, the obturator and hypogastric region may represent sentinel regions. Thus, the authors suggest that a pelvic lymph node dissection should include the obturator and hypogastric regions and that, if the frozen sections are negative for metastatic deposits, extending the lymphadenectomy to other regions may be of limited utility.
A separate analysis of 290 lymphadenectomies from a European multicenter trial identified 7% of patients with metastases in only the external iliac/internal iliac/obturator region, 7% of patients with metastases in only the common iliac region, and no patient with metastases more proximal to the common iliac region without also having more caudal regions of metastases.[15]
In concert with the previously detailed study, these findings suggest that the lymph node regions caudal to the aortic bifurcation may represent the initial areas of metastatic spread. Because some patients have a solitary positive lymph node in the common iliac region, this area should be included in the pelvic lymphadenectomy. In 2008, a retrospective study compared patients who underwent cystectomy plus limited pelvic lymph node dissection in the United States with a matched group who underwent cystectomy and extended lymph node dissection in Europe.[16] The group who underwent limited pelvic lymphadenectomy were found to have suboptimal staging, a higher rate of local progression, and a lower recurrence-free survival at 5 years (7% vs 35% for N+; 67% vs 77% for T2N0). While stage migration may be a confounding factor in this analysis, the study reflects a growing trend in oncologic surgery toward more extensive lymphadenectomies.
Always attempt a thorough lymph node dissection; however, dissection cannot be safely performed in some rare circumstances, such as the following:
Extensive radiation changes

Prior pelvic surgery

Large arterial aneurysms

Severe patient comorbidities that limit the length of surgery

Large volume, fixed lymphadenopathy
Urinary diversion and reconstruction
Many methods of urinary diversion following radical cystectomy are possible. These methods can be classified into 3 categories: incontinent urinary diversions, continent cutaneous urinary diversions, and orthotopic ileal neobladders.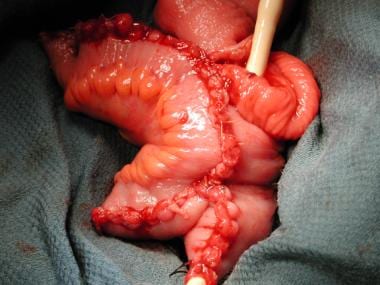 Pelvic ileal neobladder ready for anastomosis to the urethra.
For a more detailed description of these 3 categories, see Intraoperative details or the Medscape Reference article Urinary Diversions and Neobladders.
Briefly, an ileal conduit is technically the easiest and quickest method of urinary diversion to perform. Continent cutaneous urinary diversions require intermittent catheterization of a small periumbilical stoma and obviate the need for a stoma bag. The major advantages of neobladders include improved body image and the lack of a stomal device; however, they are contraindicated in some patients, including women with tumor involvement of the bladder neck and most men with prostatic stromal or urethral involvement. Relative contraindications to neobladder include a radiated pelvis, advanced age (lower continence rates), azotemia, and liver dysfunction. Complications of all types of urinary diversion include the following:
Hyperchloremic metabolic acidosis

Urinary tract infections

Stomal-peristomal inflammation, hernia, or stenosis

Urinary calculi

Vitamin B-12 deficiency

Ureterointestinal stenosis leading to hydronephrosis
Zabell et al conducted a study in a large, population-based cohort to compare the risk of end-stage renal disease in patients who received either ileal conduit urinary diversion or continent urinary diversion after cystectomy for bladder cancer. The investigators concluded that there was no significant difference in the rate of end-stage kidney disease for ileal conduit urinary diversion and continent urinary diversion.[17]
Preoperative Details
Prehospital
See the list below:
Consideration of neoadjuvant chemotherapy for stage pT2 disease or higher: Adequate renal function (estimated glomerular filtration rate >60 mL/min) is required to administer cisplatin-based regimens (MVAC or gemcitabine/cisplatin). Cisplatin-based neoadjuvant chemotherapy is the preferred standard when possible, as it has been shown to improve survival rates. Neoadjuvant chemotherapy is preferred over adjuvant chemotherapy because of improved patient tolerance.

Evaluation and optimization of cardiopulmonary disease

Stoma marking and counseling, if necessary

Autologous blood donation, if desired

Bowel preparation, with surgeon's choice of clear-liquid diet, magnesium citrate, Phospho-soda, GoLYTELY, or enemas

Confirmation of urine sterility

Smoking cessation
In-hospital
See the list below:
Adequate intravenous hydration

Nasogastric tube placed intraoperatively (Many centers remove gastric suction at the end of surgery.)

Antibiotics with bowel flora coverage

Subcutaneous heparin or pneumatic compression stockings
Operating room
See the list below:
Paralytic anesthetic agent

Long, curved, and angled instruments; self-retaining retractor

Supine position in men (For concomitant urethrectomy, lithotomy is needed.)

Modified lithotomy position with Allen or Lloyd-Davies stirrups in women

Sterile preparation and drape from mid chest to mid thigh, including the genitalia and perineum

Bladder catheter
Intraoperative Details
Exposure
Make a vertical midline incision from symphysis pubis to a few centimeters above or below the umbilicus, depending upon a patient's habitus. Enter the peritoneum above the umbilicus and incorporate the urachal remnant into the specimen. Palpate the pelvic and abdominal viscera and collect frozen section biopsy samples of any suspicious sites. Expose the ventral bladder and prostate. Identify, ligate, and divide the vas deferentia or round ligaments. Continue the peritoneal incision laterally to expose the aortic bifurcation, common iliac arteries, and external iliac arteries.
Lymphadenectomy
Dissect the adventitia from the external and common iliac vessels and isolate all of the perivascular lymphatic tissue. Enter the obturator space, being cognizant of accessory obturator vessels and the obturator nerve. Most surgeons clip all lymphatics to limit the incidence and size of lymphoceles. Standard lymphadenectomy template borders are typically as follows:
Lateral - Genitofemoral nerve on the psoas muscle

Superior - Aortic bifurcation

Inferior - Inguinal ligament, including the node of Cloquet

Medial - Perivesical tissue
As detailed in Surgical therapy, if the standard template is without gross or microscopic disease, stopping the lymph node dissection is reasonable. Recently, some surgeons have adopted an extended lymph node dissection, including the distal paracaval, distal paraaortic, and presacral regions, in all patients. Studies have shown that the survival rate is related to the total number of lymph nodes removed, regardless of the number of positive lymph nodes (for further detail, see Outcome and Prognosis).[18]
The survival rate is likely related to more accurate pathologic staging and the removal of lymph nodes with micrometastatic disease that the pathologist does not identify; therefore, a more extensive lymph node dissection is often advocated. Another rationale for an extended lymph node dissection is that more limited templates (caudal to the bifurcation of the iliac vessels) are associated with pelvic recurrence rates as high as 30%.
If grossly positive lymph node disease is encountered, consider whether the lymph nodes can be safely and completely resected. If this can be fully achieved, proceed with the lymphadenectomy. Up to 25% of patients with lymph node–positive disease survive long-term, as detailed in Outcome and Prognosis.
Cystoprostatectomy
The distal ureters are mobilized, taking care to preserve the periureteral tissue that contains the vasculature; they are ligated at the ureterovesical junction; margins may be sent for frozen section. Some groups forego frozen section analysis, as it has not been shown to alter disease recurrence or systemic progression rates.[19] Bluntly enter Denonvilliers space anterior to the rectum and posterior to the bladder, prostate, and seminal vesicles. For lateral pedicles, the first branch of the anterior division of the internal iliac artery (superior vesical artery) is ligated and divided bilaterally; repeat with the inferior vesical artery.
For the posterior pedicles, in multiple steps, divide the tissue that lies laterally to the bladder, seminal vesicles, and prostate. This can be accomplished with clamps and ties or with the gastrointestinal anastomosis (GIA) stapler. At this point, the bladder and proximal prostate should be mobile. Bluntly open the endopelvic fascia on the lateral edge of the prostate. Turn attention to the apex of the prostate. Partially release the puboprostatic ligaments. Ligate the dorsal venous complex (DVC) proximally and distally. Transect the DVC and control any remaining bleeding with suture ligatures. Transect the urethra, divide the rectourethralis muscle, and remove the bladder, seminal vesicles, and prostate en bloc. If an orthotopic f is planned, frozen sections of the prostatic urethra and prostatic apex are mandatory to exclude disease. Confirm hemostasis. Closed suction drainage of the pelvis is suggested.
Urethrectomy
Place the patient in the dorsal lithotomy position. A midline perineal incision is made. The urethra and accompanying corpus spongiosum are isolated from the corpora cavernosum to the fossa navicularis. A ventral urethral meatotomy is made, and the urethra is dissected from the proximal and distal aspects and removed en bloc with the bladder and the prostate.
Incontinent cutaneous urinary diversion
Bricker popularized the ileal conduit in the 1950s. The conduit drains to a cutaneous stoma and requires the use of an external appliance. Ureteral anastomoses are freely refluxing. Approximately 12-15 cm of ileum is mobilized, and the proximal end is closed with a staple line or sutures. The left ureter is tunneled through the sigmoid mesocolon and both ureters are spatulated and sutured to the ileal segment with interrupted absorbable sutures (eg, 4-0 Vicryl). Temporary stenting of the ureterointestinal anastomoses is traditionally performed, although some groups no longer routinely practice this. The Wallace technique is a variation, with a distal ureteroureteral anastomosis prior to the ileal anastomosis. This provides a wider lumen anastomosis; however, in the rare occurrence of an anastomotic tumor recurrence, it places both kidneys at risk of obstruction.
A circular 2.5-cm diameter incision is made on the skin in a premarked position and carried down through Scarpa fascia. A cruciate incision large enough for 2 fingers is made in the anterior and posterior rectus sheath. The stoma is "rosebudded" with eversion of the end segment of ileum.
Absorbable sutures are placed from the stomal skin edge to the serosa of the conduit, approximately 3 cm proximal to its distal end, and are continued as a full-thickness bite through the distal end of the conduit. Then, tailor the posterior rectus fascial sheath to an appropriate fit to prevent intestinal herniation.
A colonic conduit can be used if the ileum has been irradiated. Every segment of colon has been used, with the most popular being the transverse colon because it is outside the field of any previous pelvic radiation.
Continent cutaneous urinary diversions
In 1987, Rowland and associates introduced the Indiana pouch, which is the most commonly used continent cutaneous diversion technique. Approximately 30-40 cm of cecum and ascending colon are isolated with approximately 10 cm of terminal ileum. The colon is detubularized. The terminal ileum is plicated to the size of a 14F catheter with a GIA stapler. The ileocecal valve is buttressed and imbricated as a continence mechanism. The cecum is folded down, shaped into a spherical reservoir, and closed with 2-0 running absorbable suture. The ureterointestinal anastomoses are placed on the posterior colonic wall and stented perioperatively. A cecostomy tube is placed to drain the pouch and to provide for postoperative irrigation, as needed. The estimated rate of daytime continence is 93% and nocturnal continence, 76%.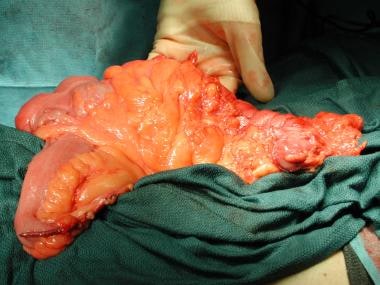 The bowel segment of the Indiana pouch includes the entire ascending colon, a small portion of the transverse colon, and about 7-8 cm of the terminal ileum.
Orthotopic neobladders
Orthotopic neobladders are constructed in the anatomic position and anastomosed to the native urethra. Volitional voiding is achieved by increasing the abdominal pressure and relaxing the external sphincter. The neobladders can be fashioned from ileum, ileocolonic tissue, or sigmoid colon. During dissection, special attention must be given to protect the urethra, periurethral musculature, and sphincter. Complications include daytime incontinence (approximately 10% of patients), nocturnal incontinence (20%-30%), hypercontinence requiring catheterization (approximately 20% in women), urinary retention (10%, due to obstruction caused by stricture, residual prostate tissue, disease recurrence, or mechanical kinking of the urethra or neobladder dysfunction), and, rarely, ureterointestinal anastomotic stenosis or fistula formation.
Numerous variations of the orthotopic neobladder have been introduced, but the Studer-type pouch, because of its versatility, is currently used most often. The pouch is particularly useful with short ureters because the proximal limb can be configured to reach cephalad, if necessary. A 50- to 60-cm ileal segment is isolated approximately 15-20 cm proximally to the ileocecal valve. The distal 40-45 cm are detubularized, folded, and fashioned into a pouch with 2-0 absorbable sutures. The ureteroileal anastomoses are placed in the unopened, isoperistaltic afferent segment. A small opening is placed in a dependent portion of the pouch and anastomosed to the urethral stump with interrupted absorbable sutures.
Other neobladders include the Camey, a 60-cm segment of ileum fashioned into a U shape; the Hautmann, which is similar to other neobladders, but W-shaped to increase capacity; and the Mainz, LeBag, and UCLA pouches, which all use ileocecal segments.
Table 2. Advantages and Disadvantages of Intestinal Segments Used for Urinary Diversion (Open Table in a new window)
| | | |
| --- | --- | --- |
| Segment | Advantages | Disadvantages |
| Stomach | Can be used in patients with renal failure, hepatic failure, acidosis, and pelvic radiation; no mucus production | Hypokalemic hypochloremic metabolic alkalosis, hematuria dysuria syndrome due to acid irritation of the urothelium, concern for increased secondary malignancy |
| Jejunum | N/A | Hyperkalemic hypochloremic metabolic acidosis, hyponatremia, osteomalacia (Avoid if at all possible.) |
| Ileum | Familiarity to urologists | Hypokalemic hyperchloremic metabolic acidosis, vitamin B-12 deficiency, fat malabsorption, diarrhea, osteomalacia (not a good option following pelvic radiation) |
| Colon | Transverse colon can be used in patients who have had pelvic radiation. | Hypokalemic hyperchloremic metabolic acidosis, osteomalacia; most mucus production of all intestinal segments |
Other considerations
Nerve-sparing radical cystectomy is a technique that can be used to preserve erectile function. Postoperative potency is 40%-50% in optimally selected patients, namely men without tumors at the bladder base or prostate.
Most of the dissection is performed in a retrograde manner. The apex of the prostate is addressed first, using a technique virtually identical to that used for a nerve-sparing radical prostatectomy. The nerves are most commonly damaged at the apex and at the tips of the seminal vesicle—an important point to remember during dissection. The best candidates for this procedure are patients who have superficial TCC or invasive disease that does not involve the base of the bladder posteriorly because they have a lower risk of disease extension posterolaterally. An appropriate cancer surgery takes utmost precedence; abandon nerve sparing if the patient's cancer status posterolaterally is of any concern.
Survival rates are comparable with those of the traditional approach in appropriately
selected patients. Nerve-sparing cystectomy has also been associated with improved neobladder continence rates, although the exact mechanism is unclear.
Alternative surgical approaches
See the list below:
Perineal access may be used for mobilization of the posterior plane between the rectum and the prostate following radiation therapy to the pelvis (salvage cystectomy).

Laparoscopic (or robot-assisted laparoscopic) cystectomy is an emerging treatment option with early perioperative outcomes that suggest less blood loss, potentially earlier return of bowel function, and apparently similar pathologic outcomes. While intracorporeal neobladder or conduit construction has been successfully performed, most specialized centers create the urinary diversion extracorporeally through a miniature laparotomy. Current minimally invasive series are small and immature; further evaluation is necessary.

[20, 21]

Radical cystectomy in women is often technically easier because women have a larger pelvic cavity. Warn patients of a smaller vaginal cavity and the possibility of dyspareunia. Unique technical considerations in females include the following:

When the superior vesical artery is ligated, the uterine arteries should also be addressed.
The broad ligament is incised on the posterior side down to the posterior fornix of the vagina.
The round ligament is ligated and divided.
Sacrifice the gonadal vessels above the ovaries.
The fallopian tubes and ovaries are removed, along with the uterus and bladder.
The vagina is mobilized and incised at the posterior fornix along the lateral vaginal wall to the bladder neck at the 2-o'clock and 10-o'clock positions.
Anterior vaginectomy is a U-shaped anterior vaginal wall incision on both sides of the bladder neck. Labia can be retracted laterally with suture ligatures. The dorsal venous plexus anterior to the urethra is controlled with suture ligature. The anterior vaginal wall is then divided and removed en bloc with the entire specimen.
The vagina is reconstructed by suturing the lateral walls together or by flipping the posterior wall forward in a clam-shell fashion. A vaginal pack soaked with Betadine can be left in the vagina postoperatively for 1-2 days.
Vagina-sparing cystectomy is well accepted in select patients based on tumor location.[22]

Radical cystectomy without urinary diversion is an option in anuric patients on hemodialysis.
Postoperative Details
See the list below:
Optional use of nasogastric suction and stress gastritis prophylaxis

Bowel-spectrum antibiotics for 1-2 days

Deep vein thrombosis (DVT) prophylaxis - Includes serial compression devices, subcutaneous unfractionated heparin, or low molecular weight heparin

Incentive spirometry and chest physiotherapy

Removal of Jackson-Pratt drains when less than 150 mL per day accumulates
Follow-up
Because recurrence is a significant risk following radical cystectomy, frequent and appropriate surveillance is essential.
A group from the University of Texas MD Anderson Cancer Center retrospectively reviewed their post–radical cystectomy surveillance protocol for 382 patients and concluded that a stage-specific approach was most appropriate.[23] With a median follow-up of 38 months, 97 of 382 (25%) patients experienced recurrences, with a median time to recurrence of 12 months. The 4 most common sites of recurrence (in decreasing order of incidence) included the lung, pelvis, bone, and liver. Seventy-four percent of recurrences were asymptomatic, and 43 of the 72 asymptomatic recurrences were detected with chest radiography or liver function serum tests.
Only 5% of patients with pT1 disease had subsequent metastases, and all were identified with chest radiography or liver function tests. Among 10 patients who were found to have asymptomatic intra-abdominal recurrences based on CT scan findings, 9 had pT3 disease. Patients with pT2 and pT3 disease had recurrence rates of 20% and 40%, respectively. All recurrences in patients with pT2 or pT3 disease occurred within 24 months.
Based on these findings, the group recommends that patients with pT1 disease should undergo an annual history, physical examination, chest radiography, liver function tests, and alkaline phosphatase assessment. Patients with pT2 disease should undergo the same studies, but they should be performed every 6 months for 3 years, then annually. Patients with pT3 disease should be observed similarly to those with pT2 disease, except surveillance should start at 3 months, with CT scanning performed at 6, 12, and 24 months. All patients with TCC, particularly those at higher risk of recurrence (distal ureteral involvement at cystectomy, multiple recurrent bladder tumors, CIS), should undergo upper tract radiographic studies every 1-2 years.
There is conflicting data regarding whether routine post-cystectomy surveillance improves survival. A retrospective study from the Mayo clinic of 1600 patients with median follow-up of 9.8 years suggested that five and 10-year overall survival is improved in patients with asymptomatic versus symptomatic recurrence; 46% and 26% versus 22% and 10%, respectively (p < 0.0001). Patients with symptomatic recurrence had a 60% increased risk for death versus those with asymptomatic recurrence (p = 0.0001).[24]
A large study in Germany, however, casts doubt on this purported value of imaging after cystectomy.[25] Of 1270 patients who underwent radical cystectomy, tumors recurred in 154 asymptomatic patients and 290 symptomatic patients. The overall survival rates at 1, 2, and 5 years in the two groups were 22.5%, 10.1% and 5.5% versus 18.9%, 8.2% and 2.9%, respectively. Based on this experience, symptom-guided follow-up may provide survival outcomes that are similar to those associated with imaging-based examinations. Additional studies are needed to validate these findings.
For excellent patient education resources, visit eMedicineHealth's patient education articles Bladder Cancer and Blood in the Urine.
Complications
In early 2009, the Memorial Sloan-Kettering Cancer Center reported a complication rate of 67% for 1,142 consecutive cystectomies.[26] Strict guidelines were used, and their results suggest that prior publications may have underestimated the true complication rate. Specifically, in 2006, the University of Southern California reported 28% complication and 2% mortality rates (primarily due to cardiovascular events, sepsis, and pulmonary embolism) in a series of 1,359 patients who underwent radical cystectomy.[2]
Common complications include ileus, atelectasis, DVT, and wound infection. Less common complications include rectal injury, ureteroileal anastomotic leaks, and bowel obstruction.
Lymphadenectomy typically carries a low morbidity rate. In a large series that detailed complication rates directly attributable to the lymph node dissection, about 5% of patients had prolonged lymphatic drainage via an externalized tube; however, all tubes were postoperatively removed within 10 days. Although an extended lymph node dissection typically takes approximately 60 minutes longer than a standard dissection, perioperative morbidity and mortality rates were not higher in a small series of 92 patients from Austria.
Rectal injury results from undue excessive traction of the specimen, which can cause tenting and avulsion of rectal tissue or direct incision into the rectum. If the rectum is injured, a meticulous multilayered repair using the Lembert technique is necessary. Suture a flap of peritoneum or omentum over the repaired injury and copiously irrigate. Perirectal drainage, length of nothing-by-mouth status, and duration of antibiotic therapy are case- and surgeon-dependent.
Outcome and Prognosis
Cure rates among patients with stage pT2-pT3b TCC following radical cystectomy are equal or superior to those of any bladder-salvage technique. Despite radical cystectomy, 50% of patients die from their disease (18%-35% of patients with stage pT2). The local recurrence rate among patients with pT3 and pT4 disease is 5%-10% and 15%-25%, respectively.
Mitra et al conducted a study to identify prognostic factors for survival in patients who experienced urothelial recurrence after undergoing radical cystectomy for bladder cancer.[27] Their study cohort consisted of 2,029 patients with bladder cancer who underwent radical cystectomy at the University of Southern California Norris Comprehensive Cancer Center, in Los Angeles, California. Of the patients in their cohort, 80 (3.9%) experienced recurrence in the urothelium (upper urinary tract or urethra) and had sufficient follow-up for further analysis. Clinicopathologic characteristics were analyzed by univariate and multivariable analyses to identify prognostic factors for postrecurrence disease-specific and overall survival. At a median follow-up of 12 years, 25 patients (31.3%) experienced recurrence in the upper tract, and 55 (68.7%) experienced recurrence in the urethra. Median time to recurrence was 25.9 months. Older age, the presence of tumors that were upstaged at the time of cystectomy,andpositive surgical margins were associated with a lower overall survival. The presence of symptoms at follow-up was associated with a poor disease-free survival. Disease-specific survival and overall survival were lower for patients who experienced urothelial recurrence within 2 years of cystectomy. The site of urothelial recurrence did not have a bearing on time to recurrence. The investigators concluded that the clinical course for urothelial cancer relapse in the upper urinary tract is comparable with that in the urethra and that patients experiencing early urothelial recurrence have a worse prognosis and should be considered candidates for adjuvant therapy.[27]
Radical cystectomy plus pelvic lymph node dissection and negative nodes
The following is the pathologic stage with the corresponding 5-year survival rate for radical cystectomy plus pelvic lymph node dissection and negative nodes:
pTa-pT1 - 85%-100%

P2 - 63%-83%

P3 - 17%-58%

P4 - 0%-59%

Node positive - 10%-30%
Radical cystectomy plus pelvic lymph node dissection with nodal disease
In most large series, the incidence of lymph node metastases at the time of cystectomy ranged from 20%-30%; patients with positive nodes have a 5-year survival rate of 20%-35%. Of patients with nodal disease, survival depends on numerous factors, such as the following:
Extent of the primary bladder disease

Extent of nodal metastases (N1, N2, N3)

Total number of lymph nodes (diseased plus disease-free) removed

[18]

Lymph node density (total number of positive lymph nodes divided by total lymph nodes removed)
A cure rate of up to 45% can be achieved in patients with nodal disease and a tumor confined to bladder (pT2 or less), whereas lower cure rates (15%-30%) are achieved in patients with nodal disease and an extravesical primary tumor.
N1 disease carries a 5-year survival rate of 26%-44%, N2 disease carries a 5-year survival rate of 22%-26%, and those with N3 disease rarely survive longer than 5 years.
The survival rate has also been correlated to the total number of lymph nodes removed, regardless of the number of diseased nodes; this is likely a result of more accurate pathologic staging and the removal of micrometastases not visualized pathologically. In one large study, patients with both node-negative and node-positive disease had an increased survival rate if the total number of lymph nodes removed was greater than 9.[18] Another recent study that analyzed lymph node dissection data from 1,121 patients undergoing cystectomy showed that, regardless of lymph node status, as more lymph nodes were resected, overall survival improved. Survival probability never plateaued at a specific lymph node threshold but continued to improve as more nodes were removed. This finding implies that more extensive lymph node dissections may result in improved long-term survival.[28]
Another prognostic tool is the lymph node ratio, or density, defined as the total number of positive lymph nodes divided by total lymph nodes removed. A cutpoint of 20% has been used to risk-stratify patients with positive lymph nodes. In a large Memorial Sloan Kettering Cancer Center and University of Southern California series, patients with a lymph node ratio of less than 20% had 5-year survival rates of 45%-64%, whereas those with a lymph node ratio of more than 20% had 5-year survival rates of 6%-18%.
When disease is limited to the prostatic urethra or prostatic ducts, the prognosis is similar to that in patients without prostatic involvement. Patients with urethral CIS, ductal prostatic involvement, and stromal prostatic involvement have 5-year survival rates of 74%, 67%, and 36%, respectively.
Other prognostic factors that have been independently associated with outcome following cystectomy include extracapsular extension of pelvic lymph node metastases,[29] Ki67 expression,[30] and lymphovascular invasion.[31] Recurrence after cystectomy almost uniformly results in cancer-specific mortality.
Alternative therapy
In clinical stage T2 and T3 disease, external beam radiotherapy is associated with a 5-year survival rate of 20%-40%.
Bladder-sparing multimodal therapy (TURBT, radiation, chemotherapy) carries a 3- to 5-year survival rate of 45%-64%. Thus, the survival rate is comparable, although not superior, to radical cystectomy, and the burden of therapy is much higher for patients. In general, this approach is reserved for patients who are highly motivated toward bladder preservation.
Future and Controversies
Lymph node involvement
The treatment of patients with lymph node–positive disease is controversial. Preoperative identification of metastatic lymph nodes typically results in confirmation of disease based on biopsy results followed by chemotherapy. If a meaningful response is seen, subsequent radical cystectomy is an option. When lymph node involvement is identified at the time of surgery, most urologic surgeons proceed with an extended lymphadenectomy and radical cystectomy if all visible disease can be resected. A 2006 retrospective review of 1,121 patients undergoing cystectomy noted that survival increased as the number of lymph nodes removed increased.[28]
However, others advocate halting the surgery, administering chemotherapy, and, if the tumor is chemosensitive, having the patient return for a radical cystectomy and lymph node dissection. No well-designed randomized studies have addressed the role of chemotherapy specifically for patients with node-positive disease following cystectomy. While the role of adjuvant chemotherapy for these patients remains controversial, most experts agree that patients with lymph node involvement should be strongly considered for this therapy.
Neoadjuvant chemotherapy
Recent data support a survival benefit (6.5%) for neoadjuvant chemotherapy in patients undergoing radical cystectomy for muscle-invasive bladder cancer. The rationale is to systemically treat patients with micrometastatic disease prior to surgical removal of the bladder and lymph nodes. Up to 38% of patients who underwent neoadjuvant chemotherapy were found to have no evidence of disease at the time of cystectomy (pT0) compared with only 15% who proceeded directly to surgery.[32] However, using this treatment paradigm leads to a subset of patients who needlessly receive chemotherapy (those without systemic disease or nodal involvement). Adjuvant chemotherapy may prevent this pitfall; however, up to 30% of patients who undergo cystectomy are unable to receive indicated chemotherapy because of postoperative complications.[33]
Neoadjuvant chemotherapy followed by radical cystectomy versus radical cystectomy and risk-based adjuvant chemotherapy has never been studied in a randomized fashion. However,because of improved patient tolerance, cisplatin-based neoadjuvant chemotherapy is the currently recommended standard.
Bladder-sparing approach
Bladder-sparing protocols have been advocated as a treatment option because they may salvage the native bladder and may offer better quality of life than radical cystectomy does. These protocols entail a complex treatment schedule, including transurethral local bladder resection, systemic chemotherapy, and radiotherapy with a radiation sensitizer. Local recurrences and disease-free survival are comparable with those of traditional radical cystectomy, and the patient avoids (or delays [40% of cases]) a significant surgery and potentially maintains native bladder function. Which patients benefit from a bladder-sparing approach remains unclear.
The concern that intravesical therapy may preclude the possibility of definitive therapy appears to be minor. In a group of 313 patients with high-grade Ta, T1, or CIS initially treated with BCG and ultimately with cystectomy, disease-specific survival rates were similar in those who underwent cystectomy within one year of initial BCG treatment to those who had received more than one year of BCG treatment prior to cystectomy.[34]
The most optimistic trials of bladder-sparing protocols to date report an approximate 40% 5-year survival rate with an intact bladder. Of patients whose conditions respond completely, 50%-60% experience tumor recurrence in the bladder; half of these recurrences are invasive and carry an increased risk of metastatic spread.[35]
Although no economic comparisons, randomized trials, or unflawed quality-of-life trials are available to debate the merits of a bladder-sparing versus radical surgical approach, a bladder-sparing approach is a reasonable option for select patients. Patients who may not tolerate surgery or have a strong sentiment towards maintaining their native bladder are excellent candidates for a bladder-sparing multimodal approach.
Prostate-sparing approach
The external urinary sphincter and cavernosal nerves lie in close proximity to the prostate. To enhance urinary continence and potency, certain groups have advocated a prostate-sparing cystectomy in highly select men. By performing this procedure, the surgeon avoids the region of the sphincter and nerves. The primary concern with this surgical approach is leaving residual prostatic TCC or adenocarcinoma. Some studies show a prostate adenocarcinoma incidence as high as 50% in men who undergo radical cystectomy, with one third of these patients having high-risk features such as Gleason disease scores of 7-10 or extracapsular extension. Further, up to one third of patients will have TCC involvement of the prostatic urethra, with two thirds of these involving the prostatic stroma.
One group from the Montsouris Institute in Paris has performed more than 100 prostate-sparing radical cystectomies. Men are selected based on (1) normal digital rectal examination results, (2) low serum prostate-specific antigen (PSA) levels, (3) a percent-free PSA of more than 15%, and (4) normal findings on a transrectal ultrasonography of the prostate. Alternatively, men who did not meet the criteria listed underwent prostate biopsies. If their biopsy samples were negative for cancer, the men were candidates for the prostate-sparing approach.[36]
All men underwent transurethral resections of the prostatic urethra and transition zone. If frozen sections were negative for tumor, a prostate-sparing approach was performed, which included anastomosing the neobladder to the prostate capsule. At a mean follow-up of 38 months, 3 patients were being treated for prostate cancer. Pelvic recurrence of TCC occurred in 5% of men, with recurrence in the prostatic fossa in 2%. Complete continence was retained in 98% of men and, of those with adequate preoperative erectile function, 82% maintained their potency status.
Other groups have noted progression in 8 of 10 patients who underwent prostatic capsule and seminal vesicle–sparing cystectomy for T2 bladder cancer.[37] With such concerns about long-term oncologic efficacy, as well as imperfect patient selection and methods of postoperative surveillance, prostate-sparing cystectomy remains a highly controversial approach to patients with bladder cancer.
Laparoscopic and robot-assisted cystoprostatectomy
International experience with laparoscopic and robot-assisted cystoprostatectomy is emerging and is typically followed by urinary diversions performed through an extracorporeal midline abdominal incision measuring 6-10 cm. A recent literature review found that minimally invasive cystoprostatectomy is typically longer in duration, is associated with less blood loss (300-500 mL), and results in similar pathologic outcomes in terms of surgical margins and local recurrence rates (both rare).[20, 38, 39, 40] Because follow-up is generally short, data on outcomes such as oncologic efficacy (specifically in regard to local or nodal recurrences), longer-term complications, and functional status are lacking. However, the preliminary data suggest that ongoing investigation is warranted to study whether these approaches reliably provide perioperative, oncologic, and/or functional benefits. As of 2008, at least 700 of these surgeries have been performed worldwide.
Relationship of surgeon and hospital volume to outcome
Emerging data suggest that health-related outcomes may be better when high-volume surgeons or surgeons in high-volume centers perform certain uro-oncologic surgeries.[41] A recent meta-analysis of the available volume-outcome data suggests that this trend is also valid for radical cystectomy.[42]
Quality of life
Recent quality-of-life instruments have been validated to measure cystectomy-related outcomes. A paucity of retrospective and prospective studies exist.[43] At present, it is not possible to deem one form of urinary diversion superior to another in terms of quality of life.[44] Future prospective randomized studies will help to elucidate the relative benefits of the different forms of urinary diversion.
Molecular markers
An ideal molecular marker for bladder cancer would enhance diagnostic, prognostic, and therapeutic capabilities. Some urine-based tests are currently available, but large prospective randomized trials are needed to evaluate the prognostic benefits of these modalities.
Current investigation includes blood group antigens, tumor-associated antigens (bladder tumor antigen [BTA], nuclear matrix protein [NMP-22]), markers of cellular proliferation (Ki-67, proliferating cellular nuclear antigen [PCNA]), peptide growth factors (epidermal growth factor [EGF], fibroblast growth factor [FGF], transforming growth factor [TGF]), adhesion molecules (integrin), angiogenesis modifiers (FGF, vascular endothelial growth factor [VEGF], thrombospondin-1, angiostatin), apoptotic factors (Caspase-3, Bcl-2, Fas, survivin), oncogenes (c-H-ras, c-myc), and tumor suppressor genes (RB, TP53, p21, p27).[45, 46] Identification of such a marker would assist in recognizing recurrences, estimating tumor aggressiveness, and guiding therapy.
Recently, the combination of p53, p21, pRb, and p16 immunoreactivity has been shown to be strongly correlated with tumor recurrence and survival following radical cystectomy. The addition of the number of altered biomarkers to bladder cancer nomograms has been shown to increase predictive accuracy for both recurrence and cancer-specific mortality. Others have developed a quantitative PCR signature consisting of 57 genes that may classify high- versus low-risk T1 cases; patients considered to have a high-risk signature had a 45% rate of progression to T2 disease at 2 years, whereas low-risk patients had a 12% rate.[47] Lastly, urinary detection of cytogenetic abnormalities via fluorescence in situ hybridization (FISH) has proven promising in predicting tumor recurrence (UroVysion, Vysis, Downers Grove, Illinois).[48] Future oncologic care will no doubt include contributions from molecular medicine.
References
Schlegel PN, Walsh PC. Neuroanatomical approach to radical cystoprostatectomy with preservation of sexual function. J Urol. 1987 Dec. 138(6):1402-6. [Medline].

Quek ML, Stein JP, Daneshmand S, Miranda G, Thangathurai D, Roffey P. A critical analysis of perioperative mortality from radical cystectomy. J Urol. 2006 Mar. 175(3 Pt 1):886-9; discussion 889-90. [Medline].

Jemal A, Siegel R, Ward E, Hao Y, Xu J, Murray T, et al. Cancer statistics, 2008. CA Cancer J Clin. 2008 Mar-Apr. 58(2):71-96. [Medline].

Bostrom PJ, Soloway MS, Manoharan M, Ayyathurai R, Samavedi S. Bladder cancer after radiotherapy for prostate cancer: detailed analysis of pathological features and outcome after radical cystectomy. J Urol. 2008 Jan. 179(1):91-5; discussion 95. [Medline].

Raj GV, Herr H, Serio AM, Donat SM, Bochner BH, Vickers AJ, et al. Treatment paradigm shift may improve survival of patients with high risk superficial bladder cancer. J Urol. 2007 Apr. 177(4):1283-6; discussion 1286. [Medline].

Deserno WM, Harisinghani MG, Taupitz M, Jager GJ, Witjes JA, Mulders PF, et al. Urinary bladder cancer: preoperative nodal staging with ferumoxtran-10-enhanced MR imaging. Radiology. 2004 Nov. 233(2):449-56. [Medline].

Gofrit ON, Mishani E, Orevi M, Klein M, Freedman N, Pode D, et al. Contribution of 11C-choline positron emission tomography/computerized tomography to preoperative staging of advanced transitional cell carcinoma. J Urol. 2006 Sep. 176(3):940-4; discussion 944. [Medline].

Messing EM, Young TB, Hunt VB, Gilchrist KW, Newton MA, Bram LL. Comparison of bladder cancer outcome in men undergoing hematuria home screening versus those with standard clinical presentations. Urology. 1995 Mar. 45(3):387-96; discussion 396-7. [Medline].

Larsson P, Wijkström H, Thorstenson A, Adolfsson J, Norming U, Wiklund P, et al. A population-based study of 538 patients with newly detected urinary bladder neoplasms followed during 5 years. Scand J Urol Nephrol. 2003. 37(3):195-201. [Medline].

Roberts JT, von der Maase H, Sengeløv L, Conte PF, Dogliotti L, Oliver T. Long-term survival results of a randomized trial comparing gemcitabine/cisplatin and methotrexate/vinblastine/doxorubicin/cisplatin in patients with locally advanced and metastatic bladder cancer. Ann Oncol. 2006 May. 17 Suppl 5:v118-v122. [Medline].

von der Maase H, Sengelov L, Roberts JT, Ricci S, Dogliotti L, Oliver T. Long-term survival results of a randomized trial comparing gemcitabine plus cisplatin, with methotrexate, vinblastine, doxorubicin, plus cisplatin in patients with bladder cancer. J Clin Oncol. 2005 Jul 20. 23(21):4602-8. [Medline].

Gofrit ON, Nof R, Meirovitz A, Pode D, Frank S, Katz R, et al. Radical cystectomy vs. chemoradiation in T2-4aN0M0 bladder cancer: A case-control study. Urol Oncol. 2014 Nov 4. [Medline].

Winquist E, Kirchner TS, Segal R, et al. Neoadjuvant chemotherapy for transitional cell carcinoma of the bladder: a systematic review and meta-analysis. J Urol. 2004 Feb. 171(2 Pt 1):561-9. [Medline].

Sanchez-Ortiz RF, Huang WC, Mick R, et al. An interval longer than 12 weeks between the diagnosis of muscle invasion and cystectomy is associated with worse outcome in bladder carcinoma. J Urol. 2003 Jan. 169(1):110-5; discussion 115. [Medline].

Leissner J, Ghoneim MA, Abol-Enein H, et al. Extended radical lymphadenectomy in patients with urothelial bladder cancer: results of a prospective multicenter study. J Urol. 2004 Jan. 171(1):139-44. [Medline].

Dhar NB, Klein EA, Reuther AM, Thalmann GN, Madersbacher S, Studer UE. Outcome after radical cystectomy with limited or extended pelvic lymph node dissection. J Urol. 2008 Mar. 179(3):873-8; discussion 878. [Medline].

Zabell JR, Adejoro O, Konety BR, Weight CJ. Risk of End-Stage Kidney Disease after Radical Cystectomy According to Urinary Diversion Type. J Urol. 2014 Oct 31. [Medline].

Herr HW, Bochner BH, Dalbagni G, et al. Impact of the number of lymph nodes retrieved on outcome in patients with muscle invasive bladder cancer. J Urol. 2002 Mar. 167(3):1295-8. [Medline].

Raj GV, Tal R, Vickers A, Bochner BH, Serio A, Donat SM, et al. Significance of intraoperative ureteral evaluation at radical cystectomy for urothelial cancer. Cancer. 2006 Nov 1. 107(9):2167-72. [Medline].

Pruthi RS, Wallen EM. Robotic assisted laparoscopic radical cystoprostatectomy: operative and pathological outcomes. J Urol. 2007 Sep. 178(3 Pt 1):814-8. [Medline].

Kaul SA, Menon M. Da Vinci assisted cystoprostatectomy and urinary diversion: a paradigm shift in surgical management of bladder cancer. Minerva Urol Nefrol. 2007 Jun. 59(2):149-57. [Medline].

Chang SS, Cole E, Cookson MS, Peterson M, Smith JA Jr. Preservation of the anterior vaginal wall during female radical cystectomy with orthotopic urinary diversion: technique and results. J Urol. 2002 Oct. 168(4 Pt 1):1442-5. [Medline].

Slaton JW, Swanson DA, Grossman HB, et al. A stage specific approach to tumor surveillance after radical cystectomy for transitional cell carcinoma of the bladder. J Urol. 1999 Sep. 162(3 Pt 1):710-4. [Medline].

Boorjian SA, Tollefson MK, Cheville JC, Costello BA, Thapa P, Frank I. Detection of Asymptomatic Recurrence During Routine Oncological Followup After Radical Cystectomy is Associated With Improved Patient Survival. J Urol. 2011 Nov. 186(5):1796-802. [Medline].

Volkmer BG, Kuefer R, Bartsch GC Jr, Gust K, Hautmann RE. Oncological followup after radical cystectomy for bladder cancer-is there any benefit?. J Urol. 2009 Apr. 181(4):1587-93; discussion 1593. [Medline].

Shabsigh A, Korets R, Vora KC, Brooks CM, Cronin AM, Savage C, et al. Defining early morbidity of radical cystectomy for patients with bladder cancer using a standardized reporting methodology. Eur Urol. 2009 Jan. 55(1):164-74. [Medline].

Mitra AP, Alemozaffar M, Harris BN, Schuckman AK, Skinner EC, Daneshmand S. Outcomes after urothelial recurrence in bladder cancer patients undergoing radical cystectomy. Urology. 2014 Dec. 84(6):1420-6. [Medline].

Koppie TM, Vickers AJ, Vora K, Dalbagni G, Bochner BH. Standardization of pelvic lymphadenectomy performed at radical cystectomy: can we establish a minimum number of lymph nodes that should be removed?. Cancer. 2006 Nov 15. 107(10):2368-74. [Medline].

Fleischmann A, Thalmann GN, Markwalder R, Studer UE. Extracapsular extension of pelvic lymph node metastases from urothelial carcinoma of the bladder is an independent prognostic factor. J Clin Oncol. 2005 Apr 1. 23(10):2358-65. [Medline].

Margulis V, Shariat SF, Ashfaq R, Sagalowsky AI, Lotan Y. Ki-67 is an independent predictor of bladder cancer outcome in patients treated with radical cystectomy for organ-confined disease. Clin Cancer Res. 2006 Dec 15. 12(24):7369-73. [Medline].

Lotan Y, Gupta A, Shariat SF, Palapattu GS, Vazina A, Karakiewicz PI. Lymphovascular invasion is independently associated with overall survival, cause-specific survival, and local and distant recurrence in patients with negative lymph nodes at radical cystectomy. J Clin Oncol. 2005 Sep 20. 23(27):6533-9. [Medline].

Grossman HB, Natale RB, Tangen CM. Neoadjuvant chemotherapy plus cystectomy compared with cystectomy alone for locally advanced bladder cancer. N Engl J Med. 2003 Aug 28. 349(9):859-66. [Medline].

Donat SM, Shabsigh A, Savage C, Cronin AM, Bochner BH, Dalbagni G, et al. Potential impact of postoperative early complications on the timing of adjuvant chemotherapy in patients undergoing radical cystectomy: a high-volume tertiary cancer center experience. Eur Urol. 2009 Jan. 55(1):177-85. [Medline].

Nieder AM, Simon MA, Kim SS, Manoharan M, Soloway MS. Radical cystectomy after bacillus Calmette-Guérin for high-risk Ta, T1, and carcinoma in situ: defining the risk of initial bladder preservation. Urology. 2006 Apr. 67(4):737-41. [Medline].

Efstathiou JA, Zietman AL, Kaufman DS, Heney NM, Coen JJ, Shipley WU. Bladder-sparing approaches to invasive disease. World J Urol. 2006 Nov. 24(5):517-29. [Medline].

Vallancien G, Abou El Fettouh H, Cathelineau X, et al. Cystectomy with prostate sparing for bladder cancer in 100 patients: 10-year experience. J Urol. 2002 Dec. 168(6):2413-7. [Medline].

Simone G, Papalia R, Leonardo C, Sacco R, Damiano R, Guaglianone S, et al. Prostatic capsule and seminal vesicle-sparing cystectomy: improved functional results, inferior oncologic outcome. Urology. 2008 Jul. 72(1):162-6. [Medline].

Huang J, Xu KW, Yao YS, Guo ZH, Xie WL, Jiang C. Laparoscopic radical cystectomy with orthotopic ileal neobladder: report of 33 cases. Chin Med J (Engl). 2005 Jan 5. 118(1):27-33. [Medline].

Hemal AK, Kolla SB. Comparison of laparoscopic and open radical cystoprostatectomy for localized bladder cancer with 3-year oncological followup: a single surgeon experience. J Urol. 2007 Dec. 178(6):2340-3. [Medline].

Haber GP, Crouzet S, Gill IS. Laparoscopic and robotic assisted radical cystectomy for bladder cancer: a critical analysis. Eur Urol. 2008 Jul. 54(1):54-62. [Medline].

Nuttall M, van der Meulen J, Phillips N, et al. A systematic review and critique of the literature relating hospital or surgeon volume to health outcomes for 3 urological cancer procedures. J Urol. 2004 Dec. 172(6, Part 1 of 2):2145-2152. [Medline].

Barbieri CE, Lee B, Cookson MS, Bingham J, Clark PE, Smith JA Jr, et al. Association of procedure volume with radical cystectomy outcomes in a nationwide database. J Urol. 2007 Oct. 178(4 Pt 1):1418-21; discussion 1421-2. [Medline].

Gerharz EW, Weingärtner K, Dopatka T, Köhl UN, Basler HD, Riedmiller HN. Quality of life after cystectomy and urinary diversion: results of a retrospective interdisciplinary study. J Urol. 1997 Sep. 158(3 Pt 1):778-85. [Medline].

Porter MP, Penson DF. Health related quality of life after radical cystectomy and urinary diversion for bladder cancer: a systematic review and critical analysis of the literature. J Urol. 2005 Apr. 173(4):1318-22. [Medline].

Black PC, Brown GA, Dinney CP. Molecular markers of urothelial cancer and their use in the monitoring of superficial urothelial cancer. J Clin Oncol. 2006 Dec 10. 24(35):5528-35. [Medline].

Shariat SF, Karam JA, Lerner SP. Molecular markers in bladder cancer. Curr Opin Urol. 2008 Jan. 18(1):1-8. [Medline].

Wang R, Morris DS, Tomlins SA, Lonigro RJ, Tsodikov A, Mehra R, et al. Development of a multiplex quantitative PCR signature to predict progression in non-muscle-invasive bladder cancer. Cancer Res. 2009 May 1. 69(9):3810-8. [Medline].

Sarosdy MF, Kahn PR, Ziffer MD, Love WR, Barkin J, Abara EO. Use of a multitarget fluorescence in situ hybridization assay to diagnose bladder cancer in patients with hematuria. J Urol. 2006 Jul. 176(1):44-7. [Medline].

Undefined. [Medline].

Abol-Enein H, El-Baz M, Abd El-Hameed MA, et al. Lymph node involvement in patients with bladder cancer treated with radical cystectomy: a patho-anatomical study--a single center experience. J Urol. 2004 Nov. 172(5 Pt 1):1818-21. [Medline].

Bales GT, Kim H, Steinberg GD. Surgical therapy for locally advanced bladder cancer. Semin Oncol. 1996 Oct. 23(5):605-13. [Medline].

Bochner BH, Herr HW, Reuter VE. Impact of separate versus en bloc pelvic lymph node dissection on the number of lymph nodes retrieved in cystectomy specimens. J Urol. 2001 Dec. 166(6):2295-6. [Medline].

Brössner C, Pycha A, Toth A, Mian C, Kuber W. Does extended lymphadenectomy increase the morbidity of radical cystectomy?. BJU Int. 2004 Jan. 93(1):64-6. [Medline].

deKernion JB, Trapasso JG. Urinary Diversion and Continent Reservoir. Adult and Pediatric Urology. 1996. 2:1465-97.

Dreicer R. Chemotherapy for muscle-invasive bladder cancer in the perioperative setting: current standards. Urol Oncol. 2007 Jan-Feb. 25(1):72-5. [Medline].

El-Gabry EA, Strup SE, Gomella LG. Superficial Bladder Cancer: Current Treatment Modalities and Future Directions: Part II. AUA Update Series. 2000. 20:154-9.

El-Gabry EA, Strup SE, Gomella LG. Superficial Bladder Cancer: Epidemiology, Diagnosis, and Natural History Part I. AUA Update Series. 2000. 19:146-51.

Ghonheim MA. Radical cystectomy. Glenn JF, Graham SD, eds. Glenn's Urologic Surgery. 5th ed. Philadelphia, Pa: Lippincott, Williams & Wilkins; 1998. 187-94.

Gillenwater JY, Grayhack JT, Howards SS. Urothelial Tumors of the Bladder, Upper Tracts, and Prostate. Adult and Pediatric Urology. 1996. 2:1422-31.

Grossman HB, Soloway M, Messing E, Katz G, Stein B, Kassabian V. Surveillance for recurrent bladder cancer using a point-of-care proteomic assay. JAMA. 2006 Jan 18. 295(3):299-305. [Medline].

Gschwend J, Vieweg J, Fair W. Contemporary Results of Radical Cystectomy for Primary Bladder Cancer. AUA Update Series. 1999. 18:98-103.

Gupta NP, Kolla SB, Seth A, Hemal AK, Dogra PN, Kumar R. Oncological and functional outcome of radical cystectomy in patients with bladder cancer and obstructive uropathy. J Urol. 2007 Oct. 178(4 Pt 1):1206-11; discussion 1211. [Medline].

Herr HW. Superiority of ratio based lymph node staging for bladder cancer. J Urol. 2003 Mar. 169(3):943-5. [Medline].

Herr HW. Transurethral resection of muscle-invasive bladder cancer: 10-year outcome. J Clin Oncol. 2001 Jan 1. 19(1):89-93. [Medline].

Herr HW, Bajorin DF, Scher HI, et al. Can p53 help select patients with invasive bladder cancer for bladder preservation?. J Urol. 1999 Jan. 161(1):20-2; discussion 22-3. [Medline].

Herr HW, Donat SM. Outcome of patients with grossly node positive bladder cancer after pelvic lymph node dissection and radical cystectomy. J Urol. 2001 Jan. 165(1):62-4; discussion 64. [Medline].

Herr HW, Dotan Z, Donat SM, Bajorin DF. Defining optimal therapy for muscle invasive bladder cancer. J Urol. 2007 Feb. 177(2):437-43. [Medline].

Hollenbeck BK, Montie JE. Early cystectomy for clinical stage T1 bladder cancer. Nat Clin Pract Urol. 2004 Nov. 1(1):4-5. [Medline].

Huang GJ, Stein JP. Open radical cystectomy with lymphadenectomy remains the treatment of choice for invasive bladder cancer. Curr Opin Urol. 2007 Sep. 17(5):369-75. [Medline].

Huguet J, Monllau V, Sabaté S, Rodriguez-Faba O, Algaba F, Palou J. Diagnosis, Risk Factors, and Outcome of Urethral Recurrences Following Radical Cystectomy for Bladder Cancer in 729 Male Patients. Eur Urol. 2007 Jul 5. [Medline].

Inman BA, Harel F, Tiguert R, Lacombe L, Fradet Y. Routine nasogastric tubes are not required following cystectomy with urinary diversion: a comparative analysis of 430 patients. J Urol. 2003/11. 170(5):1888-91. [Medline].

International Bladder Cancer Nomogram Consortium, Bochner BH, Kattan MW, Vora KC. Postoperative nomogram predicting risk of recurrence after radical cystectomy for bladder cancer. J Clin Oncol. 2006 Aug 20. 24(24):3967-72. [Medline].

Jemal A, Siegel R, Ward E, Murray T, Xu J, Smigal C. Cancer statistics, 2006. CA Cancer J Clin. 2006 Mar-Apr. 56(2):106-30. [Medline].

Kassouf W, Swanson D, Kamat AM, Leibovici D, Siefker-Radtke A, Munsell MF. Partial cystectomy for muscle invasive urothelial carcinoma of the bladder: a contemporary review of the M. D. Anderson Cancer Center experience. J Urol. 2006 Jun. 175(6):2058-62. [Medline].

Kessler TM, Burkhard FC, Perimenis P, Danuser H, Thalmann GN, Hochreiter WW. Attempted nerve sparing surgery and age have a significant effect on urinary continence and erectile function after radical cystoprostatectomy and ileal orthotopic bladder substitution. J Urol. 2004 Oct. 172(4 Pt 1):1323-7. [Medline].

Kessler TM, Burkhard FC, Studer UE. Clinical indications and outcomes with nerve-sparing cystectomy in patients with bladder cancer. Urol Clin North Am. 2005 May. 32(2):165-75. [Medline].

Kim HL, Steinberg GD. The current status of bladder preservation in the treatment of muscle invasive bladder cancer. J Urol. 2000 Sep. 164(3 Pt 1):627-32. [Medline].

McCabe JE, Jibawi A, Javle PM. Radical cystectomy: defining the threshold for a surgeon to achieve optimum outcomes. Postgrad Med J. 2007 Aug. 83(982):556-60. [Medline].

Merseburger AS, Kuczyk MA. The value of bladder-conserving strategies in muscle-invasive bladder carcinoma compared with radical surgery. Curr Opin Urol. 2007 Sep. 17(5):358-62. [Medline].

Montie JE. Against bladder sparing: surgery. J Urol. 1999 Aug. 162(2):452-5; discussion 455-7. [Medline].

Mori K, Nomata K, Noguchi M, Eguchi J, Hayashi N, Kanetake H. Long-term follow up of patients with invasive bladder carcinoma receiving combined cisplatin-based intra-arterial chemotherapy and radiotherapy. Int J Urol. 2007 Jul. 14(7):591-4. [Medline].

Parekh DJ, Bochner BH, Dalbagni G. Superficial and muscle-invasive bladder cancer: principles of management for outcomes assessments. J Clin Oncol. 2006 Dec 10. 24(35):5519-27. [Medline].

Petrovich Z, Baert L, Boyd SD, et al. Management of carcinoma of the bladder. Am J Clin Oncol. 1998 Jun. 21(3):217-22. [Medline].

Pettus JA, Al-Ahmadie H, Barocas DA. Risk of surgical undertreatment with prostate sparing cystectomy: pathologic analysis of 235 radical cystoprostatectomy specimens. Cancer. In Press.

Pettus JA, Al-Ahmadie H, Barocas DA, Koppie TM, Herr H, Donat SM. Risk Assessment of Prostatic Pathology in Patients Undergoing Radical Cystoprostatectomy. Eur Urol. 2007 Jul 26. [Medline].

Schrag D, Hsieh LJ, Rabbani F. Adherence to surveillance among patients with superficial bladder cancer. J Natl Cancer Inst. 2003 Apr 16. 95(8):588-97. [Medline].

Schumacher MC, Scholz M, Weise ES. Is there an indication for frozen section examination of the ureteral margins during cystectomy for transitional cell carcinoma of the bladder?. J Urol. 2006 Dec. 176(6 Pt 1):2409-13; discussion 2413. [Medline].

Skinner DG, Stein JP, Lieskovsky G, et al. 25-year experience in the management of invasive bladder cancer by radical cystectomy. Eur Urol. 1998. 33 Suppl 4:25-6. [Medline].

Stein JP, Cai J, Groshen S, Skinner DG. Risk factors for patients with pelvic lymph node metastases following radical cystectomy with en bloc pelvic lymphadenectomy: concept of lymph node density. J Urol. 2003 Jul. 170(1):35-41. [Medline].

Stein JP, Grossfeld GD, Ginsberg DA, et al. Prognostic markers in bladder cancer: a contemporary review of the literature. J Urol. 1998 Sep. 160(3 Pt 1):645-59. [Medline].

Stein JP, Lieskovsky G, Cote R, et al. Radical cystectomy in the treatment of invasive bladder cancer: long-term results in 1,054 patients. J Clin Oncol. 2001 Feb 1. 19(3):666-75. [Medline].

Sternberg CN. Perioperative chemotherapy in muscle-invasive bladder cancer to enhance survival and/or as a strategy for bladder preservation. Semin Oncol. 2007 Apr. 34(2):122-8. [Medline].

Tanagho EA. Anatomy of the genitourinary tract. Tanagho EA, McAninch JW, eds. Smith's General Urology. 14th ed. Norwalk, Conn: Appleton & Lange; 1995. 1-16.

Vieweg J, Gschwend JE, Herr HW, Fair WR. Pelvic lymph node dissection can be curative in patients with node positive bladder cancer. J Urol. 1999 Feb. 161(2):449-54. [Medline].

Vieweg J, Gschwend JE, Herr HW, Fair WR. The impact of primary stage on survival in patients with lymph node positive bladder cancer. J Urol. 1999 Jan. 161(1):72-6. [Medline].

Weider JA. Intestinal use in the urinary tract. Pocket Guide to Urology. 1999. 23-27.
Table 1. Staging of Bladder Cancer
Disease Type
Stage
Characteristics
Superficial disease
Ta
Confined to mucosa
T1
Involving lamina propria and muscularis mucosa
CIS
Malignant cells still confined to the flat urothelial layer
Muscle-invasive disease
T2
Invasion of muscularis propria
T3
Extension into perivesical fat
T4
Invasion of pelvic sidewall or adjacent organs or metastatic disease
Table 2. Advantages and Disadvantages of Intestinal Segments Used for Urinary Diversion
| | | |
| --- | --- | --- |
| Segment | Advantages | Disadvantages |
| Stomach | Can be used in patients with renal failure, hepatic failure, acidosis, and pelvic radiation; no mucus production | Hypokalemic hypochloremic metabolic alkalosis, hematuria dysuria syndrome due to acid irritation of the urothelium, concern for increased secondary malignancy |
| Jejunum | N/A | Hyperkalemic hypochloremic metabolic acidosis, hyponatremia, osteomalacia (Avoid if at all possible.) |
| Ileum | Familiarity to urologists | Hypokalemic hyperchloremic metabolic acidosis, vitamin B-12 deficiency, fat malabsorption, diarrhea, osteomalacia (not a good option following pelvic radiation) |
| Colon | Transverse colon can be used in patients who have had pelvic radiation. | Hypokalemic hyperchloremic metabolic acidosis, osteomalacia; most mucus production of all intestinal segments |
Medscape Reference © 2011 WebMD, LLC