Penile Fracture and Trauma Treatment & Management
Author: Richard A Santucci, MD, FACS; Chief Editor: Bradley Fields Schwartz, DO, FACS more...
Updated: Dec 30, 2015
What would you like to print?
Medical Therapy
The medical management of penile trauma is limited and usually depends on surgical optimization of the patient in preparation for the operating room. Penile trauma is often accompanied by other associated injuries, some of which may be life-threatening. Fluid resuscitation and stabilization of the patient should be the focus. Administration of preoperative antibiotics should be considered in patients with open wounds.
If penile reconstruction must be delayed in the setting of a urethral injury, suprapubic urinary diversion may be performed. If surgical therapy must be delayed, initial medical therapy consists of cold compresses, pressure dressings, and anti-inflammatory medications, followed by definitive surgical therapy.
Penile amputation
Pretreatment of the patient with an amputated penis has unique requirements. In the face of an acute psychotic episode, psychological stabilization is required, often with the aid of a psychiatrist. Management of the amputated penile remnant is imperative to a successful reimplantation. The severed penis should be cleaned of debris and wrapped in sterile, saline-soaked gauze. The wrapped penis should be placed into a sealed bag and placed inside a second container filled with an ice-slush mix. This helps to reduce the ischemic injury to the severed penis. Reimplantation should be performed as quickly as possible.
Penile soft tissue loss
Bite injuries to the penis require extra care, as they have the potential for infection with unique organisms. Dog bites, the most common animal bite, consist of multiple pathogens such as Staphylococcus and Streptococcus species, Escherichia coli, and Pasteurella multocida. Antibiotic treatment should generally include oral dicloxacillin or cephalexin. Patients with possible Pasteurella resistance can be treated with penicillin V. Chloramphenicol has also been shown to have good efficacy.
Human bites are considered infected by definition and should not be closed. They can be treated with antibiotics similar to those used in animal bites despite the fact that bacterial cultures may differ.
Surgical Therapy
No matter the form of penile trauma, the goals of surgery for the traumatized penis are universal: restore the penis to its preinjury state, prevent erectile dysfunction, maintain penile length, and allow normal voiding.[13, 14, 15]
Penile fracture
In the reported literature, surgical therapy has consistently resulted in fewer complications. Muentener et al reported good outcomes in 92% of patients treated surgically versus only 59% in those treated conservatively. In addition, surgery provides good outcomes after varying timing of presentation after injury. A study by El-Assmy et al found no substantial difference in recovery based on early or delayed presentation of penile fracture with subsequent surgery. Patients were divided into group I early presentation (1-24 hours after injury) and group II delayed presentation (30 hours to 7 days after injury). Mean follow-up was 105 months for group I and 113 months for group II.[16]
Principles of surgical therapy are as follows:
Optimize the surgical exposure.

Evacuate the hematoma.

Identify the site of injury.

Correct the defect in the tunica albuginea.

Repair the urethral injury.
Three types of incisions are generally used to repair penile fracture: incision directly over the defect, circumscribing-degloving incision, and inguinal-scrotal incision.
An incision directly over the identified defect in the corpus cavernosum allows minimal dissection of neurovascular bundles but does not afford complete evaluation of both the corpora cavernosa and the corpus spongiosum. The authors do not advocate this type of entry. A circumferential-degloving incision begins 1 cm proximal to the coronal sulcus and affords excellent exposure. However, decreased penile sensation has been reported with this type of incision. The inguinal-scrotal incision provides excellent exposure of the base, root, and dorsal surfaces of the penis. If necessary, the entire penis may be averted inside out to maximize surgical exposure.
At the authors' institution, a circumferential-degloving incision is routinely used with excellent results. On occasion, the authors have also used an inguinal-scrotal incision for more complex injuries located near the base of penis.
Penile amputation
An amputated penis should be immediately and expeditiously repaired to prevent further ischemic injury to the penile remnant. This should be undertaken at a center of excellence, and the patient should be stabilized and transferred if a reconstructive urologist or plastic surgeon is not available at the presenting institution.
Principles of surgical therapy are as follows:
Optimize the surgical exposure.

Judiciously debride necrotic tissue.

Anastomose the severed urethra over a Foley catheter to provide stabilization.

Repair the tunica albuginea.

Use microsurgery to repair the dorsal nerves, arteries, and veins of the penis.
Penetrating injury
Expeditious surgical repair of the penis should be undertaken as soon as possible.
Principles of surgical therapy are as follows:
Optimize the surgical exposure.

Judiciously debride necrotic tissue.

Repair injured urethra.

Repair tunica albuginea injuries.
Penile soft tissue injury
Surgical repair should be initiated as soon as possible in soft tissue injuries. This prevents colonization of the wound. The only exception is that of the human bite because of the high risk of polymicrobial infection.
Principles of surgical therapy are as follows:
Debridement of necrotic tissue

Closure of injury with exception of human bites

Skin grafting and harvest to cover large defects
Preoperative Details
The use of perioperative antibiotics varies among authors, with no clear consensus. The authors routinely administer broad-spectrum intravenous antibiotics (cefazolin) 1 hour before surgery. Informed consent that outlines the risks is obtained. Risks include but are not limited to bleeding, infection, erectile dysfunction, penile curvature, decrease in penile sensation, and the possible need for circumcision. The patient must be informed that erectile dysfunction may result because of the nature of injury rather than the operation itself.
Intraoperative Details
Penile fracture
The patient is placed in a supine position. The lower abdomen and genitalia are prepared and draped in a sterile fashion.
A circumferential incision is made. The incision is carried through the dartos fascia and down to the Buck fascia. The penis is degloved to the base of the penis, taking care not to injure the dorsal neurovascular bundle.
Both corpora cavernosa and the corpus spongiosum are thoroughly inspected. If both corpora are injured, the corpus spongiosum must be carefully inspected because of the high associated incidence of urethral injury. If the corpus spongiosum is involved, both corpora cavernosa must be thoroughly examined for possible injury.
The presence of corporal hematoma strongly suggests an injury to the tunica. Upon encountering a corporal hematoma, the Buck fascia is opened and the hematoma is evacuated. Upon evacuating the hematoma, a defect in the tunica will be apparent.
A recent series by Shaeer revealed that intraoperative injection of methylene blue into the corpora helped reveal the tunical injury and thereby reduced unnecessary tissue dissection and operative time and simplified the repair.[17]
Freshen the edges of the tunica albuginea. The type and method of suture repair of the tunica albuginea varies widely, but all authors insist on a watertight closure. The authors use 1-0 braided nonabsorbable suture in an interrupted fashion. Invert the sutures so the knots will not be palpable. Alternatively, a 2-0 delayed absorbable suture such as polydioxanone may be used.
At this juncture, an artificial saline-induced erection may be induced to test for watertight integrity. Close the fascia. Suture the penile shaft skin to the coronal skin with 3-0 chromic sutures in an interrupted fashion. Typically, drains are not required.
Partial and complete urethral transections that are clean require a primary anastomosis over a catheter. Additionally, urinary diversion via a suprapubic tube may be considered. Close the urethral defect with 4-0 chromic or 5-0 polydioxanone sutures in an interrupted fashion, and leave an indwelling urethral catheter for 2-3 weeks.
If a devitalized urethral segment is identified, minimal judicious debridement may be performed. If a complete tear is noted, mobilize the urethra proximally and distally. Spatulate the proximal and distal ends of the urethra and insert a urethral catheter. Approximate the urethral margins with 5-0 polydioxanone sutures in an interrupted fashion.
Penile amputation
The patient is placed in a supine position. The lower abdomen and genitalia are prepared and draped in a sterile fashion. Bleeding from the penile stump is controlled by wrapping the base of the penis circumferentially with a small Penrose drain and securing with a hemostat. Minimal debridement of any necrotic tissue is performed. The penile remnant should be cleaned and irrigated with antibiotic solution and minimally débrided, as necessary.
Under loupe or microscopic magnification, the penile skin from both the stump and amputated shaft should be undermined for 1 cm. This allows exposure and identification of the dorsal veins, artery, and nerves. The urethra should be spatulated opposite of each other.
A Foley catheter is then used to bridge and stabilize the amputated segment. The urethral mucosa is reapproximated using 5-0 polydioxanone sutures on the mucosa and a second layer on the spongiosum. The deep cavernosal arteries do not need to be anastomosed unless the amputation is very proximal and the erectile tissue will be minimally injured. This remains somewhat controversial and often depends on the author. If the deep cavernosal arteries are repaired, 11-0 nylon should be used. The tunica albuginea of each corporal body should be reapproximated with 2-0 slowly absorbing suture.
Once the main shaft of the penis and urethra are reanastomosed, attention can be turned to repairing the dorsal neurovascular bundles of the penis. The dorsal arteries are anastomosed with 11-0 monofilament nylon; 10-0 monofilament nylon is used for the dorsal nerves. The epineurium of the dorsal nerve is reapproximated with 10-0 nylon.
Once the dorsal neurovascular bundles are microsurgically repaired, the dartos fascia can be closed with interrupted 2-0 self-absorbable sutures. The skin is then closed with running 4-0 cat gut. Some authors elect to leave a small Penrose drain to prevent hematoma accumulation. Most authors choose to leave a suprapubic cystotomy drain. The penis is wrapped in loose circumferential gauze.
If microsurgical reanastomosis is not possible, penile stump advancement should be performed by dividing the suspensory ligament of the penis from the pubic symphysis. Free lateral forearm flap phalloplasty can be performed as a staged procedure once the patient has recovered from his initial insult. This is a highly specialized procedure and fraught with complications. As a result, only highly trained specialized surgeons should perform the procedure. See the images below.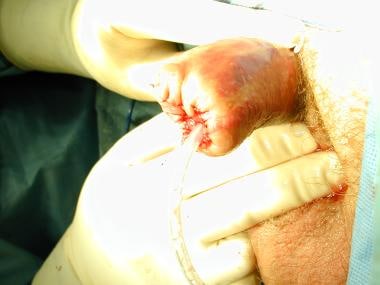 Repair of partial penile amputation after primary closure (without replantation of penile remnant).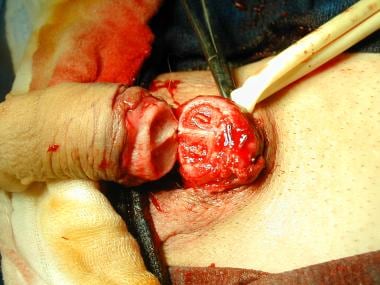 Penile amputation in the initial stage of replantation.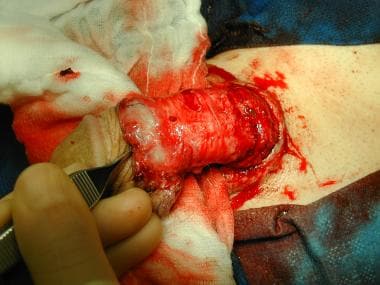 Penile amputation after replantation.
Penetrating injury
The technique for repair of penetrating injuries to the penis is similar to that used in penile fracture. Incisions can be made directly over the site of injury, as an inguinal-scrotal approach, or as a circumferential degloving of the penis. The authors prefer a circumferential degloving incision as described above.
When the underlying Buck fascia is exposed, the corpora cavernosa and spongiosum are examined. The hematoma is evacuated and the injury site inspected. Necrotic areas should be débrided. Caution should be used to avoid overdebridement, as hematoma can be confused with dead tissue.
Small corporal injuries of the tunica albuginea are repaired via primary closure using 1-0 braided nonabsorbable sutures or 2-0 delayed absorbable sutures such as polydioxanone. Larger defects may require placement of xenograft material such as Tutoplast cadaveric dermis or small intestinal submucosa (SIS).
Urethral transactions are completed with primary anastomosis over a Foley catheter. Defects can be closed using 4-0 polydioxanone. Large defects that cannot be closed primarily can be diverted with a suprapubic cystotomy with delayed repair. An indwelling urethral catheter should be left in place for 2 weeks.
Penile soft tissue injury
No standard approach is used to treat soft tissue injuries to the penis, as the mechanism of injury is quite varied. Individualized approaches should be used for each patient.
Standard treatment includes debridement of necrotic tissue. The wound must be copiously irrigated with povidone iodine and antibiotic solution.
Bite injuries with puncture type wounds to the corpora cavernosa and urethra can be repaired in a similar fashion to that of penetrating injuries of the penis. Care should be used to avoid closure of skin and subcutaneous tissues in the case of a human bite and injuries with signs of gross infection. Primary closure of animal bites can be performed, as infection is rare.
Lacerations of the penis can be closed primarily if they are small. Larger avulsion injuries often require skin grafting. The two methods typically used for grafting are controversial: meshed versus unmeshed split-thickness skin grafts.
Postoperative Details
Penile fracture
The patient is discharged with pain medications and oral antibiotics 1-3 days after the operation. If no urethral injury was detected intraoperatively, the Foley catheter is removed prior to discharge. Light compressive dressings are applied for one week.
Some authors advocate formal suppression of spontaneous erections with diazepam or stilboestrol. Others believe that the painful stimuli are sufficient control to prevent spontaneous erections, and the sedating effects of the medication may be avoided. In the authors' clinical experience, troublesome spontaneous erections are not encountered after this type of penile reconstruction.
Penile amputation
An area of controversy is the use of anticoagulation in the immediate postoperative period. If anticoagulation is desired, some authors recommend 500 mL of low molecular dextran for 72 hours. The patient should be kept on intravenous antibiotics until the remnant appears to be taking appropriately. The patient can then be switched to oral therapy for one week.
Penetrating injury
The postoperative care for penetrating injury to the penis is similar to that of penile fracture.
Penile soft tissue injury
Circumferential compressive dressings to the penis may be required until the graft takes if skin grafting has been performed. Antibiotic treatment should be continued as described above.
In general, patients should abstain from sexual relations for 6-8 weeks following most penile trauma.
Follow-up
For patients with urethral reconstruction, the urethral catheter may be removed in 2 weeks. After removal of the urethral catheter, retrograde urethrography should be performed in a gentle fashion. Alternatively, voiding cystourethrography may be performed via the suprapubic tube. The cystotomy tube can be removed after normal voiding no leak is present. If extravasation from the urethra is present, the cystotomy should be continued for an additional 2 weeks or the Foley catheter replaced if cystotomy tube was not used in the original repair.
Complications
Penile fracture
Potential complications of penile fracture include erectile dysfunction (which may result from a cavernosospongiosal fistula), abnormal penile curvature, painful erections, formation of fibrotic plaques, penile abscess, urethrocutaneous fistula, corporourethral fistula, and painful nodules along the site of injury.
Patients treated with conservative management have a significantly higher incidence of complications compared with those treated with prompt surgical therapy.
Penile amputation
Similar to the possible complications following correction of penile fracture, penile amputation can be associated with penile curvature, erectile dysfunction, hematoma, abscess formation, urethrocutaneous fistula, and corporourethral fistula. In addition, urethral stricture can occur. Penile skin necrosis was more common prior to microvascular anastomosis of the dorsal neurovascular complexes. The necrosis that typically occurs is less frequent and often superficial.
Penetrating injury
Similar to the possible complications following correction of penile fracture, penetrating corpora cavernosal injuries carry with them complications of erectile dysfunction, penile curvature, fibrotic plaques, abscess, and painful erections.
Patients with urethral injuries risk corporourethral fistula, urethral stricture, and urethrocutaneous fistula.
Penile soft tissue injury
The most frequent complication of soft tissue injury is postoperative infection. If the graft does not take in patients who undergo split-thickness skin grafting, the consequences can be devastating. As described above, complications such as erectile dysfunction, curvature, and fistula are associated risks.
Outcome and Prognosis
Penile fracture
Penile fracture is a urologic emergency that may have devastating physiologic and psychologic consequences. However, with prompt diagnosis and expedient surgical management, outcomes remain excellent and complications are minimal.[18]
Penile amputation
Erectile function remains in up to 86% of patients who undergo microvascular reanastomosis of the dorsal arteries. Penile sensation is maintained in up to 82% of patients, although this may be diminished when compared with preinjury. Urethral strictures develop in up to 20% of patients. Skin loss occurs in approximately half of all patients but is often superficial.
Penetrating injury
Patients who undergo exploration and primary repair of penetrating penile injury have good outcomes. Potency is maintained in up to 80-100% of patients in some series. This depends on the degree and severity of injury. Some authors anecdotally report that patients who have suffered close-range shotgun blasts have poorer outcomes secondary to massive tissue destruction.
Penile soft tissue injury
The long-term results of soft tissue injury to the penis are somewhat limited. Outcomes depend on the mechanism of injury and volume of tissue loss. Wound contracture and cosmesis is a concern in those who undergo skin grafting. Penile sensation is decreased in those with significant penile skin loss.
Future and Controversies
Penile fracture
Some debate surrounds the usefulness of imaging studies in diagnosing cavernosal injury. Most authors report accurate diagnoses without any imaging studies. Imaging studies have a limited role in the detection of penile fractures and should be reserved for cases in which clinical history does not correlate with examination findings or for those in which no injury is apparent and imaging would confirm nonoperative management.
MRI provides excellent anatomic images of the penis and has been shown to be highly accurate in the detection of penile fractures. However, it appears to minimally affect treatment outcomes, is expensive, and is subject to limited availability in some institutions, especially after-hours.
Penile ultrasonography, although widely available and inexpensive, heavily depends on the operator and requires specific expertise in the technique. False-negative rates are common.
The most recent debate surrounds the use of penile cavernosography. False-negative findings are common, tissue reaction to the contrast material and increased corporal fibrosis are risks. Most authors report using penile cavernosography if physical examination findings are equivocal but the history indicates a possible injury. In most cases, prompt surgical exploration should be accomplished in lieu of preliminary penile imaging (other than urethrography).
Penile amputation
Cavernosal artery repair remains controversial. Some authors always attempt repair, especially when injury is more proximal, where the arteries may be larger, more easily sutured, and necessary to survival of the amputated stump. Other authors contend that the arteries do not provide a significant amount of vascular flow, add more operative time, and result in damage to the erectile tissue.
Anticoagulation remains problematic. Most authors agree that anticoagulation leads to excessive bleeding and hematoma formation. Some contend that this prevents vascular occlusion of the freshly sutured dorsal artery and vein. To date, no studies have compared postoperative outcomes of penile amputation with or without anticoagulation.
Penile soft tissue injury
Split-thickness skin grafting is routine in the repair of penile skin loss. The choice of graft is largely up to the surgeon. Many authors have traditionally used unmeshed sheet grafts. This can be problematic because of fluid accumulation beneath the graft and infection of the graft bed. A recent series by Black et al showed that meshed unexpanded grafts achieved excellent cosmetic and functional results. However, a randomized controlled trial has not been undertaken to compare results.
References
Roy M, Matin M, Alam M, Suruzzaman M, Rahman M. Fracture of the penis with urethral rupture. Mymensingh Med J. 2008 Jan. 17(1):70-3. [Medline].

Amit A, Arun K, Bharat B, Navin R, Sameer T, Shankar DU. Penile fracture and associated urethral injury: Experience at a tertiary care hospital. Can Urol Assoc J. 2013 Mar-Apr. 7(3-4):E168-70. [Medline]. [Full Text].

Mahapatra RS, Kundu AK, Pal DK. Penile Fracture: Our Experience in a Tertiary Care Hospital. World J Mens Health. 2015 Aug. 33 (2):95-102. [Medline].

Bhoil R, Sood D. Signs, symptoms and treatment of penile fracture. Emerg Nurse. 2015 Oct 9. 23 (6):16-7. [Medline].

Nale Dj, Nikic P, Vukovic I, Djordjevic D, Vuksanovic A. [Surgical or conservative treatment of penile fracture]. Acta Chir Iugosl. 2008. 55(1):107-14. [Medline].

Song W, Ko KJ, Shin SJ, Ryu DS. Penile abscess secondary to neglected penile fracture after intracavernosal vasoactive drug injection. World J Mens Health. 2012 Dec. 30(3):189-91. [Medline]. [Full Text].

Ehrich WS. Two unusual penile injuries. Journal of Urology. 1929. 21:239.

Agarwal MM, Singh SK, Sharma DK, Ranjan P, Kumar S, Chandramohan V, et al. Fracture of the penis: a radiological or clinical diagnosis? A case series and literature review. Can J Urol. 2009 Apr. 16(2):4568-75. [Medline].

Kamdar C, Mooppan UM, Kim H, Gulmi FA. Penile fracture: preoperative evaluation and surgical technique for optimal patient outcome. BJU Int. 2008 Dec. 102(11):1640-4; discussion 1644. [Medline].

Nasser TA, Mostafa T. Delayed surgical repair of penile fracture under local anesthesia. J Sex Med. 2008 Oct. 5(10):2464-9. [Medline].

Nizamani WM, Ali SI, Vaswani AK, Shahani BK. Ultrasound Diagnosis of Penile Fracture. J Coll Physicians Surg Pak. 2015 Oct. 25 (10 Suppl):S12-3. [Medline].

Parker RA 3rd, Menias CO, Quazi R, Hara AK, Verma S, Shaaban A, et al. MR Imaging of the Penis and Scrotum. Radiographics. 2015 Jul-Aug. 35 (4):1033-50. [Medline].

Perovic SV, Djinovic RP, Bumbasirevic MZ, Santucci RA, Djordjevic ML, Kourbatov D. Severe penile injuries: a problem of severity and reconstruction. BJU Int. 2009 Jan 20. [Medline].

Ghilan AM, Al-Asbahi WA, Ghafour MA, Alwan MA, Al-Khanbashi OM. Management of penile fractures. Saudi Med J. 2008 Oct. 29(10):1443-7. [Medline].

Maruschke M, Lehr C, Hakenberg OW. Traumatic penile injuries--mechanisms and treatment. Urol Int. 2008. 81(3):367-9. [Medline].

El-Assmy A, El-Tholoth HS, Mohsen T, Ibrahiem el HI. Does timing of presentation of penile fracture affect outcome of surgical intervention?. Urology. 2011 Jun. 77(6):1388-91. [Medline].

Shaeer O. Methylene blue-guided repair of fractured penis. J Sex Med. 2006 Mar. 3(2):349-54. [Medline].

Ateyah A, Mostafa T, Nasser TA, Shaeer O, Hadi AA, Al-Gabbar MA. Penile fracture: surgical repair and late effects on erectile function. J Sex Med. 2008 Jun. 5(6):1496-502. [Medline].

Abolyosr A, Moneim AE, Abdelatif AM, Abdalla MA, Imam HM. The management of penile fracture based on clinical and magnetic resonance imaging findings. BJU Int. 2005 Aug. 96(3):373-7. [Medline].

Asgari MA, Hosseini SY, Safarinejad MR. Penile fractures: evaluation, therapeutic approaches and long-term results. J Urol. 1996 Jan. 155(1):148-9. [Medline].

Bergner DM, Wilcox ME, Frentz GD. Fracture of penis. Urology. 1982 Sep. 20(3):278-80. [Medline].

Beysel M, Tekin A, Gürdal M, Yücebas E, Sengör F. Evaluation and treatment of penile fractures: accuracy of clinical diagnosis and the value of corpus cavernosography. Urology. 2002 Sep. 60(3):492-6. [Medline].

Black PC, Friedrich JB, Engrav LH, Wessells H. Meshed unexpanded split-thickness skin grafting for reconstruction of penile skin loss. J Urol. 2004 Sep. 172(3):976-9. [Medline].

Cendron M, Whitmore KE, Carpiniello V. Traumatic rupture of the corpus cavernosum: evaluation and management. J Urol. 1990 Oct. 144(4):987-91. [Medline].

Choi MH, Kim B, Ryu JA. MR imaging of acute penile fracture. Radiographics. 2000 Sep-Oct. 20(5):1397-405. [Medline].

Cummings JM, Parra RO, Boullier JA. Delayed repair of penile fracture. J Trauma. 1998 Jul. 45(1):153-4. [Medline].

Dincel C, Caskurlu T, Resim S. Fracture of the penis. Int Urol Nephrol. 1998. 30(6):761-5. [Medline].

Eke N. Fracture of the penis. Br J Surg. 2002 May. 89(5):555-65. [Medline].

El-Taher AM, Aboul-Ella HA, Sayed MA, Gaafar AA. Management of penile fracture. J Trauma. 2004 May. 56(5):1138-40; discussion 1140. [Medline].

Fergany AF, Angermeier KW, Montague DK. Review of Cleveland Clinic experience with penile fracture. Urology. 1999 Aug. 54(2):352-5. [Medline].

Goldman HB, Dmochowski RR, Cox CE. Penetrating trauma to the penis: functional results. J Urol. 1996 Feb. 155(2):551-3. [Medline].

Gomes CM, Ribeiro-Filho L, Giron AM, Mitre AI, Figueira ER, Arap S. Genital trauma due to animal bites. J Urol. 2000 Jan. 165(1):80-83. [Medline].

Gontero P, Muir GH, Frea B. Pathological findings of penile fractures and their surgical management. Urol Int. 2003. 71(1):77-82. [Medline].

Hall SJ, Wagner JR, Edelstein RA. Management of gunshot injuries to the penis and anterior urethra. J Trauma. 1995 Mar. 38(3):439-43. [Medline].

Jezior JR, Brady JD, Schlossberg SM. Management of penile amputation injuries. World J Surg. 2001 Dec. 25(12):1602-9. [Medline].

Karadeniz T, Topsakal M, Ariman A. Penile fracture: differential diagnosis, management and outcome. Br J Urol. 1996 Feb. 77(2):279-81. [Medline].

Klein FA, Smith MJ, Miller N. Penile fracture: diagnosis and management. J Trauma. 1985 Nov. 25(11):1090-2. [Medline].

Kochakarn W. Traumatic amputation of the penis. Brazilian Journal of Urology. 2000. 26:385.

Kochakarn W, Viseshsindh V, Muangman V. Penile fracture: long-term outcome of treatment. J Med Assoc Thai. 2002 Feb. 85(2):179-82. [Medline].

Koga S, Saito Y, Arakaki Y. Sonography in fracture of the penis. Br J Urol. 1993 Aug. 72(2):228-9. [Medline].

Lee J, Singh B, Kravets FG. Sexually acquired vascular injuries of the penis: a review. J Trauma. 2000 Aug. 49(2):351-8. [Medline].

Mansi MK, Emran M, el-Mahrouky A. Experience with penile fractures in Egypt: long-term results of immediate surgical repair. J Trauma. 1993 Jul. 35(1):67-70. [Medline].

Miles BJ, Poffenberger RJ, Farah RN. Management of penile gunshot wounds. Urology. 1990 Oct. 36(4):318-21. [Medline].

Monga M. A strategy for success: managing gunshot wounds to the male genitalia. Contemporary Urology. 1995. 58:

Morey AF. Trauma, and genital and urethral reconstruction. J Urol. 2005 Dec. 174(6):2264-6.

Morey AF, Metro MJ, Carney KJ. Consensus on genitourinary trauma: external genitalia. BJU Int. 2004 Sep. 94(4):507-15. [Medline].

Morris SB, Miller MA, Anson K. Management of penile fracture. J R Soc Med. 1998 Aug. 91(8):427-8. [Medline].

Muentener M, Suter S, Hauri D, Sulser T. Long-term experience with surgical and conservative treatment of penile fracture. J Urol. 2004 Aug. 172(2):576-9. [Medline].

Mydlo JH, Hayyeri M, Macchia RJ. Urethrography and cavernosography imaging in a small series of penile fractures: a comparison with surgical findings. Urology. 1998 Apr. 51(4):616-9. [Medline].

Nicely ER, Costabile RA, Moul JW. Rupture of the deep dorsal vein of the penis during sexual intercourse. J Urol. 1992 Jan. 147(1):150-2. [Medline].

Oesterwitz H, Bick C, Braun E. Fracture of the penis. Report of 6 cases and review of the literature. Int Urol Nephrol. 1984. 16(2):123-7. [Medline].

Saporta L, Miroglu C, Ekinci M. Penile fractures and our treatment policy. Int Urol Nephrol. 1997. 29(1):85-9. [Medline].

Seftel AD, Haas CA, Vafa A. Inguinal scrotal incision for penile fracture. J Urol. 1998 Jan. 159(1):182-4. [Medline].

Shah DK, Paul EM, Meyersfield SA. False fracture of the penis. Urology. 2003 Jun. 61(6):1259. [Medline].

Sharma GR. Rupture of the superficial dorsal vein of the penis. Int J Urol. 2005 Dec. 12(12):1071-3. [Medline].

Taha SA, Sharayah A, Kamal BA. Fracture of the penis: surgical management. Int Surg. 1988 Jan-Mar. 73(1):63-4. [Medline].

Wolf JS, Gomez R, McAninch JW. Human bites to the penis. J Urol. 1992 May. 147(5):1265-7. [Medline].

Wolf JS, Turzan C, Cattolica EV. Dog bites to the male genitalia: characteristics, management and comparison with human bites. J Urol. 1993 Feb. 149(2):286-9. [Medline].

Zaman ZR, Kommu SS, Watkin NA. The management of penile fracture based on clinical and magnetic resonance imaging findings. BJU Int. 2005 Dec. 96(9):1423-4. [Medline].

Zargooshi J. Penile fracture in Kermanshah, Iran: the long-term results of surgical treatment. BJU Int. 2002 Jun. 89(9):890-4. [Medline].
Medscape Reference © 2011 WebMD, LLC