Chronic Bacterial Prostatitis
Author: Sunil K Ahuja, MD; Chief Editor: Edward David Kim, MD, FACS more...
Updated: Feb 29, 2016
What would you like to print?
Background
Chronic bacterial prostatitis (CBP) represents a bacterial infection of the prostate gland. CBP causes an associated symptom complex, the hallmark of which is the occurrence of relapsing urinary tract infections, usually involving the same pathogen. CBP is often confused with nonbacterial prostatitis, chronic pelvic pain syndrome (CPPS), and prostatodynia. (See Etiology.)
By definition, this condition is characterized by bacterial growth in culture of the expressed prostatic fluid, semen, or postmassage urine specimen. The expressed prostatic secretion (EPS) usually contains more than 10 white blood cells (WBCs) per high-power field (hpf) and macrophages (see the image below). (See Workup.)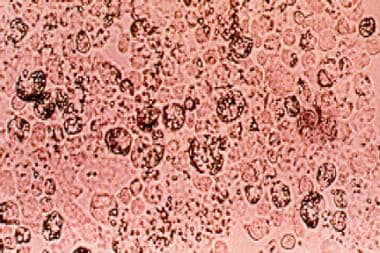 Bacterial prostatitis. Expressed prostatic fluid contains more than 10 white blood cells per high-power field, indicating prostatitis.
The prostatitis symptom complex is very common. Approximately half of all men eventually develop symptoms consistent with prostatitis. This symptom complex accounts for approximately 25% of urologic evaluations in men, or approximately 8% of all urology visits. In fact, the patient appointments for prostatitis outnumber those for cancer or benign prostatic hyperplasia (BPH).[1] (See Epidemiology and Presentation.)
Although the prostatitis symptom complex is not always caused by a bacterial infection, traditional teaching states that bacteria are the cause and require an antibiotic for treatment. This may explain why 50% of the patients with symptoms consistent with CBP are treated with antibiotics, yet only 5-10% of the men actually have a true bacteriologic condition that improves with treatment. Nonetheless, symptom improvement may also be due to a placebo effect or to an anti-inflammatory effect conferred by the antibiotic itself. (See Treatment and Medication.)[2]
A confounding factor is that fastidious organisms (eg, Chlamydia trachomatis, Ureaplasma urealyticum, Mycoplasma hominis) can cause prostatitis but do not grow in standard culture conditions; therefore, the condition may be interpreted as nonbacterial prostatitis. Continuing research, using sophisticated research methods, further elucidates that bacterial infection is the cause for more cases of prostatitis. Results from studies show that identification of bacterial ribosomal ribonucleic acid (rRNA), by a reverse transcriptase–polymerase chain reaction (RT-PCR) assay, assists in predicting a successful response to antibiotic treatment in patients with chronic prostatitis.
Continued research of occult bacterial infections as the cause of prostatitis syndrome is ongoing and will lead to further effective treatments for prostatitis symptoms.
Studies have shown a possible association between prostate cancer and prostatitis.[3, 4] Anti-inflammatory agents that target cyclooxygenase are hypothesized to decrease this risk.
NIH classification of prostatitis
Based on specific etiologies, the National Institutes of Health (NIH) classified the various forms of prostatitis in 1995.[5, 2] Type II is CBP, the focus of this article.
Type I is acute bacterial prostatitis, which is a well-defined infectious disease of the lower urinary tract. It is a bacterial infection, most commonly with E coli. Patients frequently present with bacteremia
The most common type of prostatitis (90% of cases) is type III, the CPPS category. Type III is chronic abacterial prostatitis (inflammatory CPPS and noninflammatory CPPS). It is nonbacterial in origin. Diagnosis is made on the basis of expressed prostatic secretion (EPS) findings, clinical findings, and culture results. An empiric trial of antimicrobials is usually warranted (fluoroquinolone or trimethoprim-sulfamethoxazole [TMP-SMZ]).[6]
Type IV is asymptomatic inflammatory prostatitis. It is often diagnosed based on results of biopsies, surgical specimens, or semen analysis obtained for other reasons. No treatment is warranted. Biopsy is typically indicated because of an elevated prostate-specific antigen (PSA) level.
Patient education
For patient education information, see the Men's Health Center, as well as Understanding the Male Anatomy, Prostate Infections (Prostatitis), and Urinary Tract Infections (UTIs).
Anatomy
The prostate gland is an accessory sex gland, providing approximately 15% of the ejaculate. The normal prostate weighs approximately 18 g and measures 3 by 4 by 2 cm in length, width, and depth, respectively. It is located in the pelvis, underneath the symphysis pubis at the base of the bladder and on top of the rectum.
The prostate is divided into three distinct zones: central, transitional, and peripheral. These three zones fuse into a single glandular structure that completely surrounds the urethra. The prostate is enclosed by a capsule composed of collagen, elastin, and smooth muscle.
The prostate is 70% glandular and 30% fibromuscular stroma. The glandular elements of the prostate are relatively simple tubuloalveolar glands and are lined with simple cuboidal or columnar epithelium. There are approximately 20 of these glands, and they branch out into the fibromuscular stroma. The prostate is innervated by sympathetic nerves from T-10 to L-1.
Natural host defenses that prevent prostatitis include the flushing of the prostatic urethra by emptying the bladder, ejaculation, and the presence of a zinc-rich antibacterial polypeptide that has antibacterial effects against gram-positive and gram-negative bacteria. The prostate has the highest level of zinc concentration of any organ. Healthy men have very high zinc levels, whereas men with chronic bacterial prostatitis (CBP) have low prostatic zinc levels and normal serum zinc levels. Interestingly, oral zinc supplementation does not increase the prostatic zinc levels in men with CBP.
Spermine and spermidine are also natural host defenses in prostatic fluid. These impart the characteristic odor to ejaculate, and their antibacterial activity is directed mainly at gram-positive bacteria.
Etiology
The prostate, because of its anatomic configuration, can be a reservoir for recurrent infections. The peripheral zone of the prostate is composed of a system of ducts with a poor drainage system, which prevents the dependent drainage of secretions. As the prostate enlarges with age, causing obstructive symptoms, the urine refluxes into the prostatic ducts.[7]
Urine reflux also may occur in urethral stricture disease. Refluxing urine, even when sterile, may cause chemical irritation and initiate tubule fibrosis and prostatic stone formation, which then lead to intraductal obstruction and stagnation of intraductal secretions. If trapped in these ducts, the infected material can serve as a nidus for relapsing infections, causing the symptoms of prostatitis. Infection of the prostate occurs via ascending urethral infection or reflux of infected urine into the prostatic ducts.
Infection often persists because antibiotics do not easily penetrate the prostate and no active transport mechanism exists whereby antibiotics can enter the prostatic ducts. Therefore, antibiotics depend on passive diffusion to enter the epithelial-lined prostatic glandular acini. The epithelial cells do not allow the free passage of antibiotics unless they meet certain criteria (ie, non-ionized, lipid-soluble, not firmly protein bound).
Another inhibiting factor is that prostatic fluid is acidic (pH of 6.4) compared with plasma (pH of 7.4), thus creating a pH gradient that further inhibits diffusion of acidic antibiotics into the prostatic fluid. Basic antibiotics are able to dissociate and concentrate in the prostatic fluid because of ion trapping within the prostatic fluid due to the pH gradient. Therefore, the best antibiotics for use in prostatitis have high dissociation constants (ie, measure of acid strength), are basic instead of acidic, and are not tightly protein bound. This combination can allow up to a six-fold higher concentration of antibiotic in the prostatic fluid compared with plasma.
Causes
Causative organisms in CBP include the following:
Escherichia coli

Klebsiella pneumoniae

Pseudomonas aeruginosa

Proteus species

Staphylococcus species

Enterococcus species

Trichomonas species

Candida species

Chlamydia trachomatis

Ureaplasma urealyticum

Mycoplasma hominis
E coli infection accounts for 80% of cases of CBP. Although C trachomatis has been implicated as a cause of the condition,[8] this organism is unlikely to play a major role in the etiology of CBP.
The role of the gram-positive organisms Staphylococcus epidermitis and S saprophyticus is controversial. These organisms typically colonize the anterior urethra and likely represent contamination when positive in a culture specimen. Only patients in whom a second culture result is positive should receive antibiotic treatment.
Routes of infection
The actual routes of prostatic infection are unknown in most cases, but various possibilities may be found. Ascending urethral infection is a known route because of the frequency of previous gonococcal prostatitis, as well as the finding of identical organisms in prostatic fluid and vaginal culture in many couples. Intraprostatic urinary reflux has been demonstrated in human cadavers and may play a role.
Routes of infection include the following:
Ascending urethral infection

Reflux of infected urine into prostatic ducts

Migration of rectal bacteria via direct extension or lymphogenous spread

Hematogenous infection
Epidemiology
Occurrence in the United States
Prostatitis accounts for approximately 2 million annual urology visits. Twenty-five percent of all men evaluated for urologic problems in the United States are estimated to have symptoms of prostatitis. Approximately 50% of men experience symptoms of prostatitis at some time in their life. However, less than 5-10% of men with symptoms of prostatitis have bacterial prostatitis. Evaluation for these symptoms makes up approximately 8% of all urology visits.[2]
International occurrence
Worldwide, about 8 million prostatitis-related outpatient visits occur annually.[9]
Age-related demographics
Symptoms of prostatitis are very common in men aged 36-50 years. In fact, prostatitis is the most common urologic problem in men younger than age 50 years and the third most common urologic problem in older men.
Studies using the National Institutes of Health Chronic Prostatitis Symptom Index (NIH-CPSI) found that the prevalence of prostatitis symptoms was 10% in a population of men aged 20-74 years.
Prognosis
Treatment success rates with the administration of trimethoprim-sulfamethoxazole (TMP-SMZ) approach 30-40%, and success rates with fluoroquinolones are 60-90%.
Treat relapses with a 3-month course of antibiotics. If this fails, consider a low, suppressive dose of antibiotics (eg, TMP-SMZ at single strength qhs, trimethoprim at 100 mg qhs, ciprofloxacin at 250 mg qhs, ofloxacin at 200 mg qhs).
Infection often persists because antibiotics do not penetrate the prostate easily and no active transport mechanism exists whereby antibiotics can enter the prostatic ducts. Another inhibiting factor is that prostatic fluid is acidic compared with plasma, thus creating a pH gradient that further inhibits diffusion of acidic antibiotics into the prostatic fluid.
Morbidity and mortality
Prostatitis impairs the patient's quality of life to the same degree as coronary artery disease or Crohn disease. Studies show that prostatitis has the same effect on a patient's mental health as do diabetes mellitus and congestive heart failure.[10]
A retrospective study suggested that a relationship exists between the severity of chronic prostatitis symptoms and erectile dysfunction frequency. Whether this relationship is mediated through organic or psychological mechanisms remained unclear.[11] In a comparison of data from 317 patients with chronic bacterial prostatitis (CBP) due to C trachomatis and 639 patients with CBP caused by common uropathogenic bacteria, Cai and colleagues reported that patients with chlamydial CBP reported a higher prevalence of premature ejaculation and lower quality of life.[12]
In a study of 110 infertile men with CBP, the 78 patients who responded to levofloxacin treatment (as indicated by eradication of bacteria from sperm cultures) showed showed a significant increase in sperm progressive motility and a significant decrease in seminal leukocyte count, seminal fluid viscosity, liquefaction time, reactive oxygen species production, and seminal tumor necrosis factor-α and interleukin 6 levels. None of those posttreatment variables were significantly different than those in a control group of 37 fertile men. In the patients with poor antibiotic responsiveness, however, all measured semen variables showed deterioration.[13]
CBP is not associated with mortality. However, acute bacterial prostatitis represents a potentially lethal process if untreated.
References
Hung SC, Lai SW, Tsai PY, Chen PC, Wu HC, Lin WH, et al. Synergistic interaction of benign prostatic hyperplasia and prostatitis on prostate cancer risk. Br J Cancer. 2013 Mar 14. 108(9):1778-83. [Medline]. [Full Text].

Habermacher GM, Chason JT, Schaeffer AJ. Prostatitis/chronic pelvic pain syndrome. Annu Rev Med. 2006. 57:195-206. [Medline].

Dennis LK, Lynch CF, Torner JC. Epidemiologic association between prostatitis and prostate cancer. Urology. 2002 Jul. 60(1):78-83. [Medline].

Roberts RO, Bergstralh EJ, Bass SE, Lieber MM, Jacobsen SJ. Prostatitis as a risk factor for prostate cancer. Epidemiology. 2004 Jan. 15(1):93-9. [Medline].

NIH Summary Statement. NIDDK Workshop on Chronic Prostatitis, Bethesda, Md. December 1995.

Wagenlehner FM, Naber KG. Fluoroquinolone antimicrobial agents in the treatment of prostatitis and recurrent urinary tract infections in men. Curr Urol Rep. 2004 Aug. 5(4):309-16. [Medline].

Pontari MA. Etiology of chronic prostatitis/chronic pelvic pain syndrome: psychoimmunoneurendocrine dysfunction (PINE syndrome) or just a really bad infection?. World J Urol. 2013 Apr 12. [Medline].

Weidner W, Diemer T, Huwe P, Rainer H, Ludwig M. The role of Chlamydia trachomatis in prostatitis. Int J Antimicrob Agents. 2002 Jun. 19(6):466-70. [Medline].

Wiygul RD. Prostatitis: epidemiology of inflammation. Curr Urol Rep. 2005 Jul. 6(4):282-9. [Medline].

McNaughton Collins M, Pontari MA, O'Leary MP, Calhoun EA, Santanna J, Landis JR, et al. Quality of life is impaired in men with chronic prostatitis: the Chronic Prostatitis Collaborative Research Network. J Gen Intern Med. Oct/2001. 16(10):656-62. [Medline].

Magri V, Perletti G, Montanari E, Marras E, Chiaffarino F, Parazzini F. Chronic prostatitis and erectile dysfunction: results from a cross-sectional study. Arch Ital Urol Androl. 2008 Dec. 80(4):172-5. [Medline].

Cai T, Pisano F, Magri V, Verze P, Mondaini N, D'Elia C, et al. Chlamydia trachomatis Infection Is Related to Premature Ejaculation in Chronic Prostatitis Patients: Results from a Cross-Sectional Study. J Sex Med. 2014 Sep 25. [Medline].

Vicari LO, Castiglione R, Salemi M, Vicari BO, Mazzarino MC, Vicari E. Effect of levofloxacin treatment on semen hyperviscosity in chronic bacterial prostatitis patients. Andrologia. 2015 Aug 10. [Medline].

Tran CN, Shoskes DA. Sexual dysfunction in chronic prostatitis/chronic pelvic pain syndrome. World J Urol. 2013 Apr 12. [Medline].

Budía A, Luis Palmero J, Broseta E, Tejadillos S, Benedicto A, Queipo JA, et al. Value of semen culture in the diagnosis of chronic bacterial prostatitis: a simplified method. Scand J Urol Nephrol. 2006. 40(4):326-31. [Medline].

Nickel JC, Shoskes D, Wang Y, Alexander RB, Fowler JE Jr, Zeitlin S, et al. How does the pre-massage and post-massage 2-glass test compare to the Meares-Stamey 4-glass test in men with chronic prostatitis/chronic pelvic pain syndrome?. J Urol. 2006 Jul. 176(1):119-24. [Medline].

Meares EM, Stamey TA. Bacteriologic localization patterns in bacterial prostatitis and urethritis. Invest Urol. 1968 Mar. 5(5):492-518. [Medline].

Magri V, Wagenlehner FM, Montanari E, Marras E, Orlandi V, Restelli A, et al. Semen analysis in chronic bacterial prostatitis: diagnostic and therapeutic implications. Asian J Androl. 2009 Jul. 11(4):461-77. [Medline].

Gill BC, Shoskes DA. Bacterial prostatitis. Curr Opin Infect Dis. 2016 Feb. 29 (1):86-91. [Medline].

Herati AS, Moldwin RM. Alternative therapies in the management of chronic prostatitis/chronic pelvic pain syndrome. World J Urol. 2013 Jun 6. [Medline].

Grayson ML, Macesic N, Trevillyan J, Ellis AG, Zeglinski PT, Hewitt NH, et al. Fosfomycin for Treatment of Prostatitis: New Tricks for Old Dogs. Clin Infect Dis. 2015 Oct 1. 61 (7):1141-3. [Medline].

Cunha BA, Gran A, Raza M. Persistent extended-spectrum β-lactamase-positive Escherichia coli chronic prostatitis successfully treated with a combination of fosfomycin and doxycycline. Int J Antimicrob Agents. 2015 Apr. 45 (4):427-9. [Medline].

Los-Arcos I, Pigrau C, Rodríguez-Pardo D, Fernández-Hidalgo N, Andreu A, Larrosa N, et al. Fosfomycin-tromethamine long-term oral therapy for difficult-to-treat chronic bacterial prostatitis. Antimicrob Agents Chemother. 2015 Dec 14. [Medline].

Anothaisintawee T, Attia J, Nickel JC, et al. Management of chronic prostatitis/chronic pelvic pain syndrome: a systematic review and network meta-analysis. JAMA. 2011 Jan 5. 305(1):78-86. [Medline].

Shoskes DA, Thomas KD, Gomez E. Anti-nanobacterial therapy for men with chronic prostatitis/chronic pelvic pain syndrome and prostatic stones: preliminary experience. J Urol. 2005 Feb. 173(2):474-7. [Medline].

Kaplan SA, Volpe MA, Te AE. A prospective, 1-year trial using saw palmetto versus finasteride in the treatment of category III prostatitis/chronic pelvic pain syndrome. J Urol. 2004 Jan. 171(1):284-8. [Medline].

Falahatkar S, Shahab E, Gholamjani Moghaddam K, Kazemnezhad E. Transurethral Intraprostatic Injection of Botulinum Toxin Type A for the Treatment of Chronic Prostatitis/Chronic Pelvic Pain Syndrome: Results of a Prospective Pilot Double-Blind and Randomized Placebo-Controlled study. BJU Int. 2014 Oct 13. [Medline].

Meares ET. Chronic bacterial prostatitis: role of transurethral prostatectomy (TURP) in therapy. Schmiedt E, Alken JE, Bauer HW. Therapy of prostatitis. Munich, Germany: Zuckerschwerdt Verlag; 1986. 193-197.

Murphy AB, Macejko A, Taylor A, Nadler RB. Chronic prostatitis: management strategies. Drugs. 2009. 69(1):71-84. [Medline].

Chung SD, Lin HC. Association between Chronic Prostatitis/Chronic Pelvic Pain Syndrome and Anxiety Disorder: A Population-Based Study. PLoS One. 2013. 8(5):e64630. [Medline]. [Full Text].
Medscape Reference © 2011 WebMD, LLC