Vascular Surgery for Arteriovenous Malformations Workup
Author: Allison Leigh Speer, MD; Chief Editor: Vincent Lopez Rowe, MD more...
Updated: Dec 09, 2014
What would you like to print?
Imaging Studies
Clinical diagnosis is confirmed by means of ultrasonography with color Doppler examination. Magnetic resonance imaging (MRI) is best for evaluating the extent of the AVM.
Plain radiography
Bony AVMs may demonstrate osteolysis.[5, 13]
Ultrasonography
Ultrasonography with color Doppler of an AVM usually demonstrates low-resistance high-velocity arterial flow, above the baseline, with high diastolic flux, and pulsatile venous flow below the baseline. Vessels are tortuous. AV shunting is seen. Pulsed Doppler measures the arterial output on the affected side compared with the normal side (eg, carotid, humeral, femoral arteries). This noninvasive technique is an excellent and reliable way to follow the course of an AVM or to monitor response to treatment.[5]
Computed tomography
Computed tomography (CT) does not easily distinguish between hemangiomas and vascular malformations. CT with iodinated contrast identifies AVMs as a highly enhancing lesion and can demonstrate soft tissue involvement, as well as dilated feeding and draining vessels[5] .
CT angiography (CTA; see the image below) provides three-dimensional (3D) reconstruction of the AVM. Cone-beam CTA (also referred to as rotational angiography) appears to be promising in the treatment of AVMs, both for facilitating preoperative surgical planning and for providing an intraoperative reference.[16, 17]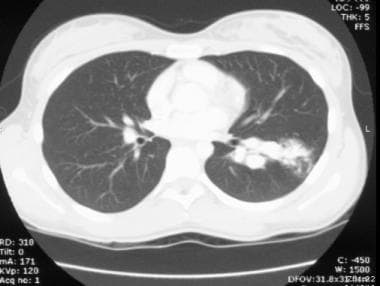 CT Angiogram of a pulmonary arteriovenous malformation (AVM).
Magnetic resonance imaging
MRI of an AVM demonstrates a collection of vascular flow voids (black tubular structures) corresponding to fast-flow vessels, in all sequences (spin-echo T1- and T2-weighted sequences). (See the image below.) No contrast parenchymal enhancement (no tumor aspect) exists. If signal abnormalities are present, they may exist in relation to a fibrofatty matrix.[18, 19] Magnetic resonance angiography (MRA) also provides a 3D reconstruction of the AVM and its anomalous vascular network.[5]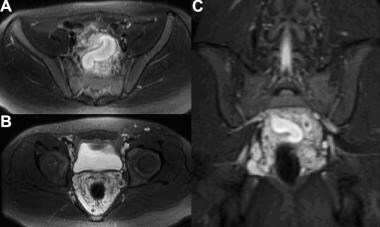 MRI of a rectal arteriovenous malformation (AVM). Panel A: Axial, intraperitoneal rectum. Panel B: Axial, extraperitoneal rectum. Panel C: Coronal, posterior to lumbosacral prominence.
Angiography
Angiography (see the image below) is not solely diagnostic but can be therapeutic with embolization. Angiography demonstrates variably dilated or tortuous feeding arteries, arterial venous shunting (occasionally with visualization of discrete fistulae), and dilated draining veins. Feeding arteries may be aneurysmal in older patients.[8]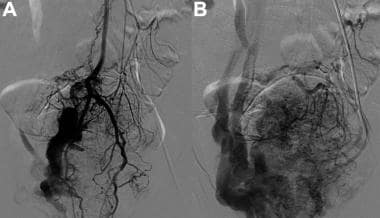 Angiogram of a rectal arteriovenous malformation (AVM). Panel A: arterial phase. Panel B: venous phase.
Proximal embolization of feeding vessels is contraindicated and should never be performed. After a period of improvement, a vascular recruitment phenomenon occurs with rapid recruitment of flow from nearby arteries, which allows new collaterals to supply the nidus. This allows the lesions to recur and progress. In addition, proximal arterial embolization denies access for subsequent embolization.[5, 1, 8]
Angiography typically precedes interventional therapy or surgical resection. Patients with AVMs that are unresectable may undergo palliative superselective arterial or retrograde venous embolization for control of pain, hemorrhage, or congestive heart failure. Typically, palliative embolization provides only transient improvement. Resectable AVMs may be surgically removed 24-72 hours after arterial embolization for temporary nidus occlusion. Embolization can be with coils or glue.[8]
Sclerotherapy is another radiologic option that uses angiography and involves the injection of ethanol into the nidus. The risk of soft tissue and neurologic damage is high; therefore, this technique should be performed only by an experienced endovascular specialist in carefully selected patients.[1] Although preoperative embolization or sclerotherapy may minimize intraoperative bleeding, these techniques do not reduce the limits of resection.
Histologic Findings
Vascular malformations are composed of vascular channels lined by flat "mature" epithelium and are not hypercellular, in contrast to hemangiomas. The endothelium is not proliferative. AVMs have predominately arterial and venous anomalous channels.[3]
Laboratory Studies
No laboratory tests reliably diagnose arteriovenous malformations (AVMs). Serum levels of vascular endothelial growth factor (VEGF) are significantly higher in proliferating hemangiomas than in involuting hemangiomas and vascular malformations.[15] In addition, urinary high-molecular-weight (hMW) matrix metalloproteinases (MMPs) are elevated in vascular tumors and some vascular malformations; however, they can not distinguish between the two types of vascular lesions.[10]
If a patient has spontaneous bleeding, perform a complete blood count (CBC), coagulation studies such as prothrombin time (PT) and partial thromboplastin time (PTT), a disseminated intravascular coagulation (DIC) panel, and a type and screen (T+S). This will allow a rapid diagnosis of anemia, coagulopathy, or DIC, if present, and will allow resuscitation with the appropriate intravenous fluids or blood products.
References
Mulliken JB, Fishman SJ, Burrows PE. Vascular anomalies. Curr Probl Surg. 2000 Aug. 37(8):517-84. [Medline].

Vaišnyte B, Vajauskas D, Palionis D, Misonis N, Kurminas M, Nevidomskyte D, et al. Diagnostic Methods, Treatment Modalities, and Follow-up of Extracranial Arteriovenous Malformations. Medicina (Kaunas). 2012. 48(8):388-98. [Medline].

Mulliken JB, Glowacki J. Hemangiomas and vascular malformations in infants and children: a classification based on endothelial characteristics. Plast Reconstr Surg. 1982 Mar. 69(3):412-22. [Medline].

Blei F. Basic science and clinical aspects of vascular anomalies. Curr Opin Pediatr. 2005 Aug. 17(4):501-9. [Medline].

Enjolras O, Wassef M, Chapot R. Color Atlas of Vascular Tumors and Vascular Malformations. New York: Cambridge University Press; 2007.

Chang MW. Updated classification of hemangiomas and other vascular anomalies. Lymphat Res Biol. 2003. 1(4):259-65. [Medline].

Al-Adnani M, Williams S, Rampling D, Ashworth M, Malone M, Sebire NJ. Histopathological reporting of paediatric cutaneous vascular anomalies in relation to proposed multidisciplinary classification system. J Clin Pathol. 2006 Dec. 59(12):1278-82. [Medline].

Marler JJ, Mulliken JB. Current management of hemangiomas and vascular malformations. Clin Plast Surg. 2005 Jan. 32(1):99-116, ix. [Medline].

Chiller KG, Frieden IJ, Arbiser JL. Molecular pathogenesis of vascular anomalies: classification into three categories based upon clinical and biochemical characteristics. Lymphat Res Biol. 2003. 1(4):267-81. [Medline].

Marler JJ, Fishman SJ, Kilroy SM, et al. Increased expression of urinary matrix metalloproteinases parallels the extent and activity of vascular anomalies. Pediatrics. 2005 Jul. 116(1):38-45. [Medline].

Kohout MP, Hansen M, Pribaz JJ, Mulliken JB. Arteriovenous malformations of the head and neck: natural history and management. Plast Reconstr Surg. 1998 Sep. 102(3):643-54. [Medline].

Tasnadi G. Epidemiology and etiology of congenital vascular malformations. Semin Vasc Surg. 1993 Dec. 6(4):200-3. [Medline].

Enjolras O, Logeart I, Gelbert F, et al. [Arteriovenous malformations: a study of 200 cases]. Ann Dermatol Venereol. 2000 Jan. 127(1):17-22. [Medline].

Khong PL, Burrows PE, Kozakewich HP, Mulliken JB. Fast-flow lingual vascular anomalies in the young patient: is imaging diagnostic?. Pediatr Radiol. 2003 Feb. 33(2):118-22. [Medline].

Zhang L, Lin X, Wang W, et al. Circulating level of vascular endothelial growth factor in differentiating hemangioma from vascular malformation patients. Plast Reconstr Surg. 2005 Jul. 116(1):200-4. [Medline].

Srinivasan VM, Schafer S, Ghali MG, Arthur A, Duckworth EA. Cone-beam CT angiography (Dyna CT) for intraoperative localization of cerebral arteriovenous malformations. J Neurointerv Surg. 2014 Dec 5. [Medline].

Li ZF, Hong B, Xv Y, Huang QH, Zhao WY, Liu JM. Using DynaCT rotational angiography for angioarchitecture evaluation and complication detection in spinal vascular diseases. Clin Neurol Neurosurg. 2014 Nov 10. 128C:56-59. [Medline].

Burrows PE, Laor T, Paltiel H, Robertson RL. Diagnostic imaging in the evaluation of vascular birthmarks. Dermatol Clin. 1998 Jul. 16(3):455-88. [Medline].

Robertson RL, Robson CD, Barnes PD, Burrows PE. Head and neck vascular anomalies of childhood. Neuroimaging Clin N Am. 1999 Feb. 9(1):115-32. [Medline].

Lee BB, Do YS, Yakes W, Kim DI, Mattassi R, Hyon WS. Management of arteriovenous malformations: a multidisciplinary approach. J Vasc Surg. 2004 Mar. 39(3):590-600. [Medline].

Oermann EK, Murthy N, Chen V, Baimeedi A, Sasaki-Adams D, McGrail K, et al. A Multicenter Retrospective Study of Frameless Robotic Radiosurgery for Intracranial Arteriovenous Malformation. Front Oncol. 2014. 4:298. [Medline]. [Full Text].

Eerola I, Boon LM, Mulliken JB, et al. Capillary malformation-arteriovenous malformation, a new clinical and genetic disorder caused by RASA1 mutations. Am J Hum Genet. 2003 Dec. 73(6):1240-9. [Medline]. [Full Text].

Schirmer CM, Hwang SW, Riesenburger RI, Choi IS, David CA. Obliteration of a metameric spinal arteriovenous malformation (Cobb syndrome) using combined endovascular embolization and surgical excision. J Neurosurg Pediatr. 2012 Jul. 10(1):44-9. [Medline].

Enjolras O, Chapot R, Merland JJ. Vascular anomalies and the growth of limbs: a review. J Pediatr Orthop B. 2004 Nov. 13(6):349-57. [Medline].

Marsh DJ, Kum JB, Lunetta KL, et al. PTEN mutation spectrum and genotype-phenotype correlations in Bannayan-Riley-Ruvalcaba syndrome suggest a single entity with Cowden syndrome. Hum Mol Genet. 1999 Aug. 8(8):1461-72. [Medline].

Marsh DJ, Coulon V, Lunetta KL, et al. Mutation spectrum and genotype-phenotype analyses in Cowden disease and Bannayan-Zonana syndrome, two hamartoma syndromes with germline PTEN mutation. Hum Mol Genet. 1998 Mar. 7(3):507-15. [Medline].

Takaya N, Iwase T, Maehara A, et al. Transcatheter embolization of arteriovenous malformations in Cowden disease. Jpn Circ J. 1999 Apr. 63(4):326-9. [Medline].

Calva D, Howe JR. Hamartomatous polyposis syndromes. Surg Clin North Am. 2008 Aug. 88(4):779-817, vii. [Medline]. [Full Text].

Tan WH, Baris HN, Burrows PE, Robson CD, Alomari AI, Mulliken JB. The spectrum of vascular anomalies in patients with PTEN mutations: implications for diagnosis and management. J Med Genet. 2007 Sep. 44(9):594-602. [Medline].

Turnbull MM, Humeniuk V, Stein B, Suthers GK. Arteriovenous malformations in Cowden syndrome. J Med Genet. 2005 Aug. 42(8):e50. [Medline]. [Full Text].
Table 1: ISSVA 1996 Classification of Vascular Anomalies
Vascular Tumors
Vascular Malformations

Infantile hemangiomas

Congenital hemangiomas

Rapidly involuting congenital hemangioma (RICH)

Noninvoluting congenital hemangioma (NICH)

Tufted angioma (+/- Kasabach-Merritt syndrome)

Kaposiform hemangioendothelioma

(+/- Kasabach-Merritt syndrome)

Spindle cell hemangioendothelioma

Other, rare hemangioendotheliomas (eg, epithelioid, composite, retiform, polymorphous, Dabska tumor, lymphangioendotheliomatosis)

Dermatologic acquired vascular tumors (pyogenic granuloma, targetoid hemangioma, glomeruloid hemangioma, microvenular hemangioma, etc.)

Slow-flow

Capillary malformation (CM)

Port-wine stain
Telangiectasia
Angiokeratoma

Venous malformation (VM)

Common sporadic VM
Bean syndrome
Familial cutaneous and mucosal venous malformation (VMCM)
Glomuvenous malformation (GVM)
Maffucci syndrome

Lymphatic malformation (LM)

Fast-flow





Arterial malformation (AM)

Arteriovenous fistula (AVF)

Arteriovenous malformation (AVM)






Complex-combined vascular malformations

CVM, CLM, LVM, CLVM, AVM-LM, CM-AVM

C=capillary, V=venous, L=lymphatic, A=arterial, M=malformation, F=fistula
Table 2: Schobinger Staging for AVMs
| | |
| --- | --- |
| Stage | Description |
| I - Quiescence | Pink-bluish stain, warmth, and arteriovenous shunting are revealed by Doppler scanning. The arteriovenous malformation mimics a capillary malformation or involuting hemangioma. |
| II - Expansion | The description is the same as stage I, plus enlargement, pulsations, thrill, and bruit and tortuous/tense veins. |
| III - Destruction | The description is the same as stage II, plus dystrophic skin changes, ulceration, bleeding, persistent pain, or tissue necrosis. Bony lytic lesions may occur. |
| IV - Decompensation | The description is the same as stage III, plus congestive cardiac failure with increased cardiac output and left ventricle hypertrophy. |
Table 3: Indications for Surgical Treatment of AVMs
Absolute Indications
Relative Indications

Hemorrhage

Ischemia (arterial insufficiency or ulceration, gangrene)

Chronic venous insufficiency with venous hypertension

Lesions that compromise breathing, vision, hearing, or eating

High-output cardiac failure

Poor quality of life (disabling or intractable pain, functional impairment, severe cosmetic deformity)

Lesions with potentially high risk of complications (eg, hemarthrosis, fracture, or limb-threatening location)

Vascular-bone syndrome with limb length discrepancy

Table modified from Lee et al.[20]
Medscape Reference © 2011 WebMD, LLC