Renal Vein Thrombosis Workup
Author: Igor A Laskowski, MD; Chief Editor: Vincent Lopez Rowe, MD more...
Updated: Dec 08, 2014
What would you like to print?
Imaging Studies
In RVT, intravenous pyelography (IVP) with an abdominal plain film may reveal an enlarged kidney. If the renal pelvis is observed, it is usually distorted. An infrequent but characteristic finding of RVT is notching of the ureter, which occurs when collateral veins near the ureters become tortuous. IVP seldom is used to help make the diagnosis.
Inferior vena cavography may help provide a diagnosis of RVT. Occasionally, it is not diagnostic, in which case selective renal vein catheterization can be performed.
Renal arteriography may be useful in situations where RVT is secondary to trauma or tumor, in which case renal artery involvement is common.
Renal ultrasonography is a safe noninvasive technique. With underlying RVT, the kidneys swell and become echogenic, with prominent echo-poor medullary pyramids. Color Doppler scanning may also provide information. However, ultrasonography usually is not sensitive enough to assist in making the diagnosis.[6]
Computed tomography (CT) currently is the procedure of choice for diagnosing RVT noninvasively (see the image below). Intravenous (IV) infusion of contrast material assists in visualizing the renal veins. CT also demonstrates the presence of renal cell cancer.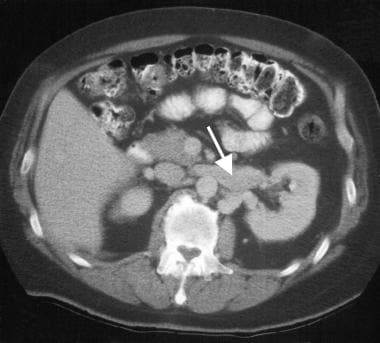 This CT scan shows renal vein thrombosis secondary to renal cell cancer. The arrow is pointed at the thrombosed renal vein.
At some point, magnetic resonance imaging (MRI) may become the procedure of choice for the diagnosis of RVT (see the image below). MRI produces high-contrast images between flowing blood, vascular walls, and surrounding tissue. Its major benefit is the avoidance of radiation and IV contrast material. MRI also may help detect RVT and the presence of tumor.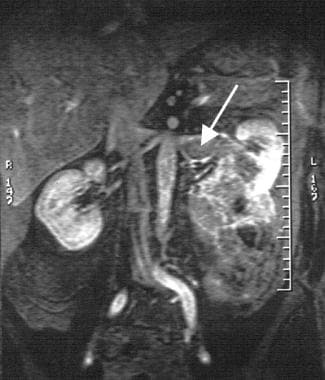 This MRI is from a patient with renal cell cancer and renal vein thrombosis. The arrow is on the thrombosed vein.
In a study comparing the diagnostic accuracy of three-dimensional contrast-enhanced magnetic resonance venography (3D-CE-MRV) with that of multidetector CT venography (as the reference standard) for detecting RVT, Zhang et al found that the sensitivities and specificities of 3D-CE-MRV relative to CT venography were 94.1% and 100% on a per-patient basis and 95.5% and 100% on a per-vessel basis.[7] They concluded that 3D-CE-MRV would be an optimal alternative imaging modality for detecting RVT.
Histologic Findings
Renal biopsy plays an essential role in the evaluation of patients who are nephrotic and who have RVT. Renal histologic features of these patients reflect the responsible primary renal disease. Membranous nephropathy is the most common finding (see the image below).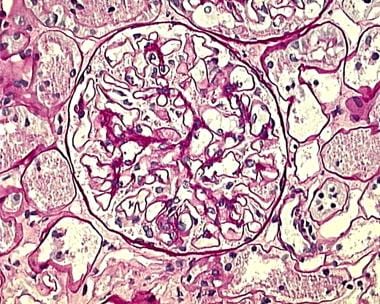 This renal biopsy shows membranous nephropathy. Light (hematoxylin and eosin) stain shows thickened capillary loops via electron microscopy, with subepithelial deposits.
Laboratory Studies
No specific lab studies are indicated for renal vein thrombosis (RVT) except those specific for nephrotic syndrome or other associated factors such as trauma or coexisting hypercoagulable state. Studies that may be helpful include the following:
Cholesterol levels for hypercholesterolemia

Albumin levels for hypoalbuminemia

Serum complement levels

Urine protein and loss renal function studies, including serum creatinine and blood urea nitrogen (BUN); these are necessary because RVT may present as unexplained acute renal failure or a sudden increase in proteinuria

Review of renal biopsy
References
Harris SL, Smith MP, Laurie A, Darlow BA. Neonatal renal vein thrombosis and prothrombotic risk. Acta Paediatr. 2010 Jul. 99(7):1104-7. [Medline].

Reimold EW, Wittel RA. Renal venous thrombosis in children: changes in management. South Med J. 1983 Oct. 76(10):1277-84. [Medline].

Dutta TK, Venugopal V. Venous thromboembolism: the intricacies. J Postgrad Med. 2009 Jan-Mar. 55(1):55-64. [Medline].

Dauger S, Michot C, Garnier A, Hurtaud-Roux MF. [Neonatal renal venous thrombosis in 2008]. Arch Pediatr. 2009 Feb. 16(2):132-41. [Medline].

Decoster T, Schwagten V, Hendriks J, Beaucourt L. Renal colic as the first symptom of acute renal vein thrombosis, resulting in the diagnosis of nephrotic syndrome. Eur J Emerg Med. 2009 Apr 20. [Medline].

Basterrechea Iriarte F, Sota Busselo I, Nogués Pérez A. [Evolution of imaging in renal vein thrombosis in the newborn]. An Pediatr (Barc). 2008 Nov. 69(5):442-5. [Medline].

Zhang LJ, Wu X, Yang GF, Tang CX, Luo S, Zhou CS, et al. Three-dimensional contrast-enhanced magnetic resonance venography for detection of renal vein thrombosis: comparison with multidetector CT venography. Acta Radiol. 2013 Dec. 54(10):1125-31. [Medline].

McCarthy E, Mahony NO, Guiney M, Ryan JM. Successful catheter directed thrombolysis of IVC and renal vein occlusive thrombus. Ir Med J. 2011 Nov-Dec. 104(10):311-2. [Medline].

Srinivas BC, Singh B, Srinivasa S, Reddy SS, Mahadevappa NC, Reddy B. Transcatheter pharmacomechanical approach for acute renal vein thrombosis: a rational technique. Cardiovasc Interv Ther. 2014 Jul. 29(3):275-8. [Medline].

Heafner TA, Scott D, Watson JD, Propper B, Johnson C, Arthurs ZM. Combined arteriovenous thrombolytic infusion for refractory renal vein thrombosis. Ann Vasc Surg. 2014 Aug. 28(6):1564.e5-8. [Medline].

Bianchi S, Bigazzi R, Caiazza A, et al. A controlled, prospective study of the effects of atorvastatin on proteinuria and progression of kidney disease. Am J Kidney Dis. 2003 Mar. 41(3):565-70. [Medline].

Jaako Dardashti V, Bekassy ZD, Ljung R, Gelberg J, Wingren P, Simonsen O, et al. Successful thrombolysis of neonatal bilateral renal vein thrombosis originating in the IVC. Pediatr Nephrol. 2009 Mar 24. [Medline].

Janvier AL, Hamdan H, Malas M. Bilateral renal vein thrombosis and subsequent acute renal failure due to IVC filter migration and thrombosis. Clin Nephrol. 2010 May. 73(5):408-12. [Medline].

Maroni BJ. Protein restriction in the pre-end-stage renal disease (ESRD) patient: who, when, how, and the effect on subsequent ESRD outcome. J Am Soc Nephrol. 1998 Dec. 9(12 Suppl):S100-6. [Medline].

Babu SC, Manoni T, Shah PM. Malignant renal tumor with extension to the inferior vena cava. The American Journal of Surgery. 1998. 176:137 -139.

Borrello JA. Renal MR angiography. Magn Reson Imaging Clin N Am. 1997 Feb. 5(1):83-93. [Medline].

Irish AB, Green FR, Gray DW, et al. The factor V Leiden (R506Q) mutation and risk of thrombosis in renal transplant recipients. Transplantation. 1997 Aug 27. 64(4):604-7. [Medline].

Kim HS, Fine DM, Atta MG. Catheter-directed thrombectomy and thrombolysis for acute renal vein thrombosis. J Vasc Interv Radiol. 2006 May. 17(5):815-22. [Medline].

Markowitz GS, Brignol F, Burns ER, et al. Renal vein thrombosis treated with thrombolytic therapy: case report and brief review. Am J Kidney Dis. 1995 May. 25(5):801-6. [Medline].

Meehan SM, Limsrichamrern S, Manaligod JR, et al. Platelets and capillary injury in acute humoral rejection of renal allografts. Hum Pathol. 2003 Jun. 34(6):533-40. [Medline].

Nickolas TL, Radhakrishnan J, Appel GB. Hyperlipidemia and thrombotic complications in patients with membranous nephropathy. Semin Nephrol. 2003 Jul. 23(4):406-11. [Medline].

Orth SR, Ritz E. The nephrotic syndrome. N Engl J Med. 1998 Apr 23. 338(17):1202-11. [Medline].

Zini L, Haulon S, Leroy X, et al. Endoluminal occlusion of the inferior vena cava in renal cell carcinoma with retro- or suprahepatic caval thrombus. BJU Int. 2006 Jun. 97(6):1216-20.
Medscape Reference © 2011 WebMD, LLC