Emergent Management of Atrial Flutter
Author: Pierre Borczuk, MD; Chief Editor: Barry E Brenner, MD, PhD, FACEP more...
Updated: Aug 19, 2015
What would you like to print?
Overview
Atrial flutter is the second most common tachyarrhythmia, after atrial fibrillation. Much has been learned about the mechanism of atrial flutter since the late 20th century; treatment of this arrhythmia has therefore changed. Radiofrequency catheter ablation is now the long-term treatment of choice in patients with symptomatic atrial flutter.
Atrial flutter has traditionally been characterized as a macro reentrant arrhythmia with atrial rates of between 240 and 400 beats per minute. The reentrant pathway resides in the right atrium. The electrocardiogram (ECG) usually demonstrates a regular rhythm, with P waves that can appear sawtoothed (see the image below), also called flutter waves. Since the atrioventricular (AV) node cannot conduct at the same rate as the atrial activity, one commonly sees some form of conduction block, typically 2:1 or 4:1. This block may also be variable and cause atrial flutter to appear as an irregular rhythm.
Atrial flutter can arise from conditions that lead to atrial dilatation. These include chronic left-sided congestive heart failure, pulmonary embolus, valvular heart disease (especially mitral and tricuspid diseases), and septal defects. Metabolic conditions such as hyperthyroidism and alcoholism can also cause atrial flutter.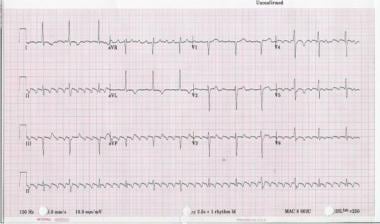 Twelve-lead ECG of type I atrial flutter. Note negative sawtooth pattern of flutter waves in leads II, III, and aVF.
Some patients with atrial flutter or atrial fibrillation and preexcitation syndrome (Wolff-Parkinson-White syndrome) are at risk for 1:1 conduction via their accessory pathway when nodal agents preferentially block the AV node. This can cause ventricular fibrillation.
Watch for the development of severe bradycardia during treatment. This may cause severe hypotension and death if not carefully monitored.
Rarely, atrial fibrillation or atrial flutter may be due to pericardial disease or effusion or to carbon monoxide intoxication. Keep these rare events in mind when dealing with the unusual case of a patient who does not respond to standard therapy.
Most cases will require internal medicine or cardiology consultation. A cardiologist may become involved primarily if the patient presents with complicating factors or an obvious ongoing cardiac ischemia (or infarction) not treatable with rate reduction measures and standard chest pain protocols.
Go to Atrial Flutter and Pediatric Atrial Flutter for complete information on these topics.
Prehospital care
In general, avoiding class I and III agents (eg, procainamide) in the prehospital setting is safest because of possible induction of 1:1 conduction. Generally, the rate can be slowed safely with calcium channel blockers or beta-adrenergic blockers.
For patient education information, see the Heart Center, as well as Atrial Flutter and Palpitations.
Emergency Department Care
Assess airway, breathing, and circulation. Hemodynamic concerns dictate initial treatment.
Treatment goals include the following:
Conversion to normal sinus rhythm

Keeping the patient in normal sinus rhythm

Control of ventricular rate

Preventing thromboembolic disease
Treatment options for atrial flutter include the following[1] :
Direct-current (DC) cardioversion

Antiarrhythmic drugs/nodal agents

Rapid atrial pacing to terminate atrial flutter
Blood pressure can be supported and rate controlled with medication.
Look for underlying causes. At times, treatment of the underlying disorder (eg, thyroid disease, valvular heart disease) is necessary to effect conversion to sinus rhythm.
In a study by Stiell et al, the Ottawa Aggressive Protocol, which includes chemical cardioversion; electrical cardioversion, if needed; and discharge home from the emergency department (ED), was found to be safe, rapid, and effective and to be potentially capable of reducing hospital admission[2] ; further study of this protocol is needed.
A Canadian study suggested that patients treated in the ED for uncomplicated atrial fibrillation or flutter who are at particular risk for associated stroke may not, in many cases, receive anticoagulant therapy. The investigators found that of 1090 patients in the study, 732 were discharged from the ED without cardiologic consultation (including 657 patients with atrial fibrillation and 75 with atrial flutter) and that within this group, out of 151 patients who were at higher risk for stroke, 80 did not receive appropriate anticoagulation.[3]
Cardioversion for Unstable Patients
If the patient is unstable (eg, hypotension, poor perfusion), synchronous direct-current (DC) cardioversion is commonly the initial treatment of choice.
Cardioversion may be successful with energies as low as 25 joules, but since 100 joules is virtually always successful, this may be a reasonable initial shock strength.
If the electrical shock results in atrial fibrillation, a second shock at a higher energy level is used to restore normal sinus rhythm.
Rate Control With Nodal Agents
Rate control is the goal of medication in atrial flutter or atrial fibrillation.
To slow the ventricular response, verapamil or diltiazem may be the appropriate initial treatment. Adenosine produces transient AV block and can be used to reveal flutter waves (as demonstrated in the image below). These drugs generally do not convert atrial flutter to normal sinus rhythm.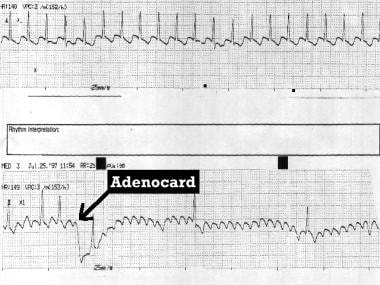 Type I atrial flutter unmasked by adenosine (Adenocard).
If the flutter cannot be cardioverted, terminated by pacing, or slowed by the drugs mentioned above, digoxin can be administered alone or with either a calcium antagonist or a beta-blocker. Intravenous amiodarone has been shown to slow the ventricular rate and is considered as effective as digoxin. Amiodarone has less negative inotropy and can be used in patients with hemodynamic compromise. However, care must be used in initiating this drug as it can convert aflutter to normal sinus rhythm, and this may have thromboembolic risk.
Digoxin toxicity is very rarely a cause of flutter; however, ascertaining that flutter is not caused by digoxin toxicity is important. Another caveat is to beware of the vagolytic action of quinidine, procainamide, and disopyramide if used to slow the flutter rate. These drugs can effect AV conduction, resulting in a 1:1 ventricular response to the atrial flutter. Before administration of these drugs, be sure to slow the conduction rate with digoxin or calcium channel blockers.
Beta-adrenergic blockers are especially effective in the presence of thyrotoxicosis and increased sympathetic tone.
Other antiarrhythmic drugs that can terminate atrial flutter/fibrillation include procainamide, disopyramide, propafenone, sotalol, flecainide, amiodarone, and ibutilide.
Dronedarone was approved by the US Food and Drug Administration (FDA) on July 2, 2009. It is a deiodinated derivative of amiodarone that has no organ toxicity. Its use will likely extend to atrial and ventricular arrhythmias. Dronedarone has multiple actions (all 4 Von Williams class effects). Unlike amiodarone, it does not have the iodine moiety. The lack of iodination may offer a better side-effect profile.
Dronedarone has been shown to (1) have antiadrenergic effects, (2) prolong atrial and ventricular refractory periods, and (3) prolong atrioventricular node conduction, as well as the paced QRS complex. In animal models, dronedarone has been shown to decrease ischemia-induced ventricular arrhythmias. The clinical effects of dronedarone are currently being examined in patients with atrial fibrillation and in patients with ICDs.
In 2011, the FDA added a Black Box warning to the use of dronedarone, based on increased mortality in patients with NYHA class IV heart failure or NYHA class II-III heart failure with a recent decompensation. A 2-fold increase in death, as well as 2-fold increases in stroke and hospitalization, were reported.
Calcium channel blockers
These agents reduce the rate of AV nodal conduction and control ventricular response.
Beta-blockers
These agents slow the sinus rate and decrease AV nodal conduction. Beta-blockers now have more of a secondary role in rate control in atrial flutter/fibrillation. Be sure to monitor blood pressure carefully.
Class I antiarrhythmics
These agents are used for chemical conversion into sinus rhythm. They alter the electrophysiologic mechanisms responsible for arrhythmia.
Class III antiarrhythmics
These agents establish a chemical conversion to sinus rhythm.
Cardiac glycosides
Cardiac glycosides decrease AV nodal conduction primarily by increasing vagal tone. They are used mainly in the context of atrial fibrillation and atrial flutter with congestive heart failure.
Limitations of antiarrhythmic medications
Antiarrhythmic drugs alone control atrial flutter in only 50-60% of patients. Since the early 1990s, radiofrequency catheter ablation has been used to interrupt the reentrant circuit in the right atrium and prevent recurrences of atrial flutter.
Inpatient Care
Patients in atrial flutter are at risk for thromboembolization and should be treated with oral anticoagulants in the same fashion as patients with atrial fibrillation.
Patients who have undergone cardioversion will need to be on warfarin for 4 weeks, with an INR goal in the 2-3 range.
Catheter ablation treatment
Antiarrhythmic drugs alone control atrial flutter in only 50-60% of patients. Since the early 1990s, radiofrequency catheter ablation has been used to interrupt the reentrant circuit in the right atrium and prevent recurrences of atrial flutter. The cavotricuspid isthmus (CTI) is the part of the circuit in the right atrium that is targeted by ablation. Radiofrequency ablation is immediately successful in more than 90% of cases and avoids the long-term toxicity observed with antiarrhythmic drugs. It is the long-term treatment of choice in patients with symptomatic atrial flutter.
When considering drug therapy for atrial flutter/fibrillation, remember the treatment caveat "electrical cardioversion is the preferred modality in the patient whose condition is unstable."
In patients who have failed antiarrhythmic therapy or who have failed radiofrequency ablation and who are symptomatic, palliative therapy with AV-His Bundle ablation can eliminate rapid ventricular rates, but it does require a permanent pacemaker to be placed, as this procedure creates third-degree heart block.
While radiofrequency ablation is beyond the domain of the ED physician, complications of this procedure are reported in the literature. The physician must be knowledgeable about these complications when treatment options are proposed to the patient and family members.
Of interest is a report by Sassone et al of thermal-related right coronary artery damage secondary to radiofrequency therapy in a patient with resultant myocardial infarction.[4]
Transfer
Transfer to a referral center may be indicated for patients who present to the ED with complications of atrial flutter, including the following:
Bradycardia (eg, from sick sinus syndrome) requiring pacemaker therapy

Unresponsive rate despite adequate medical therapy; after electrical cardioversion, referral for electrophysiologic ablation may be appropriate (these patients generally are transferred from one inpatient facility to another)

Embolic complications requiring surgical therapy (ie, arterial embolization), cerebrovascular accident, atrial fibrillation, or atrial flutter requiring neurointensive care
Medscape Reference © 2011 WebMD, LLC