Mitral Valve Prolapse in Emergency Medicine
Author: Michael C Plewa, MD; Chief Editor: Barry E Brenner, MD, PhD, FACEP more...
Updated: Dec 28, 2015
What would you like to print?
Background
Mitral valve prolapse (MVP) can occur in a multitude of disorders and, in most instances, it reflects a normal variant rather than a single disease process.
Despite years of research, the symptomatology and significance of mitral valve prolapse remain controversial. It was termed the disease of the decade in the 1980s, but now some consider it an interesting finding of dubious importance until mitral regurgitation (MR) manifests. Initial studies that reported associated symptoms of MVP as chest pain, dyspnea, anxiety, and panic were probably flawed by recruitment bias.[1] Studies imply that the incidence of MVP previously was overestimated by inaccurate echocardiographic diagnostic criteria and that associated symptoms, other than palpitations, are uncommon.[2]
Despite this, patients with MVP are at risk for arrhythmias, endocarditis, stroke,[3] mitral regurgitation (MR), mitral valve replacement (MVR) surgery,[4] and sudden death. Mitral valve prolapse is also associated with migraine (especially migraine with aura),[5] autoimmune disease,[6] and idiopathic sudden sensorineural hearing loss.[7]
Mitral valve prolapse is shown in the image below.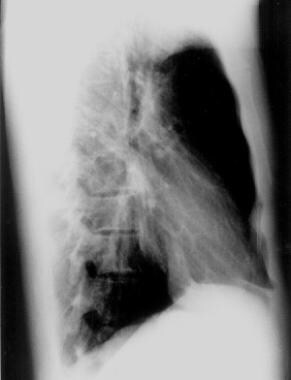 Mitral valve prolapse. A patient with straight back syndrome.
Pathophysiology
A myxomatous degeneration from collagen dissolution leads to excess mucopolysaccharides in the middle spongiosa layer of the mitral valve leaflets, resulting in stretching of the leaflets and the chordae tendineae. Mitral valve prolapse (MVP) occurs when the left ventricular (LV) size is small in comparison to an enlarged mitral annulus, leaflets, or chordae tendineae, and it can be induced in healthy women with typical body habitus following dehydration that is reversed with rehydration. Mitral valve prolapse resolves during pregnancy and following weight gain in anorexic patients.
Studies have shown that abnormalities of elastic fibers found in floppy mitral valves are related to genetic variants in fibrillin, one of the components of the microfibrils, as well as elastin and collagen I and II.[8] Mitral valve prolapse is associated with a variety of medical conditions involving connective tissues, such as joint hypermobility disorders,[9] and Ehlers Danlos and Marfan syndromes. Mitral valve prolapse is also associated with autoimmune disorders such as systemic lupus erythematosus and autoimmune thyroid disease; many patients with mitral valve prolapse have positive autoantibodies including ANA, rheumatoid factor, and anticardiolipin antibody.[6]
A constellation of abnormalities (eg, increased sensitivity to adrenergic stimuli, increased catecholamines, abnormal beta-receptors, increased atrial natriuretic factor, renin-aldosterone dysregulation, decreased intravascular volume, magnesium deficiency)[10] has been thought to lead to chest pain, dyspnea, fatigue, dizziness, near-syncope symptoms, and anxiety in a subset of patients with mitral valve prolapse.[11, 12]
Cardiac manifestations include supraventricular more so than ventricular arrhythmias, palpitations, mitral regurgitation, bacterial endocarditis, and sudden death. Chest pain may not be more common in patients with mitral valve prolapse than in the general population, and it may be attributed to myofascial syndromes, hyperventilation, coronary spasm, esophageal dysmotility, or gastroesophageal reflux.[13]
Mitral valve prolapse can result in cerebrovascular ischemia, which may be related to abnormal platelet activity or coagulation disorders (eg, anticardiolipin antibody, protein C or S deficiencies).
Epidemiology
Frequency
United States
Mitral valve prolapse (MVP) can be identified by echocardiography in 3-4% of the general population, and it is identified in 7% of autopsies.
International
The worldwide incidence of mitral valve prolapse is similar to that in the United States.
Mortality/Morbidity
In general, mitral valve prolapse (MVP) is initially a benign disorder, and in most situations, the prognosis is excellent. However, MVP may account for the majority of isolated cases of mitral regurgitation (MR), 90% of cases of ruptured chordae tendineae, 40% of strokes in young patients, and 10-15% of cases of endocarditis.[14]
MR is the most significant risk factor for other complications (eg, sudden death, stroke, endocarditis, atrial and ventricular arrhythmia[15, 16] ). Patients whose echocardiograms shows abnormal valve anatomy, men, and those older than 45 years are at an increased risk of developing MR.
Those with structural abnormalities (ie, thickened, deformed, or redundant mitral valve leaflets) are more likely to suffer complications (eg, progressive MR, endocarditis, sudden death), although a longitudinal study of 285 residents in Olmsted County, MN, suggests that progression of MR occurs in nearly 40% of MVP cases, regardless of age, gender, leaflet thickening, or initial grade of MR.[17]
Left ventricular (LV) remodeling, with elevated LV end-systolic volume index and LV end-systolic dimension, occurs even with isolated late systolic MR murmur similar to that seen with pan-systolic MR murmur.[18]
Patients who are older, lack social support, have higher anxiety, and fail to exercise regularly are at risk for more symptoms.
Cardiovascular mortality is predicted the most by moderate-to-severe MR and ejection fraction less than 50%, and less so by left atrial size greater than 40 mm, flail leaflet, atrial fibrillation, and age older than 50 years.[19, 20]
Cases of MVP with a murmur and not just an isolated click have a general mortality rate that is increased by 15-20%.
Complications
For the following complications, the absolute risk (ie, annual incidence) and the odds ratios (OR), comparing patients with mitral valve prolapse (MVP) to the general population, are as follows:
Sudden cardiac death - 0.06% annual incidence among patients with MVP and severe MR; OR of 50-100 with hemodynamically significant MR and depressed left ventricular function

Rupture of chordae tendineae (the most frequent serious complication of MVP)

Progressive MR - 0.06% annual incidence of requiring surgery; lifetime risk of surgery is 1.5% for women and 4-6% for men; OR of 30-40; increased risk in males, older than 75 years, elevated body weight, and high blood pressure.

Stroke - 0.02% annual incidence versus less than 0.02% in uncomplicated MVP; OR of 4-6

Infective endocarditis - 0.02% annual incidence; OR of 3-8; 1 in 1400 patients per year with MVP and murmur; increased risk in males older than 45 years

Atrial fibrillation

can be persistent in 15% or paroxysmal in 13% when MR is severe enough to require mitral valve replacement (MVR) surgery. These rates are lower than seen with mitral stenosis requiring MVR.

[21]

Atrial and ventricular arrhythmias are more common in those patients with mitral valve prolapse and moderate-to-severe MR.

[15, 16]

Individuals with idiopathic sudden sensorineural hearing loss (ISSNHL) have a higher incidence of MVP, mitral leaflet thickening, and MR, suggesting that MVP may be involved in the etiology of this sudden hearing loss.

[7]
Race
Prevalence is similar among different ethnic groups.[22]
Sex
The female-to-male ratio is approximately 3:1.
Men have a higher risk than women of endocarditis, posterior prolapse, leaflet thickening, severe regurgitation, and are more likely to undergo mitral valve surgery.[23]
Age
Age of onset is 10-16 years. Mitral valve prolapse (MVP) is uncommon before the adolescent growth spurt occurs. It usually is detected in young adulthood.
Although MVP is considered congenital, echocardiographic findings typically are absent in newborns.
Medscape Reference © 2011 WebMD, LLC