Superior Vena Cava Syndrome in Emergency Medicine Clinical Presentation
Author: Michael S Beeson, MD, MBA, FACEP; Chief Editor: Erik D Schraga, MD more...
Updated: Dec 16, 2014
What would you like to print?
History
Early in the clinical course of superior vena cava (SVC) syndrome (SVCS), few, if any, signs or symptoms may be observed. Typically, symptoms accelerate as the underlying malignancy increases in size and/or invasiveness. Dyspnea is the most common symptom, followed by trunk or extremity swelling. Other symptoms include the following:
Facial swelling

Cough

Orthopnea

Headache

Nasal stuffiness

Light-headedness
Neurologic symptoms, such as dizziness and confusion, are late findings as cerebral edema occurs.
Physical
Physical examination often reveals facial or upper extremity edema. The degree of facial edema has been described as facial engorgement (as is seen in the image below).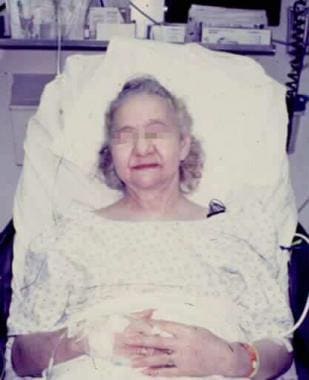 Patient with a 4-week history of increasing facial edema and known lung cancer.
The degree of jugular venous distention varies.
Other markers of lung malignancy, such as Horner syndrome, paralysis of the vocal cords, and paralysis of the phrenic nerve, are rarely present.
Stridor may occur as the syndrome progresses and airway obstruction occurs.
Causes
Today, the most common etiology of superior vena cava syndrome is related to malignancy.[2]
Prior to modern antibiotics, infectious causes including syphilis, tuberculosis, and fungi occurred with almost equal frequency.
The most common cause of malignancy-related superior vena cava syndrome is bronchogenic carcinoma, which accounts for nearly 80% of cases.
Lymphoma accounts for approximately 15% of cases.
Other cases have various causes, including infectious and catheter-related etiologies. Increasingly, dialysis catheters and pacemaker leads are becoming associated with superior vena cava syndrome due to thrombosis.
Medscape Reference © 2011 WebMD, LLC