Gingivitis
Author: James M Stephen, MD, FAAEM, FACEP; Chief Editor: Steven C Dronen, MD, FAAEM more...
Updated: Jun 03, 2016
What would you like to print?
Background
Gingivitis is an inflammatory process limited to the mucosal epithelial tissue surrounding the cervical portion of the teeth and the alveolar processes. Gingivitis has been classified by clinical appearance (eg, ulcerative, hemorrhagic, necrotizing, purulent), etiology (eg, drug-induced, hormonal, nutritional, infectious, plaque-induced), and duration (acute, chronic). The most common type of gingivitis is a chronic form induced by plaque. Gingivitis is shown in the image below.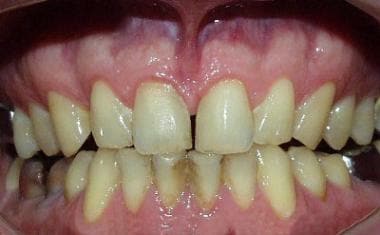 Moderate chronic gingivitis. Note that the papillae are edematous and blunted. They may bleed with brushing. Note areas of edema overlying some of the root areas. Pallor is seen in these areas. Image courtesy of Robert J. Lindberg, DMD.
Compare the image above to a healthy mouth, below.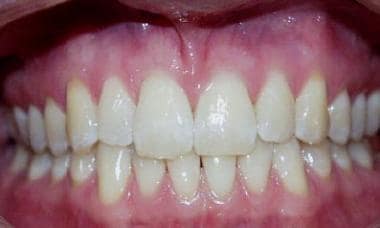 Healthy mouth and gingiva. Note the healthy light pink color of the gingiva. The intradental papillae are sharp and fill the intradental space. No local edema is present. Image courtesy of Robert J. Lindberg, DMD.
Acute necrotizing ulcerative gingivitis (ANUG, ie, trench mouth) is an acute infectious gingivitis. The term trench mouth was coined in World War I when ANUG was common among trench-bound soldiers.
Pathophysiology
The most common type of gingivitis involves the marginal gingiva and is brought on by the accumulation of microbial plaques in persons with inadequate oral hygiene. Gingivitis proceeds through an initial stage to produce early lesions, which then progress to advanced disease.
The initial stage of an acute exudative inflammatory response begins within 4 or 5 days of plaque accumulation. Both gingival fluid and transmigration of neutrophils increase. Deposition of fibrin and destruction of collagen can be noted in the initial stage. At approximately 1 week, transition to early lesions is marked by the change to predominately lymphocytic infiltrates. Monocytes and plasma cells also may be present. With time, lesions become chronic and are characterized by the presence of plasma cells and B lymphocytes. As chronic local inflammation progresses, pockets develop where the gingiva separates from the tooth. These pockets deepen and may bleed during tooth brushing, flossing, and even normal chewing. As this persistent inflammation continues, periodontal ligaments break down and destruction of the local alveolar bone occurs. Teeth loosen and eventually fall out.
ANUG is a completely different syndrome caused by acute infection of the gingiva with organisms such as Prevotella intermedia, alpha-hemolytic streptococci, Actinomyces species, or any of a number of different oral spirochetes. ANUG may result in accelerated destruction of affected tissues, as well as local or systemic spread of infection.
Noma (cancrum oris) is a syndrome in which ANUG spreads beyond the gingiva. The infection invades local tissues of the mouth and face.
Epidemiology
Frequency
United States
Frequency is difficult to determine because of the lack of agreement on measurement criteria. Many people believe that gingivitis begins in early childhood and that 9-17% of children aged 3-11 years have gingivitis. At puberty, prevalence rises to 70-90%. In recent years, periodontal disease, the endpoint of chronic gingivitis, slowly has decreased among adult Americans.
ANUG may be a clinical problem in immunocompromised patients during chemotherapy. Gingivitis and resulting periodontal disease are seen more frequently in patients with either diabetes or HIV.
International
Studies in Australia, Sweden, England, and Switzerland report gingivitis in 48-85% of children aged 3-6 years, but whether this range reflects population differences or whether it is due to different criteria used to define the disease is difficult to know. In adolescence, incidence around the world is comparable to US data (70-90%). ANUG may be found in areas where those at risk, particularly children, face poor living conditions. Recent publications show several cases in areas such as Nigeria, where ANUG and noma were observed in children younger than 14 years.[1]
Mortality/Morbidity
Periodontal disease has been shown in some studies to be an associated factor in coronary artery disease (CAD) and cerebrovascular disease/ischemic stroke.[2, 3, 4, 5] Elevated levels of chronic inflammation (eg, C-reactive protein) have been shown to fall after treatment of periodontal disease. These elevated markers have clear association with vascular disease, so treatment of periodontal disease may theoretically have an impact on CAD and ischemic CNS disease.[6] However, a clear cause-and-effect relationship has not been demonstrated between treatment of periodontal disease and improvement of atherosclerotic diseases or outcomes.[7] A recent study that induced gingivitis in healthy volunteers was associated with a clear increase in inflammatory markers.[8]
A large study that enrolled 805 patients with a first myocardial infarction (MI) and 805 control patients without MI concluded that the risk of a first myocardial infarction was significantly increased in patients with periodontitis. The study found that 43% of MI patients vs 33% of matched controls had mild to severe periodontitis. After researchers controlled for smoking, diabetes, education, and marital status, individuals with periodontitis had a 28% increased risk of MI.[9, 10]
Periodontal disease in pregnancy has been associated with an increase in preterm birth and adverse pregnancy outcomes.[11] However, treatment of periodontal disease in pregnancy has not been shown to improve pregnancy outcomes.[12] Periodontitis coexisting with bacterial vaginosis is associated with higher vaginal bacterial counts.[13] Periodontitis in a person with diabetes has been associated with exacerbation of both conditions.[14, 15] Treatment of periodontitis in persons with type 2 diabetes has improved glycemic control.[16]
Severe periodontal disease, as shown in the image below, may occur.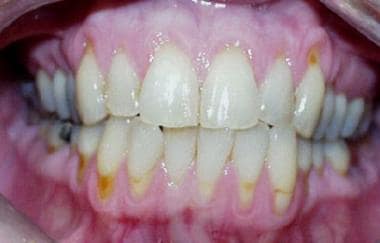 Severe periodontal disease. Loss of the gingival tissue is seen, making the teeth appear long. Even more effacement of the papillae is present. Heaped up ridges are observed in the areas overlying the roots. Image courtesy of Robert J. Lindberg, DMD.
Chronic gingivitis leads to tooth loss. ANUG may progress into the local soft tissues of the mouth, resulting in noma or cancrum oris, or may spread hematogenously to any other part of the body.
Sex
See the list below:
Gingivitis is slightly more prevalent in males than in females because females tend to have better oral hygiene.
Age
See the list below:
Adults are most commonly affected.

Children from sub-Saharan regions of Africa may be at risk for ANUG because of poor living conditions.
References
Idigbe EO, Enwonwu CO, Falkler WA, et al. Living conditions of children at risk for noma: Nigerian experience. Oral Dis. 1999 Apr. 5(2):156-62. [Medline].

Dorfer CE, Becher H, Ziegler CM, et al. The association of gingivitis and periodontitis with ischemic stroke. J Clin Periodontol. 2004 May. 31(5):396-401. [Medline].

Hujoel PP, Drangsholt M, Spiekerman C, DeRouen TA. Periodontal disease and coronary heart disease risk. JAMA. 2000 Sep 20. 284(11):1406-10. [Medline].

Wu T, Trevisan M, Genco RJ, et al. Periodontal disease and risk of cerebrovascular disease: the first national health and nutrition examination survey and its follow-up study. Arch Intern Med. 2000 Oct 9. 160(18):2749-55. [Medline].

Fifer K, Subramanian S, Fontanez S, Figueroa A, Brady TJ, Tawakol A. High periodontal disease activity is associated with subsequent carotid artery stenosis progression. J Am Coll Cardiol. 2011. 57:E1571.

Rastogi P, Singhal R, Sethi A, Agarwal A, Singh VK, Sethi R. Assessment of the effect of periodontal treatment in patients with coronary artery disease : A pilot survey. J Cardiovasc Dis Research. 2012. 3:124-27. [Full Text].

Lockhart PB, Bolger AF, Papapanou PN, et al. Periodontal Disease and Atherosclerotic Vascular Disease: Does the Evidence Support an Independent Association?: A Scientific Statement From the American Heart Association. Circulation. 2012 Apr 18. [Medline].

Eberhard. J. Grote K, Luchtefeld M. et al. Experimental Gingivitis Induces Systemic Inflammatory Markers in Young Healthy Individuals: A Single-Subject Interventional Study. PLOS ONE. 02/07/2013. [Full Text].

Rydén L, Buhlin K, Ekstrand E, de Faire U, Gustafsson A, Holmer J, et al. Periodontitis Increases the Risk of a First Myocardial Infarction: A Report From the PAROKRANK Study. Circulation. 2016 Feb 9. 133 (6):576-83. [Medline].

Busko M. Periodontitis Seen Related to Elevated Risk of First MI. Heartwire from Medscape. Available at http://www.medscape.com/viewarticle/857484. January 20, 2016; Accessed: June 3, 2016.

Bobetsis YA, Barros SP, Offenbacher S. Exploring the relationship between periodontal disease and pregnancy complications. J Am Dent Assoc. 2006 Oct. 137 Suppl 2:7S-13S. [Medline].

Baccaglini L. A meta-analysis of randomized controlled trials shows no evidence that periodontal treatment during pregnancy prevents adverse pregnancy outcomes. J Am Dent Assoc. 2011 Oct. 142(10):1192-3. [Medline].

Persson R, Hitti J, Verhelst R, Vaneechoutte M, Persson R, Hirschi R, et al. The vaginal microflora in relation to gingivitis. BMC Infect Dis. 2009 Jan 22. 9:6. [Medline]. [Full Text].

Mealey BL. Periodontal disease and diabetes: A two-way street. J Am Dent Assoc. 2006 Oct. 137 Suppl 2:26S-31S. [Medline].

Perez A, Wagner AM, Carreras G, et al. Prevalence and phenotypic distribution of dyslipidemia in type 1 diabetes mellitus: effect of glycemic control. Arch Intern Med. 2000 Oct 9. 160(18):2756-62. [Medline].

Kardesler L, Buduneli N, Cetinkalp S, Kinane DF. Adipokines and inflammatory mediators after initial periodontal treatment in patients with type 2 diabetes and chronic periodontitis. J Periodontol. 2010 Jan. 81(1):24-33. [Medline].

Lorenz K, Bruhn G, Heumann C, et al. Effect of two new chlorhexidine mouthrinses on the development of dental plaque, gingivitis, and discolouration. A randomized, investigator-blind, placebo-controlled, 3-week experimental gingivitis study. J Clin Periodontol. 2006 Aug. 33(8):561-7. [Medline].

Zimmer S, Kolbe C, Kaiser G, et al. Clinical efficacy of flossing versus use of antimicrobial rinses. J Periodontol. 2006 Aug. 77(8):1380-5. [Medline].

Triratana T, Rustogi KN, Volpe AR, et al. Clinical effect of a new liquid dentifrice containing triclosan/copolymer on existing plaque and gingivitis. J Am Dent Assoc. 2002 Feb. 133(2):219-25. [Medline].

Taiyeb Ali TB, Waite IM. The effect of systemic ibuprofen on gingival inflammation in humans. J Clin Periodontol. 1993 Nov. 20(10):723-8. [Medline].

Johnson RH, Armitage GC, Francisco C, Page RC. Assessment of the efficacy of a nonsteroidal anti-inflammatory drug, Naprosyn, in the treatment of gingivitis. J Periodontal Res. 1990 Jul. 25(4):230-5. [Medline].

Messier C, Epifano F, Genovese S, Grenier D. Licorice and its potential beneficial effects in common oro-dental diseases. Oral Dis. 2012 Jan. 18(1):32-9. [Medline].

Grbic J, Wexler I, Celenti R, Altman J, Saffer A. A phase II trial of a transmucosal herbal patch for the treatment of gingivitis. J Am Dent Assoc. 2011 Oct. 142(10):1168-75. [Medline].

Cronin M, Dembling W, Warren PR, King DW. A 3-month clinical investigation comparing the safety and efficacy of a novel electric toothbrush (Braun Oral-B 3D Plaque Remover) with a manual toothbrush. Am J Dent. 1998 Sep. 11(Spec No):S17-21. [Medline].

Forrest JL, Miller SA. Manual versus powered toothbrushes: a summary of the Cochrane Oral Health Group's Systematic Review. Part II. J Dent Hyg. 2004 Spring. 78(2):349-54. [Medline].

Bahekar AA, Singh S, Saha S, Molnar J, Arora R. The prevalence and incidence of coronary heart disease is significantly increased in periodontitis: a meta-analysis. Am Heart J. 2007 Nov. 154(5):830-7. [Medline].

Briggs GG, Freeman RK, Yaffe SJ. Drugs in Pregnancy and Lactation. 6th ed. Lippincott Williams & Wilkins; 2001.

Estafan D, Gultz J, Kaim JM, et al. Clinical efficacy of an herbal toothpaste. J Clin Dent. 1998. 9(2):31-3. [Medline].

Falkler WA Jr, Enwonwu CO, Idigbe EO. Microbiological understandings and mysteries of noma (cancrum oris). Oral Dis. 1999 Apr. 5(2):150-5. [Medline].

Gaspar L, Suri C, Toth BZ, et al. [Experience with clindamycin in stomatologic diseases]. Fogorv Sz. 1999 Aug. 92(8):251-8. [Medline].

Gehlen I, Netuschil L, Georg T, et al. The influence of a 0.2% chlorhexidine mouthrinse on plaque regrowth in orthodontic patients. A randomized prospective study. Part II: Bacteriological parameters. J Orofac Orthop. 2000. 61(2):138-48. [Medline].

Greenspan JS. Oral manifestation of disease. Fauci, et al, eds. Harrison's Principles of Internal Medicine. 13th ed. McGraw Hill; 1994. 199-200.

Guggenheimer J, Eghtesad B, Close JM, Shay C, Fung JJ. Dental health status of liver transplant candidates. Liver Transpl. 2007 Feb. 13(2):280-6. [Medline].

Howell RB, Jandinski JJ, Palumbo P, et al. Oral soft tissue manifestations and CD4 lymphocyte counts in HIV-infected children. Pediatr Dent. 1996 Mar-Apr. 18(2):117-20. [Medline].

Lamster IB, Grbic JT, Mitchell-Lewis DA, et al. New concepts regarding the pathogenesis of periodontal disease in HIV infection. Ann Periodontol. 1998 Jul. 3(1):62-75. [Medline].

Ranney RR. Diagnosis of periodontal diseases. Adv Dent Res. 1991 Dec. 5:21-36. [Medline].

Robinson PJ. Gingivitis: a prelude to periodontitis?. J Clin Dent. 1995. 6 Spec No:41-5. [Medline].

Sculley DV, Langley-Evans SC. Salivary antioxidants and periodontal disease status. Proc Nutr Soc. 2002 Feb. 61(1):137-43. [Medline].
Medscape Reference © 2011 WebMD, LLC