Hypernatremia in Emergency Medicine
Author: Zina Semenovskaya, MD; Chief Editor: Romesh Khardori, MD, PhD, FACP more...
Updated: Jun 27, 2016
What would you like to print?
Background
Sodium levels are tightly controlled in a healthy individual by regulation of urine concentration and an intact thirst mechanism. Hypernatremia (defined as a serum sodium level >145 mEq/L) is rare in patients with preserved thirst mechanism. When hypernatremia does occur, it is associated with a high mortality rate (>50% in most studies).
Given this high mortality rate, the emergency physician must be able to recognize and treat this condition. This article discusses the patients in whom hypernatremia should be suspected and how to initiate workup and administer appropriate treatment.
In general, hypernatremia can be caused by derangement of the thirst response or altered behavioral response thereto (primarily psychiatric patients, and elderly patients who are institutionalized), impaired renal concentrating mechanism (diabetes insipidus [DI]) secondary to kidney pathology (nephrogenic DI) or difficulty with the neurohormonal control of this concentrating mechanism (central DI), or by losses of free water from other sources.
Assessment and treatment of a hypernatremic patient focuses on 2 important questions:
What is the patient's volume status?

Is the problem acute or chronic?
Pathophysiology
Water homeostasis is maintained by a balance between water intake and the combined water loss from renal excretion, respiratory, skin, and GI sources. Under normal conditions, water intake and losses are matched. To maintain salt homeostasis, the kidneys similarly adjust urine concentration to match salt intake and loss. See the image below.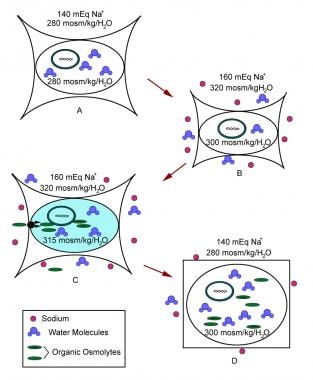 Figure A: Normal cell. Figure B: Cell initially responds to extracellular hypertonicity through passive osmosis of water extracellularly, resulting in cell shrinkage. Figure C: Cell actively responds to extracellular hypertonicity and cell shrinkage in order to limit water loss through transport of organic osmolytes across the cell membrane, as well as through intracellular production of these osmolytes. Figure D: Rapid correction of extracellular hypertonicity results in passive movement of water molecules into the relatively hypertonic intracellular space, causing cellular swelling, damage, and ultimately death.
Hypernatremia results from disequilibrium of one or both of these balances. Most commonly, the disorder is caused by a relative free water loss, although it can be caused by salt loading. The various ways in which these equilibria can be disturbed are discussed in Causes.
When hypernatremia (of any etiology) occurs, cells become dehydrated. Either the osmotic load of the increased sodium acts to extract water from the cells or a portion of the burden of the body's free water deficit is borne by the cell. (Sodium, primarily an extracellular ion, is actively pumped out of most cells and is the primary determinant of serum osmolarity.) Dehydrated cells shrink from water extraction.
Cells immediately respond to combat this shrinkage and osmotic force by transporting electrolytes across the cell membrane, thus altering rest potentials of electrically active membranes. After an hour of hypernatremia, intracellular organic solutes are generated in an effort to restore cell volume and to avoid structural damage. This protective mechanism is important to remember when treating a patient with hypernatremia. Cerebral edema ensues if water replacement proceeds at a rate that does not allow for excretion or metabolism of accumulated solutes.
The effects of cellular dehydration are seen principally in the CNS, where stretching of shrunken neurons and alteration of membrane potentials from electrolyte flux lead to ineffective functioning. If shrinkage is severe enough, stretching and rupture of bridging veins may cause intracranial hemorrhage.
Epidemiology
Frequency
United States
Hypernatremia occurs in approximately 1% of hospitalized patients. The condition usually develops after hospital admission. An incidence closer to 2% has been reported in debilitated elderly persons and in breastfed infants.[1, 2]
International
Pediatric patients in developing nations may be at increased risk for hypernatremia because infant feeding may be complicated by poor maternal milk production (secondary to nutritional status) and errors in reconstitution of powdered formula.
Mortality/Morbidity
The mortality rate from hypernatremia is high, especially among elderly patients. Mortality rates of 42-75% have been reported for acutely evolving hypernatremia and 10-60% for chronic hypernatremia. Because patients with hypernatremia often have other serious comorbidities, precisely evaluating the degree of mortality directly due to hypernatremia is difficult. Morbidity in survivors is high, with many patients experiencing permanent neurologic deficits.
Most deaths are due to an underlying disease process, rather than the hypernatremia itself. Delay in treatment (or inadequate treatment) of hypernatremia increase mortality.
A study by Huang et al indicated that in patients with chronic kidney disease, hypernatremia is associated with an increased risk for all-cause mortality and for deaths unrelated to cardiovascular problems or malignancy. Hyponatremia was found to be associated with an increased risk for the same, as well as for cardiovascular- and malignancy-related mortality. The study included 45,333 patients with stage 3 or 4 chronic kidney disease, 9.2% of whom had dysnatremia.[3]
A Turkish study, by Ates et al, indicated that in patients presenting to emergency departments with severe hypernatremia, independent risk factors for mortality included low systolic blood pressure, low pH, Na+ level over 166 mmol/L, increased plasma osmolarity, a mean sodium reduction rate of -0.134 mmol/L/h or less, dehydration, and, pneumonia. The retrospective study included 256 patients.[4]
In hospitalized patients, persistent hypernatremia and protracted hypotension have been associated with a very poor prognosis.
Sex
Hypernatremia is diagnosed in males and females in equal numbers.
Age
Patients who present to the hospital with hypernatremia tend to be at the extremes of age. Breastfed infants occasionally present with hypernatremia in the first weeks of life, and elderly patients who are institutionalized are especially heavily represented.
References
Robertson G, Carrihill M, Hatherill M, Waggie Z, Reynolds L, Argent A. Relationship between fluid management, changes in serum sodium and outcome in hypernatraemia associated with gastroenteritis. J Paediatr Child Health. 2007 Apr. 43(4):291-6. [Medline].

O'Connor KA, Cotter PE, Kingston M, Twomey C, O'Mahony D. The pattern of plasma sodium abnormalities in an acute elderly care ward: a cross-sectional study. Ir J Med Sci. 2006 Jul-Sep. 175(3):28-31. [Medline].

Huang H, Jolly SE, Airy M, et al. Associations of dysnatremias with mortality in chronic kidney disease. Nephrol Dial Transplant. 2016 May 24. [Medline].

Ates I, Ozkayar N, Toprak G, Yılmaz N, Dede F. Factors associated with mortality in patients presenting to the emergency department with severe hypernatremia. Intern Emerg Med. 2016 Apr. 11 (3):451-9. [Medline].

Leung C, Chang WC, Yeh SJ. Hypernatremic dehydration due to concentrated infant formula: report of two cases. Pediatr Neonatol. 2009 Apr. 50(2):70-3. [Medline].

Lindner G, Exadaktylos AK. [Disorders of serum sodium in emergency patients : salt in the soup of emergency medicine]. Anaesthesist. 2013 Apr. 62(4):296-303. [Medline].

Turgutalp K, Özhan O, Gök Oguz E, Yilmaz A, Horoz M, Helvaci I, et al. Community-acquired hypernatremia in elderly and very elderly patients admitted to the hospital: clinical characteristics and outcomes. Med Sci Monit. 2012 Dec. 18(12):CR729-34. [Medline]. [Full Text].

Pfennig CL, Slovis CM. Sodium disorders in the emergency department: a review of hyponatremia and hypernatremia. Emerg Med Pract. 2012 Oct. 14(10):1-26. [Medline].

Abu-Ekteish F, Zahraa J. Hypernatraemic dehydration and acute gastro-enteritis in children. Ann Trop Paediatr. 2002 Sep. 22(3):245-9. [Medline].

Adrogue HJ, Madias NE. Aiding fluid prescription for the dysnatremias. Intensive Care Med. 1997 Mar. 23(3):309-16. [Medline].

Adrogue HJ, Madias NE. Hypernatremia. N Engl J Med. 2000 May 18. 342(20):1493-9. [Medline].

Borra SI, Beredo R, Kleinfeld M. Hypernatremia in the aging: causes, manifestations, and outcome. J Natl Med Assoc. 1995 Mar. 87(3):220-4. [Medline].

Finberg L, Luttell C, Redd H. Pathogenesis of lesions in the nervous system in hypernatremic states. Experimental studies of gross anatomic changes and alterations of chemical composition of the tissues. Pediatr. 1959. 184:187.

Kumar S, Berl T. Sodium. Lancet. 1998 Jul 18. 352(9123):220-8. [Medline].

Mandal AK, Saklayen MG, Hillman NM, Markert RJ. Predictive factors for high mortality in hypernatremic patients. Am J Emerg Med. 1997 Mar. 15(2):130-2. [Medline].

Morris-Jones PH, Houston IB, Evans RC. Prognosis of the neurological complications of acute hypernatraemia. Lancet. 1967 Dec 30. 2(7531):1385-9. [Medline].

Oh MS, Carroll HJ. Disorders of sodium metabolism: hypernatremia and hyponatremia. Crit Care Med. 1992 Jan. 20(1):94-103. [Medline].

Palevsky PM. Hypernatremia. Semin Nephrol. 1998 Jan. 18(1):20-30. [Medline].

Park YJ, Kim YC, Kim MO, Ruy JH, Han SW, Kim HJ. Successful treatment in the patient with serum sodium level greater than 200 mEq/L. J Korean Med Sci. 2000 Dec. 15(6):701-3. [Medline].

Teitelbaum I, Berl T. Water metabolism in patients with electrolyte disorders. Semin Nephrol. 1984. 4:354.

van Amerongen RH, Moretta AC, Gaeta TJ. Severe hypernatremic dehydration and death in a breast-fed infant. Pediatr Emerg Care. 2001 Jun. 17(3):175-80. [Medline].

van der Helm-van Mil AH, van Vugt JP, Lammers GJ, Harinck HI. Hypernatremia from a hunger strike as a cause of osmotic myelinolysis. Neurology. 2005 Feb 8. 64(3):574-5. [Medline].

Votey SR, Peters AL, Hoffman JR. Disorders of water metabolism: hyponatremia and hypernatremia. Emerg Med Clin North Am. 1989 Nov. 7(4):749-69. [Medline].
Medscape Reference © 2011 WebMD, LLC