Overview
Background
Because many animal bites are never reported, determining the exact incidence of bite wounds in the United States, let alone the world, is difficult. In 2012, there were approximately 70 million pet dogs and 74 million pet cats in the United States. [1] Reports estimate 4.5 million dog bites per year [2] and in 2008 this resulted in approximately 316,000 emergency department (ED) visits. [3] Substantially more dog bites occur than cat bites. These two species account for the majority of (non-human) mammalian bite wounds encountered in the ED.
Pathophysiology
Dog bites typically cause a crushing-type wound because of their rounded teeth and strong jaws. An adult dog can exert 200 pounds per square inch (psi) of pressure, with some large dogs able to exert 450 psi. [4] Such extreme pressure may damage deeper structures such as bones, vessels, tendons, muscle, and nerves.
A bite from a dog is shown below.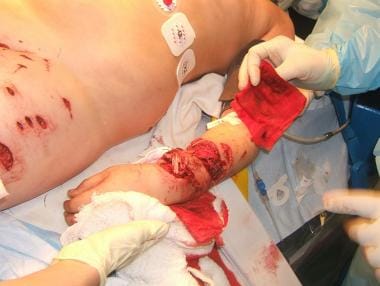 Animal bites. Wounds to the left arm and hip inflicted during a dog attack.
The sharp pointed teeth of cats usually cause puncture wounds and lacerations that may inoculate bacteria into deep tissues. Infections caused by cat bites generally develop faster than those of dogs. [5, 6]
Limited literature is available on other mammalian bites. Monkey bites have a notorious reputation based largely on anecdotal reports. Domesticated ferrets have been responsible for several documented cases of unprovoked attacks on young children and infants. The bites of foxes, raccoons, skunks, bats, dogs, and cats have been clearly linked to rabies exposure. Bites from large herbivores generally have a significant crush element because of the force involved.
Bites of the hand generally have a high risk for infection because of the relatively poor blood supply of many structures in the hand and anatomic considerations that make adequate cleansing of the wound difficult. In general, the better the vascular supply and the easier the wound is to clean (ie, laceration vs puncture), the lower the risk of infection.
A major concern in all bite wounds is subsequent infection. Infections can be caused by nearly any group of pathogens (bacteria, viruses, rickettsia, spirochetes, fungi). At least 64 species of bacteria are found in the canine mouth, causing nearly all infections to be mixed. [7, 8, 9]
Common bacteria involved in dog bite wound infections include the following:
Staphylococcus species

Streptococcus species

Eikenella species

Pasteurella species

Proteus species

Klebsiella species

Haemophilus species

Enterobacter species

DF-2 or Capnocytophaga canimorsus

Bacteroides species

Moraxella species

Corynebacterium species

Neisseria species

Fusobacterium species

Prevotella species

Porphyromonas species
Common bacteria involved in cat bite wound infections include the following:
Pasteurella species

Actinomyces species

Propionibacterium species

Bacteroides species

Fusobacterium species

Clostridium species

Wolinella species

Peptostreptococcus species

Staphylococcus species

Streptococcus species
Common bacteria involved in herbivore bite wound infections include the following:
Actinobacillus lignieresii

Actinobacillus suis

Pasteurella multocida

Pasteurella caballi

Staphylococcus hyicus subsp hyicus
Common bacteria involved in swine bite wound infections include the following:
Pasteurella aerogenes

Pasteurella multocida

Bacteroides species

Proteus species

Actinobacillus suis

Streptococcus species

Flavobacterium species

Mycoplasma species
Common bacteria involved in rodent bite wound infections (rat-bite fever) include the following:
Streptobacillus moniliformis

Spirillum minus
Common bacteria involved in primate bite wound infections include the following:
Bacteroides species

Fusobacterium species

Eikenella corrodens

Streptococcus species

Enterococcus species

Staphylococcus species

Enterobacteriaceae

Simian herpes virus
Common bacteria involved in large reptile (crocodiles, alligators) bite wound infections include the following:
Aeromonas hydrophila

Pseudomonas pseudomallei

Pseudomonas aeruginosa

Proteus species

Enterococcus species

Clostridium species
Epidemiology
Frequency
United States
Of an estimated 3-6 million animal bites per year in the United States, [10] approximately 80-90% are from dogs, 5-15% are from cats, and 2-5% are from rodents, with the balance from other small animals (eg, rabbits, ferrets), farm animals, monkeys, reptiles, and others.
Out of the 4.5 million estimated dog bites that occur each year, nearly 1 out of every 5 requires medical attention. [2] Reports estimate that in 2008, of the 316,000 ED visits, 2.5% required hospital admission. This number has been on this rise since 1993. There is also increased frequency in rural areas and in the Midwest and Northeast regions. [3]
International
The lack of standard reporting in many countries makes accurate estimates of mammalian bite incidence difficult to determine. Depending on locale, the range of animals inflicting bites is wide and includes large cats (tigers, lions, leopards), wild dogs, hyenas, wolves (Eurasia), crocodiles, and other reptiles. As in the United States, most bites, however, are from domestic dogs. In developing countries, mammalian bites (especially bites by dogs, cats, foxes, skunks, and raccoons) carry a high risk of rabies infection.
Sex
Women are more frequently bitten by cats, whereas men are more often bitten by dogs (despite being "man's best friend"). [11] For dog bites specifically, men comprise a higher percentage of those presenting to the emergency department (110.4 versus 97.8 visits/100,000), but the sexes are nearly equal for those admitted to the hospital. [3]
Age
The average age of an individual presenting with a dog bite is approximately 30 years, and 75% of all animal bite patients are less than 45 years of age. [3] The peak incidence of animal bites, specifically dog bites, occurs among children aged 5-9 years. [12, 10, 13] Hospital admission rates are higher at the extremes of age. [3]
Mortality/Morbidity
Dog-bite related deaths range from 20-35 in the United States each year [10, 13, 14] with a 0.5% dog-bite related in-hospital mortality rate. [3] Factors contributing to these fatalities have been reviewed and most commonly include the following [15] :
No able-bodied person present to intervene

The victim having no familiar relationship with the animal

Owners failing to neuter/spay the animal

Victim's compromised ability (age or physical condition)

Animal kept not as a pet (kept in isolation or away from interaction with people)

Prior mismanagement and abuse or neglect of the animal
While local infection and cellulitis are the leading causes of morbidity, sepsis is a potential complication of bite wounds, particularly C canimorsus (DF-2) sepsis in immunocompromised individuals. Pasteurella multocida infection (the most common infection contracted from cat bites) also may be complicated by sepsis. Meningitis, osteomyelitis, tenosynovitis, abscesses, pneumonia, endocarditis, and septic arthritis are additional concerns in bite wounds. When rabies occurs, it is almost uniformly fatal (see Rabies).
Prognosis
The prognosis of patients with animal bite wounds is generally excellent.
Patient Education
Educating patients about the risk of infection despite proper wound care, antibiotics (if indicated), and close follow-up care is very important. Even bite wounds that have received the best care may become infected. Teach patients the signs of infection and the need for prompt attention if the wound should become infected.
For patient education resources, see the Bites and Stings Center and Bacterial and Viral Infections Center, as well as Animal Bites and Rabies.
What would you like to print?