Chemical Burns
Author: Robert D Cox, MD, PhD; Chief Editor: Joe Alcock, MD, MS more...
Updated: Oct 06, 2015
What would you like to print?
Background
Chemical burns can be caused by acids or bases that come into contact with tissue. Acids are defined as proton donors (H+), and bases are defined as proton acceptors (OH-). Bases also are known as alkalis. Both acids and bases can be defined as caustics, which cause significant tissue damage on contact. The strength of an acid is defined by how easily it gives up the proton; the strength of a base is determined by how avidly it binds the proton. The strength of acids and bases is defined by using the pH scale, which ranges from 1-14 and is logarithmic. A strong acid has a pH of 1, and a strong base has a pH of 14. A pH of 7 is neutral.
Pathophysiology
Most acids produce a coagulation necrosis by denaturing proteins, forming a coagulum (eg, eschar) that limits the penetration of the acid. Bases typically produce a more severe injury known as liquefaction necrosis. This involves denaturing of proteins as well as saponification of fats, which does not limit tissue penetration. Hydrofluoric acid is somewhat different from other acids in that it produces a liquefaction necrosis.
The severity of the burn is related to a number of factors, including the pH of the agent, the concentration of the agent, the length of the contact time, the volume of the offending agent, and the physical form of the agent. The ingestion of solid pellets of alkaline substances results in prolonged contact time in the stomach, thus, more severe burns. In addition, concentrated forms of some acids and bases generate significant heat when diluted or neutralized, resulting in thermal and caustic injury.
The long-term effect of caustic dermal burns is scarring, and, depending on the site of the burn, scarring can be significant. Ocular burns can result in opacification of the cornea and complete loss of vision. Esophageal and gastric burns can result in stricture formation. An oral burn is shown in the images below.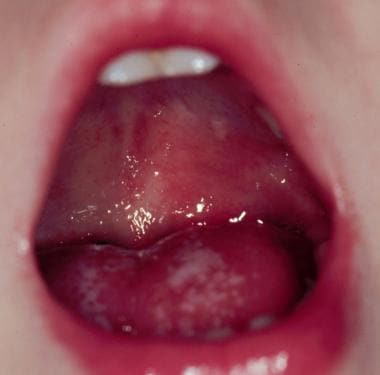 Caustic oral burns.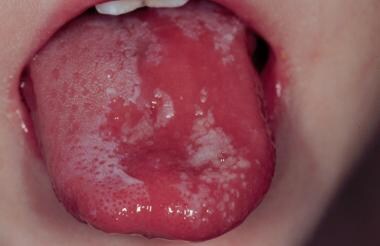 Caustic burns of tongue.
Epidemiology
Frequency
United States
Burns are a common problem seen in the emergency department. There has been a decrease in the number of burns in the United States through 2000, but this appears to have stabilized since. Most burns are only partial thickness and occur on the extremities. Approximately 5% of individuals with burns presenting to the ED require admission.[1]
In 2011, the American Association of Poison Control Centers (AAPCC) reported 15,616 cases of exposures to acidic substances, 18,960 cases of exposures to alkaline substances, 20,518 cases of peroxide exposures, and 38,613 cases of bleach exposures. During that time, 352 cases of exposure to phenols or phenol products were reported.[2] Chemical injuries account for 2-6% of burn center admissions.[3]
International
Worldwide, corrosive substances are commonly used for chemical assault. The most common substances used are lye and sulfuric acid.[4, 5, 6]
Sex
Assaults with caustic chemicals worldwide are more likely to occur against women.[4]
Age
Adults and children are nearly equally exposed to caustic chemicals. Adults exposed to industrial strength chemicals often suffer more severe burns.
References
Taira BR, Singer AJ, Thode HC, Lee C. Burns in the Emergency Department: A National Perspective. J Emerg Med. 2010 Jul. 39(1):1-5.

Bronstein AC, Spyker DA, Cantilena LR Jr, Rumack BH, Dart RC. 2011 Annual Report of the American Association of Poison Control Centers' National Poison Data System (NPDS): 25th Annual Report. Clin Toxicol (Phila). 2012 Nov. 50 (10):911-1164.

Barillo DJ, Cancio LC, Goodwin CW. Treatment of white phosphorus and other chemical burn injuries at one burn center over a 51-year period. Burns. 2004 Aug. 30(5):448-52. [Medline].

Mannan A, Ghani S, Clarke A, Butler PE. Cases of chemical assault worldwide: a literature review. Burns. 2007 Mar. 33(2):149-54. [Medline].

Tahir C, Ibrahim BM, Terna-Yawe EH. Chemical burns from assault: a review of seven cases seen in a Nigerian tertiary institution. Ann Burns Fire Disasters. 2012 Sep 30. 25(3):126-30. [Medline]. [Full Text].

Notes from the field: exposures to discarded sulfur mustard munitions - mid-atlantic and new England States 2004-2012. MMWR Morb Mortal Wkly Rep. 2013 Apr 26. 62(16):315-6. [Medline].

Li W, Wu X, Gao C. Ten-year epidemiological study of chemical burns in Jinshan, Shanghai, PR China. Burns. 2013 Apr 24. [Medline].

Ford JB, Sutter ME, Owen KP, Albertson TE. Volatile Substance Misuse: An Updated Review of Toxicity and Treatment. Clin Rev Allergy Immunol. 2013 May 7. [Medline].

Maguina P, Shah-Khan M, An G, Hanumadass M. Chemical scalp burns after hair highlights. J Burn Care Res. 2007 Mar-Apr. 28(2):361-3. [Medline].

Scarlett A, Gee P. Corneal abrasion and alkali burn secondary to automobile air bag inflation. Emerg Med J. 2007 Oct. 24(10):733-4. [Medline].

Ramasamy K, Gumaste VV. Corrosive ingestion in adults. J Clin Gastroenterol. 2003 Aug. 37(2):119-24. [Medline].

Gorman RL, Khin-Maung-Gyi MT, Klein-Schwartz W, et al. Initial symptoms as predictors of esophageal injury in alkaline corrosive ingestions. Am J Emerg Med. 1992 May. 10(3):189-94. [Medline].

Leonard LG, Scheulen JJ, Munster AM. Chemical burns: effect of prompt first aid. J Trauma. 1982 May. 22(5):420-3. [Medline].

Spector J, Fernandez WG. Chemical, thermal, and biological ocular exposures. Emerg Med Clin North Am. 2008 Feb. 26(1):125-36, vii. [Medline].

Mozingo DW, Smith AA, McManus WF, et al. Chemical burns. J Trauma. 1988 May. 28(5):642-7. [Medline].

Yano K, Hata Y, Matsuka K. Experimental study on alkaline skin injuries--periodic changes in subcutaneous tissue pH and the effects exerted by washing. Burns. 1993 Aug. 19(4):320-3. [Medline].

Yano K, Hosokawa K, Kakibuchi M, et al. Effects of washing acid injuries to the skin with water: an experimental study using rats. Burns. 1995 Nov. 21(7):500-2. [Medline].

Lin TM, Lee SS, Lai CS, Lin SD. Phenol burn. Burns. 2006 Jun. 32(4):517-21. [Medline].

Bertolini JC. Hydrofluoric acid: a review of toxicity. J Emerg Med. 1992 Mar-Apr. 10(2):163-8. [Medline].

Cox RD, Osgood KA. Evaluation of intravenous magnesium sulfate for the treatment of hydrofluoric acid burns. J Toxicol Clin Toxicol. 1994. 32(2):123-36. [Medline].

Friedman EM, Lovejoy FH. The emergency management of caustic ingestions. Emerg Med Clin North Am. 1984 Feb. 2(1):77-86. [Medline].

Salzman M, O'Malley RN. Updates on the evaluation and management of caustic exposures. Emerg Med Clin North Am. 2007 May. 25(2):459-76; abstract x. [Medline].

Howell JM. Alkaline ingestions. Ann Emerg Med. 1986 Jul. 15(7):820-5. [Medline].

Fulton JA, Hoffman RS. Steroids in second degree caustic burns of the esophagus: a systematic pooled analysis of fifty years of human data: 1956-2006. Clin Toxicol (Phila). 2007 May. 45(4):402-8. [Medline].
Medscape Reference © 2011 WebMD, LLC