Coral Snake Envenomation Clinical Presentation
Author: Robert L Norris, MD; Chief Editor: Joe Alcock, MD, MS more...
Updated: Oct 21, 2015
What would you like to print?
History
The vast majority of patients bitten by coral snakes report that a brightly colored snake bit them.
North of Mexico City, including the United States, the color pattern of the snake can be helpful in differentiating a coral snake from a harmless mimic (eg, nonvenomous milk snake). In this region, all coral snakes have a red, yellow, black, yellow, red banding pattern (every other band is yellow; red and yellow bands touching, and bands completely encircle the body; see the image below); most harmless mimics have a red, black, yellow, black, red pattern (every other band is black; red and yellow separated by black; and/or some bands do not completely encircle the body).[4] The mnemonic "Red on yellow, kill a fellow; red on black, venom lack," may be helpful in this region. South of Mexico City, the banding patterns are much less helpful, and bicolor (red and black) species are also present.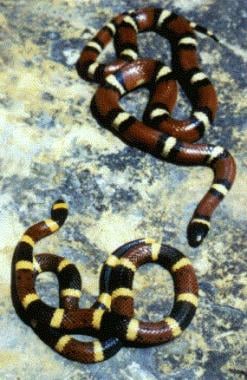 Snake envenomations, coral. Comparison of the harmless Lampropeltis triangulum annulata(Mexican milksnake) (top) with Micrurus tener(Texas coral snake) (bottom). Photo by Charles Alfaro.
History may include the following:
Onset of symptoms may be delayed up to 10-12 hours but may then be rapidly progressive.

Paucity of local complaints

Local paresthesias (may be painful)

Soft tissue swelling (usually mild)

Alteration of mental status

Complaints related to cranial nerve dysfunction (eg, diplopia, ptosis, difficulty swallowing)
Physical
Impending respiratory failure signs and symptoms include the following:
Respiratory distress

Pharyngeal spasm

Hypersalivation

Cyanosis

Trismus
Neurologic dysfunction signs and symptoms include the following:
Altered mental status

Ptosis

Generalized weakness

Muscle fasciculations
Cardiovascular collapse signs and symptoms include the following:
In addition to a brief generalized examination, the skin should be carefully examined in an effort to identify what may be very tiny puncture wounds at the bite site. These may be hard to see. Generally, there is little in the way of other local findings (little bleeding, ecchymosis or swelling).
A careful neurological examination should be done in an effort to identify any evidence of early venom-induced dysfunction. Particular attention should be paid to the cranial nerves (watching for any evidence of bulbar weakness) and to motor strength (including respiratory muscles).
References
Mowry JB, Spyker DA, Cantilena LR Jr, McMillan N, Ford M. 2013 Annual Report of the American Association of Poison Control Centers' National Poison Data System (NPDS): 31st Annual Report. Clin Toxicol (Phila). 2014 Dec. 52 (10):1032-283. [Medline].

de Roodt AR, De Titto E, Dolab JA, Chippaux JP. Envenoming by coral snakes (Micrurus) in Argentina, during the period between 1979-2003. Rev Inst Med Trop Sao Paulo. 2013 Jan-Feb. 55(1):13-8. [Medline].

Pardal PP, Pardal JS, Gadelha MA, Rodrigues Lda S, Feitosa DT, Prudente AL. Envenomation by Micrurus coral snakes in the Brazilian Amazon region: report of two cases. Rev Inst Med Trop Sao Paulo. 2010 Nov-Dec. 52(6):333-7. [Medline].

Cardwell MD. Recognizing dangerous snakes in the United States and Canada: a novel 3-step identification method. Wilderness Environ Med. 2011 Dec. 22 (4):304-8. [Medline].

German BT, Hack JB, Brewer K, et al. Pressure-immobilization bandages delay toxicity in a porcine model of eastern coral snake (Micrurus fulvius fulvius) envenomation. Ann Emerg Med. 2005 Jun. 45(6):603-8. [Medline].

Gray S. Pressure immobilization of snakebite. Wilderness Environ Med. 2003 Spring. 14(1):70-1. [Medline].

Simpson ID, Tanwar PD, Andrade C, et al. The Ebbinghaus retention curve: training does not increase the ability to apply pressure immobilisation in simulated snake bite--implications for snake bite first aid in the developing world. Trans R Soc Trop Med Hyg. 2008 May. 102(5):451-9. [Medline].

U.S. Food and Drug Administration. Expiration Date Extension for North American Coral Snake Antivenin (Micrurus fulvius) (Equine Origin) Lot 4030024 Through April 30, 2016. Available at http://www.fda.gov/BiologicsBloodVaccines/SafetyAvailability/ucm445083.htm. May 1, 2015; Accessed: October 19, 2015.

Wood A, Schauben J, Thundiyil J, Kunisaki T, Sollee D, Lewis-Younger C, et al. Review of Eastern coral snake (Micrurus fulvius fulvius) exposures managed by the Florida Poison Information Center Network: 1998-2010. Clin Toxicol (Phila). 2013 Sep-Oct. 51 (8):783-8. [Medline].

Norris RL, Pfalzgraf RR, Laing G. Death following coral snake bite in the United States--first documented case (with ELISA confirmation of envenomation) in over 40 years. Toxicon. 2009 May. 53(6):693-7. [Medline].

Norris RL, Bush SP. North American venomous reptile bites. Auerbach PS, ed. Wilderness Medicine. 4th ed. St. Louis: Mosby; 2001. 896-926.

Norris RL, Dart RC. Apparent coral snake envenomation in a patient without visible fang marks. Am J Emerg Med. 1989 Jul. 7(4):402-5. [Medline].

Norris RL, Ngo J, Nolan K, et al. Physicians and lay people are unable to apply pressure immobilization properly in a simulated snakebite scenario. Wilderness Environ Med. 2005. 16(1):16-21. [Medline].
Medscape Reference © 2011 WebMD, LLC