Cobra Envenomation Clinical Presentation
Author: Robert L Norris, MD; Chief Editor: Joe Alcock, MD, MS  more...
Updated: Oct 27, 2015
What would you like to print?
History
The onset of symptoms and signs following a cobra bite can be extremely variable, as follows:
Immediate, local pain (almost always present)

Soft tissue swelling (may be progressive)

Neurologic findings, which may begin early and be rapidly progressive (in anecdotal cases, victims have suffered respiratory arrest in a matter of minutes) or may be delayed in onset as long as 24 hours

Alteration of mental status (eg, drowsiness, occasionally with euphoria)

Complaints related to cranial nerve dysfunction, such as ptosis (often one of the earliest neurotoxic findings), ophthalmoplegia, dysphagia, and dysphasia

Profuse salivation, nausea, vomiting, and abdominal pain

Paresis of neck and jaw muscles and generalized muscular weakness followed by flaccid paralysis

Shortness of breath, respiratory failure (muscular paresis and accumulated secretions)

Chest pain or tightness

Eye pain, tearing, blurred vision (with eye exposure to venom from spitting cobras)
Physical
Impending respiratory failure may be heralded by respiratory distress or weakness and cyanosis.
Neurologic dysfunction may be heralded by altered mental status, ptosis (may be the earliest sign of systemic toxicity), and/or generalized weakness or paralysis.
Cardiovascular collapse may be heralded by hypotension and/or tachycardia or bradycardia.
Soft tissue edema may be noted.
Signs of necrosis usually appear within 48 hours of the bite. The area around the fang punctures darkens.
See the image below.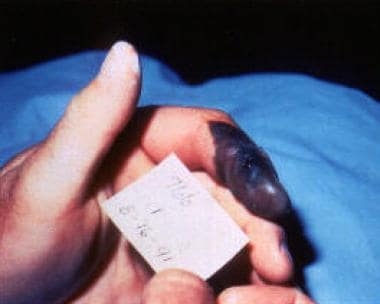 Necrosis from a Naja atra (Chinese cobra) bite. This resulted in a severe deformity. The patient had few systemic signs or symptoms. Photo by Sherman Minton, MD.
Blistering may follow.
Necrosis is usually confined to the skin and subcutaneous tissue but may be quite extensive. See the image below.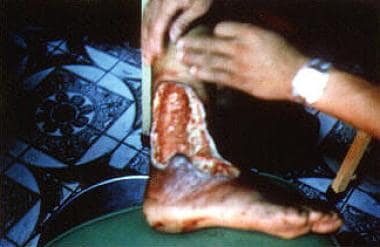 Necrosis from a cobra bite. Photo by Sherman Minton, MD.
A putrid smell is characteristic.
Acute inflammation of the eye follows venom-spitting exposure and is characterized by ocular congestion, edema of the conjunctiva and cornea, and a whitish discharge.
References
Minton SA. Bites by non-native venomous snakes in the United States. Wilderness Environ Med. 1996. 4:297-303.

Reid HA. Bites by foreign venomous snakes in Britain. Br Med J. 1978 Jun 17. 1(6127):1598-1600. [Medline].

Goldman DR, Seefeld AW. Ocular toxicity associated with indirect exposure to African spitting cobra venom. Wilderness Environ Med. 2010 Jun. 21(2):134-6. [Medline].

Russell FE. Snake venom poisoning in the United States. Annu Rev Med. 1980. 31:247-59. [Medline].

Tin-Myint, Rai-Mra, Maung-Chit, et al. Bites by the king cobra (Ophiophagus hannah) in Myanmar: successful treatment of severe neurotoxic envenoming. Q J Med. 1991 Sep. 80(293):751-62. [Medline].

Looareesuwan S, Viravan C, Warrell DA. Factors contributing to fatal snake bite in the rural tropics: analysis of 46 cases in Thailand. Trans R Soc Trop Med Hyg. 1988. 82(6):930-4. [Medline].

Reid HA, Thean PC, Martin WJ. Epidemiology of snake bite in north Malaya. Br Med J. 1963. 1:992-997.

Viravan C, Looareesuwan S, Kosakarn W, et al. A national hospital-based survey of snakes responsible for bites in Thailand. Trans R Soc Trop Med Hyg. 1992 Jan-Feb. 86(1):100-6. [Medline].

Sawai Y, Tseng CS. Snakebites on Taiwan. Snake. 1969. 1:9-18.

Stahel E. Epidemiological aspects of snake bites on a Liberian rubber plantation. Acta Trop. 1980 Dec. 37(4):367-74. [Medline].

Norris RL, Ngo J, Nolan K. Physicians and lay people are unable to apply pressure immobilization properly in a simulated snakebite scenario. Wilderness Environ Med. 2005. 16(1):16-21. [Medline].

Ang LJ, Sanjay S, Sangtam T. Ophthalmia due to spitting cobra venom in an urban setting--a report of three cases. Middle East Afr J Ophthalmol. 2014 Jul-Sep. 21 (3):259-61. [Medline].

Gold BS. Neostigmine for the treatment of neurotoxicity following envenomation by the Asiatic cobra. Ann Emerg Med. 1996 Jul. 28(1):87-9. [Medline].

Watt G, Theakston RD, Hayes CG, et al. Positive response to edrophonium in patients with neurotoxic envenoming by cobras (Naja naja philippinensis). A placebo-controlled study. N Engl J Med. 1986 Dec 4. 315(23):1444-8. [Medline].

Lim BL. Venomous land snakes of Malaysia. In: Chou LM, Gopalkrishnakone P, eds. Snakes of Medical Importance - Asia-Pacific Region. National of University of Singapore. 1990:387-417.

Warrell DA. Clinical toxicology of snakebite in Africa and the Middle East and Asia. In: Clinical Toxicology of Animal Venoms and Poisons. CRC Press. 1995:433-594.
Medscape Reference © 2011 WebMD, LLC