Cobra Envenomation Treatment & Management
Author: Robert L Norris, MD; Chief Editor: Joe Alcock, MD, MS more...
Updated: Oct 27, 2015
What would you like to print?
Prehospital Care
Prompt movement of the victim to a medical facility capable of rendering advanced care, including airway support and antivenom administration, is critical.
Make every effort to specifically identify the envenoming species; this aids further management and determination of the proper antivenom to be administered.
If the patient is bitten by a wild snake, identification may be equally problematic and important, particularly if there is more than one antivenom option for the region. Attempts to capture or kill the snake could result in additional bites or delay in transporting the victim to medical care. If possible, a digital photo of the snake may be a better choice. If the snake is killed, it must be handled with care as it may have a prolonged bite reflex after death that could lead to additional envenomation. Knowledge of the snake fauna of an area and habits of the various species may help in identification. If available antivenom is polyspecific, covering all cobras in the region, precise species identification becomes much less important.
Fairly accurate ELISA tests for identification of snake venoms in wound aspirate, serum, urine, and other body fluids have been developed but are not generally available in regions where cobras live.
If the bite occurs in a research or zoo setting, the cage identification card should be brought to the hospital. If available, species-specific antivenom should be sent with the patient.
If a captive cobra in a private collection inflicts the bite, identification may be more straightforward. Unfortunately, tremendous controversy exists among experts regarding taxonomy of cobra species and becomes amplified in the lay herpetoculturist community. A private collector who presents after being bitten by his or her captive "Thai cobra" may have been envenomed by any 1 of at least 3 different species, each with different clinical consequences. Thus, expect a variety of physiologic abnormalities and enlist professional help (eg, from a local zoo) to obtain prompt, accurate identification of the snake.
In some regions of the world, clothing is wrapped around a bitten extremity proximal to the bite site. However, prolonged use of arterial tourniquets is unwise and has caused loss of limb function. A completely occlusive tourniquet might be considered when a victim has been bitten by a highly toxic snake, such as a cobra, and is a very short distance from medical care (though efficacy is unproven and additional harm may occur).
An alternative first aid procedure is the Australian pressure immobilization technique (see the images below). This technique has been shown to be helpful in delaying systemic absorption of some elapid venoms, but its use in cobra bites, particularly those that may result in local tissue necrosis, remains controversial.
An elastic compress (eg, Ace wrap, clothing, crepe bandage) is wrapped rapidly around the bitten extremity, beginning distally and progressing proximally to encompass the entire limb. The compress is as tight as one used for immobilization of a severe ligamentous sprain. Then, the extremity is splinted and kept at heart level while the victim is carried from the scene. Research shows, however, that, in simulated snakebite scenarios, individuals usually underestimate the degree of tension required for the wrap to be effective, and, even with intensive training, are usually unable to apply the technique correctly.[11]
This technique should not be used in any situation in which the snake responsible for the bite is known to cause local necrosis (such as with African spitting cobras), as local tissue damage may be increased with its use.
Incisions are not helpful. Using a mechanical suction device is unlikely to return any significant amount of venom, and it could increase local tissue damage when a necrotizing venom is involved. Suction should, therefore, be avoided.
Avoid cooling measures and ice application. They have been associated with increased necrotic complications.
If venom is spit into the eyes, immediately and copiously irrigate them with any bland fluid, such as water, saline solution, or milk.[12]
Emergency Department Care
Assess the patient's airway and breathing. Aggressively manage any signs of impending respiratory failure with endotracheal intubation to prevent aspiration.
Immediately institute cardiac and pulse oximetry monitoring and closely monitor the patient's vital signs.
Start, at an appropriate rate, at least 1 large-bore line with normal saline or Ringer's lactate.
All persons who have been bitten by a cobra should be presumed to have received a severe envenomation and should be managed accordingly (close monitoring of cardiorespiratory status and expedited efforts to locate and procure appropriate antivenom for the offending species).
Antivenom is the only proven therapy for significant snakebites. About 20 laboratories in Africa, Asia, and Europe produce cobra antivenoms. Some are monovalent, but most are polyvalent against venoms of all the important snakes of a nation or region. However, the quality varies, and no international standards of purity or effectiveness exist. In the United States, no cobra antivenom has FDA approval. All are considered experimental drugs. Antivenoms are largely ineffective in preventing or ameliorating the necrosis caused by many cobra venoms.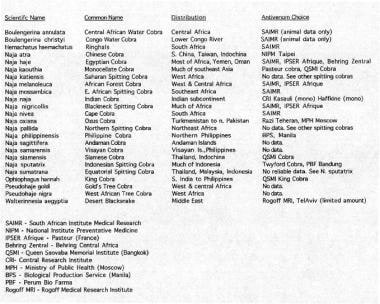 Table of antivenom choices for cobra bites. As antivenom manufacturers come and go in the market, choices in this list may or may not be available. Consultation with regional poison control centers, which have access to the Antivenin Index, may help identify and locate an appropriate product for use.
If the envenomating species has been determined, a resource, such as the Antivenom Index (published and maintained by the American Association of Zoological Parks and Aquariums and the American Association of Poison Control Centers), can be accessed by calling a regional poison control center or the Arizona Poison and Drug Information Center (from outside Arizona, 520-626-6016; from Arizona only, 800-362-0101). This document lists the preferred antivenoms available for most medically important venomous snakes around the world and has information about where these sera can be obtained in the United States (usually zoos or serpentariums). Once the antivenom is located, the physician may need assistance from the police or military to facilitate its rapid transport.
If possible, the antivenom should have antibodies against venom of the cobra species that inflicted the bite. However, shared venom antigens among cobra species exist, and heterologous antivenoms may be effective. Venoms of the African spitting cobras are among the most difficult to neutralize by nonspecific antivenoms. Notechis (Australian tiger snake) antivenom proved effective in animal experiments against 9 of 11 cobra venoms, exceptions being ringhals and Chinese cobra venoms. Apparent effectiveness of tiger snake antivenom in clinically treating cobra bites has been shown in a few cases.
If the patient arrives with some device applied in an attempt to limit spread of the venom, such as a tourniquet, constriction band, or pressure device, quickly assess the patient to determine if any evidence of systemic toxicity is present.
Assess the presence of distal pulses below the ligature. If symptoms are present and antivenom is available, start the antivenom before removing the device. If symptoms are absent and antivenom is available, remove the device and observe the patient closely for symptoms or signs of toxicity. If signs of envenoming occur, administer antivenom promptly.
If the tourniquet is totally occluding arterial flow, and there will be a delay in obtaining antivenom, apply a more loosely fitting device, such as the Australian pressure immobilization technique (see Prehospital Care), and then remove the tourniquet. A more loosely fitting device is appropriate to prevent the release of acidotic, hyperkalemic blood and venom into the central circulation as the tourniquet is released.
When applicable, initiate and continue irrigation of the eyes with saline. Applying several drops of a topical ophthalmic anesthetic agent may reduce pain and aid in irrigation. The topical use of 1:1000 epinephrine solution is reported to relieve pain promptly. A fluorescein-aided slit lamp examination helps to find evidence of corneal damage. A brief course of topical ophthalmic antibiotics and preservative-free lubricating drops may be prescribed.
Consultations
See the list of consultations below:
Toxicologist or expert in snake envenomation

Regional poison control center

A local zoo or museum - May be able to assist in species identification and may have appropriate antivenom in stock

Ophthalmologist - Should evaluate any patient who has eye exposure to spitting cobra venom

General surgeon or plastic surgeon for follow-up care of necrotic wounds
References
Minton SA. Bites by non-native venomous snakes in the United States. Wilderness Environ Med. 1996. 4:297-303.

Reid HA. Bites by foreign venomous snakes in Britain. Br Med J. 1978 Jun 17. 1(6127):1598-1600. [Medline].

Goldman DR, Seefeld AW. Ocular toxicity associated with indirect exposure to African spitting cobra venom. Wilderness Environ Med. 2010 Jun. 21(2):134-6. [Medline].

Russell FE. Snake venom poisoning in the United States. Annu Rev Med. 1980. 31:247-59. [Medline].

Tin-Myint, Rai-Mra, Maung-Chit, et al. Bites by the king cobra (Ophiophagus hannah) in Myanmar: successful treatment of severe neurotoxic envenoming. Q J Med. 1991 Sep. 80(293):751-62. [Medline].

Looareesuwan S, Viravan C, Warrell DA. Factors contributing to fatal snake bite in the rural tropics: analysis of 46 cases in Thailand. Trans R Soc Trop Med Hyg. 1988. 82(6):930-4. [Medline].

Reid HA, Thean PC, Martin WJ. Epidemiology of snake bite in north Malaya. Br Med J. 1963. 1:992-997.

Viravan C, Looareesuwan S, Kosakarn W, et al. A national hospital-based survey of snakes responsible for bites in Thailand. Trans R Soc Trop Med Hyg. 1992 Jan-Feb. 86(1):100-6. [Medline].

Sawai Y, Tseng CS. Snakebites on Taiwan. Snake. 1969. 1:9-18.

Stahel E. Epidemiological aspects of snake bites on a Liberian rubber plantation. Acta Trop. 1980 Dec. 37(4):367-74. [Medline].

Norris RL, Ngo J, Nolan K. Physicians and lay people are unable to apply pressure immobilization properly in a simulated snakebite scenario. Wilderness Environ Med. 2005. 16(1):16-21. [Medline].

Ang LJ, Sanjay S, Sangtam T. Ophthalmia due to spitting cobra venom in an urban setting--a report of three cases. Middle East Afr J Ophthalmol. 2014 Jul-Sep. 21 (3):259-61. [Medline].

Gold BS. Neostigmine for the treatment of neurotoxicity following envenomation by the Asiatic cobra. Ann Emerg Med. 1996 Jul. 28(1):87-9. [Medline].

Watt G, Theakston RD, Hayes CG, et al. Positive response to edrophonium in patients with neurotoxic envenoming by cobras (Naja naja philippinensis). A placebo-controlled study. N Engl J Med. 1986 Dec 4. 315(23):1444-8. [Medline].

Lim BL. Venomous land snakes of Malaysia. In: Chou LM, Gopalkrishnakone P, eds. Snakes of Medical Importance - Asia-Pacific Region. National of University of Singapore. 1990:387-417.

Warrell DA. Clinical toxicology of snakebite in Africa and the Middle East and Asia. In: Clinical Toxicology of Animal Venoms and Poisons. CRC Press. 1995:433-594.
Medscape Reference © 2011 WebMD, LLC