Stingray Envenomation Clinical Presentation
Author: John L Meade, MD; Chief Editor: Scott H Plantz, MD, FAAEM more...
Updated: Feb 05, 2016
What would you like to print?
History
Stingrays commonly are found lying half-buried in the sand or mud of coastal temperate areas.
Injuries tend to occur when an unsuspecting person steps on the fish, causing the animal to reflexively strike the person with its defensive mechanism.
The stingray's tail has one or more barbed stingers and 2 ventrolateral venom-containing grooves that are encased in an integumentary sheath. The tail is thrust into the victim, usually in the foot or lower leg, producing a deep jagged laceration from the serrated spine(s). A stingray spine is shown below.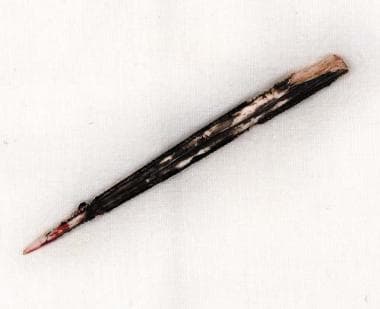 Spine removed from stingray injury. Image courtesy of Scott Plantz, MD.
The stinger apparatus then injects a protein-based toxin into the wound, causing immediate intense (even excruciating) pain in the victim. Injury may occur without envenomation because many stingrays lose or tear the integumentary sheath covering the venom glands.
This subject has taken on new worldwide interest due to the unfortunate death of the celebrity wildlife naturalist Steve Irwin (also known as "The Crocodile Hunter") on September 4, 2006. Irwin was filming a documentary on stingrays in Queensland, Australia, when he reportedly suffered a puncture wound of the heart from a stingray barb. He died on the scene. This is a very rare injury since most stingray puncture wounds occur on the extremities and are not very deep.
Physical
The wound may bleed freely and the patient may have systemic symptoms, including the following:
Syncope

Nausea

Vomiting

Diarrhea

Diaphoresis

Muscle cramps

Fasciculations

Abdominal pain

Seizures

Hypotension
Pseudoaneurysm of the superficial femoral artery has been reported following stingray envenomation.[2]
Stringray wounds are shown in the images below.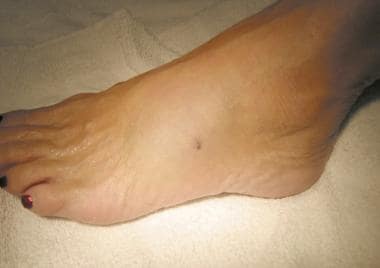 Typical stingray puncture wound on a foot, approximately 60 minutes after injury. Photo by John L. Meade, MD.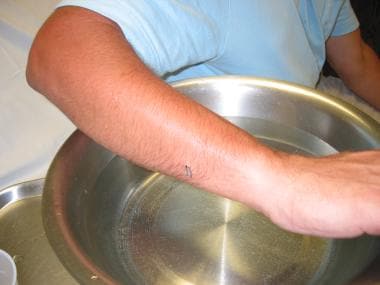 Stingray barb in forearm. Photo by John L. Meade, MD.
References
de Haro L, Pommier P. Envenomation: a real risk of keeping exotic house pets. Vet Hum Toxicol. 2003 Aug. 45(4):214-6. [Medline].

Campbell J, Grenon M, You CK. Pseudoaneurysm of the superficial femoral artery resulting from stingray envenomation. Ann Vasc Surg. 2003 Mar. 17(2):217-20. [Medline].

O'Malley GF, O'Malley RN, Pham O, Randolph F. Retained Stingray Barb and the Importance of Imaging. Wilderness Environ Med. 2015 Sep. 26 (3):375-9. [Medline].

Fenner PJ, Williamson JA, Skinner RA. Fatal and non-fatal stingray envenomation. Med J Aust. 1989 Dec 4-18. 151(11-12):621-5. [Medline].

Perkins RA, Morgan SS. Poisoning, envenomation, and trauma from marine creatures. Am Fam Physician. 2004 Feb 15. 69(4):885-90. [Medline].

Clark RF, Girard RH, Rao D, Ly BT, Davis DP. Stingray envenomation: a retrospective review of clinical presentation and treatment in 119 cases. J Emerg Med. 2007 Jul. 33(1):33-7. [Medline].

Ellenhorn MJ. Envenomations: bites and stings. Ellenhorn's Medical Toxicology. Lippincott Williams & Wilkins; 1997. 1737-98.

Guenin DG, Auerbach PS. Trauma and envenomations from marine fauna. Tintinalli JE, et al, eds. Emergency Medicine: A Comprehensive Study Guide. McGraw-Hill; 1996. 868-73.

Otten EJ. Venomous animal injuries. Rosen P, et al, eds. Emergency Medicine: Concepts and Clinical Practice. Mosby-Year Book; 1998. 924-40.
Medscape Reference © 2011 WebMD, LLC