Stingray Envenomation Workup
Author: John L Meade, MD; Chief Editor: Scott H Plantz, MD, FAAEM  more...
Updated: Feb 05, 2016
What would you like to print?
Laboratory Studies
No laboratory studies are indicated in the usual case of stingray injury.
Imaging Studies
Plain radiography should generally be used to obtain images of the injured area in at least 2 planes. Plain radiography is useful to rule out the presence of any foreign bodies, such as retained components of the barb mechanism, as well as to differentiate injuries caused by some other object (eg, sharp object stepped on in the water, causing a retained foreign body).[3]
A stingray barb is shown in the radiograph below.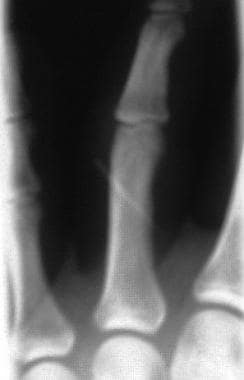 Stingray barb broken off in ring finger. Photo by John L. Meade, MD.
References
de Haro L, Pommier P. Envenomation: a real risk of keeping exotic house pets. Vet Hum Toxicol. 2003 Aug. 45(4):214-6. [Medline].

Campbell J, Grenon M, You CK. Pseudoaneurysm of the superficial femoral artery resulting from stingray envenomation. Ann Vasc Surg. 2003 Mar. 17(2):217-20. [Medline].

O'Malley GF, O'Malley RN, Pham O, Randolph F. Retained Stingray Barb and the Importance of Imaging. Wilderness Environ Med. 2015 Sep. 26 (3):375-9. [Medline].

Fenner PJ, Williamson JA, Skinner RA. Fatal and non-fatal stingray envenomation. Med J Aust. 1989 Dec 4-18. 151(11-12):621-5. [Medline].

Perkins RA, Morgan SS. Poisoning, envenomation, and trauma from marine creatures. Am Fam Physician. 2004 Feb 15. 69(4):885-90. [Medline].

Clark RF, Girard RH, Rao D, Ly BT, Davis DP. Stingray envenomation: a retrospective review of clinical presentation and treatment in 119 cases. J Emerg Med. 2007 Jul. 33(1):33-7. [Medline].

Ellenhorn MJ. Envenomations: bites and stings. Ellenhorn's Medical Toxicology. Lippincott Williams & Wilkins; 1997. 1737-98.

Guenin DG, Auerbach PS. Trauma and envenomations from marine fauna. Tintinalli JE, et al, eds. Emergency Medicine: A Comprehensive Study Guide. McGraw-Hill; 1996. 868-73.

Otten EJ. Venomous animal injuries. Rosen P, et al, eds. Emergency Medicine: Concepts and Clinical Practice. Mosby-Year Book; 1998. 924-40.
Medscape Reference © 2011 WebMD, LLC